David Taylor was a four-time NCAA finalist at Penn State and helped the Nittany Lions capture four national titles during his time there, so he knows plenty about greatness.
And the way Taylor, who won the U.S. Open title in freestyle a little more than a week ago, sees it, the 2017-18 Penn State team could be the best of all time.
"I really believe that next year's team will break every NCAA record there's ever been – champs, points scored, everything," Taylor said during a visit to Pitt-Johnstown over the weekend. "You list it, I believe they have the ability to break it. I think that's really exciting for the Penn State faithful. Not exciting for the people that don't like Penn State. I feel sorry for them, but moving forward, it's a really good time to be around the program."
It's been good since head coach Cael Sanderson arrived from Iowa State in 2009. Taylor, who was an Ohio wrestler in high school, followed Sanderson to Penn State and the accolades came quickly.
Last year's NCAA team championship was the sixth in seven years for the Nittany Lions and second in a row. 
Penn State went an impressive 5-0 in the NCAA finals last year, winning half the individual titles, and all five of those wrestlers – Zain Retherford, Jason Nolf, Vincenzo Joseph, Mark Hall and Bo Nickal – return next season.
"Returning five national champs – I can foresee a lot of national champions to still be crowned in the future," Taylor said after working with about 60 young wrestlers during a Young Guns clinic on Friday evening.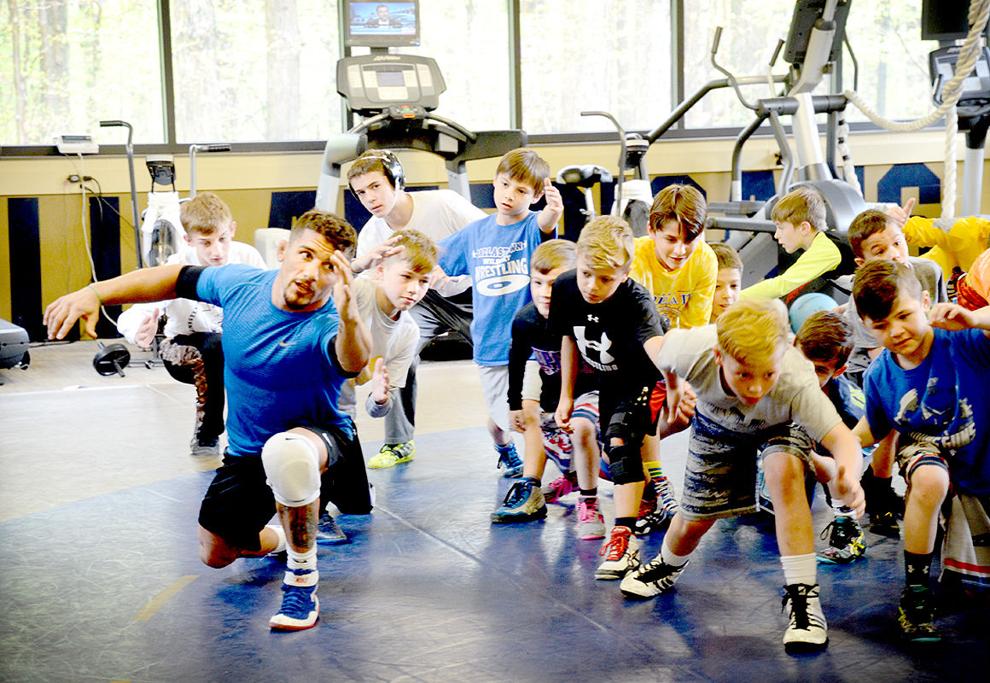 Saturday morning brought another Penn State great in Frank Molinaro, who was an NCAA champion and four-time All-American. The New Jersey product, who competed in the 2016 Olympics, stopped in for another Young Guns clinic on his way to Blacksburg, Virginia. He recently was named an assistant coach at Virginia Tech.
Molinaro got the chance to see one future Hokie at the clinic, as Altoona's Cole Manley attended. Manley, who was named Pennsylvania's Outstanding Wrestler at the Border Brawl Mason-Dixon Wrestling Classic at UPJ in March, got a chance to sit down with Molinaro for a few minutes afterward.
"I really was able to get a little feel of what I'm going to be a part of pretty soon, and I'm really excited about it," Manley said.
While Molinaro, who like Taylor will be competing in the world team trials later this summer, is heading south, he'll still keep an eye on the Keystone State.
"I know how serious Pennsylvania takes their wrestling," Molinaro said. "I know how serious the kids are. I know the kids are brought up with the right values and they're brought up in the right system with the right training. Being able to have those guys out there already and to have those guys out there already to get these guys coming in from Pennsylvania is going to be huge. You have to recruit Pennsylvania and you have to pay close attention to it because these kids are leading the pack in just about everything, every tournament."
The clinic attracted wrestlers from Maryland, Ohio, West Virginia and even Florida, but it's become common place for Olympic-level athletes to be in the Pitt-Johnstown wrestling room over the past few weeks. Kyle Snyder, a 2016 gold medalist, and Olympian Daniel Dennis also have performed recent clinics for Young Guns founder Jody Strittmatter.
Molinaro has been impressed with what Strittmatter has done for the local wrestling community.
"He knows what it takes, and he knows how to do it the right way," Molinaro said. "There's a lot of good kids around this area. This is a really great place. These kids are really blessed – not only to have this place to train, to have a coach to train at this level, but to be around these kids and this town and a lot of things. They have a lot to be grateful for. This is a good thing they've got going here."