Brandon Bailey brings a different perspective to his role as a father who coaches his son in high school football.
Twenty-eight years ago, Bailey concluded his career as one of the most prolific passers in Pennsylvania high school history. The former Forest Hills High School quarterback led the Rangers to the state semifinals while playing for his father, Don Bailey, who won 375 games in 45 seasons before retiring last year.
Now, Brandon Bailey's son Koby is a senior on an undefeated Richland High School team. Brandon has coached both Koby and older brother Karsen at Richland.
"There are pros and cons to coaching your kid. There are pros and cons to being a kid who has to play for your dad," Brandon Bailey said. "I'm blessed to be able to do it both as a player and as a coach. Some of my best memories of my dad are playing football at Forest Hills."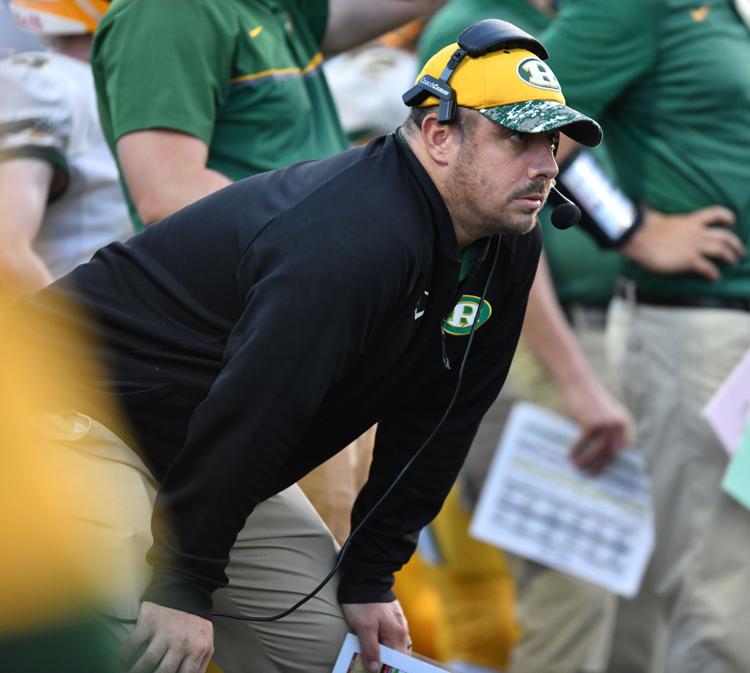 Of course, it's difficult to ignore doubters – those who question a coach's motives, even if a player evolved into a Division I quarterback as did Brandon Bailey, who passed for 5,667 yards at Forest Hills from 1988 to 1991.
"The challenge is, there is always someone saying, 'You're only playing because of your dad,' or, 'Your kid is only getting more playing time because you're the coach,'" said Brandon Bailey, who played quarterback at the University of Connecticut after starting his college career at West Virginia University. "Fortunately in my case and in my kids' case, we were all productive and that never was a question." 
'Very fortunate' 
Koby Bailey is a 6-foot-3 tight end and outside linebacker on an 8-0 Rams team. Richland has gone 21-1 since 2018.
"I'm very fortunate to have this experience. Not many other kids can have it," said Koby Bailey, who has 19 catches for 288 yards and three touchdowns as well as 13 tackles, two sacks and a fumble recovery. "There's only one head coach. It's pretty cool to be able to play under him.
"I don't really see it as being tough. I can see that people might think, 'He wants his son to get the ball.' I think he's fair and he wants everything to be equal."
Point taken. Thirteen Rams have caught passes, mostly from sophomore quarterback Kellan Stahl, who has thrown for 1,771 yards. Fifteen players have carried the football.
"We're fortunate. My boys' play kind of spoke for itself," said Brandon Bailey, whose son Karsen was a center on the 2015 team. "They didn't have to deal with that as much as some other situations."
First-year Forest Hills head coach Justin Myers followed Brandon Bailey as the Rangers' quarterback from 1992 to 1994. Myers passed for 5,329 yards and led Forest Hills to the 1994 PIAA Class AA championship game, where the Rangers finished as state runner-up after a double overtime loss to Mount Carmel.
Myers' son Zach is a junior who has completed 91 of 186 passes and is among the area leaders with 1,331 passing yards, five touchdowns and five interceptions for the 1-7 Rangers. 
'A lot of challenges' 
"It's fun to go out there and be able to see first-hand your son succeed and to have a positive influence in the locker room with the kids and to see him grow up as a person," said Justin Myers, a hall of fame quarterback at NCAA Division III Geneva College, where he set the school all-time record with 8,446 passing yards along with 79 touchdown passes.
"There are a lot of challenges," the coach added. "There is a lot more pressure on your son than other players. As a coach, you are a lot more harder on your son. My son and I have a great relationship. We're best friends. We have to separate that sometimes on the football field. We're in it to win the game."
Unlike Richland, which returned the nucleus of a strong team, Forest Hills had to replace many key players from last season's 9-3 squad. The Rangers have improved significantly, but wins have been scarce.
"The most enjoyable part is knowing that you're being coached by your dad," Zach Myers said. "He knows you. He was a really good player here in high school. I want to be a player like him.
"The challenge is there is pressure," he added. "If you mess up, it's a lot of pressure, especially after the last couple years here when we had (four-year starting quarterback) Adam Cecere and we had (coach) Don Bailey."
'Heartaches and joy' 
Roger Beitel has coached two of his sons during Ligonier Valley's amazing run to a 47-3 record since the 2016 season. The Rams are 8-0 this season, clinched their fourth straight Heritage Conference crown and notched their 36th consecutive conference victory last week at Northern Cambria.
Beitel's son Zach graduated last school year and his son Nick Beitel is a sophomore running back and strong safety for Ligonier Valley, whose school board voted unanimously on Monday to have the athletic program move to the WPIAL in 2020-21.
Nick Beitel has 389 rushing yards and five TDs on 28 carries. He has made 22 tackles and has intercepted a pass.
"There are two great titles a person can carry in life, and that is dad and coach," Roger Beitel said. "In my situation, you get to carry both at the same time. To have access to all those special memories is really priceless. You get to share those special moments together — winning championships, heartaches and joy."
Roger Beitel had sentiments similar to most of the other area coaches in the father-son situation.
"The hard part is the pressure from the outside that is on both you as the coach and the player," Roger Beitel said. "Immediately, the first thing anyone will say is, 'Well, that's the coach's kid.' Both of my sons have actually had to work twice as hard to earn things and a lot more than a lot of other kids in our program."
The Rams won District 6 Class AA crowns in 2016 and 2017 and finished as runner-up to Richland last year. Ligonier Valley advanced to the state semifinal round in 2016 and the quarterfinals the next season.
"For the most part, we've been able to separate things whenever we come home," Roger Beitel said. "Sometimes you can't. There have been times with my older son that I brought it home to the dinner table.
"That wasn't fair to him. I tried to learn from my mistakes with Zach, and Nick probably has it a little easier." 
'It's never easy' 
Veteran Windber coach Matt Grohal's son Nathan is a sophomore center and defensive tackle on a 5-3 Ramblers squad. The 5-8, 230-pound lineman has 14 tackles and was part of one sack.
"I'd say it's never easy coaching your own son," Matt Grohal said. "You're always harder on your own son. We have had a good relationship at practice and in the weight room in the offseason. Nathan knows what I expect of him and the team."
The Ramblers have won two straight after dropping a pair of games to then unbeaten opponents in the WestPAC.
"I think on a positive note, he has been kind of thrust into a leadership role just because he knows the expectations of me and my staff," Matt Grohal said. "He's been around us his whole life. Basically for him, only being a sophomore, it can be a lot of pressure – but he's handled it well and shown a lot of maturity."
The coach/dad also has learned as the season progressed.
"Sometimes I come down on him a bit harder because of him being my son, sometimes fairly, sometimes not," Matt Grohal said. "And I feel like sometimes I use him as a scapegoat to get my point across to the whole team. He never questions me at home or on the field as to how I approach him."
Conemaugh Valley's Matt Kent coaches his son Logan, a sophomore with nearly 400 rushing yards and 48 tackles during a season in which the Blue Jays have had to forfeit two games.
Ferndale's Shawn Furfari coaches his son, senior quarterback Loghan Furfari, who has completed 40 of 76 passes for 503 yards and five touchdowns while also making 34 tackles on a 3-5 Yellow Jackets squad.
Win or lose, the father-son duos are creating lasting memories. Brandon Bailey offered proof.
"When my dad coached it was special," Brandon Bailey said. "For his grandkids, it was special. I still remember a couple years ago when Richland was playing Forest Hills. Karsen (Bailey) was the center. My dad was yelling for the refs to throw a flag on my son, his grandson, because he was moving his thumb trying to get them to jump offside. When you're out there, you're competing – whether it's family or not."