Artrell Hawkins Sr., one of Greater Johnstown High School's all-time best football stars and the father of two former NFL players, died on Thursday. He was 63.
Artrell Hawkins Jr. said his father died of natural causes at home after spending much of the past two years battling health issues.
"His legacy is undeniable within the town, but also within my family," said Hawkins Jr., who spent a decade in the NFL with the Cincinnati Bengals, New England Patriots and Carolina Panthers.
"We all kind of modeled ourselves after his standard of excellence. My dad had a troubled life. He's a good story, a cautionary story, but ultimately we all aspired to mimic his excellence in competition."
Hawkins Sr. – known as "Hawk" – starred at Greater Johnstown from 1973-75, and held the school's rushing and scoring records for nearly three decades. Future NFL player LaRod Stephens-Howling surpassed the standards in the early 2000s.
Hawkins Sr. rushed for 3,552 career yards and had 234 points. He was recognized by the WPIAL and Big 33 all-star teams and was a two-time Class AAA all-state selection.
Greater Johnstown recently recognized him as part of the Trojans' inaugural Ring of Honor.
The talented running back played a season at Coffeyville Junior College in Kansas before lettering three seasons at the University of Pittsburgh.
He signed a free-agent contract with the Pittsburgh Steelers. A position switch to wide receiver, where four of the game's top players occupied spots on the Steelers' roster, hurt his chances. Off-field issues also prevented Hawkins Sr. from reaching his full potential as a professional player.
"He had some issues and some troubles that weren't all his. He battled with drug addiction his whole life," Artrell Jr. said. "Our relationship wasn't always tight. He was absent a lot of the times because he had issues. But as an older man, I can appreciate the fact that our relationship became really close at the end. I'm really appreciative of it. I'm appreciative of him."
Artrell Jr.'s brother Andrew played with the Bengals and Cleveland Browns, and was in camp with the Patriots when he retired.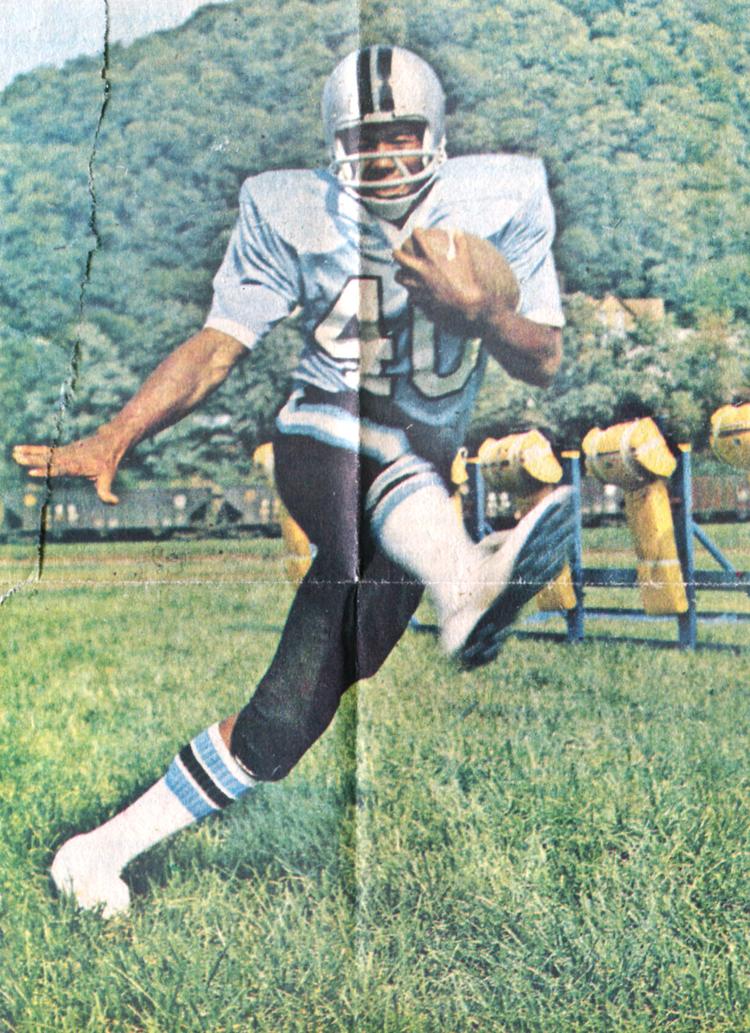 "He had two sons who played in the NFL," Artrell Jr. said. "He has a grandson (Aeneas Hawkins) playing at Penn State right now. Geroy (Simon), Carlton (Haselrig), Joe Greenwood – all of these greats from the Johnstown area all tell the same story, that he was the one (to inspire them). Carlton told me he thought he could do the football things because he saw Artrell Hawkins play at Pitt. He inspired generations of football players."
Simon, Haselrig and Greenwood all are Greater Johnstown graduates.
Simon played football at the University of Maryland and became the Canadian Football League's all-time leading receiver. Haselrig, who died on July 22 at age 54, won six NCAA wrestling championships at Pitt-Johnstown and was a Pro Bowl lineman for the Pittsburgh Steelers. Greenwood played at Temple University and in the World League of American Football in Germany.
"The Legend Artrell Hawkins Sr. has gained his wings," Simon posted on Facebook on Thursday. "You were a huge inspiration to me and all the young athletes growing up in Johnstown. I not only looked up to you as a great athlete but I had the honor of calling you family. I'm sending condolences to my entire Hawkins/Gunby/Allen family. Until we meet again. Love you Cousin. Rest in Peace."
Artrell Jr. and Andrew Hawkins are cousins of Simon and the late Haselrig. Each of them had incredible careers at the high school level and performed at the highest college and pro levels.
"He was the standard. I got a lot of my confidence just being named after him," Artrell Jr. said. "When I was younger, I didn't live with my dad so I didn't know how successful he was as a football player. People would come up to me and tell me how great my dad was as a football player. That gave me confidence as a kid. I knew I could be great because I was Artrell Hawkins' son."
After graduating from Bishop McCort High School, Artrell Hawkins Jr. played at the University of Cincinnati and was a second-round draft pick of the Bengals in 1998.
"The reason I got recruited was because one of his Pitt linemen was a coach at the University of Cincinnati," Artrell Jr. said. "They called me because they recognized his name. One of his teammates was a recruiting coordinator."
Andrew Hawkins, also a Bishop McCort graduate, played at the University of Toledo and won two Grey Cups in the CFL before landing in the NFL. He now is a successful analyst who works for the NFL Media/NFL Network.
Younger brother Avery Hawkins played at California (Pa.) University and held coaching positions at University of Cincinnati and Alderson Broaddus University.
"All of his sons were great football players," Artrell Jr. said. "It's what we do. I can't say I'm the one that started it. I didn't. I'm grateful some of the things were corrected the generation after him. It started because of him. We call it the family business. He is the founder."