SIDMAN – A racial incident involving the Forest Hills wrestling team seven months ago – and the fallout from that moment – has boiled over into public meetings and is threatening to destroy a program that had been garnering national attention for its success.
On one side is a well-respected coach who won two state titles at Forest Hills before becoming a Division I All-American at Penn State. 
On the other are the leaders of a highly successful youth program that has developed some of the top young talent in the country.
Caught in between is a quiet, soft-spoken young man who is an elite wrestler and student who recently committed to wrestle for Cornell University.
As parents and fans line up behind one side or the other, the fabric of the Forest Hills wrestling community is being torn apart, with longtime friendships shoved aside and barbs that could permanently destroy reputations being tossed around on social media.
The Forest Hills School District has placed all activities involving the wrestling program on hold for at least 30 days and is looking to hire an independent investigator "to review the wrestling program's practices, procedures, and protocols. The focus of the third party investigation will to be to assess all claims and counterclaims surrounding the program."
John and Ashley Miller, of South Fork, say they have forgiven the former Forest Hills wrestler who used a racial slur during an altercation with their biracial son, Erik Gibson. What they can't understand is why the Rangers coaching staff, led by Jake Strayer, did not inform them about the incident or why it took months to get a meeting with coaches and administrators of the school, which has an enrollment that is 97% white.
"We're not saying Jake Strayer is racist," John Miller said in a phone interview. "We're not even saying that he's a terrible person. But in this situation, he messed up. He was wrong. He messed up. No one handled this situation properly."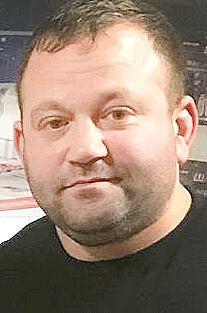 Forest Hills Superintendent David Lehman, who discussed the situation in an interview that also included Athletic Director Joe Gironda, varsity wrestling assistant coach Rob Sakmar and Strayer, said that the situation was handled according to school protocol.
"It's my belief that it was," Lehman said. "There's due process rights for kids. Whenever there is some type of discipline issue, you have to do a thorough investigation to get all of the information in order to discipline."
The incident
While there have been some divisions within the Forest Hills wrestling program for several years, the flashpoint occurred on Friday, Dec. 13, 2019. Gibson, who placed third in the PIAA tournament as a freshman and was regarded as one of the top sophomores in the country, was in a classroom at Central Mountain High School in Clinton County, along with his Forest Hills teammates. Each squad in the 32-team King of the Mountain tournament was given a space where wrestlers could store their belongings.
Gibson, who by all accounts from the Forest Hills administration is a model student-athlete, got into a confrontation with a teammate.
"The kid was being really annoying and shoving inappropriate video in my face," Gibson said in a phone interview from Florida, where he is training.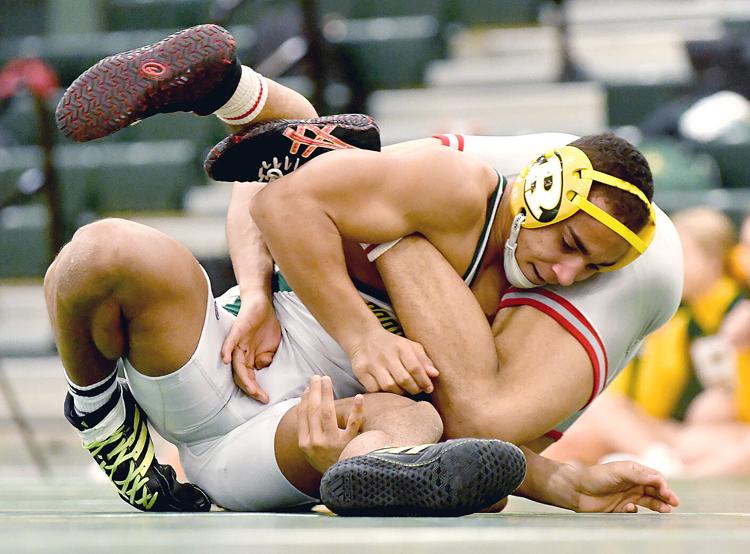 Gibson's response was to slap at the phone, which caused his teammate to drop it. In response, Gibson said, the teammate used a racial slur.
Gibson's biological father is Black and his mother, Jennifer Miller, was white. She passed away in 2010, and John and his wife, Ashley, became legal guardians to Gibson and his three siblings.
On the mat, Gibson is a whirlwind, constantly attacking and seeking an opponent's weakness. Off the mat, he's quiet and reflective. He didn't respond with physical violence to the alleged provocation; instead he informed an assistant coach of what had transpired.
"I won't start screaming, I'll just walk away and I tear up," Gibson said of how he reacts to troubling situations. "When I'm mad, I don't scream. I start to cry."
Word eventually reached Strayer – he says through a parent – and he spoke to Gibson about the incident. The conversation has been characterized differently by Strayer and the Millers, who said it was relayed to them by their son.
"(Erik) said the only thing (Strayer) said was 'Things like this are going to happen in life. You're going to have to get used to it and get ready to wrestle,' " John Miller said.
Strayer said that, first and foremost, his concern was for Gibson's mental well-being.
"I went up to him, put my arm around him and said, 'This is disgusting that this happened. I'm very sorry. Do you need anything from me? Just let me know. Are you OK?,' " Strayer recalled. "He shook his head yes."
The teammate who allegedly used the racial slur also ran afoul of school policy in another way that day, and he was pulled from the tournament. He was disciplined by the school and was no longer part of the team.
The Millers were not at the tournament when the incident occurred, but they were in attendance the next day, and they say that no one informed them that their son was racially abused. They didn't find out until they were driving Erik home from the tournament.
"We were there all day with these coaches and nobody told us," John Miller said.
Strayer's response is that the other wrestler involved in the incident was still with the team at that point and he didn't want another confrontation to occur, which John Miller says is ludicrous.
"I have government top-secret clearances. I work in a school with alternative kids. I work in a school every day. I work with kids all day," John Miller said. "For him to say that he was afraid for his wrestlers' safety – I'm a retired Marine, I'm a martial artist, but I'm not some evil criminal."
The wrestler
Gibson made his highly anticipated varsity debut in 2018. A two-time Pennsylvania Junior Wrestling state champion, he was ranked as the No. 17 freshman in the nation at any weight as he entered high school.
He did not disappoint, going 44-5 in his first season at the varsity level and placing third in the state at 138 pounds. As a sophomore, Gibson was even more impressive, making the finals of the prestigious POWERade tournament and beating eventual state champion Gage McClenahan of Bald Eagle Area for the District 6 title. McClenahan got revenge in the Southwest Regional final and the two appeared to be on a collision course at the state tournament, but Gibson was upset 9-4 by Tunkhannock's Gavin D'Amato in the semifinals. Gibson forfeited to sixth place after injuring his groin in the first period of the loss.
Through the physical and emotional pain, Gibson flashed his trademark grin and spoke with an easy confidence about how he would have liked to have faced McClenahan again for the state title.
The setback in Hershey didn't do anything to dissuade college recruiters from beating a figurative path to Gibson's door – even if it was via Zoom meeting due to the pandemic. He got a text from a Cornell assistant coach just after midnight on the first day that college coaches were allowed to contact juniors-to-be. Within the first 48 hours he had heard from more than a dozen schools, including powers Penn State and Iowa.
By the fourth day of the recruiting process Gibson and his parents decided that a free education at an Ivy League school that also happens to be one of the top wrestling programs in the country was too good of an opportunity to pass up, and he gave the Big Red a verbal commitment.
During a school board meeting earlier this month, Gibson said that the only member of the Rangers coaching staff who congratulated him on the commitment was then-junior high coach Bill Bassett, who is John Miller's cousin. Bassett coached Gibson and many others as part of the Ranger Pride Wrestling group that became one of the most successful youth programs in the country.
The position that was held by Bassett has been opened up by the school district despite the fact that the Rangers went unbeaten and were ranked as the No. 1 junior high team in the state. The Millers and Gibsons are very close, and Bassett told PA Power Wrestling last month that his sons, who are ranked among the top youth wrestlers in the nation, and the Millers' sons will stick together. Bassett has been linked to the varsity opening at Bishop McCort Catholic High School, and he said that the boys could attend the private school in Johnstown or could end up at a prep powerhouse such as Wyoming Seminary near Wilkes-Barre, or Blair Academy in New Jersey. They could also return to Forest Hills.
"We've got a lot of options," John Miller said. "We've got every prep school contacting us. Everyone is hearing about the situation nationally. We could send them anywhere we want. We want to see how this plays out. We're a big family. We have a family of eight. It's not that easy for us to pick up and move."
The coach
Strayer was a standout athlete at Forest Hills in the early 2000s, starring as a wrestler and a runner – winning a combined 10 PIAA medals. He went 161-7 as a high school wrestler and lost only two matches in his final three seasons.
He placed seventh at the NCAA tournament as a junior at Penn State and just missed earning a medal in his other two appearances. He also earned Academic All-America honors as a kinesiology major.
Strayer landed a teaching job at his alma mater and served as an assistant under coach Jim Bowser before the two switched roles in 2010. Strayer has coached a pair of individual state champions – Cody Law and Jackson Arrington – and led the Rangers to the District 6 Class AA team title this season.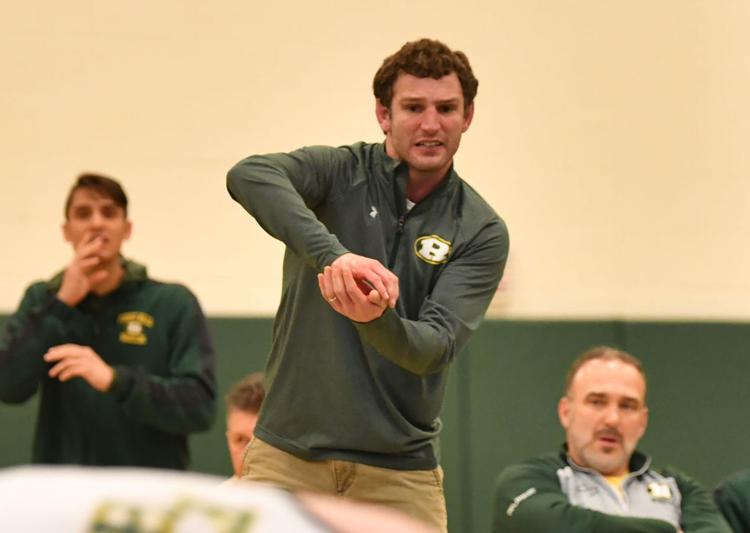 He's also become one of the most respected coaches in local wrestling. Since news of the issues surrounding the Forest Hills program surfaced, a number of former wrestlers have come to his defense. Several rival coaches have also expressed their admiration for him.
Throughout all of his success as an athlete and coach, Strayer has never been comfortable in the spotlight. Animated while in the corner for one of his wrestler's matches, he's quiet and almost reluctant to talk when approached for an interview.
He initially declined to speak publicly about the ongoing situation, but decided to break his silence after social media posts by wrestling observers from outside of the area characterized the Forest Hills staff as racist.
"I've been quiet about this because I don't want to hurt the wrestler that's involved in any way," Strayer said, "but it's getting to the point where it's hard for me. I'm trying to protect myself and my reputation that I've worked my whole life for. … I've always tried to do the honest, respectful and good thing. I'm a God-fearing guy. It's starting to affect my family."
Strayer struggled to choke back tears as he discussed the negative impact the rumors have had on his relationships.
"I have a Black brother-in-law," he said. "I have two biracial nephews that I love. It's really starting to upset them."
Strayer said his record speaks for itself.
"This is my 11th year (as a coach at Forest Hills)," he said. "I've never had one issue – never. That reputation that I try to live by is being thrown under the bus."
Gironda, the Forest Hills athletic director, said the majority of the people in and around the Forest Hills wrestling program have been unwavering in their support for Strayer.
"You've got a very small faction of individuals that are upset right now," Gironda said. "It doesn't do our program justice. It's not a real glimpse of our program. He's been here 11 years – and I've been here for eight of those 11 – and we have a lot of kids that would lay down in traffic for these guys."
The fallout
The Millers say they waited and waited for Forest Hills to address the incident that happened in December but that they grew tired of waiting. Meetings were pushed back and then the COVID-19 outbreak caused further delays.
"The longer it went, the more it felt like they were trying to brush it under the rug," John Miller said.
"We're not going away," Ashley Miller said. "All we wanted was an explanation, maybe an apology for Jake for not handling it correctly. Now it's snowballed into this giant monster that it is."
Superintendent Lehman had scheduled the Bruce Haselrig Group to provide diversity training at the school district before the incident occurred. The group has done training at schools across the state, including Conemaugh Valley when Lehman was employed there.
"We want everyone to feel like they belong at Forest Hills," Lehman said.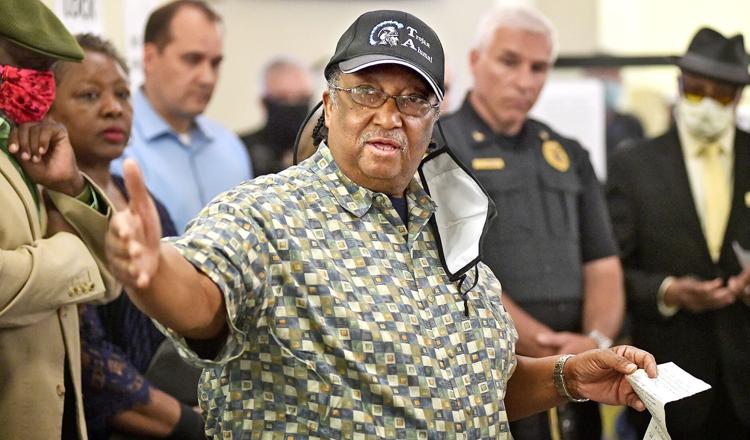 Alan Cashaw, who is president of the Johnstown branch of the NAACP as well as a member of the Bruce Haselrig Group, would not go into specifics about the wrestling program's situation, but did say that he has been involved at Forest Hills.
"We're part of the training and diversity inclusion and trying to reconcile any issues that popped up," he said. "We've had complaints called in to to us by at least three families now."
Cashaw, as a representative of the NAACP, was present at a meeting on June 8 that included the Millers, Bassett and several members of the Forest Hills staff and administration. After the meeting, John Miller shook hands with the Strayer and other school representatives, saying that he was happy to "squash" the issue.
It didn't stay squashed for long, however. A dispute about a comment made at the meeting arose.
Strayer says he asked a rundown Erik Gibson if he wanted the coach to call John Miller and tell him to cancel a scheduled workout.
The Millers say the coach told them their son asked Strayer to make the call, which surprised them. They went home and asked Erik about it, and he denied seeking Strayer's help, which was no surprise to the coach.
"He didn't come into my office and say, 'Could you call my dad,' because if he did, I would have," Strayer said.
The Millers are adamant that they heard Strayer say Gibson requested the call, which they believe was a thinly veiled accusation that the father was pushing the boy too hard.
What happened next is also in dispute. Both sides agree that Gibson walked the short distance between the Millers' house and Strayer's for a conversation with the coach. Strayer said then what he says now – the he offered to make a call, not that Gibson asked him to do so. The Millers say that's a reversal from what happened in the meeting.
"It's complete lies what happened there," John Miller said. "Most people think they aren't that big of lies. They are big lies when you're trying to come between a father and son."
A rumor has persisted that the conversation was secretly recorded. That would be illegal under Pennsylvania law, as consent from both parties is required to record a conversation.
John Miller denied the rumor.
"There is no recording," he said. "Everyone is acting like he heard some recording. There is no recording. No one has ever heard a recording."
Pressed on how the rumor got started if no recording was made, John Miller said, "I promised the school that (Strayer) lied. There's no recording. No one's ever heard a recording."
Gibson said he'd never make such a recording.
"I know that's illegal, and I don't want to be arrested," he said.
The next step
Both sides are left wondering how – or even if – the fractured relationships in Forest Hills can be repaired.
"How can Coach Strayer coach him?" John Miller asked. "He lied to his face, and he knows that Erik knows that he lied. How can he coach him objectively? I don't trust him to coach him and show no bias."
Ashley Miller isn't sure it's possible to salvage a relationship with the coach and program.
"We've tried," she said. "If you had asked us at the beginning of June, we'd have said yes. I don't know if we can at this point."
The situation likely was exacerbated by the opening of the junior high position held by Bassett. That caused a further split between Ranger Pride Wrestling and Forest Hills. Many RPW families remain loyal to Bassett, as evidenced by a recent school board meeting. Erik Gibson and his younger brother Mason, who was ranked as the top freshman in the nation at any weight, spoke out in favor of Bassett, as did another Forest Hills wrestler.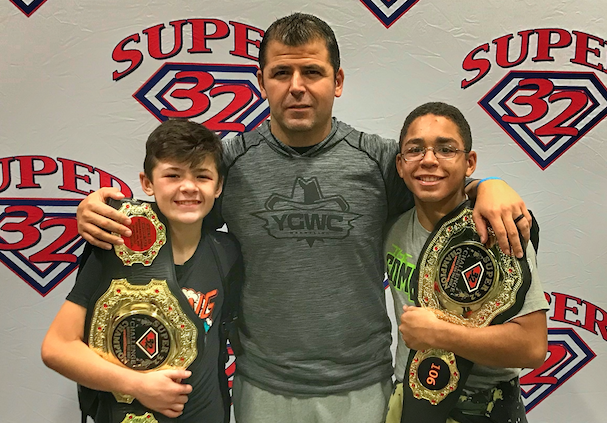 Like the Millers, Bassett isn't sure if there's a path toward healing the wounds.
"What's it going to take? I don't know," he said. "There's a lot of upset families on our end, and I'm sure there's a lot of upset families on the other end."
Lehman said that the independent counsel's review of the situation and recommendations will play a role in what happens next. Strayer admits that putting hurt feelings aside could be problematic if the Gibsons are on the Forest Hills team next season.
"It's going to be really difficult," he said. "I always put the kids first. I always have – whatever's best for the kid. I always thought that Erik being here was the best choice, but I'm not sure how they see that. If he is here, it's not just him and I. There are a lot of other things that need to (heal)."
Sakmar, the assistant coach, said there will be plenty of lessons that will need to be learned that have nothing to do with a wrestling mat.
"We're going to have to mend a lot of fences between a lot of people," he said. "That's our goal. That's why they hired us to coach these kids, not only in wrestling but to create better humans. That's going to be the biggest struggle."