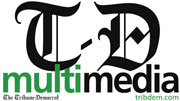 We are a multi-faceted media company serving the Johnstown-Altoona-Bedford-Somerset-Indiana and surrounding areas. We provide strategic custom advertising solutions such as print, digital, search, social, sponsorships and content marketing. Our community involvement and dedication to growing the businesses and areas we serve is unmatched.  We live, work and raise our families in the communities we serve---to us it's not just business...it's personal. We have been the leading source for news and information for our area for over 160 years and our experience and deep rooted connections in the community help us to provide powerful print and digital marketing solutions and insights to the businesses we work with.
---
Our Websites:
Johnstown Magazine: http://www.johnstownmag.com/
Follow Us on Facebook: https://www.facebook.com/TribuneDemocrat/
Our Facebook has over 21,000 followers with the most up to date news, sports and information!
Johnstown Bridal Showcase: http://johnstownbridalshowcase.com/
---
How can we help you tell your story?
OUR MISSION: Our desire to serve our communities is at the root of everything we do and we have been doing it for more than 160 years. Simply stated our mission is to create connections that grow our communities.  We provide our advertisers with the best products to help them reach their ideal customers everywhere...in print and online.
OUR EXECUTIVE TEAM: Meet the professionals guiding our mission.
Advertising Director/Johnstown Magazine/Custom Publishing, Mary Anne Rizzo, 814-532-5162
Sales Manager/ Major Accounts, Chris Marhefka, 814-532-5042
Digital Sales, Chris Marhefka, 814-532-5042
Downtown Johnstown, Maria Carnevali, 814-532-5156
Richland / Windber, Somerset, Davidsville, Tire Hill, Ginger Pollock, 814-532-5154
Richland, Betsy Konar  814-532-5166
Ebensburg/Northern Cambria, Altoona, East Conemaugh, Nanty Glo, Indiana, Nick Gjurich, 814-532-5160
Westmont, Hornerstown, Moxham, Riverside, Ferndale,Debra Briggs 814-532-5161
West End/Cambria City, Cresson, Bedford, St. Michael/Salix/South Fork/Sidman, Nick Gjurich, 814-532-5160
Automotive,Betsy Konar, 814-532-5031
Real Estate, Automotive and Classified Supervisor, Betsy Konar, 814-532-5031
Employment, Private Party ads, Yard Sales, Stephanie Robatin, 814-532-5033
Employment, Private Party ads, Yard Sales, Devon Tomlinson, 814-532-5040
Employment, Private Party ads, Yard Sales,  814-532-5034
Churches,Mary Kay Gaborek, 814-532-5168
Fire Halls, 814-532-5158
Legal Advertising, Vivian Ohs, 814-532-5102
Legal advertising, , 814-532-5101
Classified Sales, 814-532-5038
---
Newspaper Print Advertising
Print is an experience.
A cup of coffee and time to think. A tangible thing you can hold and keep. A puzzle worked out in the margins. A story shared across the table or the aisle.
It's also dollars saved and earned. Sometimes a reminder to make an extra stop, or call the right person for the job or a coupon cut out to use and save some hard earned money.
Newspaper advertising reaches smart, connected consumers with higher incomes and lends credibility to your image!
Not all of our moments unfold online.
Retailers know pre-prints, inserts and wraps get results. They are, by far, the biggest and most reliable drivers of in-store shoppers, for big box stores or neighborhood businesses. Blanket the entire market, or target specific ZIPs to attract consumers closer to home. Want to reach every household...even the ones that don't subscribe?  We have you covered with our Neighbors publications! Ask about Northern Neighbors and Tri-County Neighbors to reach additional homes too!
And when you need more visibility outside the circulars, we offer a range of high-impact ad placements that potential consumers can't miss or ignore!
To find out more about how Newspaper Advertising can help your business grow contact us today!
Retail Sales Manager
814-532-5042
---
Johnstown Magazine and johnstownmag.com
Have you seen our gorgeous local Johnstown Magazine and our new Johnstownmag.com website?
Since 2005, Johnstown Magazine has provided the Laurel Highlands with intriguing writing and vibrant photography all focused on the very best of the region. Whether you're interested in local business, dining, art and culture, heartwarming family stories or the history that made Johnstown what it is today, JM has it covered. We strive to create a publication that is visually stunning, page turning and as inclusive as we can can be of the varied and unique businesses, organizations and people who call the Greater Johnstown region home.
The long shelf life of JM helps brand your business as this publication will sit in offices and homes for months plus banner ads on the johnstownmag.com website can get you noticed!
And JM gets delivered to business owners and businesses so you can put your ad in front of those people who have influence!
To learn how advertising in the Johnstown Magazine and johnstownmag.com can benefit your business contact us today!
Retail Sales Manager
814-532-5042
---
Tribune Democrat - tribdem.com
Did you know that our local website gets over 500,000 visitors every month with over 2 million page views?  People spend time on our website reading stories, looking at classifieds and coupons, checking the sports scores and more!
We can put your business in front of thousands of local consumers with engaging professional banners and ads that can link to your website or Facebook page.
Get your ad online where local people are going to get their news and information today!
Retail Sales Manager
814-532-5042
---
Digital Marketing
The average consumer spends about 5 hours per day online!
Let us show you how to get in front of your customers...where they spend their time!)
Our best in class digital marketing agency helps businesses all over the country take their marketing game to the next level.  From forging and strengthening relationships on social media to edging out your competition on search engines, we will help you connect with your target customer at all stages of the buying cycle. Whether your goal is to build awareness or to generate qualified leads, our team will develop a personalized plan for you to reach your objectives.
Retail Sales Manager
814-532-5042

---
Websites
Whether you're starting a business or need to replace your outdated website, our business Website Package will help you establish a unique, professional online presence.  With your input, the experts at Community News Digital will create a distinct website for your business, then help you maximize its potential with additional features.
All websites include responsive design, domain registration and hosting, SEO compatibility and Google Analytics, Business email and social media integration, OneList Plus Directory claiming service, and 1 hour per month of maintenance.
Many optional features and forms available to enhance and customize your website.
Special offer now with NO SET UP FEE! Packages starting at only $99 per month!
Retail Sales Manager
814-532-5042
---
Targeted Display Advertising
Ever search for something online and have an ad follow you after you left the original site? That's Targeted Display and it works!
Those ads that remind us what we were searching for, that influence our buying decisions...we have you covered!
It's a little bit art and a lot of science. It's also proven to work day after day, for businesses across thousands of markets and industries.
So tell us who you're looking for. We know a few million people we think you'd like to meet.
We'll create beautiful engaging ads that will get you noticed and help you craft the perfect targeting mix from Keywords to Contextual Targeting and pinpointing your perfect geographical area to reach those people searching online for what you do!
Whether they are typing in a keyword, looking on a competitor's website, reading an article or searching on your website we want to target them with engaging ads for your business on thousands of premium national and local websites-anywhere where they are searching-reminding them about what you do and inviting them to go to your website to learn more about your business!
To learn more about this exciting digital marketing strategy contact us today!
Retail Sales Manager
814-532-5042
---
Geo-Fencing/Event Targeting
Ever think to yourself " I really wish I could serve an ad to all the people shopping at my competitors!" or maybe "I would love to target all the people attending events at the Pasquerilla Performing Arts Center ?  Well you can and we can help you do it!
Think of drawing an imaginary fence around any address that you want to target and now anyone who enters that location with their phone location services turned on will then be served ads for your business.
We have the most advanced location-based mobile advertising technology for targeting users based on specific addresses they visit. With pinpoint accuracy we can generate configurable dynamic shapes custom to an advertiser's campaign. The best part is that we can set your location as a conversion zone and track those people who were targeted with an ad who came to your location! Actual visits and not just website visits!
Want to target college students on a campus anywhere in the country? We can do that! Want to target other businesses?  We can do that!  Want to target people shopping for a car?  We can Geo-Fence the car lots!
We can target events too! Home Shows, Boat Shows, Bridal Fairs and Concerts...We can target the event attendees and then send them ads for your business for the next 30 days.
To learn more about this amazing technology and how it can benefit your business contact us today!
Retail Sales Manager
814-532-5042
---
Search Engine Marketing
PPC (Pay-per-Click) and SEM (Search Engine Marketing) campaigns place text ads on search engines like Google, Yahoo and Bing. These are used to generate leads and direct traffic to designated landing pages and websites. They appear on relevant searches and showcase and direct consumers to a business's products, services, and special offers.
Our team of Google certified strategists are dedicated to helping your business get found on major search engines when and where people are looking for what you do.  We use the latest technology and algorithms to build and manage campaigns to meet and exceed your goals.
Certified marketing experts work with you to develop a high-quality campaign that's targeted to your best prospects. Your text ads are shown to web and mobile searchers on all major search engines and dozens of local directories, so more people find your business, visit your site, and contact you.

As a Google AdWords™ Premier SMB partner, we know what brings you results.
Your campaign performance is tracked 24/7 to ensure it delivers the results you want.
To learn more about increasing your web traffic with Search Engine marketing (Pay per Click) contact us today!
Retail Sales Manager
814-532-5042
---
Social Media Marketing
Social Media is the new word of mouth! People do a lot of socializing online. If you can build an engaged audience and develop connections and relationships with them, people will start talking about your business, reviewing your business and recommending your business to their friends. Social media is not about technology. Social media is about relationships.
Reach more of your target consumers on Facebook with targeted, actionable messages. We work with you to set up a customized plan that works with your budget and marketing goals and drives the types of results you want – whether you're looking to grow brand awareness, foster social engagement, drive website visits or connect with new customers.
With customizable products like social coupons and social sweepstakes we can help you create an effective campaign that grows your business online!
"The ROI of social media is that your business will still exist in 5 years."-Eric Qualman
To learn more about how Social Media Marketing or Management can help your business succeed contact us today!
Retail Sales Manager
814-532-5042
---
Search Engine Optimization
When a potential consumer performs a search for one of your products and services do you show up in the results on the first page of google or other search engines?  Are you in the top 3 results?  Above the fold?
Most of the clicks on a search page happen in the first 3 choices within the organic section of the results.  Put your business in front of interested consumers with SEO.
Search Engine Optimization (SEO) is the art and science of making enhancements to your website to influence its ranking in search engines, and ultimately drive traffic to your website. SEO increases visibility for searches with local intent through placement in local search results (i.e., Google's places 3-pack) and delivers more search engine real estate for top business and category keywords. Our dedicated SEO analysts work with you to create a strategy, conduct regular reviews to ensure there is search visibility and site traffic, and provide ongoing insights and monthly performance reporting.
To find out if SEO can benefit your business and to receive a free digital analysis of your web presence contact us today!
Retail Sales Manager
814-532-5042
---
Reputation Management
Want to know what people are saying about your business online? 
Reputation Management from Community News Digital can help you monitor websites, reviews, blogs, and social networks so you can solve any potential problems and celebrate your success stories.
Let's face it people will talk about your business online whether you are there to monitor them or not. 
Why not control most of what is said about your business online? 
Our experts will help you view your reviews and mentions, respond to any positive or negative reviews and interpret all the information gathered into concise monthly reports that will help you make the best marketing decisions for your business.
To learn more about Reputation Management and how it can benefit your business contact us today!
Retail Sales Manager
814-532-5042
---
Email Marketing
We have a number of different email products to help you reach your best potential customers through email marketing.
Want to target a specific geographical area or demographic? We have you covered.
Want to send a professionally created email blast to our local opt-in subscribers (people who choose to receive offers from local businesses)?  We can do that!
How about combining email marketing to your current list of email contacts with the power of social media?
Our Email Marketing product called Email Pro+ is a cost effective way to reach potential consumers and increase revenue through sending newsletters or promotions, keeping your business top-of-mind and getting those consumers to spread the word about you through social media.
Professionally designed emails created for monthly promotions and engagement with your customers plus weekly posts to Facebook and Twitter for promotion and engagement to encourage new customers take the power of email marketing to the next level!
To learn more about our email marketing opportunities contact us today!
Retail Sales Manager
814-532-5042
---
Custom Publication and Printing
Community Events and Sponsorships