SHANKSVILLE, Pa. – Bethany and Savannah Williams never met their great-aunt, Colleen Fraser.
At just 5 and 6 years old, they didn't witness the 4-foot-6 New Jersey woman standing tall as a tireless advocate for people with special needs – or hug her one last time before she boarded United Airlines Flight 93 for its final flight on Sept. 11, 2001.
But they know her now as a hero.
Walking with their parents toward Flight 93 National Memorial's Wall of Names, which honors the jet's 40 passengers and crew members, both girls placed a single yellow rose at the ground below a white marble panel that bears Fraser's name.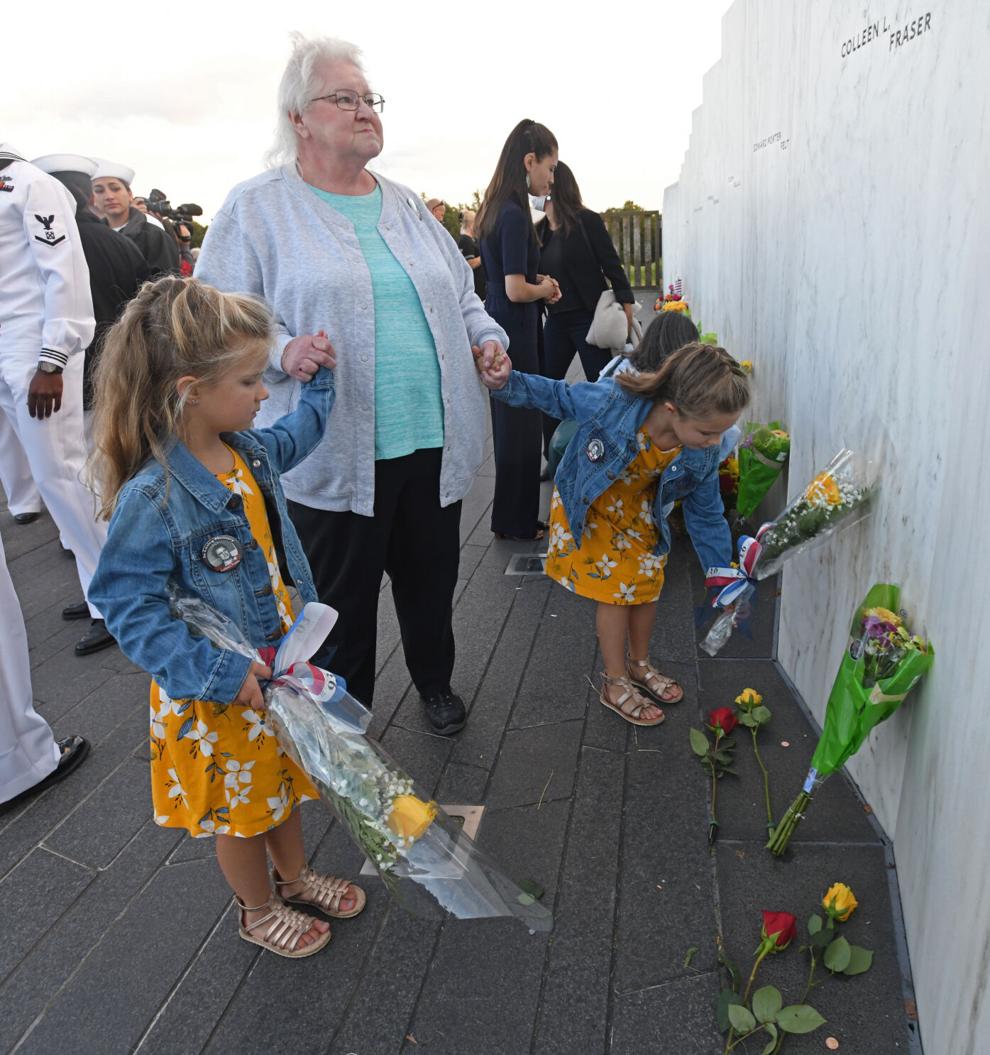 "If that plane hit a government building, a lot of people would die, so they fighted back," said Savannah, while her mother, Lisa, and father, Matthew, gazed down at her, nodding in agreement.
"She's a hero," the 6-year-old said.
On Friday, the Williams family and Fraser's sister, Barbara Williams, joined as many as 500 other family members of Flight 93's fallen who gathered at the memorial for a solemn luminary ceremony.
Much like the 75 million Americans born in the 20 years since that day, a growing number of people in the Flight 93 families are children and young adults who either weren't alive on 9/11 or are too young to remember it, Families of Flight 93 President Gordon Felt said.
That includes children now in their 20s who lost parents on the plane that day, according to Felt, who has served as a spokesman for the family group for nearly 20 years.
"We've got children here whose mothers were pregnant when Flight 93 (crashed) – and they never got the chance to meet their fathers," Felt said. "Others who were very young and don't remember."
But as the years pass, more are learning about the Flight 93 story, and some within the younger generations are stepping forward to help share it, he said.
As a 10-year-old, Camal Wilson, of Fairfax, Virginia, knew LeRoy Homer Jr. as the uncle who showed up at a family birthday party and surprised him with a remote-controlled PT Cruiser in 2001.
Wilson was in his fifth-grade homeroom on Sept. 11 when his mother pulled him from class to explain that the plane his uncle helped fly was hijacked by terrorists and crashed in a rural Pennsylvania field.
"I didn't know how to process it at first," he said. "At 10 (years old), I think I was more sad because my family was sad. As I got older ... I started to realize how important they were – what they did for our country."
On Friday, Wilson stood alongside a handful of relatives – including Homer's sister, Cheryl – while a line of Flight 93 family members and other volunteers carried glass-framed lanterns to the marble wall where their loved ones are honored as heroes.
For a moment, a crowd of more than 1,000 people stood in silence as the soft glow of 40 candles illuminated the inscribed names.
Matthew Williams praised the memorial's mission, adding that he's visited several times over the past 20 years. But honoring his Aunt Colleen also means telling her story within his own family, he said.
"We want our kids to know they had a family member who helped save thousands of people," he said. "We don't want them to forget."
Wilson said America cannot forget, either. Moments like Friday show it hasn't, he added.
"Right now, with all of these people here, the support feels stronger than ever," he said. "It shows that even though 40 people gave their lives that day, their love lives on, and we have to set aside our differences and make the most of it."