WINDBER – Lined with rusting relics of yesteryear, Ed Metka's Windber property has attracted curiosity for decades – fellow collectors looking to make a deal, photographers and sometimes trespassers.
But early Tuesday, a group of unwanted guests left tens of thousands of dollars in damage in their wake, he said.
Vandals tagged graffiti on the walls of the former Berwind coal company repair shop where he has stored his most prized possessions.
Then they broke inside.
They smashed his electric trolley's windows and lights. Padded seats that still remained inside some of the cars were plastered with spray paint – and an early 2000s-era Ford Mustang was left battered, Metka's friend, Marlin Plummer said, pointing to its shattered front windshield.
"It's a shame," said Plummer, who often helps Metka at the property. "There's history here – things he's collected for years. And kids are just coming in here and destroying it."
Some of the trolleys in Metka's collection date back to the early 1900s.
Fading streetcars from places such as Boston, Chicago and Frederick, Maryland – even from the once-renowned Johnstown Traction Company – fill the onetime Berwind Corp. space.
While some cars have been parted out for buyers who still run their own trolleys, Metka has kept others – hoping to find new homes for them in historic neighborhoods or other tourist draws.
Metka has found homes for his trolleys as far away as Cairo, Egypt. He told The Tribune-Democrat he's been collecting and selling them since the late 1980s.
Plummer estimated the vandalism damage exceeds $50,000.
Windber Police Chief Andrew Frear said the department is following up on leads – and that police believe there are people who "know who did it."
He advised anyone with information on the incident to come forward and cooperate. The Windber police can be reached by calling 814-467-8383.
"It's a shame," Frear said. "There are times when someone lets us know they see someone trespassing there and we'll drive up and cite them. But we haven't had this kind of (vandalism) there."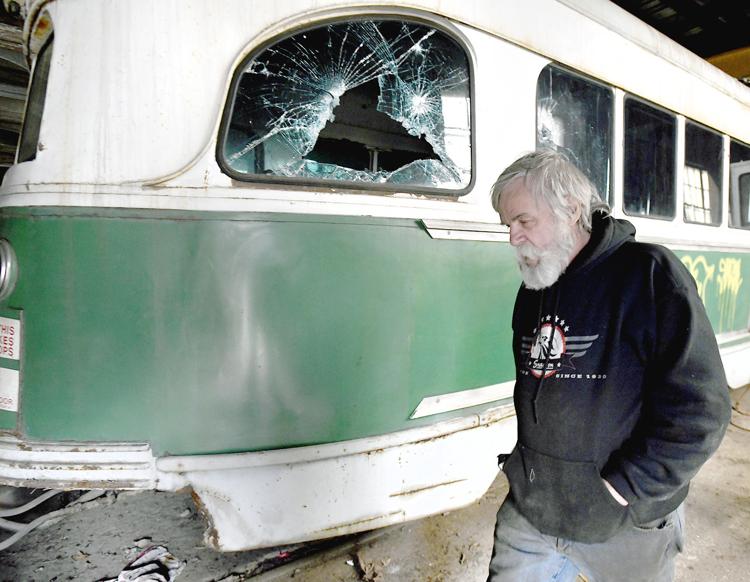 On Wednesday, Plummer and a colleague were welding steel brackets onto Metka's storage building windows and sealing up areas that might be vulnerable to break-ins.
Security cameras will be added, too, Plummer said.
But he acknowledged none of that will replace what's already lost.
"We shouldn't have to be up here welding these windows," he said. "This is somebody else's stuff. And people are destroying it."