HARRISBURG – Along with laying out the history of child sexual abuse and cover-up within six of Pennsylvania's Roman Catholic dioceses on Tuesday, Attorney General Josh Shapiro provided recommendations for lawmakers to consider going forward.
Overall, the grand jury, which investigated the Allentown, Scranton, Erie, Pittsburgh, Greensburg and Harrisburg dioceses, called for eliminating the criminal statute of limitations for sexually abusing children, creating a "civil window" so older victims may sue, clarifying penalties for a continuing failure to report child abuse and specifying that Civil Confidentiality Agreements do not cover communications with law enforcement.
Victims can currently come forward with criminal claims until age 50. The civil window closes at 30.
More than 300 priests and religious leaders were accused of committing thousands of acts of abuse in the document released during a news conference in the Pennsylvania State Capitol.
"How could this kind of report not push legislators to actually do our jobs that we were elected to do?" asked state Rep. Mark Rozzi, D-Berks County, a leading advocate for eliminating the commonwealth's statute of limitations.
Rozzi also supports creating a window in which alleged victims can file claims against predators who committed their acts beyond the current statute of limitations, a proposal supported by state Rep. Frank Burns, D-East Taylor.
"Absolutely, there has to be a retroactive window, because it's taken years for these people to build up enough courage to come forward," Burns said. "Even if they tried to in the past, all the way up to law enforcement was preventing them from being heard. There was a systematic effort in place to silence the victims."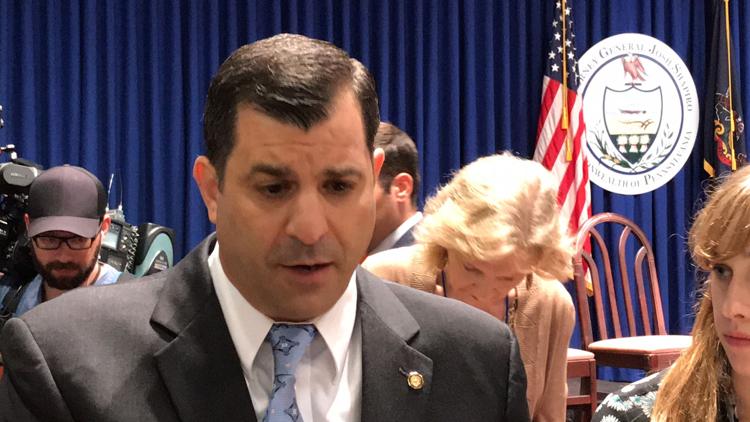 Both Gov. Tom Wolf, a Democrat, and his Republican opponent in this year's gubernatorial race, former state Sen. Scott Wagner, commented on the findings.
"For far too long, victims of abuse went unheard or worse," Wolf said. "It is my hope that the grand jury's report will provide some relief, especially for the victims who came forward to have their stories heard. I commend these victims and families for their bravery and thank Attorney General Shapiro for his pursuit of the truth. I assure the victims and the public that we will review the report's recommendations and work towards a system that better protects and values victims."
Wager said: "I am incredibly saddened by what we have learned from (Tuesday's) grand jury report and I applaud the strength of survivors in coming forward and sharing their painful and tragic stories.
"The victims involved deserve justice and closure for atrocities that occurred while they were most vulnerable, perpetrated by those they trusted most. I encourage all survivors to step forward, share their stories, and I pledge to work with them to help bring sexual abusers to justice as governor."
Victim advocate Shaun Dougherty, a Westmont resident, called upon other states to conduct similar investigations.
"Every single diocese in Pennsylvania is guilty of raping children," Dougherty said. "Every single diocese in Pennsylvania is guilty of covering up the rape of children. Any oddsmakers out there? What are the odds that the other 49 states are clean? Not many."