EBENSBURG, Pa. – Shane Bosworth has always had an affection for working with dogs, oftentimes bringing home strays as a child.
In October, Bosworth moved his mobile dog training business, That Dog Guy, indoors at 1215 N. Center St. in Ebensburg.
Bosworth said he had worked in law enforcement, but a medical condition forced him to retire and then go into another career path in 2017.
"I've been around dogs all my life," he said. "I was the one that was always finding the strays and bringing them home and my mom and dad would be like, 'Where did this dog come from?' – and I'd be like, 'I just found it,' and I'd even find dogs and re-home them."
While still working in law enforcement, Bosworth said that he also worked with rescues and other animal groups to help.
"I always hung around with K9 officers and the amount of control that they had over their dog and the obedience that the dog had was amazing to me," Bosworth said. "I was always drawn toward the behavior and the psychology behind it – to find out what makes it tick.
"And that's a big part of it – when you work with a dog, finding out aspects like, what's making this dog have this behavior? What's making this dog do that? Is there something that I can take out of the equation and solve the problem?"
Bosworth said being able to resolve problems for dog owners is rewarding.
"Sometimes, there's things that you find and you show it to them or you explain it to them and it works," he said. "But that is what drew me to it, because I like finding things like why they're like this, what's making them aggressive, what's making them angry, what's making them act the way they do – and finding a way to resolve it."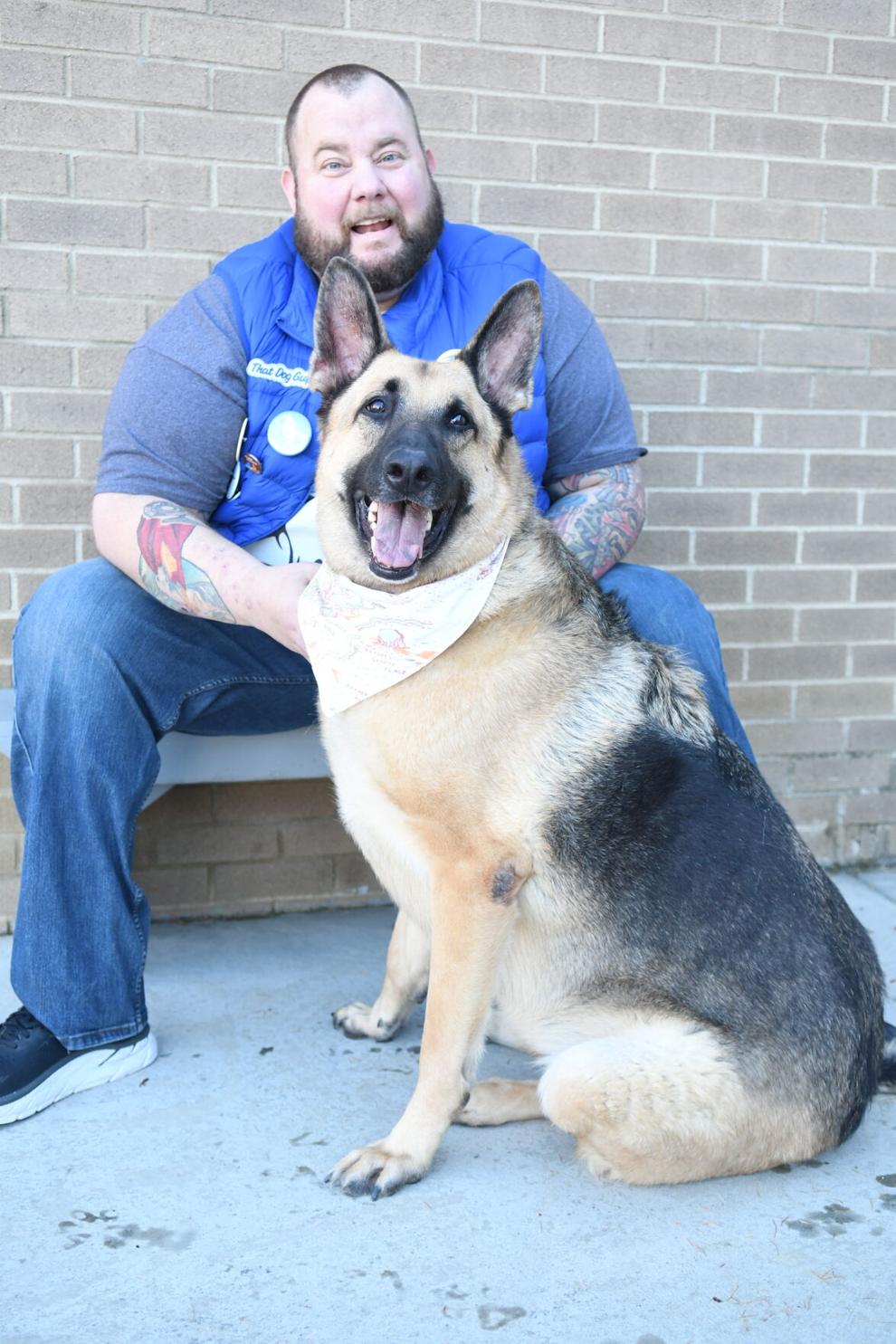 Asher the 'resume'
Visitors to Bosworth's training facility are greeted by his German Shepard Asher.
However, Bosworth said Asher was not always the friendly dog he is today. In 2019, when Asher was 4 years old, he became what Shane and his wife Rebecca Wicks Bosworth describe as Bosworth's first big project.
"He had been abused and left in a crate for almost a year," Bosworth said. "They would take him out, feed him, give him water, let him go to the bathroom and stick him back in his crate – because he was so big that they couldn't control him.
"They dropped him off for behavior modification. It was supposed to be like a three-week course and they never came back and got him. So he's just been with us since."
Bosworth said that Asher would chase after him and several vets even advised that he put the dog to sleep.
"I couldn't touch him for months," Wicks Bosworth said. "He was in our house and I couldn't touch him. It was a very hard job. But now he sleeps on the bed."
Bosworth said he continued to work with Asher, who he now calls a "walking resume."
"We have two other dogs that he loves," he said, noting that he couldn't interact with other dogs when he first joined their family.
"He can go back there and play with the other dogs."
'Makes you feel good'
Bosworth offers a variety of training options at the facility, including behavior modification – which he describes as correcting issues such as aggression or separation anxiety – and basic obedience training.
Bosworth has worked with dogs to help with hunting skills, and training needed for therapy dog certification.
"That's kind of the difference of coming to a personal trainer versus like a box-store trainer because you follow their agenda, you follow their plan and if the dog has a special need or a special thing that they want to work on it doesn't really ever get addressed," Wicks Bosworth said. "This allows everything to be pretty customized."
Bosworth said he enjoys seeing progress in the dogs with which he works.
"It makes you feel good," he said. "I had cancer twice and that didn't make you feel good. When I left law enforcement, I didn't feel good because it left a hole in my heart because I loved it.
"But this makes you feel good because you're helping the owners and helping the dogs themselves."