For the first time in six years, Greater Johnstown seniors received their diplomas at Trojan Stadium on Monday.
The event wasn't a guarantee, due to COVID-19 restrictions, but Superintendent Amy Arcurio promised the Class of 2020 that if the school could do an in-person ceremony, it would happen.
"We are so happy to be able to bring our families together with their graduating seniors after so many disappointments," Arcurio said.
"To finally be able to give the graduating Class of 2020 a face-to-face graduation is the absolute best way to end the (20)19-20 school year."
Initially, the school was going to hold a virtual graduation to be aired on WJAC-TV. But when Cambria County moved into the green phase, the school administration decided to add an in-person event to the schedule.
The virtual commencement is still going to take place at noon Thursday on the CW Channel and at 8 a.m. on Channel 6.
"We are a class to make history," senior Gannon Edeline said.
He admitted that having a commencement without the social distancing would have been nice, he was just glad to get a face-to-face ceremony at all.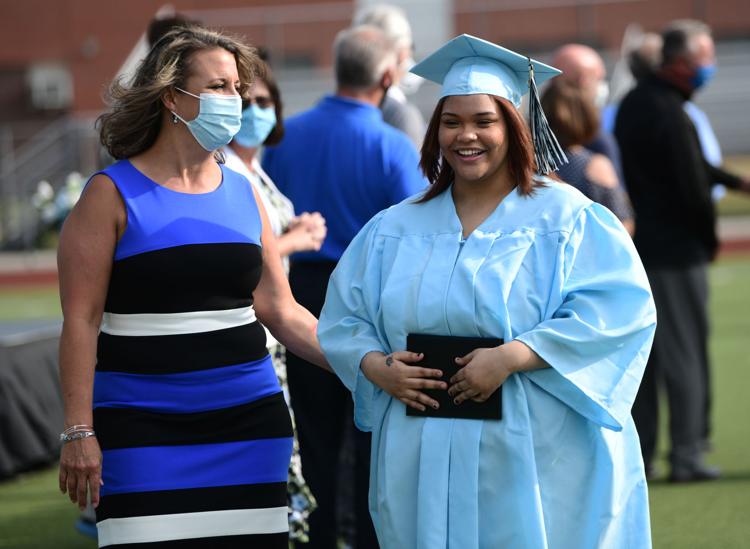 "It feels great to actually have a graduation," senior Anna Evans said.
Her parents, Joe and Barb Evans, also were excited their daughter was getting to graduate in a more traditional way.
"Working in the health-care field, I knew it was a big if," Barb Evans said. 
Her husband added that he was "just glad in the time of COVID-19" the school was "doing something for the kids."
"This is a big milestone for the kids," Charles Edeline said.
The chance he wouldn't get to see his son receive his diploma worried him, he said.
Charles Edeline viewed the gathering at Trojan Stadium as a good opportunity for the students to come together one last time and get closure.
Graduation was a "big moment" for senior Katerina Stewart.
She said that high school wasn't always easy, and she just kept setting little goals for herself to accomplish.
Walking into the stadium to finally graduate meant the world to her.
"It's just overwhelming in a good way," Stewart said.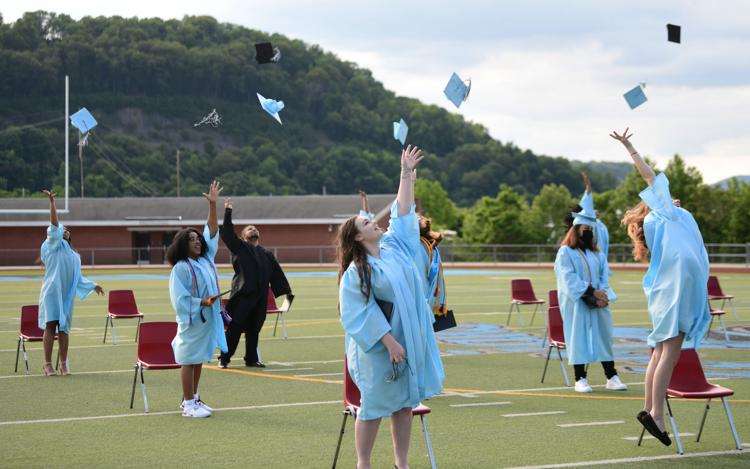 Jordan Jackson considered himself in a similar situation.
Finishing school was a long-term goal of his, and Jackson said he was happy to finally accomplish it.
Families of graduates spaced out and sat on one side of the stadium while the students were also separated sitting on the field, and the scoreboard was lit up with all "20s" for the class.
The ceremony proceeded as a typical commencement would, albeit a scaled-back version.
Two groups of students participated in separate events in order to keep the number of attendants low.
The first group received their diplomas at the 5:30 p.m. event, while the second group graduated at 7 p.m.
In between uses, the facility was cleaned, and during the second gathering, the guests were asked to sit on the opposite side of the stadium.
"Class of 2020, I'll never forget you. Thank you, guys," high school Principal Michael Dadey said to the seniors before setting them free.