SHANKSVILLE – The 40 passengers and crew members of United Airlines Flight 93 "are an everlasting reminder that, no matter the danger, no matter the threat, no matter the odds, America will always rise up, stand tall and fight back," President Donald Trump said Friday at Flight 93 National Memorial in Somerset County.
"Today, every heartbeat in America is wedded to yours," Trump said, directly addressing those in the audience who lost relatives aboard the hijacked jet during the Sept. 11, 2001, terrorist attacks. "Your pain and anguish is the shared grief of our whole nation. The memory of your treasured loved ones will inspire America for all time to come.
"The first lady and I come to this hallowed ground deeply aware that we cannot fill the void in your heart or erase the terrible sorrow of this day – the agony renewed, the nightmare relived, the wounds reopened, the last treasured words played over and over again in your minds.
"But, while we cannot erase your pain, we can help to shoulder your burden. We promise that unwavering love that you so want and need, support, devotion – the very special devotion – of all Americans."
The president made his remarks at the Somerset County memorial on the 19th anniversary of the 9/11 attacks. The annual observance was closed to the general public and shortened this year due to the ongoing COVID-19 pandemic.
"It has been 19 years, but sometimes it seems like yesterday," said Ed Root, vice president of the Families of Flight 93 and cousin of Flight 93 flight attendant Lorraine G. Bay. "The wounds never truly close completely. … It has been 19 years, and those too young or unborn on that fateful September morning come to this place to honor and learn. The realm of history is taking over from those of us who lived and suffered through that day."
Trump's Democratic challenger in the upcoming presidential election, former Vice President Joe Biden, met with relatives of passengers and crew members at Flight 93 National Memorial on Friday afternoon after visiting the 9/11 Memorial & Museum in New York City in the morning.
Friday's ceremony included the reading of the names of the passengers and crew of Flight 93, who launched a counterattack against the four hijackers who had taken control of the plane after three other hijacked planes crashed into the Pentagon in Arlington, Virginia, and the Twin Towers of the World Trade Center in New York City. After each name was read, twin "Bells of Remembrance" were tolled by retired Federal Bureau of Investigation special agents Andrea Dammann and Roy Cavan.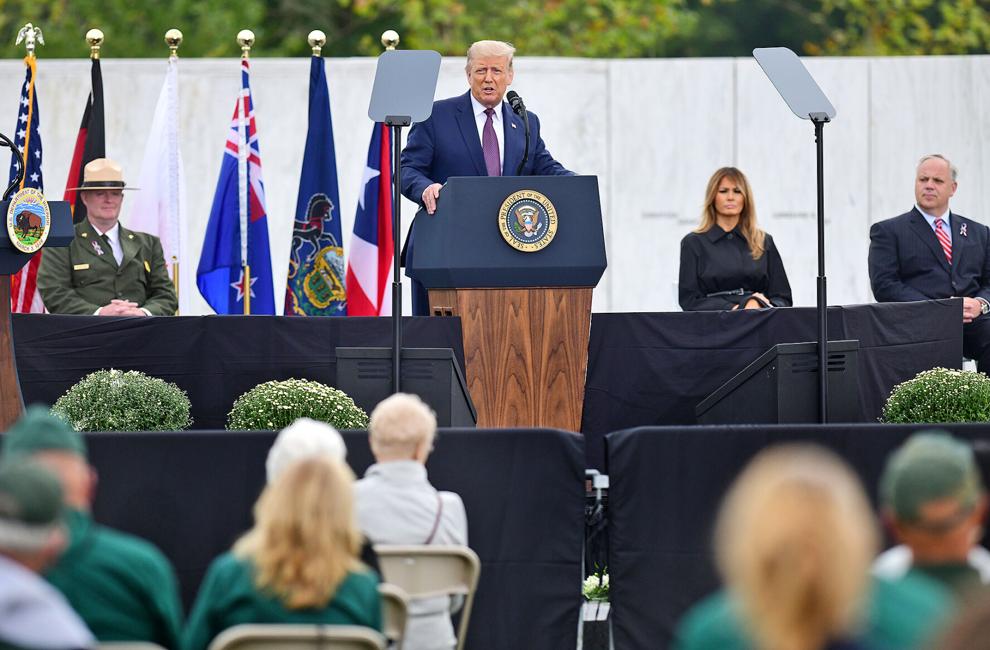 Flight 93 crashed into a field in Stonycreek Township at 10:03 a.m. on Sept. 11, 2001; officials believe the hijackers were prevented from reaching their intended target in Washington, D.C., less than 20 minutes' flight time from the crash site.
"The men and women of Flight 93 were mothers and fathers, sons and daughters, husbands and wives," Trump said. "Nothing could have prepared them for the dreadful events of that morning – but, when the moment came, when history called, they did not hesitate. They did not waver. Forty towering patriots rose up, took charge, made their stand, turned the tide and changed the course of history forever.
"Our sacred task, our righteous duty and our solemn pledge is to carry forward the noble legacy of the brave souls who gave their lives for us 19 years ago. In their memory, we resolve to stand united as one American nation, to defend our freedoms, to uphold our values, to love our neighbors, to cherish our country, to care for our communities, to honor our heroes and to never, ever forget."
Trump offered praise in his remarks Friday to two Ground Zero rescuers and to Chuck Wagner, a Shanksville-area heavy equipment operator who helped search for Flight 93's "black box" after the crash and who now volunteers as an "ambassador" at the memorial, providing information to visitors about Flight 93 and those aboard it. At Trump's prompting, Wagner and the other 40 or so ambassadors in the crowd stood to receive a round of applause.
"Chuck and his neighbors learned about each person, cared for their families, and each day, rain or shine, they took shifts standing vigil over their final resting place," Trump said. "Long before this place was a national memorial, back when it was marked by a simple wooden cross, Chuck and his fellow ambassadors were always here waiting to tell visitors about those we lost. Nineteen years later, Chuck says his life is devoted to three things – his family, his church and preserving the memory of the men and women of Flight 93."
After Trump's 15-minute speech, he and First Lady Melania Trump laid a wreath at the memorial's Wall of Names before departing.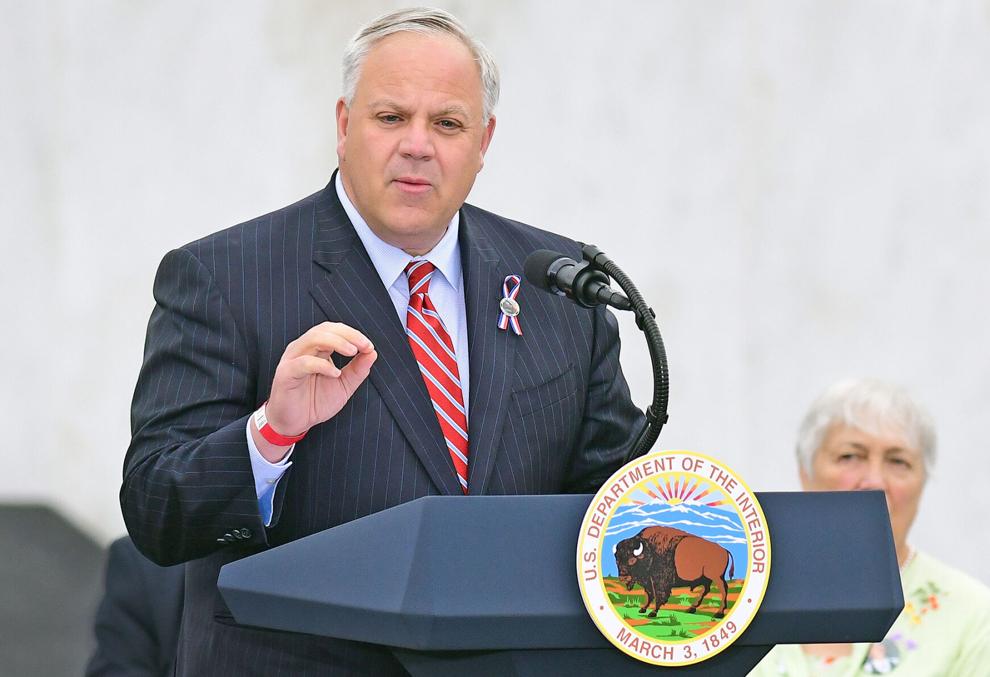 Tasked with introducing Trump was Secretary of the Interior David Bernhardt, whose United States Department of the Interior includes the National Park Service, which is in charge of the United States' national parks, monuments and battlefields.
"Each site helps tell America's story – a rich and incredible story," Bernhardt said during his introduction. "The places we steward and protect often highlight exceptional actions by incredible people, but none more so than this site, dedicated to the 40 heroes."