Dozens gathered in downtown Johnstown on Saturday to be part of the message: End Racism Now.
Building on recent local peaceful demonstrations following death of George Floyd, an unarmed black man in the custody of Minneapolis police, local officials and civic leaders organized the painting of "End Racism Now" on Main Street.
As a 60-year member of the NAACP Johnstown Branch, Verna Porcher Carter had to see for herself.
"I can't even put it in words," the 79-year-old said. "It means so much."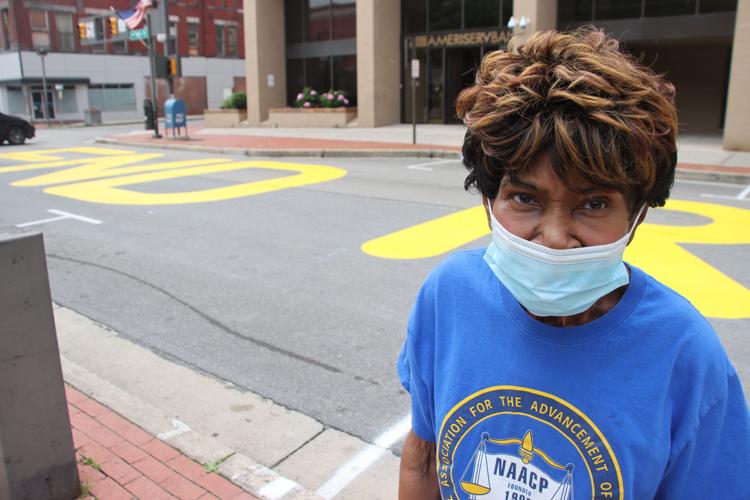 Deacon Jeffrey Wilson, of Pleasant Hill Baptist Church, and Ricky Britt, a Johnstown City Council member, launched the event to promote unity.
"We included everybody in the community," Wilson said at the event Saturday, "We felt that this would be three words that everybody could get on board with."
Wilson thanked the City of Johnstown for supplying the paint.
Britt said he appreciated the turnout of volunteers.
"It's a blessing to be here, making history in Johnstown," Britt said. "I just hope we keep on making progress with everything we are trying to do in this town and bring back love and affection for one another."
Artist Nelle Kearney and her father, Norman Ed, laid out the letters early Saturday, so volunteers could begin work immediately at 10 a.m.
A slight delay occurred when the initial supply of bright yellow paint was exhausted. Within a short time, the resupply arrived and the message soon emblazoned Main Street along Central Park.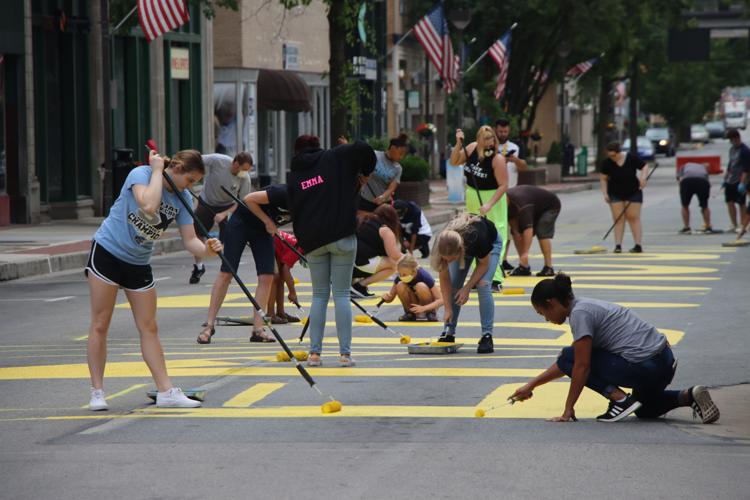 De'Lajah Sitton and Ashley Eckenrod spent the morning painting the "E" with a group of Greater Johnstown High School cheerleaders.
"I'm here, honestly, to show my appreciation for the black community," Sitton said. "I'm here for all of us, as one together."
Bishop Joseph McGauley III of Jefferson Memorial First Born Church said he came to celebrate progress.
"I grew up in this city, so change means a lot to me," McGauley said. "I was raised right in the middle of systemic racism. I knew what it was like to come out of the house and be called the 'n' word and be spit on."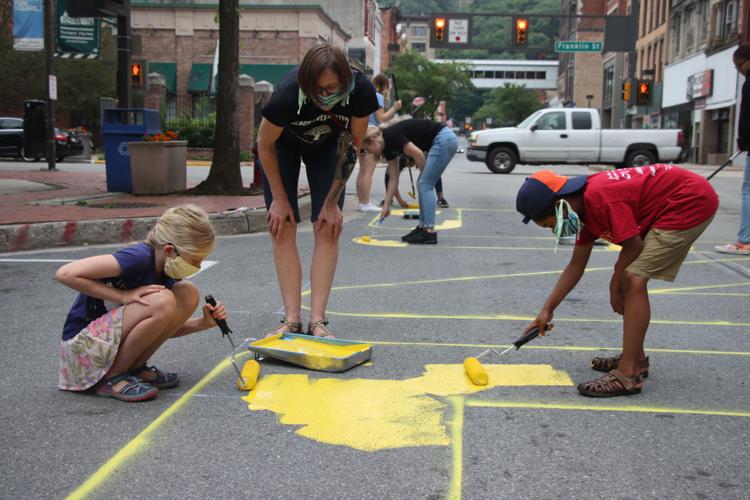 McGauley said his father, who was also a pastor, encouraged him to look ahead, quoting from the Psalms.
"He always said, 'Weeping sorrow is made to endure for a night but joy is coming in the morning,'" McGauley said, pointing to those painting. "When I look at this, this is joy that's coming in the morning.
"It's just time for all of us to put down what we were taught about other races and let's come together and let's get to know one another and love one another."