WINDBER – A new cardiac catheterization center and walk-in orthopedics clinic showcase two new service lines introduced last year at Chan Soon-Shiong Medical Center at Windber.
Both the orthopedics program and the interventional and diagnostic cardiac program have exceeded expectations, Windber President and CEO Tom Kurtz said.
Since the cath lab's opening in August, Medical Director Dr. Samir Hadeed and his team have treated more than 100 patients, Kurtz said.
The orthopedic clinic has also been busy.
"We are seeing in a day what we projected to see in a week," Kurtz said.
The cath lab features procedures to open blocked blood vessels that supply the heart muscle. Windber is one of a growing number of smaller hospitals authorized to provide the service without also offering open heart surgery. UPMC Altoona is officially listed as Windber's backup surgery program.
"So far, we haven't had to use it," Kurtz said, explaining that patients are actually free to transfer to any hospital if surgery is recommended.
He expects most patients would transfer to Conemaugh Memorial Medical Center in Johnstown. Windber is ready to accommodate those patients, he said.
Kurtz commended Hadeed for his dedication to creating a high-quality program. Hadeed was formerly chief of the Division of Cardiology at Memorial.
"He's making sure that clinical care is where it should be," Kurtz said.
Windber's cardiac program was developed in tandem with Hadeed's new expanded cardiology practice and outpatient clinic, Johnstown Heart & Vascular Center, headquartered nearby at 374 Theatre Drive in Richland Township.
The orthopedic program is led by Drs. R. Brandon Trale and David Bizousky, who also serve at Indiana Regional Medical Center.
A walk-in orthopedic clinic helps patients start getting treated right away. Usually, an emergency room of an urgent care center evaluates and then refers patients, Kurtz said.
Program leaders expected to see sports injuries and fall patients, but the clinic is also attracting those with chronic pain and other ongoing issues who want to avoid getting a referral, Kurtz said.
"It has been a good fit for us," Kurtz said. "Outcomes well exceed any benchmarks out there for quality."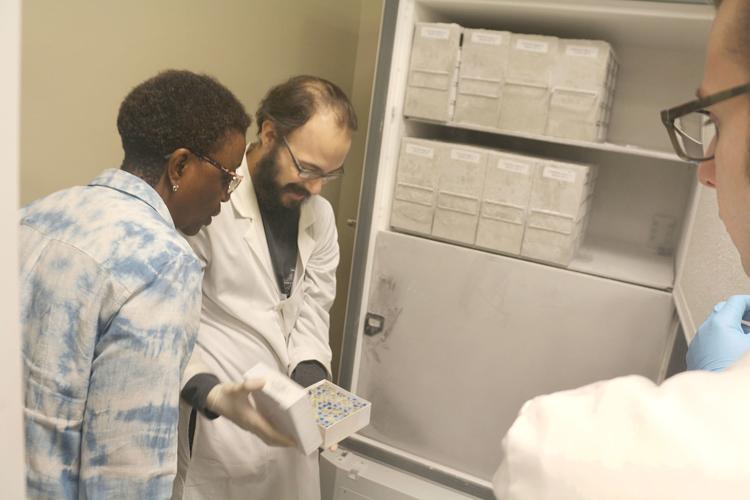 Orthopedic success is part of the fuel behind expected growth in Windber's physical therapy program, which includes a strong pediatric component.
The hospital has opened physical therapy offices in Portage and Davidsville, with additional locations being studied. The facilities include small public fitness centers as part of Windber's HealthStyles program.
"Instead of building one big box here in town, we are going to build a bunch of small boxes," Kurtz said.
The pediatric therapy got a boost last year when former Windber Medical Center board member Bill Bahorik saw a child trying to use an adult treadmill at HealthStyles. 
Bahorik asked Kurtz if the equipment came in children's size. Kurtz told him it was available, but not in the budget.
"He fully funded a children's gym," Kurtz said. "It looks like regular equipment, but it's kid-sized."
Planning continues for a medical oncology program that will be associated with clinical trials being developed by Windber's financial backer, Los Angeles billionaire Dr. Parick Soon-Shiong.
"Cancer is something that is obviously near and dear to our hearts," Kurtz said. "(Soon-Shiong) has not wavered from that commitment."
Leaders have had trouble recruiting a medical oncologist to direct the small program. 
Kurtz said Windber is exploring partnerships with larger programs.
"Once we decide who we want to do this with, we'll hit the ground running, he said. 
"We are committed to doing it this year, and we are making progress."
Plans to expand the emergency department as part of an overall facilities plan remain on track as well, but reconfiguring a 117-year old building for modern technology is challenging.
"We are committed to doing the ER," Kurtz said. "We want to make sure the people using the ER actually need the ER, so we are also looking at an urgicare, or working with existing urgicares."
Windber continued its commitment to women's health by hiring a new breast surgeon, Dr. Trudy Brown, and bringing on Dr. Howard Horne, gynecologist.
Across the street, Chan Soon-Shiong Institute for Molecular Medicine at Windber continues to receive accolades for scientific expertise in the fields of tissue banking and biological information technology. The Defense Department has selected Windber's biorepository to house and catalog all specimens donated for major portions of the APOLLO cancer project.
Applied Proteogenomics Organizational Learning and Outcomes is a consortium of the National Cancer Institute and the departments of Defense and Veterans Affairs. Researchers, including Windber's scientists are studying cancer at the molecular level, analyzing both the patient's genes and the proteins expressed by the genes.
In January, new freezers were installed for specimens from the Defense Department's Center for Prostate Disease Research in Rockville, Maryland.
Senior Director Stella Somiari has been with the biobanking program since the former Windber Research Institute got its first freezer nearly 20 years ago. She said Windber's reputation for quality led the APOLLO leaders to consolidate specimens there and shut down the Maryland tissue bank.
"This was a surprise to us," she said. "It was a welcome surprise. They believe we are doing a good job. They trust us with the precious research samples."