Outdoor sports have appealed to Mike Cook for most of his life. He's an avid white-water kayaker, enjoys trail running and recently added the extreme sport of downhill mountain biking to the list.
But this interest is rather new and tied directly to his work on the Inclined Plane Trails.
"I wouldn't have considered myself a mountain biker when I started the trails," Cook, 40, of Riverside, said.
Like many children of the area, Cook rode his bicycle in the warm weather. He said he considers himself lucky for having been raised in Nanty Glo, where there was ample opportunities for a child to test out the suspension of a bicycle.
But, as he aged, the bike was put away and he didn't think about the childhood activity until his friend, Dave Rasmussen, asked him why no one rode down the trails on the hillside around the Inclined Plane.
Cook was familiar with the paths because on his lunch break he'd run them. Riding down them on a bike, on the other hand, was an entirely new concept.
As the two began discussing the various opportunities to use the trails for this downhill adventure, the endeavor began to take shape. Together, Cook and Rasmussen composed a proposal to present to the Johnstown City Council to ask permission to use and maintain the trails.
On the night they were going to present to council, the pair decided to think it over more. Instead of waiting for the next meeting, Cook dropped the proposal off at former City Manager Arch Liston's office.
Cook explained that Liston handled the government side of the deal, and care of the trails became their responsibility.
"We take care of all of those trails – landslides, trees down, you name it," Cook said.
'Rolling his sleeves up'
Cook looked at working on the trails as an enjoyable project, but when Rasmussen offered to sell him a G2 Distortion bike, he took him up on it.
Slowly but surely six downhill, uni-directional trails were constructed in one year. There are various connector sections that allow a rider to experience up to 10 runs down the mountain.
"It's kind of like a 'choose your own adventure' up there," Cook said.
These trails weren't built overnight, though. Cook and Rasmussen worked tirelessly to construct them.
"The trails were built 8 inches at a time," Cook said he always tells people.
He goes out almost every Saturday and Sunday and works for hours using a small hoe and ax combination – called a pulaski – a larger hoe, flat shovel and fire rack.
"He's the one there rolling his sleeves up and digging in every weekend," Rasmussen said.
Rasmussen said this speaks to Cook's character as a friend he can always count on.
The pair have known each other for about 15 years, and Rasmussen said in that time he's come to know Cook as one who will "drop anything and help anybody."
Rasmussen joked that most people wouldn't find trail-building an enjoyable project, instead thinking of it as torture. But Cook is in the former category.
"I put music on, clear my head and play in the dirt for a little while," Cook said. "It's fantastic."
'Have a positive impact'
The trails haven't been built solely by Cook and Rasmussen, though.
There's also been the happily accepted help of many volunteers.
He said there have been University of Pittsburgh at Johnstown service fraternities that have lent a hand, Scouts who have done projects with these trails and citizens who just wanted to assist in some way.
One experience that sticks out in Cook's mind is when the small tornado wreaked havoc on the hillside last summer. Cook said "piles" of people appeared to help clear trees and debris, even people from as far away as Pittsburgh.
That's not the first time Pittsburgh residents have made the trek to Johnstown for the trails.
Cook said riders from the immediate area such as Ligonier come to town to ride, but there's also a group that comes from as far away as State College. On top of that, cycle shops in Pittsburgh organize day trips to Johnstown for the sole purpose of riding these trails, Cook said.
He added that one of the operators at the bottom of the Inclined Plane told him he has sold 300 passes to ride in one day.
"You just have to put a little bit of work into it and you can have a positive impact on your community," Cook said.
Cook expressed great enthusiasm for the fact that the city is in the center of a large valley with rivers at the bottom and all the outdoor opportunities that come with that landscape.
'Zen-like experience'
At the moment, the trails are shut down for the season. Cook said that when the Inclined Plane closes after New Year's, so do the trails. That gives Cook a good opportunity to do seasonal maintenance – every weekend since, even in the snow.
Currently, as weather allows, he is working on bumps in the paths caused by braking. That continuous action causes dirt to build up.
Cook is also widening some paths and raising the berms.
Cook said he plans to work on the trail "J-Line" – and said he "ultimately would like to expand and build trails all over the hillside."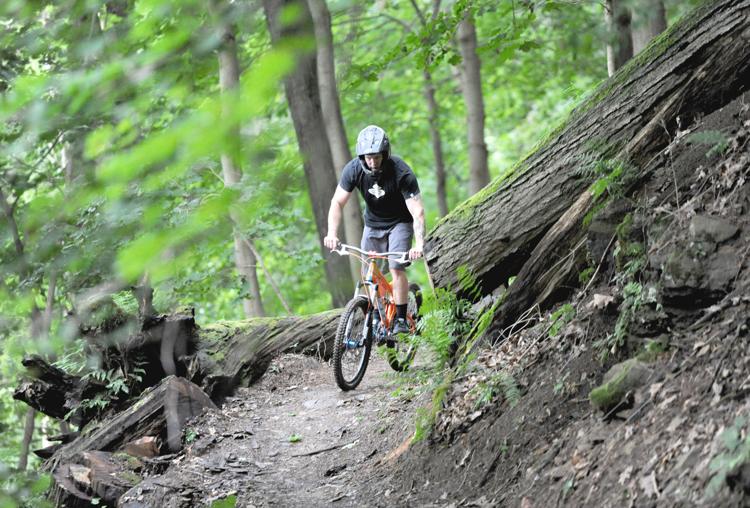 As for the mountain biking, Cook has taken quite a liking to the sport.
"What I love about mountain biking is that it gives you a chance to remove yourself from all the noise of everyday life and just focus solely on getting yourself safely down the hill," Cook said. "As unnerving as you would think it is, I find it to be an almost Zen-like experience."
For anyone interested in undertaking the hobby of mountain biking, Cook had a few tips.
The first thing to do, he said, is find a reputable bike shop, such as Hope Cyclery, and talk to owner Jared Bunk.
Cook said Bunk will make sure a new rider has the right bike and equipment.
After that, the next step is to find a "like-minded group of people to show you how to ride, and not push you off a mountain."