EBENSBURG – When Cambria County Commissioner Mark Wissinger was voted out of office in 1995, he would not have predicted that he'd end up serving two more terms on the board of commissioners more than a decade later – but that's exactly what happened.
"When I got out of it, I didn't think I'd ever be doing it again," he told the crowd on Thursday at his last-ever board of commissioners meeting, during which he received a standing ovation led by President Commissioner Thomas Chernisky. "You know, sometimes things work out uniquely, and for me it's been a tremendous experience."
Wissinger, a Republican, is serving out the last few days of his final term in office before his retirement. Commissioner-elect Scott Hunt will be sworn in to replace him on Jan. 2.
Hunt, also a Republican, will join Democrats Chernisky and William "B.J." Smith, both of whom won reelection in November.
Smith said after he was elected in 2015, Wissinger served as his mentor as he got his feet under him in the new position.
"It's kind of emotional for me," Smith said, "because Mark really took me under his arm, and he was a great teacher. He taught me so much in four years that there's no way I could ever repay him. … I walked into Mark's office the other day and said, 'When this is all done, after the next four years, I'm going to write a book. It'll be about the 10 most humble people I've ever met, and how I chose the other nine.' "
Ed Cernic, county controller, described Wissinger as "a true gentleman."
"You're the voice of reason, many times," Cernic told Wissinger during Thursday's meeting. "You are an asset to Cambria County."
Ferndale to Ebensburg
Wissinger, 70, a Ferndale native, attended Drexel University on a football scholarship. He came back to the Johnstown area after he graduated from college in 1971, and became a teacher and coach at what was then called Greater Johnstown Area Vocational-Technical School, now known as Greater Johnstown Career and Technology Center.
He got his political start in Ferndale Borough, serving as a councilman from 1978 to 1990 and winning the mayor's job in 1990. Soon afterward, in 1991, he launched a successful bid for the commissioners' office, running on a slate with incumbent Commissioner Kathy Holtzman. The third commissioner on that board was Democrat Ted Baranik.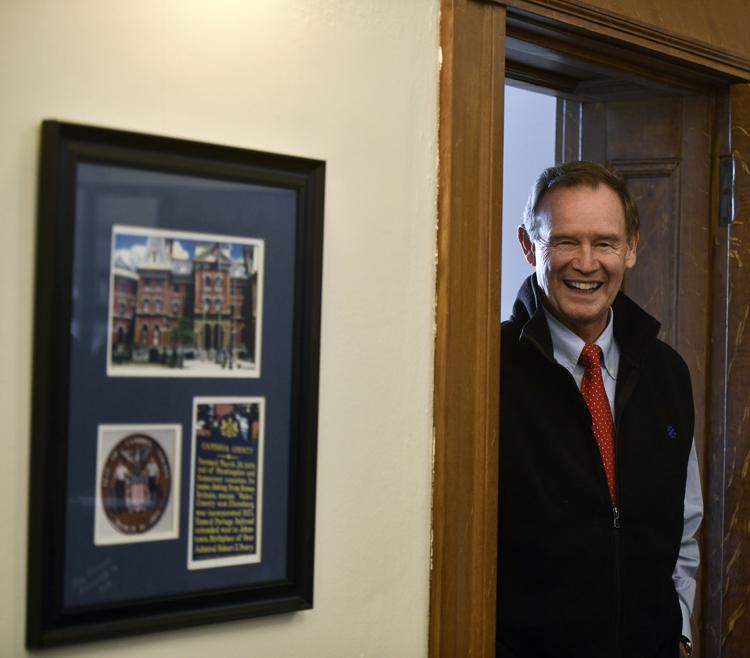 "She helped me out a lot," he said of Holtzman. "She was a really fine lady, well-respected and well-known, too. That helped me out because I was more locally known and she was known county-wide."
A Tribune-Democrat article from 1995, when Wissinger was running for reelection, noted that he and Holtzman "sold themselves as a team" throughout their tenure. They "raised campaign funds together, rarely disagreed on issues and even carpooled together to work," reporter Robert Long wrote.
Wissinger listed three achievements that he said highlighted his first term: getting the first county-wide 911 emergency response system up and running; founding Cambria County Area Community College, now known as Pennsylvania Highlands Community College; and constructing a multi-million-dollar replacement for the county's "antiquated" jail.
The construction of the prison – and the related tax hike – was the issue that lost him and Holtzman their reelection bids, Wissinger said. They were replaced on the board by Republican Fred Soisson and Democrat Susan Evans.
"That was kind of a tough issue," he recalled, "because, frankly, we had to raise taxes. I mean, we could have sidestepped it. I think we really could have put it off, staved it off. But ultimately our prison was very antiquated, and there were a number of other counties that were having to do the same thing, so we felt like, 'Let's do it. Let's get it out of the way. Let's do it first class and put something in there that ...' Well, I don't know if it'll last 100 years, but the other one did."
Issues and recovery
After his defeat, Wissinger went back to teaching. He stayed involved in local politics, serving a couple more terms on Ferndale's borough council – and that eventually led to his successfully running for commissioner again in 2011.
"From being here," he said, "people at least knew who I was, and they approached me, and I said, 'Well, let me think about it,' and ultimately I did. It worked out pretty good."
He said the county's economy is doing much better than it was during his first term.
"Back in the '90s, we lost Bethlehem Steel," he said. "That was a really tough economic hit – I guess the biggest economic hit that this area's probably ever seen. Even to this day – you don't want to live in hindsight, but it has been a struggle to recover from that kind of employment, those kinds of jobs, the spin-offs that were there with the steel industry. … I do think, in the last eight years, that the area economy is coming around."
As examples of challenges the county has faced recently, he mentioned the closing of the State Correctional Institution at Cresson in 2013, as well as blight and the associated hit to the county's tax base.
Wissinger said the county's financial situation has stayed "on an even keel" in the past eight years – it hasn't drastically improved or declined. Still, the county has achieved balanced budgets in the past couple years.
"We are better in that regard," he said, "and a lot of it is Mike Gelles, our chief clerk. He's a super guy, and he does a great job with Ed (Cernic) in the controller's office. I think there's been a lot of cooperation to maintain the budget."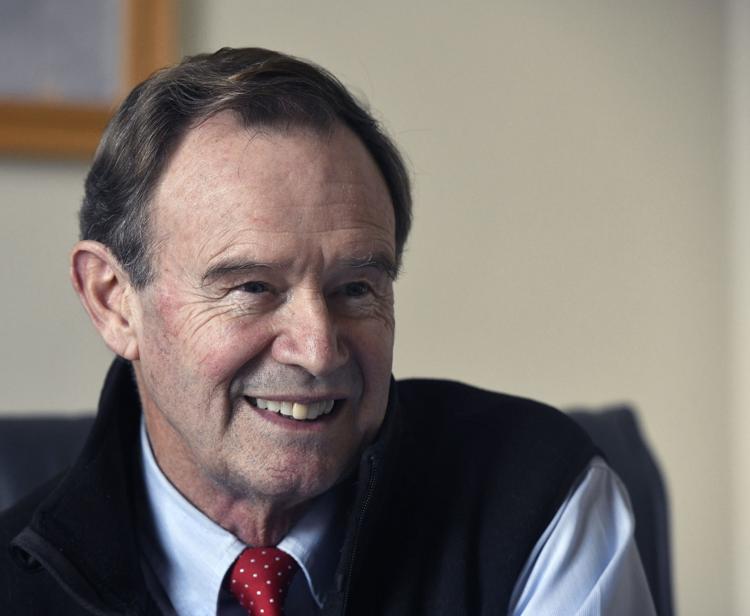 'Good guy, every day'
Wissinger's colleagues – in both parties – spoke highly of his character and dedication.
"Mark Wissinger is a leader," Chernisky said. "He's a mentor. He's a good guy, every day. He's somebody you can agree with; he's somebody you can agree to disagree with. At the end of the day, it's about making Cambria County and the region better."
Cambria County became one of the first counties in Pennsylvania to enact Act 152 of 2016, which allows for a $15 fee on certain deeds and mortgages to fund demolition of blighted properties. As a commissioner and as a member of the Redevelopment Authority of Cambria County, which oversees Act 152 demolitions, Wissinger has been involved in that effort.
"Mark's helped lead that charge," Chernisky said. "It's not a silver bullet. It's not a cure-all. But he's helped lead the charge in taking down blighted properties in Cambria County. … Doing a lot of little things right adds up to big things."
Chernisky said all three current commissioners, the heads of county departments and county employees have worked well together over the past four years.
"People say majority commissioner, minority commissioner – Mark Wissinger's never been looked at as a minority commissioner at all, ever, from day one, by myself or B.J. Smith," Chernisky said.
Wissinger agreed.
"I never really thought it was that significant," he said of the party difference. "Day to day, I don't really see much difference between myself, Tom and B.J. We try to work together, and we know what the issues are."
Chernisky said he doesn't expect Wissinger's retirement to mean the end of his involvement in Cambria County. On Thursday, Smith and Chernisky reappointed Wissinger to the Redevelopment Authority of Cambria County through the end of 2024.
"Mark has a big role in leading Cambria County into the future," Chernisky said. "He's wanted. He's needed. He loves this area. I'm sure Mark Wissinger's not going too far away."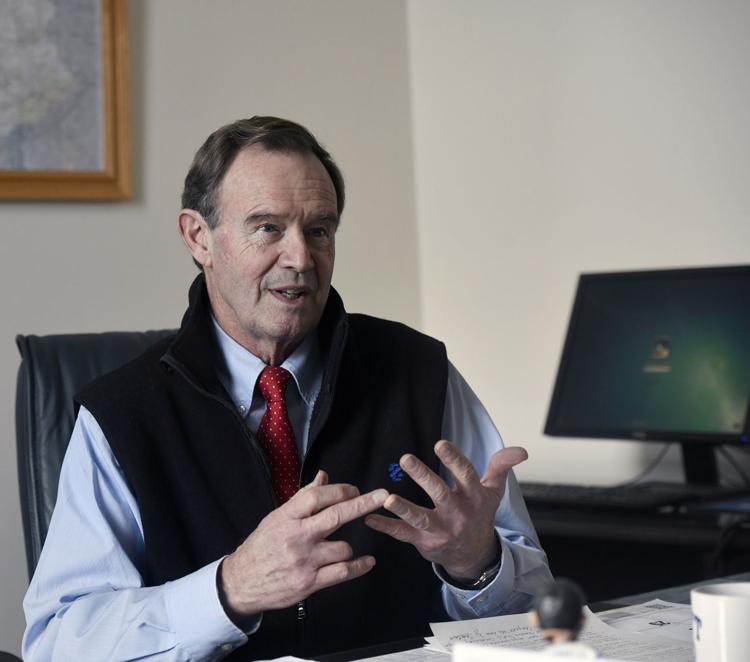 'Be a good listener'
Wissinger said he'd advise Hunt to spend his first few months in office getting his bearings: "It's going to take you a couple months. Ask questions. Try to get to as many meetings as you can. You've got all these authorities and agencies, and you're not going to remember everything. But after six months, a year, you start to get clued in."
Wissinger said: "I'd tell him, be a good listener. Take it all in – and I'm sure he will. I think Scott Hunt has a nice background. He kind of reminds me of B.J. Smith. He was a supervisor in a township, and a lot of what you do there is similar. The numbers here are a little bit bigger – more agencies, more assets to protect."
Asked what challenges the board of Chernisky, Smith and Hunt could face in the next four years, Wissinger mentioned the possibility of a county property reassessment.
"I don't know if they'll see it, but you could see a mandate for a county-wide reassessment," he said, "It could come from the courts. It would be very expensive. ... There's going to be people that have lower assessments. There's going to be people about the same, but there's going to be plenty of people that have high assessments, and they're not going to be happy about it."
He also mentioned the case of Kevin Siehl, who spent 25 years in prison for the murder of his estranged wife before he was granted a new trial and the state attorney general's office abandoned the case in 2016. Siehl is now suing Cambria County, the city of Johnstown and a number of other defendants.

"That could be an expensive issue," Wissinger said.
Overall, Wissinger is optimistic about the county's future. He mentioned cleaner rivers, increased recreational opportunities, improved highways and well-regarded educational institutions as among Cambria's strengths.
"We've got a lot of assets," he said. "We've got a super airport. We've got the War Memorial. We've got the (Cambria Somerset Authority) system – any place in the county, if you're looking to relocate because of water capabilities, we've got it."