EBENSBURG – What started as a weekend hobby has turned into a new business venture for Ebensburg native Mike Kutchman. 
More than 15 years ago, Kutchman began exploring his interest in brewing and winemaking and eventually began teaching on the subjects at St. Francis University. 
The self-taught brewer then started the licensing process for Coal Country Brewing in 2012, taking his products – many a result of trial and error – to local beer and wine festivals. 
Last weekend, his hobby expanded to a permanent location for Coal Country Brewing in Ebensburg Borough, a grand opening event in which 150 gallons of beer was poured for about 450 people in attendance. 
"Every home brewer wants to have their beer on tap somewhere," he said. 
Located at 625 W. High St., Kutchman said the space took about five months to renovate. 
Along with a good view of the 55-gallon tanks Kutchman uses to create the beers on tap, the microbrewery is a nod to the region's history of coal mining, the inspiration for the business name and several of its rotating flavors.
Some coal-themed brews include Candy Coal, a double-chocolate caramel stout that's nitro poured;  Pick & Shovel, a German altbier; Sulfur Crick, a New England-style IPA; and Acid Mine Drainage, an American IPA. 
Along with donated lanterns, hard hats, signs and black-and-white photos from coal mines across the region, Kutchman pointed out that the brewery's bar even has crushed coal underneath its glass surface. 
"It's kind of our tribute to them," said Kutchman, whose family is made up of several local coal miners. 
Beers without coal-related names have western Pennsylvania ties, including one of the brewery's most popular brews, Jaggerbush, which is an American wheat ale flavored with fresh red raspberry juice. 
Kutchman said he brews that beer with the same recipe as he did for the very first batch. 
"We have a knack for knowing what we like," he said. "We have a lot of rotators," along with cream soda and root beer made in-house.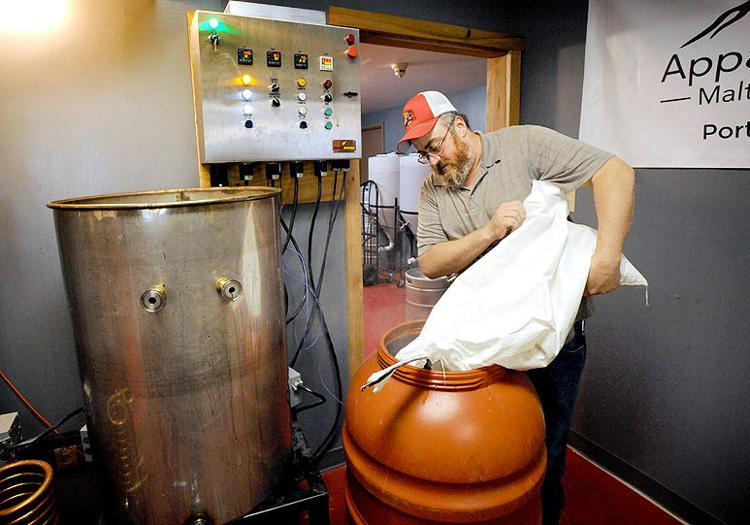 Other popular rotating flavors include BB blaster, a porter aged with local blackberries; Ebensburg, PA pale ale; and PA Peach Cobbler, an ale mixed with the juice of  local peaches. 
Coal Country Brewing's honey ale was recently renamed Rusted Rail from the Ghost Town Trail to honor the local railroad bed trail that passes numerous coal mining towns.
As part of the upcoming Ghost Town Trail Challenge Saturday, Kutchman has partnered with the Cambria County Conservation & Recreation Authority to provide participants with growlers to be filled with the Kolsh-style German ale fermented with Pennsylvania clover honey at fellow local business Country Garden 6-Pack. 
Rusted Rail from the Ghost Town Trail will be one of participants' beer choices exclusively on Saturday before it returns to the Coal Country Brewing tap room. A portion of the proceeds from each pint sold will be continually donated to the upkeep of the Ghost Town Trail. 
Supporting other local businesses and the community is something that's important to Kutchman, including the ingredients of each beer. Fruit juices and hops from local farms, maple products from Livengood Maple Farm in Rockwood and malt products from Appalachian Malting in Portage are used in several beers. 
Because the microbrewery does not serve food, Kutchman has also been lining up local food vendors for each weekend, a majority of which are locally owned and operated. 
By this fall, Kutchman is also hopeful Yellow Canary Winery will open in an under-construction space next door, continuing the coal-mining theme for a different client base. 
"We thought it would go hand in hand with the brewery," he said
"And we thought Ebensburg could use one." 
Coal Country Brewing, which serves both pints and growlers, is open from 5 to 9 p.m. Wednesdays and Thursdays, from 5 to 11 p.m. Fridays and from 2 to 11 p.m. Saturdays. 
Kutchman said there will be occasional Sunday hours, which will be announced on the Coal Country Brewing Facebook page, along with current beer lists or promotions. 
For more information, visit www.coalcountrybrewing.net.