WINDBER – As the newest board-certified forensic pathologist on staff at ForensicDx in Windber, Dr. Lauren Huddle is tasked with performing autopsies that will help determine causes and manners of death – assisting coroners and families who have lost loved ones for undetermined reasons. 
Huddle joined ForensicDx in January, a few months after Dr. Kevin Whaley, another board-certified pathologist. Both served previously in the role of assistant chief medical examiner in Richmond, Virginia, and have performed hundreds of autopsies. 
Huddle estimates there are approximately 500 board-certified pathologists nationwide, which has created a shortage in the field. 
Increased demand could also be related to "a huge spike in overdoses" nationally over the past five years, Huddle said.
Although the use of nasal-spray treatments by emergency responders is slowing the rate of fatalities, she predicts that strains of opioids will emerge that are resistant to the current antidote.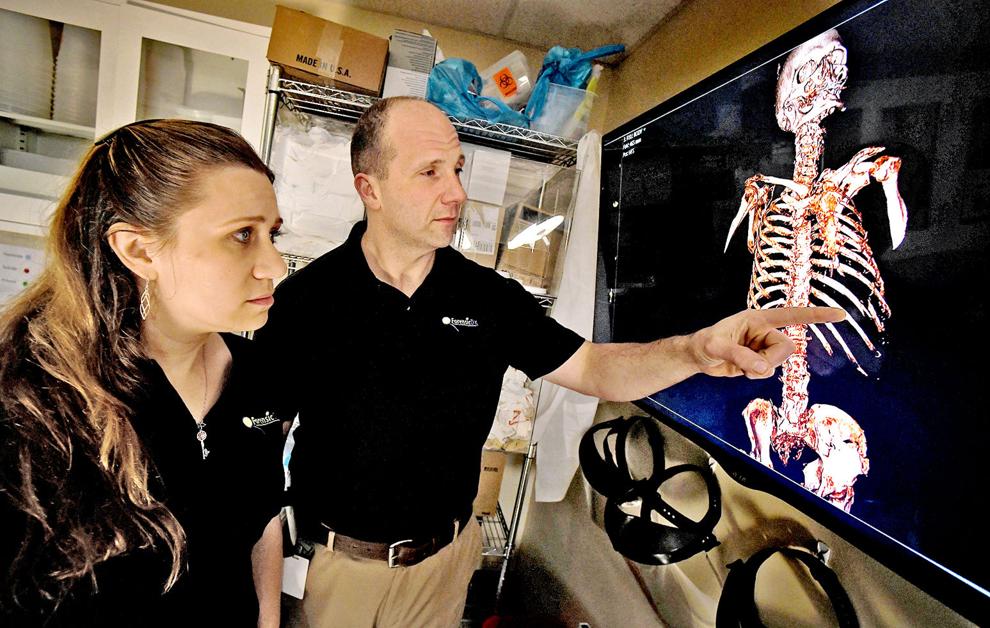 Huddle said the rising demand is illuminating the differences between the disciplines of forensic anthropology and forensic pathology.
She said that while forensic anthropologists are mostly focused on excavating skeletal remains, mapping the scenes where human remains were found and identifying skeletal trauma, forensic pathologists look to determine the medical reason someone died, or the cause of death, through an autopsy and testing for variables such as toxicology.
Pathology can also help determine the manner of death, or the situation in which someone has died. 
Autopsies consist of external and internal examinations, done with consent from a decedent's next of kin or by order of the coroner's office. 
Huddle said external examinations include documenting details such as clothing, height, weight, eye and hair colors, tattoos, scars and external injuries.
The internal examination includes documentation of natural and unnatural injuries, as well as collection of blood, DNA and bodily fluids for testing. 
On the legal side, Huddle's role is to offer details about the contributing factors of a death, along with physical evidence. 
But ForensicDx also conducts private autopsy services, which can provide families with answers about the deaths of their loved ones. Sometimes autopsies uncover genetic information that could alert other family members to medical risks they might face of which they were previously unaware. 
Whether testifying in court or working to provide closure for a family after a sudden loss, Huddle said she is responsible for telling the story of the deceased.
"I was always a puzzle solver," she said. "So it's nice to be able to put those pieces together to find answers." 
Realities, technology
Forensics portrayed on television is much different than how the process works in real life, Huddle said, especially when the investigation time lines. 
"We can't get results in an hour," she said. "Things take days, weeks – even months." 
Television dramas can mislead viewers into believing forensic pathologists can determine an exact minute someone died, she said. 
"There's a lot of factors that play into that," making it extremely difficult to narrow down a time of death to that level of accuracy, Huddle said.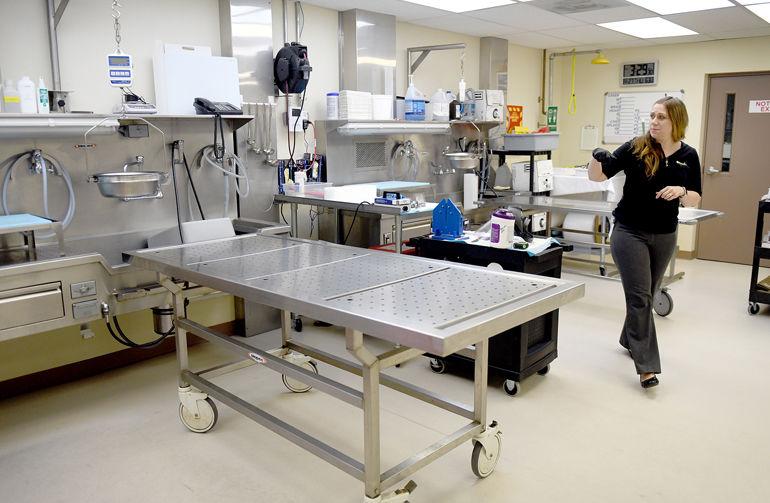 There's a misconception that an autopsy cannot be performed if a family wants an open-casket viewing, Huddle said.
Just as board-certified forensic pathologists are hard to come by, ForensicDx also has rare cutting-edge equipment and technology in the field, Huddle said. 
A Lodox full-body X-ray machine at the Pomroy Drive facility can perform a head-to-toe scan in 13 seconds, while a CT machine provides imaging of the entire body, giving the best views of any skeletal abnormalities. 
"There aren't a lot of forensic facilities that have one of those, let alone both," Huddle said.
'In our backyard' 
Cambria County Coroner Jeff Lees called ForensicDx "a state-of-the-art facility in performing autopsies." 
"Cambria County is fortunate to have such a facility right in our backyard," he said. 
Lees said the imaging capabilities at ForensicDx give his office and investigators a first look into details of a death, until a full autopsy can be completed. 
"These pieces of equipment greatly enhance investigations before we even start the autopsy," he said. 
"In any death investigation, the most important piece of evidence is the body." 
Huddle said ForensicDx is exploring minimally invasive autopsies, in which no incisions would be made.
She envisions a day in which robotic arms will be available to perform biopsies of materials found during an autopsy. 
"Every day is something new," she said. "You never know what to expect."
Richard S. Campitell, forensic pathology assistant at ForensicDx, said the company does consultations across a wide region, but is not permitted to make public specific locations and organizations. ForensicDx is permitted to provide autopsy services for deaths in surrounding states, "if the logistics can be met to comply with Pennsylvania state law governing decedents being transported across state lines," Campitell said.