The COVID-19 pandemic shed light on some of the daunting challenges faced by Pennsylvania's rural health care institutions, while also illustrating some of the promising paths forward as rural health care seeks to survive and thrive in a post-pandemic world.
But the symptoms of the crises facing rural hospitals had begun to emerge years before COVID turned the world upside down.
Those include challenges just getting to the hospital where public transportation is limited and many residents live miles from the nearest facility. Technology helps, but the digital divide creates yawning gaps in services.
And those challenges are aggravated by the fact that rural residents tend to be older and in poorer health.
"It's certainly an issue where people (who) need it the most have the least amount of access," said Dr. David Lopatofsky, chief medical officer for UPMC Susquehanna in Williamsport.
Key findings of an investigation by CNHI:
• Three hospitals in Pennsylvania completely closed their doors in the past decade and all were in rural communities.
St. Catherine Medical Center in Schuylkill County closed in 2012. Ellwood City Medical Center in Lawrence County shut its doors in February 2020. Sunbury Community Hospital in Northumberland County closed in December 2019.
A fourth hospital, Mid-Valley Hospital in Lackawanna County, closed in 2014, but converted into an outpatient clinic.
• A study released by the Chartis Center for Rural Health last year estimated that 1 in 4 rural hospitals nationally were at risk of closing. That study was released a month before the pandemic hit, and the authors found that Pennsylvania was right on average – researchers conclude that 10 of the 46 hospitals in Pennsylvania they'd categorized as rural were "vulnerable" for possible closure.
• State hospital financial data show a similar cause for concern. Almost half (23 of 50) of the hospitals that reported they'd lost money in 2019 were rural institutions, according to data from the Pennsylvania Health Care Cost Containment Council. More than half (16 of 28) of the Pennsylvania hospitals that reported that they'd seen a drop in revenue in the prior three years were rural hospitals, according to the data.
• While concerns about COVID-19 forced many Pennsylvanians to stay away from the hospital, that created serious problems for people with inadequate internet speed to handle telemedicine needs.
The Federal Communications Commission suggests that Pennsylvania has almost universal broadband. But hospital officials say that the pandemic illustrated how deep the state's digital divide really is.
Data obtained by CNHI bears this out. Internet speeds in 19 counties, all but one of them rural, didn't meet the federal standards for broadband – 25 mbps download and 3 mbps upload, according to results submitted to the Measurement Lab website in October.
Another looming concern about telehealth is provider reimbursement.
The coronavirus pandemic pushed state and federal policymakers to ease restrictions and health insurers responded by expanding reimbursements for providers.
There's no certainty it will last beyond the ongoing global health emergency.
"The big hurdle was the parity of the care provided was not accepted," Dr. Clemens Schirmer, a neurosurgeon with Geisinger, said. "It carried a financial penalty, almost, for providers. It just wasn't used because of that.
"We now have financial parity. Is that going to continue going forward?"
• The General Assembly in 2020 passed legislation that would have set guide rails requiring insurance providers to cover the cost of telemedicine visits. However, Republicans in the state House tacked in language barring doctors from prescribing several drugs including mifepristone, which is used to terminate early-term pregnancies, prompting Gov. Tom Wolf to veto the bill. The prime author of the legislation, state Sen. Elder Vogel, R-Beaver, said he plans to reintroduce the bill again this session, but he's worried that it will get derailed over the same hangup.
• The crisis of rural health care hits home. A poll released by the Pennsylvania Health Access Network in February found that 1-in-2 people surveyed said they had experienced burdensome healthcare costs in the last year, but the rate was even higher among rural residents – 6-in-10 of whom said they'd struggled with medical bills in the prior year.
There are promising solutions on the horizon:
Chan Soon-Shiong Medical Center at Windber in Somerset County risked closure, President and CEO Tom Kurtz said. The independent hospital's membership in the Centers for Medicare and Medicaid Services' Pennsylvania Rural Health Model helped keep it open, he said.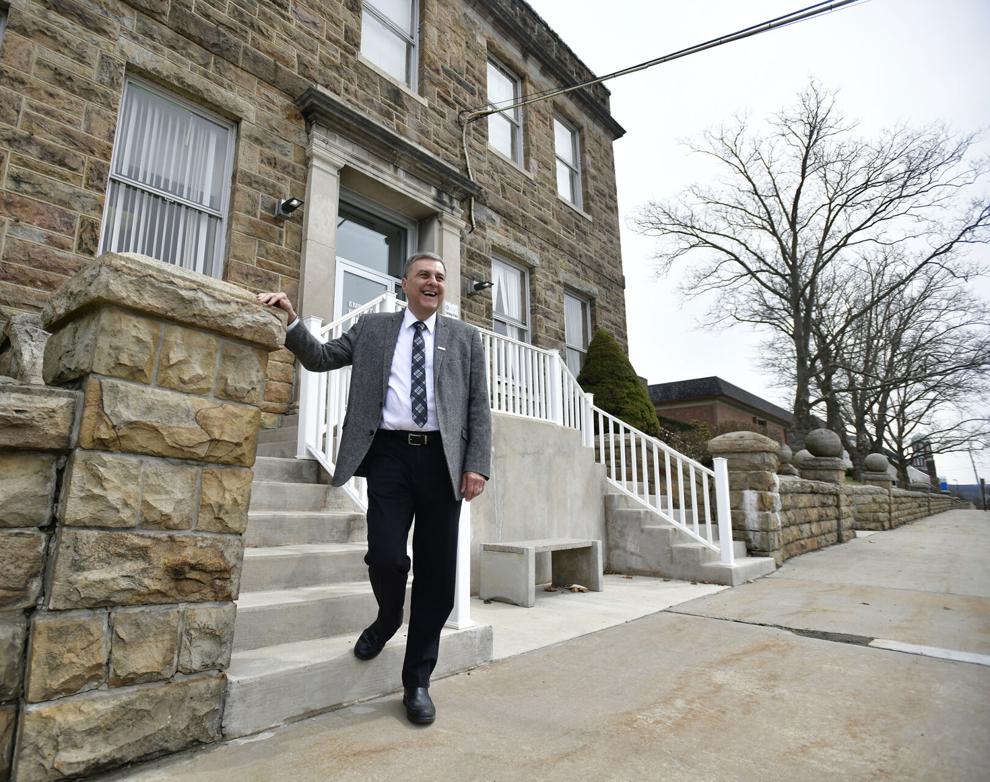 The Rural Health Model is an ongoing test program where hospitals shift from a fee-for-service system to global budgeting. CMS and other payers pay the participants a fixed amount in advance to cover all inpatient and hospital-based outpatient items and services.
"That literally saved our hospital through COVID," Kurtz said.
• The Affordable Care Act and the state's move to expand Medicaid made health care more affordable for thousands of Pennsylvanians. A key provision in the $1.9 trillion American Rescue Plan signed into law by President Joe Biden will make the ACA plans more affordable for more Pennsylvanians. The stimulus plan makes subsidies to lower the cost of ACA health care premiums available to more people.
The federal government estimates that the expansion in the American Rescue Plan will make the subsidies available to 109,000 more Pennsylvanians.
Those subsidies matter – without them, the average premium of $874 a month in rural northcentral Pennsylvania is $364 a month more than the average premium in the lowest-cost region of the state. But when the subsidies are included no region's average premium is, more than $209 a month.
• Telemedicine proved to be a life-saver during the pandemic. As the access to hospitals and health clinics tightened to stymie the spread of COVID-19, providers and patients used computers, tablets and smartphones to connect.
Telemedicine visits grew by 50% nationally in the first quarter of 2020, with nine in 10 patients seeking care for issues other than COVID-19, according to a study published in October by the Centers for Disease Control and Prevention.
In the last week of March 2020, virtual visits swelled 154% over the same period in 2019, the study's authors found.
Life expectancy at birth in United States
| Field 1 | Field 2 | Field 3 | Field 4 |
| --- | --- | --- | --- |
| County Urbanization | Total Population | Males | Females |
| Rural Nonmetro | 77 | 74.5 | 79.7 |
| Urban Nonmetro (Micropolitan) | 77.2 | 74.8 | 79.7 |
| Small Metro | 78.3 | 75.9 | 80.8 |
| Medium Metro | 78.9 | 76.5 | 81.3 |
| Large Metro | 80 | 77.6 | 82.4 |
The American Medical Association's coverage of its 2021 state advocacy summit cited a legislative and regulatory advocate who found nearly 25 million Medicare beneficiaries received telehealth services from mid-March through mid-October last year and another 35 million such services rendered in that same timeframe to beneficiaries of Medicaid and CHIP – a near 3,000% surge above 2019.
"In March, UPMC-wide was doing less than 250 televisits a day. By April, we were doing nearly 10,000 a day," Lopatofsky said.
• The COVID-19 pandemic drove a number of advances in telehealth technology, said Dr. Brian D'Anza, Medical Director of Digital Health and Telehealth at University Hospitals in Cleveland, Ohio. UH already had a number of trials of telehealth devices in progress at the start of the pandemic, and the move to telehealth led to more widespread use.
D'Anza said he can see telehealth expanding even further.
"We talk about the ability to provide, essentially, the idea of a hospital at home," D'Anza said.
• Erie VA Medical Center's new ATLAS, or Accessing Telehealth through Local Area Stations began operation in February in Crawford County, inside Veterans of Foreign Wars Post 7842 of Linesville.
ATLAS sites let veterans meet with their VA provider privately and virtually using VA Video Connect, the administration's secure videoconferencing technology.
Age-adjusted death rates for the five leading causes of death per 100,000 population
| Field 1 | Field 2 | Field 3 |
| --- | --- | --- |
| Cause of death | metro areas | Non-metro areas |
| Heart disease | 161.7 | 193.5 |
| Cancer | 158.3 | 176.2 |
| Unintentional injury | 38.2 | 54.3 |
| Chronic lower respiratory disease | 38 | 54.3 |
| Stroke | 35.4 | 41.5 |
VFW Post 7842 of Linesville is only the eighth ATLAS site to open in the U.S. and it's only the second one to open within a post.
ATLAS sites offer VA clinical services that don't require hands-on exams, said Holly Mukina, the nurse manager for connected care at the Erie VA Medical Center.
"Any appointment that veteran could do virtually from home, they can now do at Linesville," she said.
"That could be routine primary care checkups, but it also could be physical therapy, occupational therapy, dietary appointments, behavioral health, visual impairment support services, social work – any of those types of things."
• An $8 million project in Clinton, Lycoming, Northumberland and Union counties was launched to boost broadband for 28 rural agricultural businesses, but an offshoot is that 1,400 nearby homes could join the network.
The upload/download speed for businesses would be 100 mbps, with 50/10 mbps anticipated for residential service, according to a grant application for the project.
A separate project in the Susquehanna Valley is a $3.2 million broadband network targeting different unserved and underserved parts of rural Columbia, Montour, Northumberland, Snyder and Union counties.
Prevalence of health-related behaviors among adults
| Field 1 | Field 2 | Field 3 | Field 4 | Field 5 | Field 6 | Field 7 |
| --- | --- | --- | --- | --- | --- | --- |
| Behavior | Large metro center | Large fringe metro | Medium metro | Small metro | Micro-politan | Non-core |
| Current nonsmoking | 83.90% | 82.30% | 80.50% | 77.50% | 76.50% | 74.90% |
| Non- or moderate drinking | 61.10% | 59.90% | 63.30% | 64.30% | 67.30% | 68.60% |
| Maintaining normal body weight | 36.50% | 35.30% | 33.30% | 32.90% | 30.60% | 28.90% |
| Meeting aerobic activity recommendations | 51.40% | 51.40% | 51.10% | 50.70% | 49.20% | 46.70% |
| Sufficient sleep | 62.40% | 61.70% | 62.40% | 62.10% | 61.10% | 61.50% |
| Reported 4 or 5 of these health-related behaviors | 31.70% | 30.20% | 30.50% | 29.50% | 28.80% | 27.00% |
Investments such as these strengthen or, in some cases, simply offer connection to the internet and improve the potential for telehealth.
While access to broadband has been an issue, hospital officials say that their experiences in the pandemic shows that a surprising number of people are willing to embrace the opportunity to interact with their health care providers online rather than make the trip to the nearest hospital or doctor's office.
"We have seen a really impressive adaptation by our elderly patients," said Karen Murphy, former Pennsylvania secretary of health and now the executive vice president, chief innovation officer and founding director of the Steele Institute for Health Innovation at Geisinger Health System.