Richard Burkert was a 17-year-old recent high school graduate in August 1969, whose experience consisted of living in what he called the homogeneous, sheltered community of Camp Hill, Cumberland County – white, middle-class, conservative, predictable.
By the same time, Dave Casker, then 22, had already spent a few months in a Franciscan seminary with plans to become a priest and served in the Navy before starting classes at the University of Pittsburgh at Johnstown – where he actively protested the Vietnam War.
They did not know each other.
But, separately, Burkert and Casker headed to Woodstock, an event billed as a "music and art fair" and "Aquarian exposition" near White Lake in Bethel, New York. The festival transformed into one of the defining cultural events of its time, as a half-million teenagers and young adults descended upon Max Yasgur's farm from Aug. 15 until the morning hours of Aug. 18.
The gathering, which will reach its 50th anniversary this week, changed both of them.
Soon after being inspired by Woodstock, Burkert entered Indiana University of Pennsylvania and eventually took off a semester to travel, starting in Amsterdam and going to the Sahara Desert, Turkey and Germany, meeting other travelers along his journey.
"In many ways, (Woodstock) shaped me and sent me in a couple different directions, all of which I'm grateful for," Burkert said. "My search, at that point in my life, was for authenticity."
Until Woodstock, Casker felt somewhat isolated because of his liberal political and cultural opinions and being an openly gay man in Johnstown – known for its small-town, traditional beliefs. Casker wore is hair long then, and recalls being bumped off a sidewalk by a police officer who deliberately walked into him and being refused service at Glosser Brothers store in downtown.
"It was very easy, especially around Johnstown, to feel like you were alone in all those feelings of pro-Civil Rights, antiwar, pro-women, pro-gay," Casker said. "At Woodstock, it just felt like there were all these different people who were on the same wavelength, essentially. To me, my big takeaway from the event was that I'm not alone, there's a real – I don't know – Woodstock generation out there that's moving away from the complacency of our parents' generation. Not to criticize them, but they put up with too many things that we weren't willing to put up with."
The freedom and the open expression of Woodstock stood in great contrast to Casker's life up until that point.
"I grew up trying to be a good boy and failing," Casker said. "That frustrated me. When I was 14 and I went through confirmation in the Catholic Church I took the name 'Jude' as my confirmation name because St. Jude was the patron saint of hopeless causes, so that's what I thought I was at 14. Around 19, I started growing up inside and being willing to take the kind of risks of rejection or whatever you want to call it.
"Woodstock then reinforced all of that for me. Coming away from Woodstock, I felt a kind of – not power – but a kind of confidence that I could move ahead. Actually, what happened was wonderful things started falling into my life unexpectedly. It was almost like my confidence attracted good luck." 
'Someplace different'
After parking his car along the New York highway, as many concertgoers did, Burkert and a friend walked a few miles to the 600-acre farm and were promptly greeted by a naked man.
"It didn't look like a normal crowd necessarily," Burkert said. "I knew I was someplace different when the official greeter was some guy totally naked shaking hands saying, 'Welcome to Woodstock.' You don't see that in suburban Harrisburg."
Burkert mostly concentrated on the music, even working his way toward the front of the stage for some performances, including Jefferson Airplane. He was captivated by the stream of announcements that have since become an important part of the Woodstock aura, including a warning about the brown acid, the thruway being closed, requests to stay off the towers and the collection of people forming one of the largest cities in New York, albeit unofficial and temporary.
"I think what really shaped my impression was the commentary – constant commentary – from the stage," Burkert said.
Casker wandered a bit more, seeing the skinny-dipping pond and returning to his vehicle for rest. He allowed some strangers to sleep in a trunk of his sedan in order to get a break from the rain and mud.
Casker kept an impromptu journal on a flier somebody handed to him – with notes such as "parking – where?," "sat in sun for 6 hours," "Buddhist monk," "no one (even cops) knows what's happening," "solid people," "helicopters in & out," "the whole world is watching." He wrote about the price of hot dogs, and somebody asking him about the color of a flare.
Overall, he considers attending Woodstock to be a "pleasant and also exciting experience."
Casker and his friends left around 3 p.m. on Saturday and reached Philadelphia at 8 p.m.
When Burkert returned home, his mother asked him about the massive counterculture music event she saw on the news. "They had advertised it as an 'arts and crafts' festival," he said. "I didn't see any crafts except maybe joint rolling or something. She said, 'You didn't tell me.' I said, 'I didn't know.' "
Burkert said attending Woodstock "did sort of change you."
"It was an experience," Burkert said, "We were kids. We were totally naive.
"In ways, it was like a survival contest because you got wet, you didn't have sleeping bags, it was just all muddy, the food vendors couldn't provide food. Once a day, someone would hand out some free food. Being 17 was a good thing because you were indestructible."
'Heavily into the music'
There were, as Burkert explained, many ways into the 1960s counterculture – politics, activism, protesting against the war, fashion, art, drugs.
For him, music provided the route.
"We were absolutely transfixed by rock music in that period," Burkert said. "Going back to when I was like 14 or 15, I had a group of friends and we were big followers of rock. It started with The Beatles, and the Rolling Stones and a bunch of other groups. We were following The Who and Rolling Stones and all these new bands coming up continuously. We used to sit in my friend's bedroom. That was our listening post."
Burkert stayed at Woodstock from when Richie Havens opened the festival on Friday, Aug. 15 until Jimi Hendrix played "The Star-Spangled Banner" on a Stratocaster – on Sunday morning – in one of rock music's most iconic moments.
In between, he was inspired by the "electricity" of Santana and had the image of Grace Slick, singing with Jefferson Airplane, "kind of etched in my memory."
Casker fondly recalls the performances of Havens, Ravi Shankar, Tim Hardin, Melanie Safka and Arlo Guthrie on the opening night.
"Just lots and lots of very familiar and fun music on that first day," Casker said.
He also remembers when, on Saturday afternoon, Country Joe McDonald and the Fish played the antiwar anthem – "The 'Fish' Cheer / I-Feel-Like-I'm-Fixin'-to-Die Rag" with the line "come on fathers don't hesitate / send your sons off before it's too late / be the first one on your block / to have your boy come home in a box" and a curse-word variation of the chant.
"I was very heavily into the music in the first place," Casker said. "It was just great hearing them live, because it's always more spontaneous live than the recordings. The only song, the only piece that sticks in my mind – even a lot of the lyrics – was Country Joe and the Fish. They had the 'fish' cheer and, at Woodstock, they did the 'f--k' cheer. That got everybody laughing and cheering and so on."
PHOTO GALLERY | Scenes from Woodstock 1969
More than 30 acts performed at Woodstock, which boasted arguably the greatest lineup in the history of rock music with the Grateful Dead, Creedence Clearwater Revival, Janis Joplin, The Who, Joe Cocker, The Band, and Crosby, Stills, Nash & Young.
Times were a-changin'
On Nov. 22, 1963, President John Kennedy was assassinated in Dallas.
Camelot ended.
Times were, as Bob Dylan sang, "a-changin.' "
Throughout the ensuing years, battles raged over Civil Rights, poverty and the Vietnam War, a riot erupted at the 1968 Democratic National Convention, Robert Kennedy and Martin Luther King Jr. were gunned down, the Stonewall rebellion became a pivotal moment the in gay rights movement, men landed on the Moon, and rock music transformed from The Beatles holding the top five spots on the April 4, 1964 Billboard chart – with bouncy 2-minute pop tunes "Can't Buy Me Love," "Twist and Shout," "She Loves You," "I Want to Hold Your Hand" and "Please Please Me" – to the depth and diversity of Woodstock.
The fast pace of change "actually felt appropriate" to Casker.
"It felt natural because that's the way we were moving, too," Casker said. "It was almost like the music and our mentalities were in synch – one influencing the other most likely, almost certainly. It just felt perfectly right somehow."
One of the most indelible moments for Casker came on April 4, 1968. e learned about the assassination of King while recovering at National Naval Medical Center in Bethesda, Maryland, from a motorcycle accident. As word spread, Casker heard other patients and military personnel celebrating the news about the Civil Rights leader being killed.
"Chills still run up and down me when I think about the reaction on the ward at Bethesda when the news of Martin Luther King's assassination came across," Casker said. "If I stop to actually remember that, it plays like a film in my mind and I just get chills still. But I laid back in my bed and tears came to my eyes. I wasn't like bawling, but I'm thinking, 'Oh my God.' "
'Universal message'
Casker went back to UPJ, graduated from University of Pittsburgh's main campus, got a master's degree from Brown University, taught in Berlin, Istanbul, Yemen and Brazil, and eventually returned to his hometown where he now gives tours at the Johnstown Flood Museum.
Burkert has become the area's preeminent historian as the president and chief executive officer of the Johnstown Area Heritage Association.
Last month, Casker and Burkert participated in a JAHA-sponsored "50th Anniversary of Woodstock: A Panel Discussion," which also included Cambria County Library reference librarian Laryssa Duncan, Morehead State University history professor Thomas Kiffmeyer and Jack Roscetti, who was involved in local protests during the 1960s. They discussed the festival, the counterculture and the past half-century.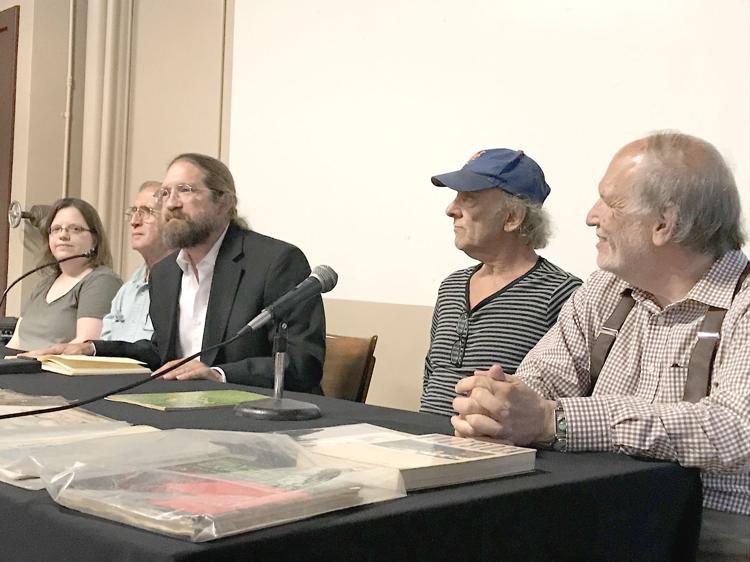 Kiffmeyer explained that perceptions of the 1960s among historians have changed over the years.
"The first group of '60s historians came under the Reagan administration," Kiffmeyer said during the event. "They looked at the '60s as being nothing but bad. … That was the attitude of the '60s in the '80s."
The views changed when a new wave of historians started studying the decade.
"My generation has been putting all these things together into a much more coherent picture of how Vietnam, and Civil Rights and questions of economic inequity all came together," Kiffmeyer said.
Locally, Duncan, 44, has been recording oral histories of individuals who lived in the 1960s, including Casker and Burkert. She described Woodstock and that period as a "turning point" for the individuals she interviewed and many people who came of age during that time.
"Most of them were around the same age," Duncan said during an interview. "They were either just turning 20, or in their early-20s. If they were not already involved in the counterculture, it kind of pushed them that way or kind of cemented their beliefs in the direction that their life went."
Duncan considers the music, which is still popular and relevant today, to be an important aspect of what defined the Woodstock generation.
"I think it was great music," Duncan said. "You had both of those components. You had great musicians and great musicianship. Then you had the great lyrics I think that really meant something to people.
"I've heard a lot of people say that's what they really connect with is the lyrics. It was something important to them, whether it was political or cultural. It's kind of the universal message in the music, like love, and peace and understanding."