The actual sound of thunder – as in, thunderstorms – will likely kick off Thunder in the Valley on Thursday.
But for the first time in several years, forecasts predict warm temperatures and sunshine will replace it through Sunday afternoon.
In simple terms, it should be "perfect" festival weather this weekend, National Weather Service Forecaster Barry Lambert said.
"Low humidity, a decent amount of sunshine and a light breeze," he said Wednesday. 
"It's going to be a nice pleasant change from the wet weather we've had across the region lately."
Friday and Saturday are expected to be sunny with temperatures in the mid-70s.
That was good news for R.P. Concessions Manager Ilisha Poole.
"Friday and Saturday are the money days, so that's good news," Poole said.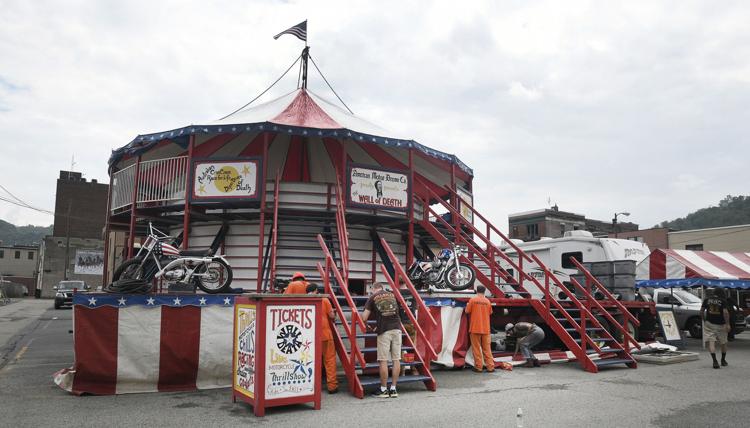 Standing underneath a sign that advertised steak tip dinners, BBQ chicken and cheese steaks at the Biker Mall, Poole said she was hopeful Thunder in the Valley would serve as a strong launch to R.P Concessions' summer festival season. The vendor plans to attend events as far west as Wisconsin later this summer, she said.
On Main Street, Jessica Trapuzzano meanwhile, was hopeful the forecast will deliver a change of course to Golden Gate Food's recent luck.
"We've had stops in Ohio. In Myrtle Beach – and there was rain everywhere we went, so we're looking forward to some good weather," she said
Steady rain has been a festival headliner for much of Johnstown's rally over the past three years.
But it didn't stop Gary Bailey, of Bailey's Concessions, from making a return trip to Thunder in the Valley.
The central Pennsylvania vendor has sold sandwiches, fries and other products at the event for 22 years –  since the its first year.
"We keep coming back – and we keep sponsoring it – because Thunder in the Valley still holds its own. It's a strong event for us," Bailey said.
Thunder in the Valley organizers were busy Wednesday, ensuring they were prepared for the anticipated wave of bikers – and fellow festival-goers
– that are expected to arrive this week.
That included meeting with Johnstown Police Department and two contracted security firms – Johnstown-based Corporate Security Services and IPI Security Services of Altoona – to discuss the four-day schedule of events and logistics "to make sure we're all on the same page," Greater Johnstown/Cambria County Convention and Visitors Bureau Executive Director Lisa Rager said.
Meetings were also being coordinated with bar management, their team of bartenders and vendors who'll be bringing in 1,500 cases of beer for the event, as well as liquor and other alcoholic drinks.
Convention and Visitors Bureau staff were already in downtown Johnstown before lunchtime Wednesday morning, helping park vendors find their designated locations throughout Central Park, the Biker Mall and other areas.
Rager said they were also in contact with county public safety officials to ensure they are notified if Thursday's thunderstorms threaten to pose issues.
"We have to make sure we're prepared for anything," she said.