SUMMERHILL, Pa. – As a young man of 18, Harry Lewis Amigh enlisted in the Army in the late 1940s, as the United States was working to create stability in Europe and Asia following the destruction and chaos caused by World War II.
Fredrick Kinley joined the military in a much different way. He was drafted in February 1944, when he was already a 37-year-old family man.
Both died in the line of duty.
The two Cambria County natives were honored on Thursday when bridges were officially named in their honor during separate ceremonies.
Pvt. Fredrick Kinley Memorial Bridge carries Route 53 over the Little Conemaugh River in Croyle Township, just outside Summerhill, and Sgt. Harry Lewis Amigh Memorial Bridge carries Benshoff Hill Road over Hinckston Run in Jackson Township.
"It's so important to keep the memory alive of what so many great men and women have done on behalf of our country," said state Sen. Wayne Langerholc Jr., R-Richland Township. "It's so important. These serve as reminders to everyone that passes through of the sacrifices that were made on behalf of our country to keep us free."
Kinley, born in Portage in 1907, served in the Army's 313th Infantry Regiment as part of an anti-tank company until he was killed in action on Dec. 14, 1944. He earned a Purple Heart and Bronze Star.
"I'm proud of what he did," said his son, George Kinley.
Kinley is buried at the Lorraine American Cemetery in St. Avold, France.
"It's just amazing," said his grandson, Eugene Kinley. "It's been 76 years in the making. I never got to know him. My dad, unfortunately, he never got to know him really, either. He's never been able to go anyplace to talk to his dad, or say goodbye to his dad, never had any closure. We're hoping that this brings him some closure and he can come to the bridge and visit and put flowers, just like anybody else to a cemetery."
Amigh, a Jackson Township native who was born in 1930, served in the Army during the post-World War II occupation of Germany and later died during the Korean War, on Nov. 28, 1950.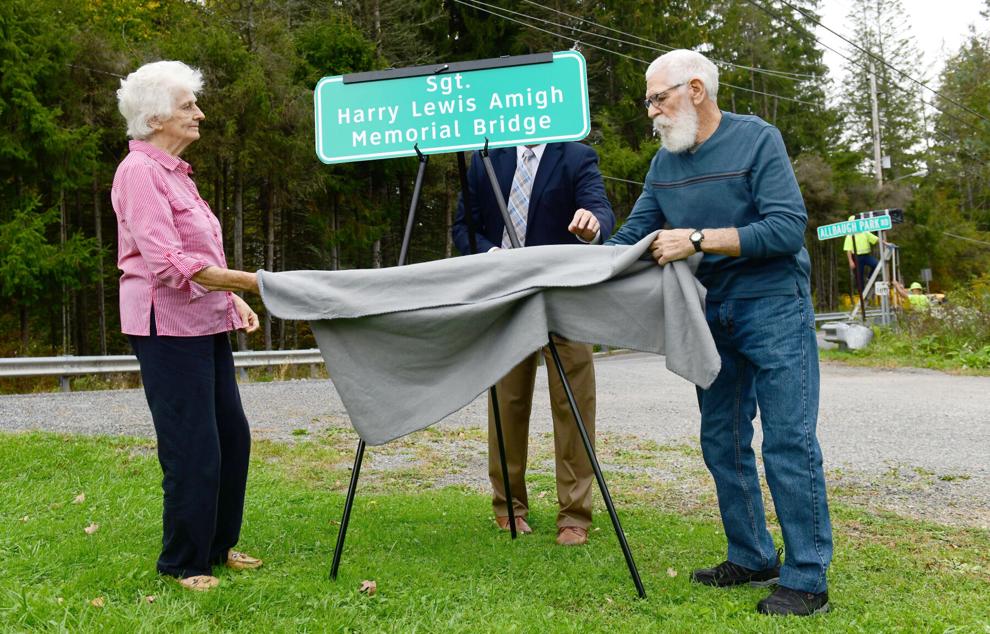 His brother, James Amigh, recalled the two of them being together on the Benshoff Hill Road bridge that now bears his name.
"I walked across the bridge with my brother when I was in my teens, or something like that," Amigh said, "so every time we drive a car across it, we'll think of him."
Amigh said his brother would not have liked the attention of a bridge being named after him.
"He was like a private person," said their sister, Kathy Grove. "Our whole family was that way, really. There were 13 of us, and that's the way we were."