A week after being released from the hospital where he was treated for COVID-19, President Donald Trump held a rally at John Murtha Johnstown-Cambria County Airport on Tuesday during which he talked about the need for a coronavirus vaccine.
He claimed Operation Warp Speed – a collaborative effort of components within the U.S. Department of Health and Human Services – will deliver 100 million vaccine doses before the end of the year when speaking to an enthusiastic crowd that was unofficially estimated to be at least 6,000.
No vaccines have been approved yet for use in the United States.
"Under my leadership, we're delivering a safe vaccine and a rapid recovery, and, if you vote for me, prosperity will surge," Trump said. "Normal life, normal life."
He later added: "The vaccine will end the pandemic once and for all."
Trump's event took place on the same day the nation's COVID-19 death count closed in on 221,000, the highest total of any country, and the unemployment rate stood at about 8 percent, as a result of the pandemic's impact on the economy. More than 8 million Americans have tested positive for the coronavirus.
"Everyone fighting to recover from the virus, I feel your pain because I felt your pain, and we will beat this virus together," Trump said.
'Patriotic education' 
Trump covered a wide range of issues during his hourlong speech, including support for building a wall on the border with Mexico, banning sanctuary cities, protecting Second Amendment rights, growing manufacturing and moving forward his nomination of Judge Amy Coney Barrett to the Supreme Court of the United States.
The president also touched on issues involving education, specifically curriculums and school choice for all American families.
"We will stop the radical indoctrination of our students and restore patriotic education to our schools," Trump said.
He pledged to grow coal mining and fracking, the process of using pressurized chemical fluids and water to crack rocks and extract natural gas, which is opposed by numerous environmentalist organizations.
"While I am president, America will remain the world's No. 1 energy producer – with Pennsylvania workers leading the way," he said. "And that's what's happening."
Trump added: "The Democratic Party hates fracking. They hate coal. They hate clean, beautiful coal."
Biden contrasts
Trump, a Republican, spent much of the rally contrasting his record to that of former Vice President Joe Biden, the Democratic Party's presidential nominee.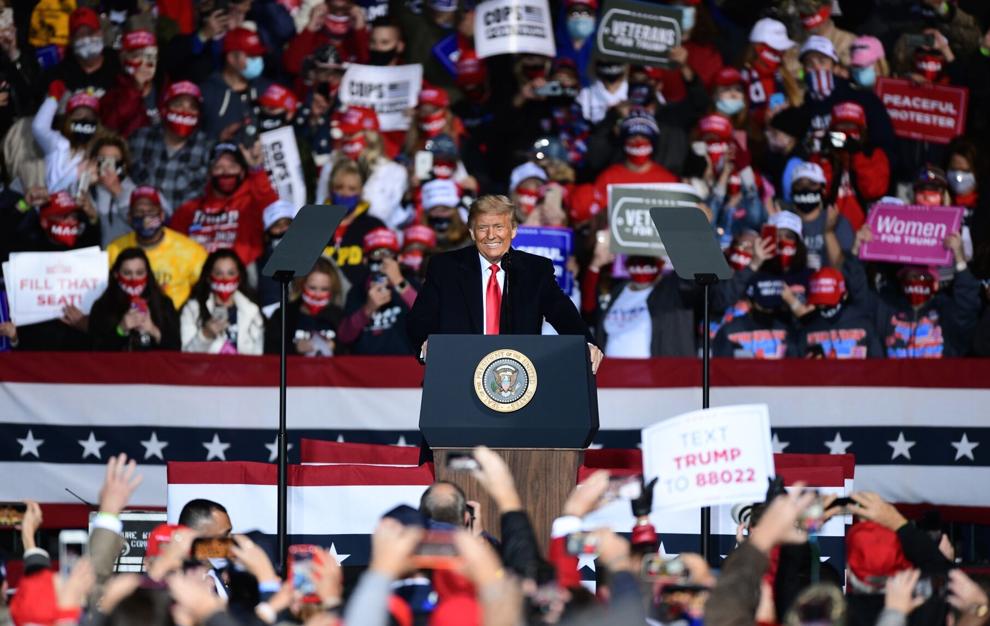 The president attempted to portray his opponent as an extremist on several occasions, including on the issue of law enforcement.
"Biden has made a corrupt bargain – in exchange for his party's nomination, he has handed control to the Socialists, and Marxists and left-wing extremists," Trump said.
Trump touted his own record, saying "Together, with the incredible people of Pennsylvania, we have made America wealthy again. We have made America strong again. We have made America proud again. And we will make America safe again. And we'll 'Make America Great Again.' "
Local backers
The president recognized several local Republican political leaders, including U.S. Rep. John Joyce, R-Blair, 13th Congressional District, U.S. Rep. Glenn "G.T." Thompson, R-Centre, 15th Congressional District, and former Pennsylvania Republican Party Chairman Robert Gleason.
Prior to Trump's remarks, Joyce and Thompson addressed the crowd gathered in the open-air setting.
Joyce called Trump "the most pro-life president we have ever seen" and said he "has worked to bring jobs back to Pennsylvania."
"He recognizes that the Chinese communist government can no longer have control over American jobs," Joyce said. "President Trump wants to bring jobs to Bedford, not to Beijing. President Trump wants to see jobs in Somerset, not in Shanghai. President Trump wants jobs in Windber, not in Wuhan."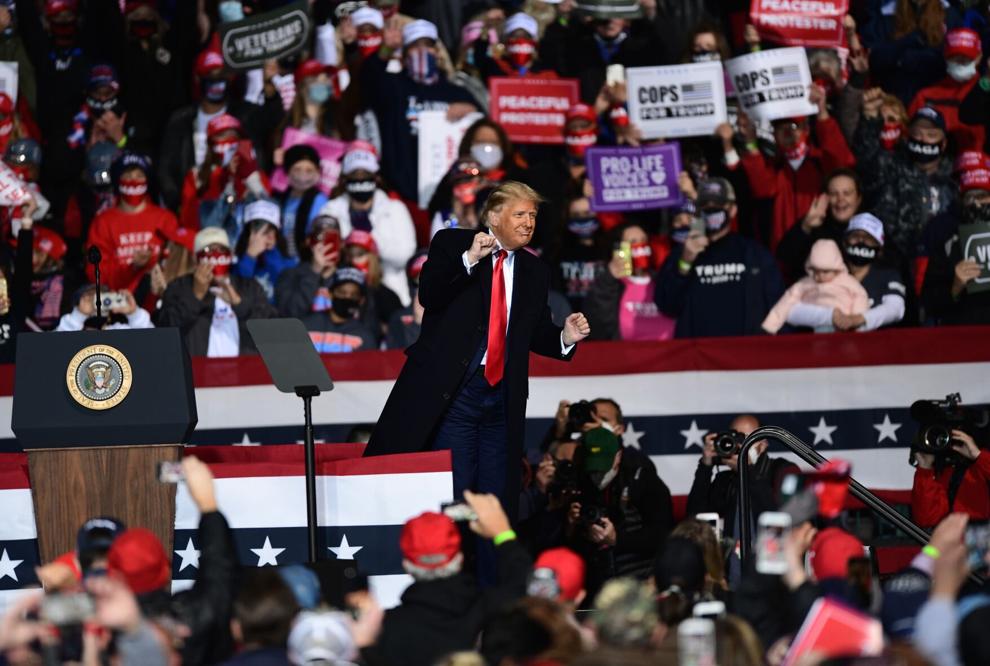 Thompson asked Trump's supporters: "I've got a question for you – are you ready to save the republic?"
"Because that's what this election is all about," Thompson said. "I've got two precious little grandsons, whose birthdays are this month and last month. I'm thinking of a time 20 years from now when they come up to me and say, 'Hey, pap, where were you 20 years ago, in 2020, when we lost the republic, when we lost our individual freedoms and liberties as a result of this election?' That's not a day I'm going to ever allow to happen."