EBENSBURG – A "riot" Friday inside Cambria County Prison brought dozens of law enforcement personnel from various agencies.
Police vehicles surrounded the facility throughout the afternoon.
The riot began about 12:50 p.m. Friday and was contained to a single housing unit, Warden Christian Smith said in a press release.
The riot involved a group of about 31 inmates housed in one of the prison's dormitory-style housing units.
"The housing unit officer was pulled from his post, the unit was secured, and the prison's emergency response plan was immediately activated," Smith said in the release, sent Friday evening.
Authorities were able to begin negotiations with the inmates about 3:30 p.m.
"By 6 p.m., the unit was successfully under control, the inmates were safely removed from the housing unit and placed into another secure housing unit," he said. "No injuries were reported by any staff or inmates.
"However, the housing unit sustained considerable damage."
No information was released about what started the riot or any individual inmates.
"Due to a criminal investigation being conducted over this incident, no further comment will be issued," Smith's news release concluded.
Outside the Cambria Township facility, the situation became apparent when the entrance road was blocked just past the Cambria Care Center complex off Manor Drive.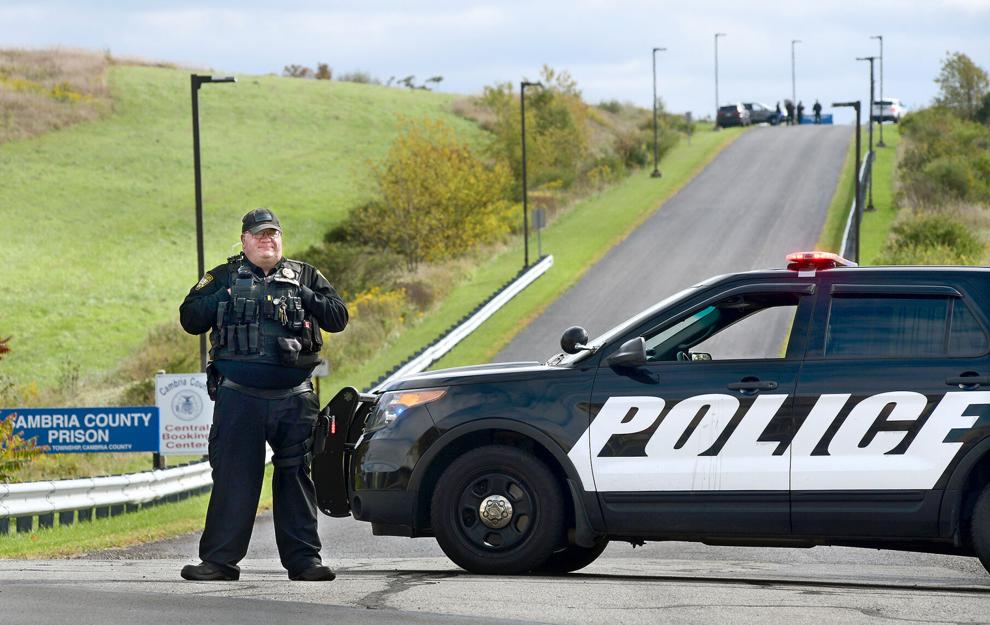 At 1:30 p.m. Friday, a Cambria County 911 supervisor would say only that there was an "ongoing police situation" at the prison.
Through the afternoon, a steady string of official vehicles arrived at the prison after checking with Nanty Glo police Officer Michael Oyaski. Some of the vehicles towed box utility trailers and a mobile emergency command station passed through the checkpoint.
Ebensburg's Dauntless Volunteer Fire Company sent at least three vehicles, including its aerial ladder truck, standing by in a field near the prison.
In a statement released just after 4 p.m., Smith confirmed the situation was confined to one housing unit, noting that police, along with local emergency services personnel were "working toward a successful and peaceful ending to this incident."
The Dauntless fire trucks left after 5 p.m. and other vehicles began leaving after that. Later, firefighters at the Ebensburg station would not discuss their assignment at the prison incident.
Ambulance and more fire units left the scene at 5:37 p.m., followed by several law enforcement vehicles at 5:51 p.m.
The remaining sheriff's vehicles and local police vehicles left just after 6 p.m.
Cambria County 911 confirmed the units were clearing at that time.
Smith said the response included the prison's Corrections Emergency Response Team and the Department of Corrections' Hostage Rescue, Hostage Negotiations, Corrections Emergency Response and Corrections Rifle Specialist teams.
Local agencies responding included Cambria County Emergency Management Agency, Cambria County Sheriff's Department, Cambria County Detectives, Pennsylvania State Police, Ebensburg and Cambria Alliance EMS, STAT MedEvac and Cambria Township, South Fork, Nanty Glo, Jackson Township, Ebensburg, Carrolltown and Patton police.