BENEZETTE – Standing on a shade-covered pathway, Henry Pierce looked down the length of his camera lens, studying a tree line a few hundred yards away, hoping to see a group of elk, that were walking around, move closer to him.
Pierce used to hunt with a rifle, harvesting, by his estimation, 60-some deer.
But nowadays, after he "got too tender-hearted" to kill animals any more, the Rocky Mount, North Carolina, resident does his shooting with cameras. And the bulls and cows that live in and around Benezette, which is nationally known for its elk population, are some of his favorite animals to photograph. So much so that he has visited the Elk County town – of just about 200 people – a half-dozen times.
"We've got a few of them in North Carolina, but nothing like this," Pierce said.
On one late September day, when the leaves were just starting to reveal their autumn colors, Pierce was among the scores of photographers – with cameras, lenses, tripods and binoculars – at the Keystone Elk Country Alliance's Elk Country Visitor Center, and along roadsides and in the woods, snapping pictures of the elk, as dusk settled in.
They all came to town during what is widely considered the best time to see the elk – the rut, which typically lasts from early September into mid-October. During the mating period, the males become aggressive when searching for mates, often engaging in physical confrontations that lend themselves to active and interesting photos.
"I enjoy seeing the conflict between the bulls," said David Anderson, a wildlife artist whose business card depicts his photo of two bulls clashing in a stream. "When a bull has a hot cow, another one will come in and chase him off. They kind of have a hierarchy that they know who's the boss. Occasionally one will get hurt. He'll go away and lay down for a couple days. As soon as he heals up enough, he comes back and joins the rut. That's a lot of fun to me."
And then there is the bugling – a three-part "call" with an on-glide, whistle and off-glide that is used to show the bull's dominance over other males and to attract females.
"It actually keeps me alive," Anderson said. "I live to do this. I really do. The bugling alone would be enough.
"If I was blind, I would come to listen, just to listen to them."
Shared experiences
Anderson and Tom Greenwood found themselves sitting next to each other at the Benezette Hotel bar one recent Tuesday.
They had never met before.
But their conversation quickly turned to the elk, as both shared stories about seeing the animals in the wild over the years.
Anderson, a Westmoreland County resident, scrolled through his phone, showing pictures and a time-lapse video of himself making a painting of an elk, full of vibrant colors – blue, green, yellow, brown all popping on the canvas. Anderson watches and photographs the elk so often that he "gets to know the bulls actually fairly well because I'm around them so much."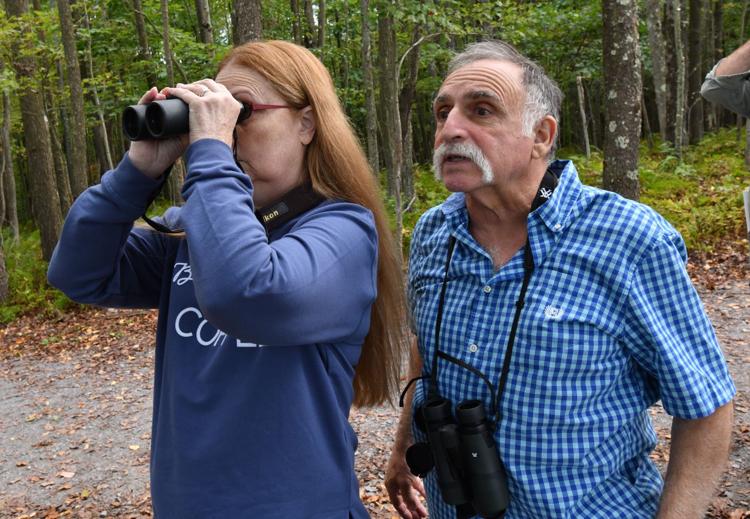 Greenwood, a Conemaugh Township, Somerset County, resident, has visited Benezette about 100 times.
"I really enjoy the scenery and the country up here, listening to the elk bugle and just seeing them," Greenwood said. "They have beautiful country up here."
Other patrons – many eating $7.95 elk burgers with sides of chips and drinking cold beers – talked about their day of watching the elk.
Dave Lucks played a video – through a cracked cellphone screen – of a bull digging his antlers into the earth, kicking up dirt, and grass and rocks.
"You don't see that a lot, so when you see it, you've got to appreciate what you're seeing – get some pictures of it; show your buddies, the wives," said Lucks, a resident of Warren County, located about 70 miles from Benezette.
Lucks spent the day with friends, driving through the area – St. Marys, Johnsonburg, Kane and Emporium – to view the elk, along with other wildlife and sights.
Tourism boom
Matthew Castle and Brian Kunes have owned the Benezette Hotel since 2006.
Kunes, a native of the Benezette area, spent three years working around Washington, D.C., driving back to the hotel on weekends, waiting to see how the business developed before solely committing to the establishment. But then, in September 2010, the Elk Country Visitor Center opened, bringing an unprecedented wave of tourists – more than 51,000 guests from 46 states and 16 countries within the first four months.
"We've grown leaps and bounds since the center came in," Kunes said. "They opened in 2010. We've done two major renovations. We've got the concession trailer. Obviously, all the tourists coming hugely impacted us."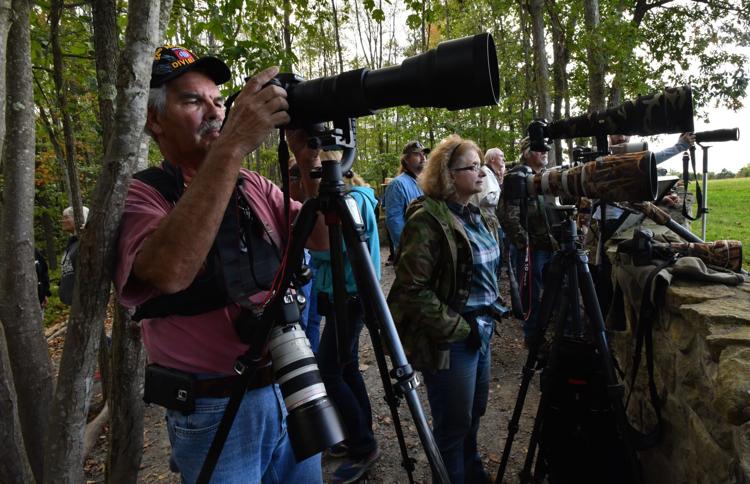 Kunes said he feels "like we made the right choice to move up here, grow a business, have it be this successful."
The hotel – with its bar, restaurant and eight rooms – is one of several businesses that have benefitted from the influx of tourism, including Old Bull Cafe, Benezett Store & Restaurant (spelled without the "e" on the end), along with hunting and photo guides, and campgrounds.
Leigh Ann Copello has owned Rut 'n' Bugle Distillery for a decade, originally selling wine, but then switching to flavored moonshine, along with souvenirs. She has seen a "tremendous amount of increase" in recent years.
"It's just beautiful in Benezette," Copello said. "It's just absolutely gorgeous. So with the elk, and with the foliage and everything, it's just a beautiful place to be. And it increases business. It's great."
But the increase in visitors has caused issues with some residents upset about tourists flocking to a once-isolated rural community, stopping vehicles on roadsides and walking on private property to see the elk.
"It's really only about six weeks out of a year," Copello said. "It's hard for people, for residents who live here. But it is something you get used to.
"You learn to leave a little bit earlier for work and allow yourself a little more time because there is a lot more congestion, traffic, people stopping on the roads. You just learn to adjust to it."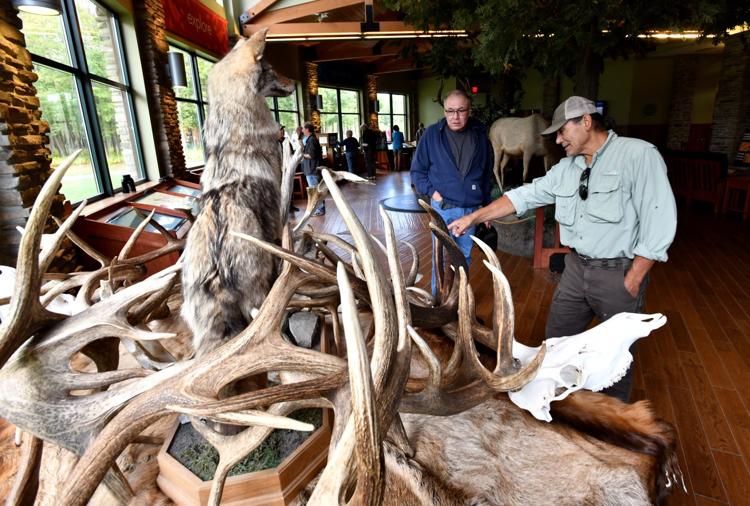 Janet Colwell, a former resident of the Johnstown area, who moved to the Benezette region in the 1990s, has seen the transformation firsthand.
"It's really been taking off the last couple years, especially with the KECA (Keystone Elk Country Alliance) center up there," Colwell said. "That's really brought in a lot of people. It's been growing. From the time I moved up here, there weren't really any viewing areas. You got out of the car and walked out to a spoil pile over in the fields. Now they've developed other things. It's really come a long way."
'Just to see them'
A where-are-you-from map hangs inside the Elk Country Visitor Center.
Visitors have placed a rainbow of small, circular stickers on their hometowns throughout Pennsylvania, across the United States and the world's continents.
All total, more than 450,000 people now visit annually.
"It's pretty exciting," said Carla Wehler, operations manager for Keystone Elk Country Alliance. "We're able to bring folks into Pennsylvania's elk country, give them an awesome place that they can come, get out of their car, learn about elk, view the elk in a safe environment."
The center, opened in partnership with the Pennsylvania Department of Conservation and Natural Resources, offers educational exhibits, merchandise, wagon rides, the Pennsylvania Great Outdoors Elk Expo in August, and a starting point for visitors to the region – which is home to 200 to 350 elk, depending on the radius considered.
"It's really, really nice," Todd Jimerson, from Rochester, New York, said. "They improve it. Every time you come down here it's improved. Everything's improved. It's really cool."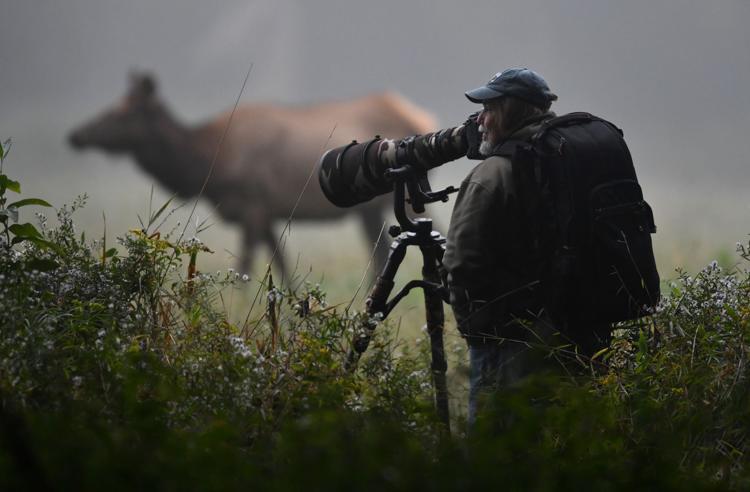 Guests can also walk along trails hoping to catch glimpses – or even take photos – of the elk.
"It's pretty neat," John Abrams, a Salamanca, New York, resident, said. "We've never seen them before anywhere else, so that's why we come here, just to see them."
Wehler said the center's economic and cultural impact is obvious, but not easy to quantify.
"It's certainly tough to judge the economic impact of nature tourism," Wehler said. "But we've seen tremendous growth in Benezette, in Driftwood, over in (Cameron) County, all over.
"We're seeing an increased number of lodging providers showing up that are providing beautiful cabins. They're providing additional campgrounds. New stores are popping up, wineries, moonshine. It's definitely giving an opportunity for those that have a mind. They can start their own businesses and certainly be successful."