Testicular cancer is not as common as other types of cancer, but it is more likely to be found in younger men and teens.
"This typically a younger person's cancer," said Dr. Juddson Chason, a urologist with Conemaugh Memorial Medical Center in Johnstown. "Teens and 20s are the peak incidence for testicular cancer. It's the most common solid tumor in young men."
About one man in 100 will be diagnosed with testicular cancer, which most often develops in what are known as germ cells that produce sperm in the testicles, the UPMC Hillman Cancer Center website says.
The good news is, most patients can be treated and live a normal life, Chason said.
"By and large, with screening and with self-exams, it's very treatable and most definitely very curable," he said.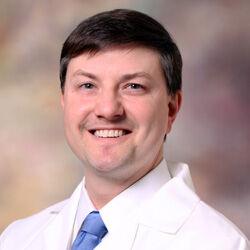 Men and teens should talk to their physicians and their fathers about self-exams, he said.
"When they come in, we talk about what they're looking for," he said. "It's basically anything that changes the contour of the testicle.
"It typically presents as a painless mass within the testicle."
Like most cancer, doctors now know there are several types of testicular cancer. Identifying the cancer type helps with treatment planning.
Testicular cancer is divided into two main groups: seminoma and non-seminoma cancers. Seminoma cancers are the most common and respond well to treatment.
"If it's found early, it's very treatable," Chason said.
The cancer usually only affects one testicle. Treatment includes surgery to remove the cancerous testicle.
"You can survive that with very normal function going forward, if caught early enough," Chason said.

Although any man can get testicular cancer, the American Cancer Society says risk factors include:
• Race – white men are four to five more times likely to develop the cancer.
• Family history – close relative with testicular cancer.
• HIV infection, especially with AIDS.
• Cryptorchidism – an undescended testicle.
• Cancer in the other testicle.
• Carcinoma in situ – a non-invasive form of the disease that can become malignant.
A study spearheaded by researchers from the University of Pennsylvania showed that increased use of diagnostic X-rays below the waist in men increased the risk of testicular cancer. The study was published earlier this week in the journal PLOS ONE.