Vision Together 2025 leaders have been discussing the possibility of bringing in Afghanistan War refugees as a way to slow the decades-long population declines in Cambria County and Johnstown.
The nongovernmental nonprofit's records are not open to the public.
However, the talks were mentioned during a recent Cambria County Planning Commission meeting and later recorded in that organization's official account.
According to CCPC's minutes, Ethan Imhoff, the planning commission's executive director and a Vision member, "explained that because other parts of the country have successfully utilized immigration as a part of a strategy to reverse population decline and employment gaps, the Vision board and staff have begun exploring the feasibility of hosting immigrants, particularly recently evacuated Afghan refugees currently living on American military bases, in Johnstown and Cambria County."
Imhoff "stated that the issue is a complicated one and primary logistics would involve housing, education, translation and social services for relocated families" per the planning commission's minutes.
When asked for an interview, Imhoff deferred to Mike Tedesco, president and CEO of Vision Together 2025.
Tedesco described Johnstown's story as "one built on immigration" in a statement sent Tuesday to The Tribune- Democrat.
"Immigrants from across Europe filled jobs, invested in housing and neighborhoods, and grew the economy of Johnstown," Tedesco wrote. "It is in the spirit of the Johnstown tradition that Vision Together 2025 has discussed the possibility of attracting skilled immigrants to once again fill our many open positions throughout the region, grow local business, invest in our housing, invest in our neighborhoods, and grow our tax base."
In a follow-up statement Wednesday, Tedesco wrote that Vision Together 2025 is "simply investigating successful programs in other parts of the country which brought in a small number of vetted, legal immigrants who could be matched up with jobs that they are educated and qualified to fill. Cambria County right now has more than 1,000 open jobs in almost every industry. Similar programs have worked very well in other parts of the country."
Tedesco added: "The idea is not to take people's jobs or to add to taxpayers' burden. We are only seeking skilled, responsible, taxpaying newcomers to help grow Cambria County."
A 'deliberate plan'
Cambria County has dropped from 213,459 residents in the 1940 U.S. Census to 133,472 in 2020. Meanwhile, Johnstown has gone from 67,327 residents in 1920 to 18,411 a century later following the collapse of the steel industry and mass exodus. Johnstown's population went down by 12.2% in the 2010s. Cambria County shrunk 7.1%, the county's third-largest percentage decline during a decade in its two-century existence.
The constant loss of people has negatively impacted the local economy.
"There are many businesses within Cambria County that cannot grow due to a lack of skilled labor," Tedesco wrote.
"Because there are many skilled and patriotic immigrants that have fought alongside American soldiers, supported the American Dream and wish to pursue that dream for themselves, Vision Together 2025 sees an opportunity to grow the Johnstown economy in a manner that honors our heritage by continuing our story of immigration."
No definite plan has yet been created to address how war refugees would be brought to the region or how many people would be needed in order to affect the population decline.
"We are in the early stages of a multi-stakeholder process," Tedesco wrote. "We have formed an exploratory committee. We intend to start small and study successful models from other cities. No decisions have been made other than to create a thoughtful and deliberate plan that benefits greater Johnstown most."
'Build a new life'
Cambria County Commissioners Thomas Chernisky and William "B.J." Smith, both Democrats, issued a joint statement in which they said the county government is "not involved in recruiting Afghan refugees."
They pointed out the role some refugees played in helping the United States' war effort by guarding bases, gathering military information and working as interpreters and noted that "America and Cambria County were built by immigrants."
"If any of the refugees want to work, contribute to our economy and be law-abiding residents, they should have the opportunity to build a new life," Chernisky and Smith said in their statement.
Chernisky attended the planning commission meeting during which Afghan refugees were discussed, while Smith did not.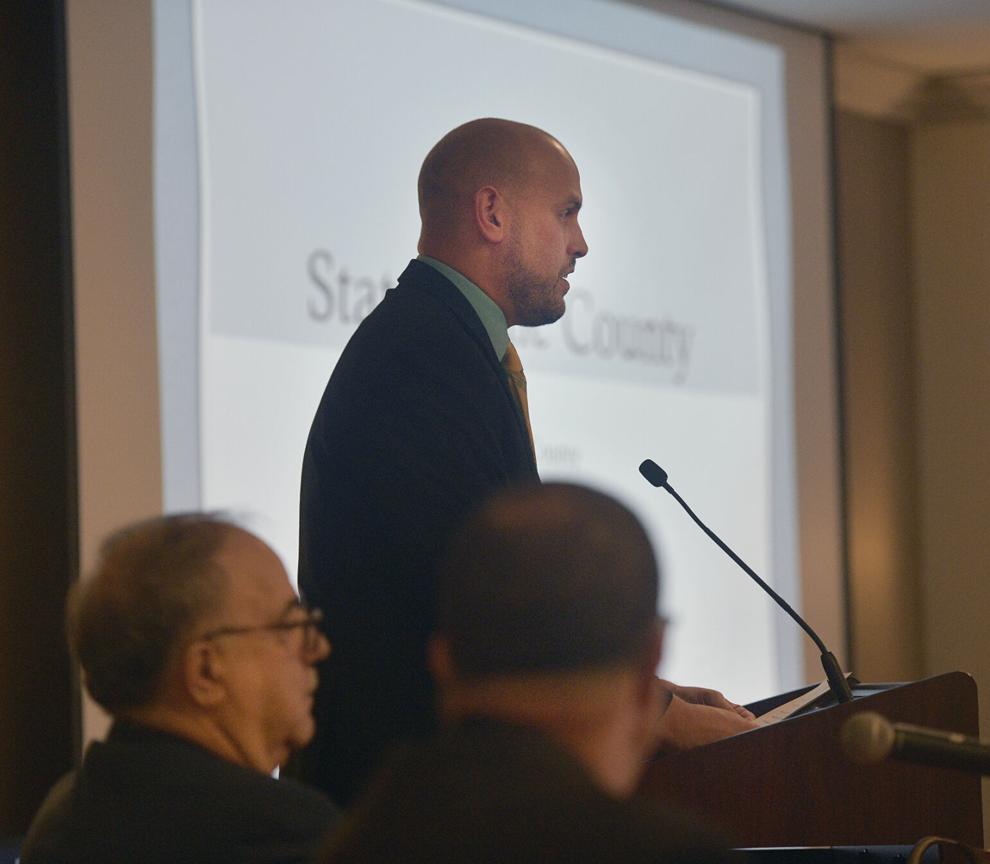 Cambria County Commissioner Scott Hunt, a Republican, was not at the Vision Together 2025 or CCPC meetings, but he noted that "an extremely brief mention at one point" was made in his presence about the Afghan proposal.
"(T)he thought that by importing people here it is somehow going to fix our own population problem, I believe is impractical," Hunt said in an email statement. "I don't believe quick fixes are the answer. We should make our priorities focus on improving the quality of life here for residents. This starts with creating a business-friendly environment for current and future business, keeping our county in a good fiscal condition and making it an inviting and enticing place to live, work and play. This will certainly help reverse population decline and further spur economic development while helping the people who elected me to serve them."
Hunt raised concerns about how the war refugees would be vetted when coming from "an extremely volatile area of the Middle East."
"I urge extreme caution on continuing this process," Hunt wrote. "This is not meant to be xenophobic in any way, but as your county commissioner, the people who I was elected to serve, their safety and well-being are my primary concern."
Impact on services?
Many war refugees would presumably be very poor, having fled Afghanistan with only a handful of possessions and limited – if any – access to money back home.
They would possibly need social services in Johnstown where already almost 40% of the citizens live in poverty, more than 2,000 people have passed through Johnstown Housing Authority public units or Section 8 rental properties during the past three years, unemployment has been higher than the state and national rates for decades, and elected officials have never figured out a way to leave Pennsylvania's Act 47 program for distressed municipalities since joining in 1992.
"Our community is devastated by the transient population from inner-city Philly," Cambria County Republican chairwoman Jackie Kulback said. "The citizens of Johnstown deserve a chance to be in charge of their own community. The Section 8 housing dropped inner city problems on our doorstep and we are ill-equipped to handle them as a community. Our communities need assurances that bringing more people dependent on the county for social services will stop."
Kulback added: "Inch, foot, yard, mile, based upon the reaction from our county residents, they aren't willing to take the risk of being a depository for illegal immigrants or refugees because, once the faucet is turned on, it's impossible to turn it off."
John DeBartola, the 2020 Republican candidate for mayor, posted comments on Facebook that brought public attention to the Afghan plan and sent a statement to The Tribune-Democrat, opposing any organized effort to bring in war refugees to the city.
"I'm not anti-immigrant at all," DeBartola wrote. "My ancestors were immigrants, but the city is already barely keeping its head above water in so many ways, only to have more people who would be paid for and subsidized by city taxpayers to be forced upon us and these refugees are not properly vetted. I say if the Vision 2025 Board wants Afghan refugees, then let them solely be responsible for them. Let them move them to the suburbs in Richland and Westmont. Let their schools have to hire interpreters to educate their children. City residents have had enough."
DeBartola raised his concerns during Johnstown City Council's reorganization meeting on Monday.
After DeBartola's remarks, Johnstown Mayor Frank Janakovic, a Democrat, said: "Council's not about to address any rumors. and secondly, as I look at council here, I don't see any of us being natives of America, unless there are any Indians on council. I think we've always welcomed all people, whatever race, color, place of origin. We'll leave it at that."
When asked for an interview Janakovic, a Vision member, texted: "The city of Johnstown has no program to address this matter."