Nothing spoils a day of summer fun in the sun like a trip to the emergency room.
Overexposure to heat and sun can lead to a number of conditions, some of which are life-threatening, said Dr. Matthew Perry, chairman of emergency medicine at Conemaugh Memorial Medical Center in Johnstown.
"We know post-COVID, people are coming outside and want to do a lot of outdoor activity," Perry said. "It doesn't take long for heat to become a factor regarding someone's health."
He advises everyone to know the symptoms of heat illnesses, which he says develop as a progression. The first symptoms may be heat cramps in the legs or abdominal areas. The cramps should be a warning sign to slow down, cool down and drink some water, he said.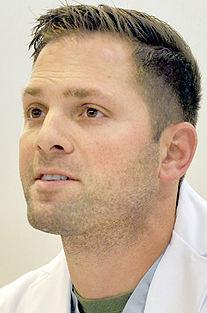 Heat exhaustion is the next stage, which the Mayo Clinic website says is characterized by heavy sweating and a rapid pulse as the result of overheating. Other symptoms can include dizziness, low blood pressure when standing, fatigue, nausea, headache, cramps and cool clammy skin with goosebumps in the heat.
An individual experiencing heat exhaustion should rest in a cool place and drink cool water or sports drinks.
Heat illnesses may progress to heatstroke, also called hyperthermia, when the body's internal temperature rises above 104 degrees. Heatstroke should be considered an emergency and prompt an immediate call to 911, Perry said.
"With heat stroke, the high temperature causes the body's internal regulatory system to fail," he said. "It can lead to death."
That grim reality struck hard in recent days as a merciless heatwave grips the Pacific Northwest. The Associated Press reports there have been 45 heat-related deaths in one Oregon County alone.
Those most at risk include infants and children up to 4 years of age, those 65 and older, those who are overweight and those with some illness or using certain medications, the Centers for Disease Control and Prevention report.
Symptoms often include what Perry calls an "altered mental state," with confusion, agitation, slurred speech, irritability, delirium or even seizures and coma.
In addition to getting emergency medical help, those experiencing heat stroke should be moved into the shade or indoors. Other suggestions from the Mayo Clinic include removing excess clothing and cooling the person with a cool tub of water or shower, spray from a garden hose, cool wet sponge or cloth or fan. Ice packs or cold, wet towels can be applied to the head, neck, armpits and groin.
Heatstroke victims should not be given water because an altered mental state may cause them to aspirate and choke on the liquid, Perry said.
Being aware of the risk of heat-related illness and knowing the early symptoms can prevent more serious conditions, he said.
"The best treatment is really prevention," Perry said. "We can use the resources of the emergency department to treat you, but the best treatment is really prevention."
Conemaugh Health System provides these prevention tips against heat illnesses:
Drink plenty of water.
Look for shady areas to play and rest.
Take frequent breaks when enjoying the outdoors.
Limit your outdoor activity in the hottest part of the day.
Never leave babies, children or animals in a car unattended.
Stay mindful of the signs and symptoms of
heat-related illness.
Be aware of your body's limits.
Additional prevention measures against exposure to the sun and its ultraviolet rays can reduce the long-term effects that include skin damage and skin cancer, the experts say.
While it is estimated that one in five Americans will develop skin cancer by the age of 70, the Skin Cancer Foundation says there are steps everyone can take to reduce the risk from sun exposure.
They include wearing wide-brim hats and clothing that covers as much skin as possible, using sunscreen with a sun protection factor of at least 15 and reapplying at least every two hours, trying to limit activities to shady areas, not using tanning beds and watching for changes in the skin.
"If you have skin lesions, it's best to get those checked by your family doctor or a dermatologist early on," Perry said.
Perry said he understands people are ready to get outside and be active. He has some advice to remain safe and prevent those emergency room trips.
"It's important the people are diligent about finding a shaded area, staying hydrated and limiting time in the sun. Pay close attention to how you are feeling and look out for one another."