Although a child's primary teeth are temporary, that doesn't mean they aren't important.
"I think that is a common attitude," said Dr. Jeffrey Cook, a pediatrician with Pediatric Care Services, 1322 Eisenhower Blvd.
"Some parents don't realize how important those primary teeth are as far as maintaining the health of the mouth."
Dental health for children is more than helping the permanent teeth grow into the proper locations, said Dr. Mike Rice of Dental Care Associates, 1415 Eisenhower Blvd.
"They do affect the growth and development of the jawbone itself," Rice said. "If you are missing teeth, the jawbone may not develop properly. It can be asymmetrical and quite noticeable – almost to the point of deformity."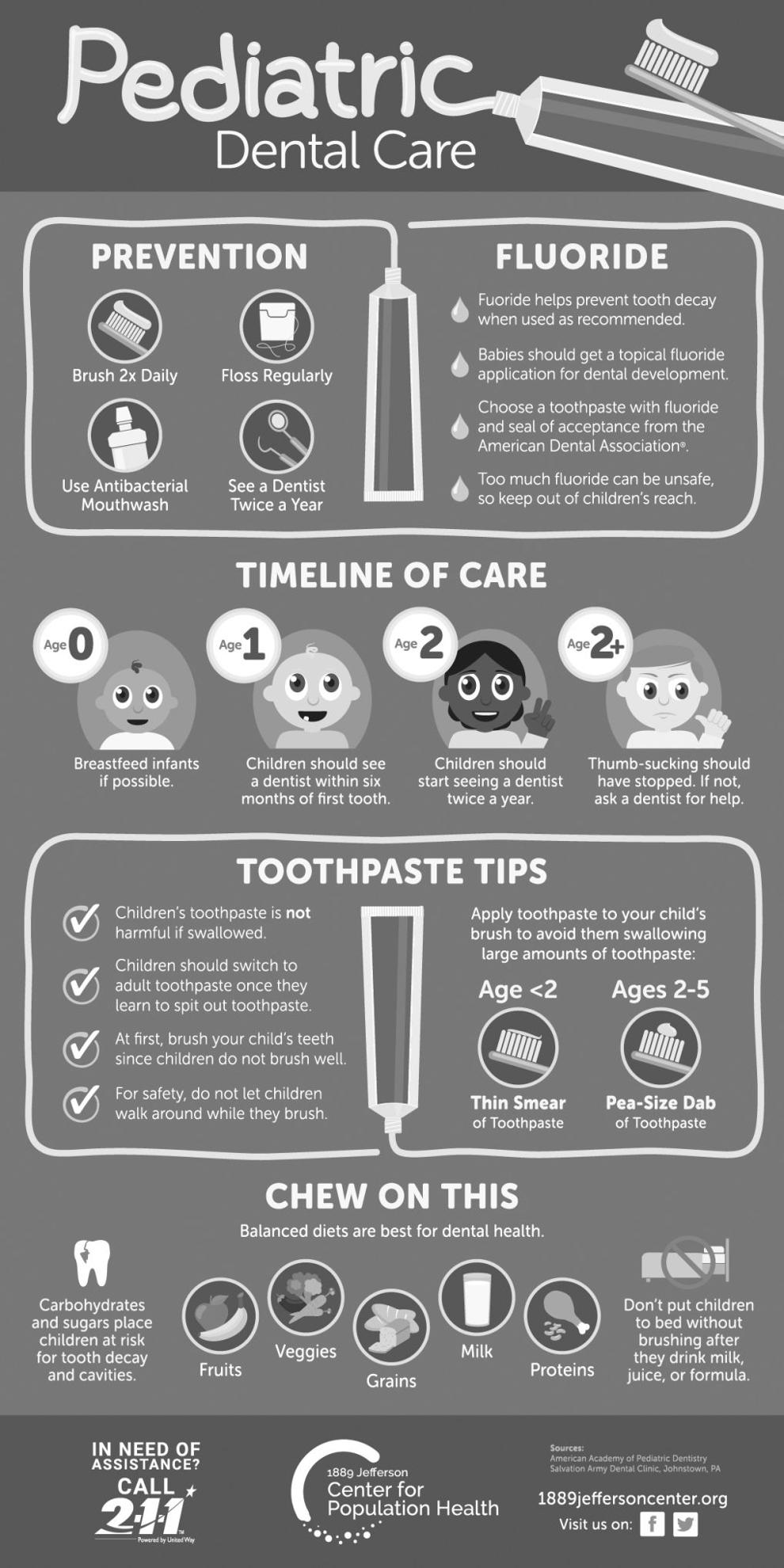 Healthy teeth are part of overall wellness, health professionals say.
In its "Oral Health Strategic Framework," the Department of Health and Human Services described the potential harm in neglecting dental care.
"The consequences of poor oral health have a negative influence on children's speech, growth, function and social development," the paper said. "Total health and wellness cannot exist without oral health, and the two are closely linked."
The effects continue through a child's life. Studies show a link between poor oral health and bacterial exposure throughout the body. The bacteria fuels inflammation that is associated with conditions such as diabetes, cardiovascular disease and respiratory disease.
"Oral disease can have an impact on physical, psychological, social and economic health and well-being through pain, diminished function and reduced quality of life," the report says.
Breast-feeding, brushing
Studies have consistently shown that low-income families are less likely to get proper dental care and are more likely to have dental problems, such as untreated tooth decay, than are families with fewer financial concerns.
The long-term consequences put children's oral health into the 1889 Jefferson Center for Population Health's mission of improving the community's health in Cambria and Somerset counties.
Executive Director Trina Thompson says parents represent their children's front line of defense against dental issues.
Healthy practices begin at birth, she said, pointing to the overwhelming evidence that breast-feeding provides infants with the best start in life.
"Breast-feeding is also healthier for the mouth and teeth," she said.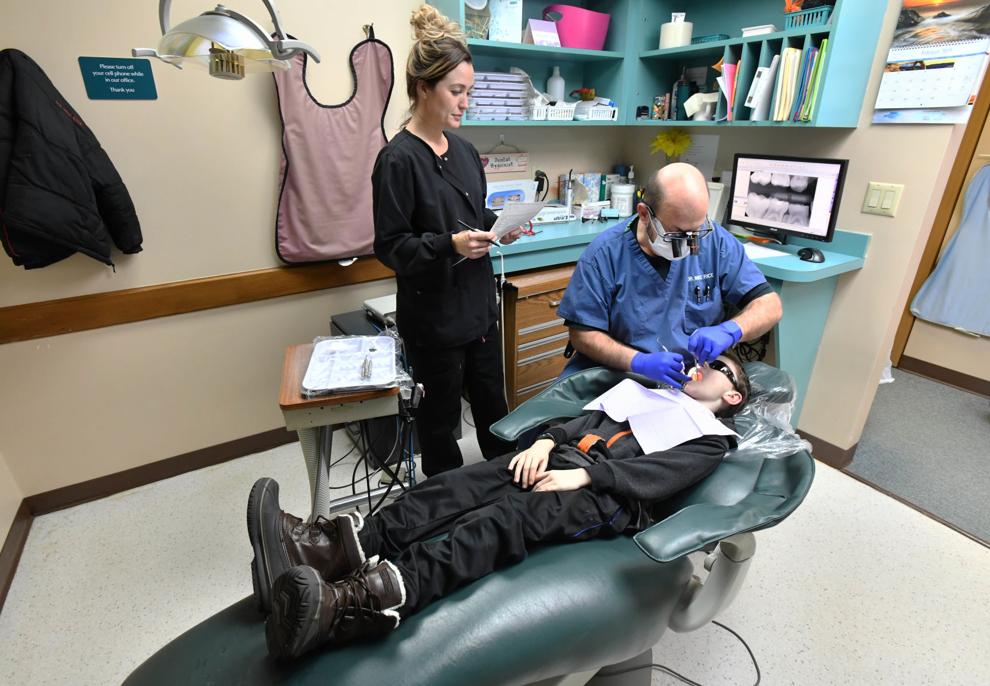 Daily tooth brushing habits begin early as well, Thompson said. Experts encourage parents to start the routine even before the baby's first tooth appears.
"Just use water and a little cloth to wipe off the gums at night," Thompson said.
"It gets them used to that. Then start brushing their teeth even if they have only one tooth."
Doctors and dentists now recommend fluoride toothpaste even for babies. Use a soft brush and tiny smear of toothpaste, she said.
When to see a dentist
Although the American Academy of Pediatric Dentistry recommends the first visit to a dentist when the first tooth appears, Rice said that may not be necessary.
"In my opinion, that's more of a marketing ploy," he said. "You are not going to do any dentistry on a 10-month-old kid. You're going to talk to the parents.
"We say a mature 3-year-old or an immature 4-year-old – that's when we want to see them."
Parents can help reduce the trauma of dental care by remaining calm and downplaying the situation.
"If you come in here with your kids and you are anxious, your kids are going to be anxious," Rice said.
"They pick up on that. Don't tell your kids, 'This is not going to hurt.' When you hear that, the first thing you think is: This is going to hurt."
Parents should remain involved in the daily dental care during children's early years, he said..
"The most common mistake I see is that people allow children to brush their own teeth," Rice said. "Parents need to go in and do that until they are about 7 or 8 years old." 
Sugars and bacteria
Manual dexterity and attention span of toddlers and preschoolers reduce the effectiveness, he explained, giving the example of washing dishes.
"Would you allow your children to do the dishes that you would eat off them?" he said. "If they can't do that, then they are not old enough to brush their teeth."
Another pitfall that leads to poor dental health is nighttime feeding of infants. The experts say the gums should be cleaned or teeth brushed following the last feeding of the day – whether it's by bottle or nursing. That prevents sugars from remaining in the baby's mouth as they sleep.
"Sugar in the mouth is what leads to cavities and the increased risk of gum disease," Cook said.
He said the sugar feeds bacteria in the mouth, which creates acid as a waste product. The acid erodes the tooth enamel, leading to tooth decay.
"Cavities develop because of the growth from these bacteria," he said.
It is also important to make sure a baby's pacifier is cleaned before it goes into the child's mouth. Bacteria on pacifiers can add to oral health issues, Cook said. He has seen mothers pick pacifiers off of the floor, lick them off and stick them back in their babies' mouths.
"They are just colonizing the baby's mouth with these bacteria," he said.
Although babies get sugars from breastfeeding and milk, juices and sugary drinks in bottles are more problematic. They not only promote tooth decay, which doctors and dentists call dental caries, but they contribute to the childhood obesity epidemic.
"The same kinds of foods and eating that leads to obesity can lead to poor dental health as well," Cook said.
"Poor lifestyle and poor diet in general causes both problems."