The crystal on Hetrick Miller's pocket watch is cracked.
The minute hand is missing.
And the hour hand has been motionless for a century, frozen at the moment Miller died.
On Sept. 22, 1920, Miller, age 23; Frank Bruneau, 28; and W.H. Walls, 26, lost their lives when two trains violently collided around 4 a.m. on Cambria Steel Company's Gautier yard in Johnstown.
The watch now belongs to his grandson, Tom Leslie.
"It is a long time to make it down through the generations, and it will be passed to my children, my boys," Leslie said. "It does mean an awful lot to us, because it is something that we can physically hold that he actually had on his person during the time of the accident."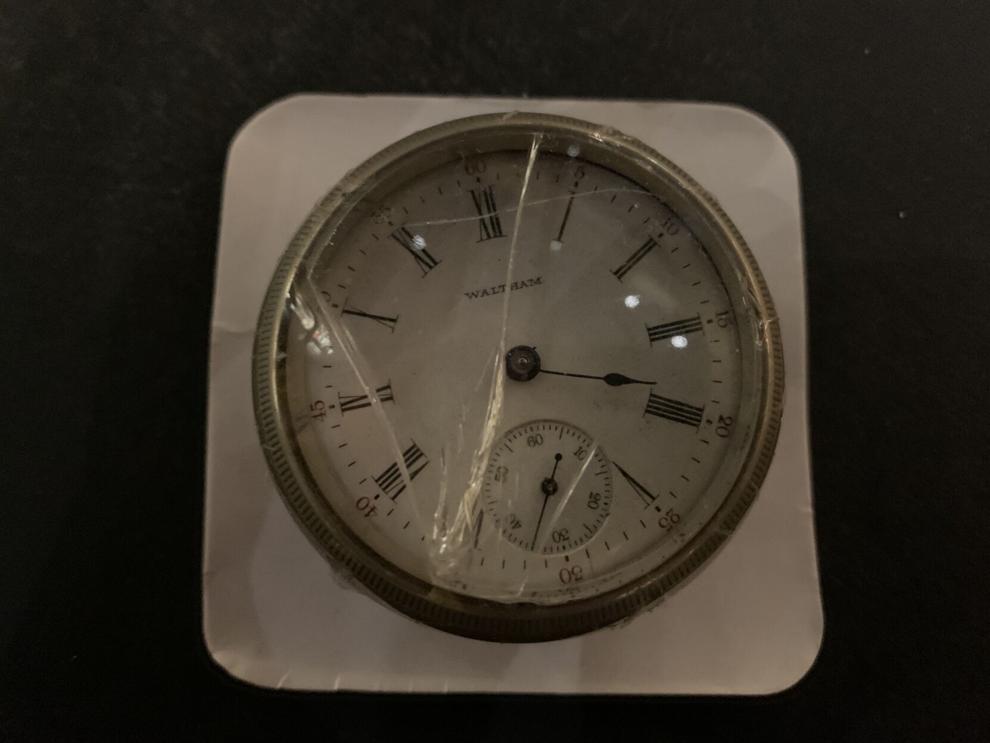 Leslie talked about his grandfather and the watch by a display about the accident in the Johnstown Area Heritage Association's Frank & Sylvia Pasquerilla Heritage Discovery Center in the Cambria City neighborhood.
The exhibit includes a copy of The Johnstown Tribune's Sept. 22, 1920, evening edition that includes nightmarish descriptions, including mentioning "part of his brains scattered along the track" and bodies pinned by "a fiery mass of tangled metal."
"They did not spare any family feelings back then," Leslie said. "It was as graphic as graphic can get."
In the article, the author described the collision of the two trains – one with 23 loaded cars, the other with 32 empties – as being caused by a misunderstanding of orders. "Never in the history of the Cambria Steel Company has there been such a frightful wreck as that of this morning, according to officials long in the service of the company," the article states.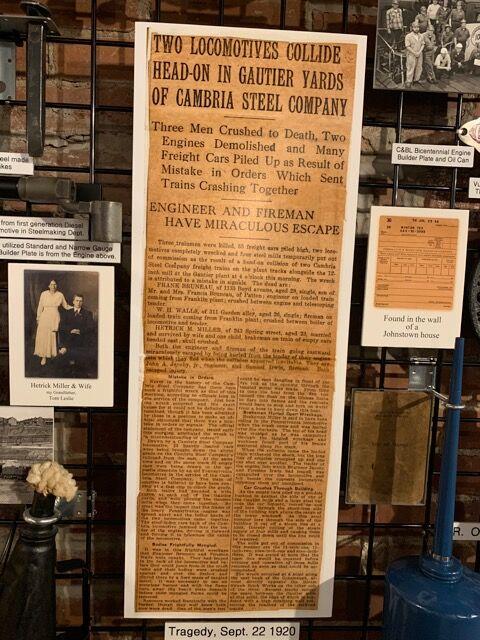 The display is part of a larger exhibit called "A Steelworker's Story," curated by Leslie, who worked at Bethlehem Steel for 18 years before it closed in 1992.
"I think these personal stories really bring home what it was like to be a steelworker in that period," JAHA President Richard Burkert said. "The competition was so ruthless between these different companies, and it was the workers who really suffered both in terms of injury and loss of life, and really they were in poverty until the early 1950s."
Leslie also looked back at the hardships faced by steelworkers in the past.
"Coming up on the 100th anniversary of my grandfather's death, I think it is something that we need to commemorate because these tragedies did not just happen in my family," he said. "It happened in a lot of families. The mills were a very dangerous place to work in the early years before safety concerns became more of an issue."