Nursing is a calling proudly shared by Carolyn Mihaly and her son, Shane Gavazzoni, at
Conemaugh Memorial Hospital.
Mihaly has been a nurse since 1994, and Gavazzoni, 20, is finishing his second and final year at the Conemaugh School of Nursing.
In the future, he plans to pursue a bachelor's degree of science in nursing.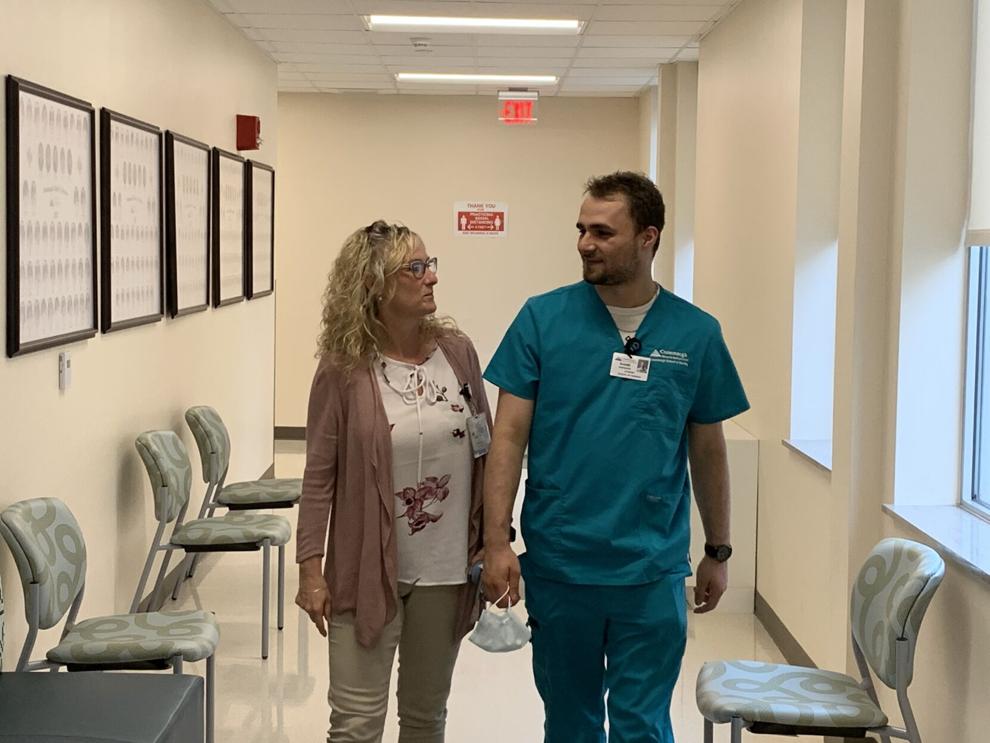 "She had a big influence on my career path," he said. "Especially when I was younger, she would always tell me how rewarding the field of nursing is – providing personalized care to a patient in some of their worst times and just being an advocate for that patient and providing the best care possible. That really got me inspired to be a nurse."
But Mihaly was surprised when her son told her about his dream of following in her footsteps.
"I wasn't expecting it, but I was very happy he decided to take that path," she said. "He was probably in high school and looking at career paths. He came home one day and said, 'I think I want to go to nursing school.' So he started to decide which school of nursing to go to, and he decided to go to Conemaugh, which was fine with me because that's where I went to school."
Their relationship has gotten stronger since they've begun to share the same career.
"I'm a resource for him when he has questions about disease processes or treatments," she said. "I have been at Conemaugh for 27 years, so my floor experience and different jobs within the hospital has helped me understand medicine better, and that helps me help him."
Gavazzoni said he enjoys being able to share stories with his mother about the rewarding side of nursing.
"Just the overall experience of being there for a patient is very gratifying," he said.
Mihaly has two daughters who are younger than Shane, she said. Her older daughter, 15, said she wants to be a psychologist, and the younger one, at age 13, isn't sure yet.
Gavazzoni is in a career that a growing number of males have chosen.
In 2020, males made up 12% of the nation's registered nurses, shows Bureau of Labor Statistics data. While nurses are still mostly females, the percentage of male nurses has increased from less than 2.7% in 1970, according to U.S. Census Bureau information.
"There has been a big increase over the years in male nurses," he said. "A lot of floors look for male nurses to do hands-on work like picking patients up and some of that stuff that smaller women aren't able to do."
Nursing is a field with many branches. Although Mihaly and her son are in the same hospital, they will likely be on different floors and work different jobs.
For years, Mihaly worked on the trauma floor, but switched in 2007 to case management. In that role, she helps ER patients with discharge planning, getting medications, supplies and equipment.
"It's about making sure people are safe enough to go home," she said.
After graduation, Gavazzoni said he will transition to a job on the psychiatric floor.
"I've always enjoyed the mental health aspect of nursing," he said. "I thought that would suit me best. Dealing with the emotional aspect of a person's health is just as important as the physical."
Throughout his two years in school, Gavazzoni was struck by the trust patients have in nurses.
"People put their whole heart in you," he said.
Mihaly believes in hard work, and she's glad to see the same work ethic in her son.
"When you get into the field of nursing, you want to help patients in any way you possibly can," she said. "That's why we go to work every day and do what we do – to make things better for them."
After he passes his standardized industry test, Gavazzoni will be a registered nurse, and his class photo will be up in the halls of the school just like his mother's.
To Mihaly, it's not all that uncommon for a mother and son to be nurses at the same hospital.
"Several of the people I know within the hospital also have children who have taken to the field," she said. "It makes you proud of your kids that they are following in your footsteps and want to do the best they can for people."