Arguably one of the top overall female athletes to come from this area, Janae Dunchack, of Northern Cambria, certainly was a force to be reckoned with when she was high jumping at the PIAA Track and Field Championships.
She is the only area athlete to win four straight titles and always seemed to come up with her best high jump of a competition when she needed it the most.
The word that seemed to most apply to Dunchack was unflappable. No matter what height she was jumping at, she just never seemed to get flustered or fretful.
Dunchack went into her first state competition in the high jump, seeded sixth and won her first title as a freshman with a height of 5 feet, 3 inches. She outdueled a pair of seniors, Laura Straub, of Elk County Catholic, and Rebekah Newhart, of Hughesville, who also jumped 5-3, but the Colts athlete did it first to earn the medal. She had also qualified for long jump and in the 100 and 200-meter dashes.
Her sophomore season, Dunchack found herself vying with a pair of area competitors in Calsie Boyd, of Richland, and Brandy Harris, of Bedford, for the top spot.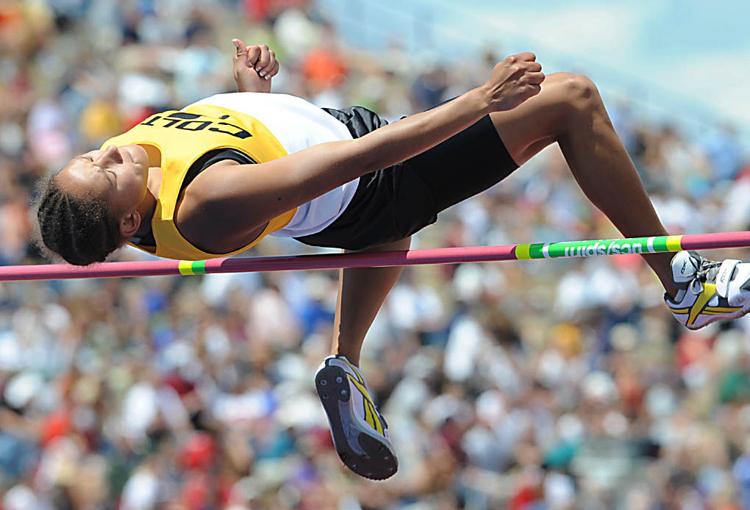 Dunchack repeated as state champion in the event with a winning leap of 5-foot-5, the lone competitor to clear that height. Boyd was second with a jump of 5-4 followed by Harris, also with a jump of 5-4. Richland's Boyd led throughout most of the afternoon until Dunchack came up with her winning leap.
"It was a lot harder this year," Dunchack said after the awards ceremony. "I think there was more pressure because I wanted to repeat since I won last year. I did really good and I was really excited that I did do so well. I was really nervous after I had some early misses, but I just took a second or two and took a deep breath and then went and jumped."
Dunchack, seeded third, said that having so much familiar competition really helped her.
"I knew two of the girls pretty well from previous competitions (Boyd and Harris)," Dunchack said. "It's nice to have people to talk to during the competition."
In her junior year, her determination and focus helped her to clear a jump of
5-foot-6 to capture the gold medal, her third straight PIAA victory in the event.
She was the only one in the competition to clear that height, in what was reported to be the longest PIAA high jump competition ever, a 3-hour plus marathon.
"I really wanted to get to 5-6 and I just keep thinking to myself 'jump higher,' " said Dunchack after the medals ceremony. "I was really calm and I never got real nervous.
"I always get input from my coach (Jim Rocco) about what I'm doing wrong and what I'm doing right so that helps out a lot. I'd really like to thank my coach because he does a lot of running around back and forth. He's really helpful."
Dunchack led throughout the preliminaries and the final round when she was a freshman, but as a sophomore and in 2009, she had to use her reserve power, hitting her winning jump on her second try.
"I hope I don't continue to have to come from behind because it's really stressful," Dunchack said.
The Northern Cambria senior laid her claim to a piece of Pennsylvania history when she won the high jump competition for the fourth straight year.
Dunchack, who cleared 5 feet, 6 inches and was the only competitor to do so, joined Kristy Dickson of Reynolds (1994-97) as the only girls in state history to win the event four years in a row.
"When I was in junior high, I really wanted to go to varsity so that I could go to states," Dunchack said. "I was disappointed then that there was nothing after districts. During my freshman and sophomore years, I didn't really realize how big of an accomplishment this is. I think it has finally sunk in about what a big achievement this is."
Dunchack, whose demeanor was always very calm, seemed particularly relaxed despite all the pressure and expectations on her her senior season.
"I was nervous coming in, but right at the beginning of the meet (coach Jim) Rocco told me, to just relax and enjoy it, and said, 'No one can take away what you've already done here,' " Dunchack said.
She remained confident throughout the high jump competition and adjusted as the meet progressed.
"I knew I could make it," Dunchack said about her winning jump. "I listened to Mr. Rocco, and he told me to move back and get my speed up. I just kind of tried to focus and figure out what I was doing wrong and just fix it. I moved back and kept my speed up – I usually slow down when I get close to the mat – but I just kept my speed up."
Dunchack, who went on to a successful career at Dartmouth, also had her best finish in the long jump, third, in her final high school meet. She finished seventh in the long jump as a junior and was fourth as a sophomore.