Standing before the Tower of Voices at the Flight 93 National Memorial, Katherine Hostetler called the feature's chimes 40 unique sounds ringing out in tribute to 40 diverse individuals whose fates came together on a tragic September morning nearly 20 years ago.
As public relations director at the Shanksville 9/11 site for the National Park Service, Hostetler greets visitors with the story of the 40 passengers and crew of United Flight 93, who fought back on Sept. 11, 2001, aware that three other hijacked planes had been crashed into buildings in New York City and at the Pentagon.
The 40 perished together when that fourth plane came down in a former Somerset County strip mine. They were individuals of varying ages, representing a multiplicity of ethnic backgrounds, cultural and professional experiences – acting as one out of concern for themselves, their families and people they would never meet.
And these 40 inspired a nation with their courageous and selfless actions in the face of extreme circumstances.
"They were just 40 ordinary people traveling for different reasons – work, a funeral, for leisure – 40 different reasons to be on that plane," Hostetler said.
"And the day – Sept. 11, 2001 – doesn't define their lives. It's what they experienced in their entire lives before that. ... It was through these lives that they were able to make the decision they made that day."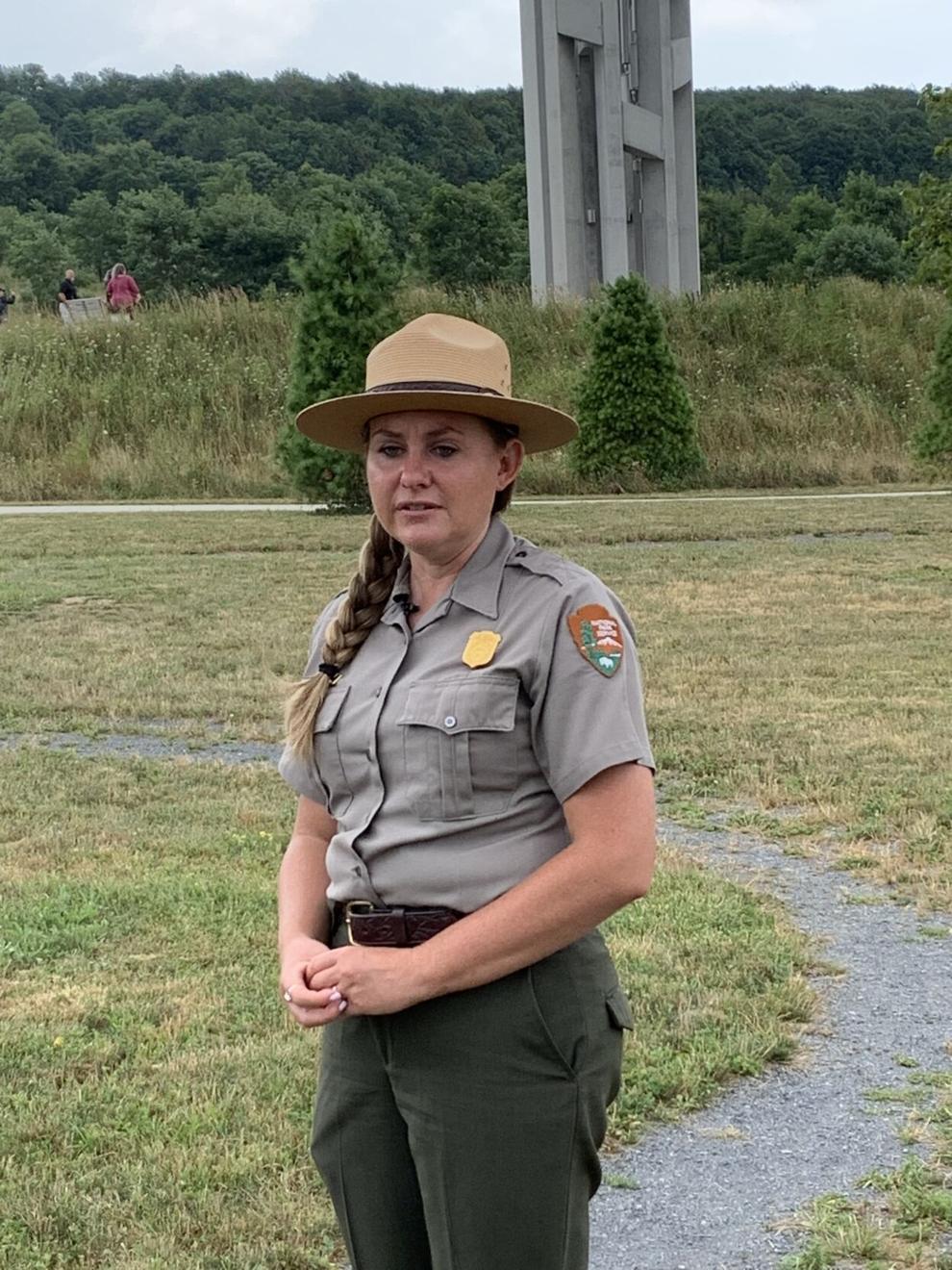 United Flight 93 took off from Newark, New Jersey, at 8:42 a.m.
Among those on board were military veterans, retirees, successful professionals, advocates for important causes, college students just starting out in their lives.
Perhaps the fact there were only 40 allowed for leaders to emerge quickly, and others to respond with determination in a truly heroic response.
"Flight 93 was a big plane," Hostetler said. "It could have had 186 people on board. But this was a small group – 33 passengers and seven crew members, and yet, it was such a diverse group of people."
Here are just a few compelling tidbits about some of those inspiring passengers and crew members, as reflected in their official biographies as compiled by the park service:
• First Officer LeRoy Homer graduated from the U.S. Air Force Academy in 1987, then served in Operation Desert Shield and Operation Desert Storm and flew humanitarian missions to Somalia.
• Passenger John Talignani, a retired bartender from Staten Island and a big New York Mets fan, was flying west for the funeral of his stepson, who had perished in a Sept. 5 car accident while on his honeymoon. Talignani boarded Flight 93 as other family members caught other flights.
• Flight attendant CeeCee Ross Lyles was a former police officer in Florida who had changed careers that January. Although she worked in law enforcement, becoming a flight attendant was the fulfillment of a "childhood dream."
• Passenger Richard J. Guadagno was a biologist and project manager for the U.S. Fish and Wildlife Service. He was returning from celebrating his grandmother's 100th birthday with family in New Jersey.
• Passenger Colleen L. Fraser – just 4-foot-6 – was the executive director of the Progressive Center for Independent Living. She had helped draft the "Americans with Disabilities Act," and "carried a tiny copy of the Constitution with her to encourage the disabled to become their own advocates." She was headed to a grant-writing seminar.
• Nicole Carol Miller, a student at West Valley College in California, was returning from a trip to meet up with friends to see the sights of New York and visit the beaches of New Jersey. She was scheduled to fly on Sept. 10, but a thunderstorm forced her to reschedule her flight to the 11th.
• Alan Anthony Beaven, a former prosecutor for Scotland Yard, was working in environmental law and was flying to California "to handle one last case" before he and his family were to move to India, where he was to "provide legal advice regarding that country's pollution and deforestation problems."
• Toshiya Kuge, 20, of Osaka, Japan, was an engineering student on a two-week vacation. He "loved American football" and was a linebacker in his first year of college at Waseda University, and had recently visited Niagara Falls and the Statue of Liberty.
• Passenger Christian Adams was export director with the German Wine Institute. He was responsible for "worldwide promotion of his country's wines for the German Wine Institute."
• Flight attendant Deborah Jacobs Welsh, a Philadelphia native living in New York, would gather leftover airline meals and winter clothing that she donated to homeless people in Manhattan.
• Passenger Deora Frances Bodley, 20, was the youngest person on the plane. She was a French and psychology student at Santa Clara University, and served as a "peer counselor to troubled teens and tutored in an after-school program."
• Lauren Catuzzi Grandcolas, an advertising sales consultant with Good Housekeeping Magazine, was returning home to California from her grandmother's funeral. Grandcolas, who was pregnant, was writing a book she hoped would uplift and motivate women – "You Can Do It: The Merit Badge Handbook for Grown-Up Girls" – that her sisters finished and published after her death.
Grandcolas also was among many on Flight 93 who called family members or co-workers from the plane. She left a message for her husband telling him there was a problem on the flight, and asking him to tell their family members that she loved them.
The stories of all 40 passengers and crew members are available at www.tribdem.com, on the park service's Flight 93 National Memorial website, and in our newly updated book, "Heroes Were Made."
For Hostetler and others working and volunteering in Shanksville, the stories of the 40 provide a tapestry of compelling experiences and backgrounds – individuals worth remembering and celebrating – for their differences, as well as the tragedy and heroism that brought them together.
"It's their stories that make this story so inspiring," Hostetler said. "They bring interesting pieces of those stories – every single one of them."
Chip Minemyer is the editor of The Tribune-Democrat and TribDem.com, and CNHI regional editor for Pennsylvania, Maryland, Ohio, West Virginia and North Carolina. He can be reached at 814- 532-5091. Follow him on Twitter @MinemyerChip.