Carlton Haselrig, perhaps the greatest all-around athlete in Cambria County history who produced a resume in sports befitting a Hollywood movie script, died on Wednesday after a lengthy illness.
The six-time NCAA champion wrestler and former Pittsburgh Steelers offensive lineman was 54.
"It's still hard to fathom," said Bruce Haselrig, Carlton's uncle and a well-known wrestling official. "I was with him (Tuesday) evening for an hour and a half. We found out (Tuesday) he had some very bad things happening in his stomach. We talked about it. He was very positive about what he was going to do in the future. He was going to battle this and, 'Do like I always do, come out on top.'
"He lost so much weight over the last five or six months," Bruce Haselrig added.
News of Haselrig's death spread quickly throughout the region.
"It's a huge loss. This is a legend. This is Cambria County's greatest athlete," said Conemaugh Township High School football coach Tony Penna Jr., a close friend of Haselrig.
"This is our Kobe Bryant," said Penna, who was the Greater Johnstown High School football coach for nine seasons when Haselrig was one of his assistant coaches. 
'His heart made him special'
A Greater Johnstown High School and University of Pittsburgh at Johnstown graduate, Haselrig overcame adversity and long odds to win wrestling championships at the high school and college levels.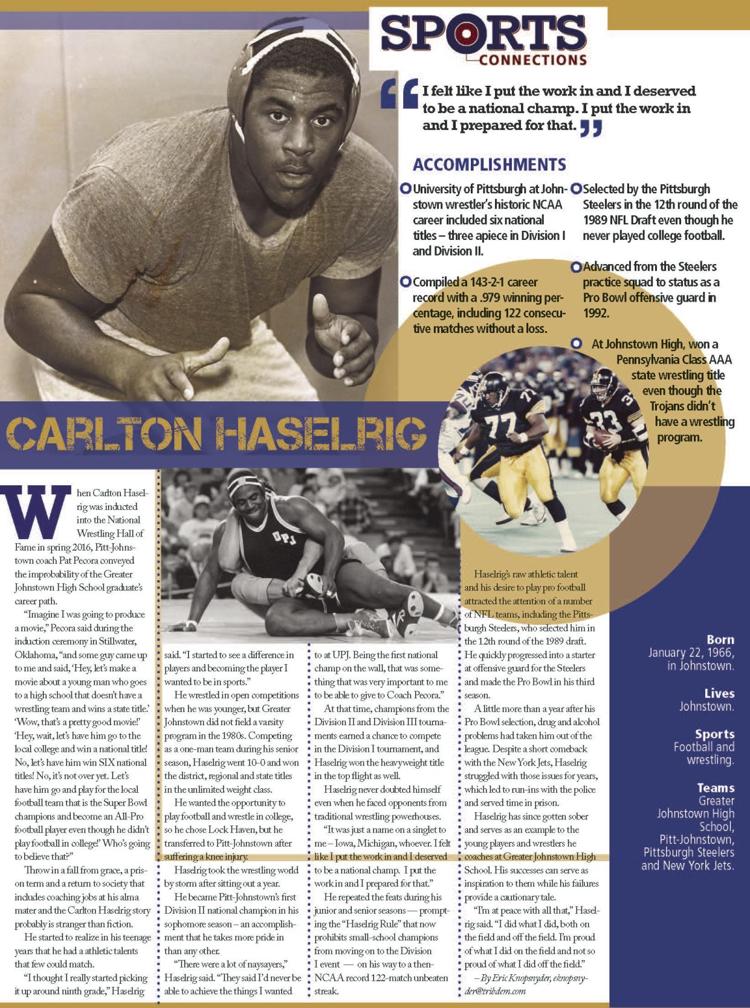 Despite never playing a down of college football at Pitt-Johnstown, which didn't have the sport, Haselrig caught the attention of the Pittsburgh Steelers, who selected him in the 12th round of the 1989 NFL Draft after some heavy on-air lobbying by colorful Pittsburgh radio personality Myron Cope. Eventually, Haselrig developed into a Pro Bowl offensive lineman.
"Carlton believed he could be the best and then he went out and proved he was the best," said Pitt-Johnstown wrestling coach Pat Pecora, who helped Haselrig win six national championships. "He wasn't intimidated by the size of the school he was wrestling against or the NFL. He had that mental edge that set him apart in terms of believing."
A football star at Greater Johnstown, Haselrig believed he could win a state wrestling championship even though the Trojans didn't have a wrestling program.
Once he received approval from the school board of directors, Haselrig wrestled as an independent. He went 10-0 and won a PIAA heavyweight championship as a senior in 1984.
"This is a rough one," said Joe Greenwood, who graduated from Greater Johnstown with Haselrig and played college football at Temple University.
"Carlton and I have been friends since elementary school," said Greenwood, who resides in Bear, Delaware. "He's probably the toughest guy I've ever known and I've been around some pretty tough guys over the years. His work ethic and his heart made him special.
"If you took his high school career and what he was able to do, that's a story in itself. College wrestler. Making the NFL. Pro Bowl," Greenwood said. "I don't know if there is anybody else who was able to do the things he did and at the level he did it. That's the thing. He was great at everything he did." 
'Shocking to get the news' 
Haselrig went 143-2-1 and earned an unprecedented six national wrestling championships as a heavyweight at Pitt-Johnstown from 1987-89.
He won three crowns apiece in NCAA Division I and Division II. UPJ is a Division II program, but at that time, national champions in Division II and III were given an opportunity to compete in the NCAA Division I Tournament.
When Haselrig won three consecutive NCAA Division I championships, a new rule preventing Division II and III champs from wrestling for Division I titles soon followed. It often is referred to as the "Haselrig Rule."
Bruce Baumgartner is a two-time Olympic gold medalist (1984 Los Angeles, 1992 Barcelona) and three-time world champion at heavyweight. A retired administrator and wrestling coach at Edinboro University, Baumgartner did not lose to an American wrestler from 1981 to his retirement in 1996. Baumgartner and Haselrig were the best in their class.
"He was really good – as good a college wrestler as there ever was," Baumgartner said of Haselrig. "Only a handful of people ever beat him. If he hadn't gone to the football side, he would have pushed me hard as he developed. If he had stayed with freestyle wrestling, I'm sure he would have given me all I wanted."
Baumgartner recalled Pecora taking Haselrig up to Edinboro to work out with Baumgartner during his UPJ days. The two former heavyweights reconnected two years ago, when the NCAA Division I championships were held at PPG Paints Arena in Pittsburgh.
"I know Carlton went through some struggles through the years," Baumgartner said. "But at the end, it really seemed like he had everything together. It sounded like he was doing great. I am really glad I got to catch up with him and his family at NCAAs. It was so shocking to get the news." 
'Let's make a movie'
Those accomplishments alone made Haselrig worthy of his inductions into the Cambria County Sports Hall of Fame, NCAA Division II Wrestling Hall of Fame, National Wrestling Hall of Fame and Pitt-Johnstown Athletics Hall of Fame.
But his story didn't end there.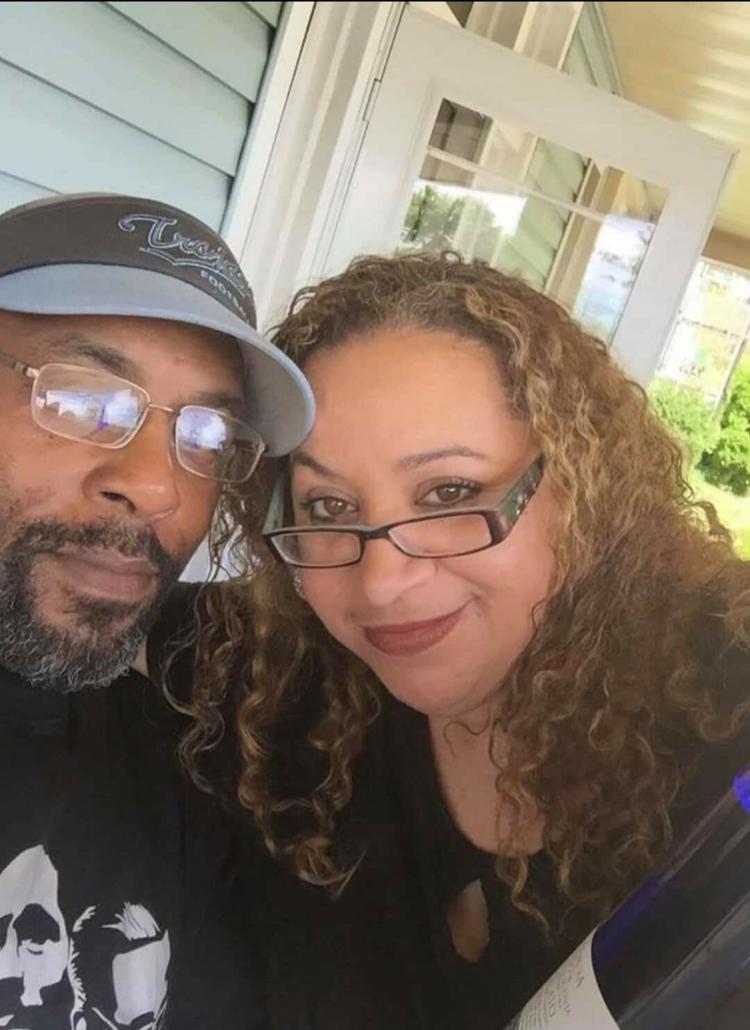 Haselrig evolved from a member of the Pittsburgh Steelers practice squad to one of the top guards in the NFL. He played 57 games for the Steelers from 1990 through 1993 and appeared in 11 games with the New York Jets in 1995. Unfortunately, substance abuse issues ultimately cut short Haselrig's promising NFL career.
"I've always explained the whole Carlton saga like this," Pecora said. "Imagine you're a movie producer and you say, 'Let's make a movie about a young man who doesn't have a high school wrestling team and he's competing in one of the best wrestling states in the nation. Let's have him win a state title. Then, let's have him go to a local college and win a national title. No, let's have him win six national titles. Let's have him go to the pro football team, the Super Bowl champions, and he gets drafted. Then, he makes the Pro Bowl without ever playing college football. Let's make a movie about that.'
"Who's going to make that movie?" Pecora asked rhetorically. "It's amazing."
Haselrig later played in the Arena Football League and eventually transitioned into Mixed Martial Arts. He excelled in both.
Closer to home, Haselrig helped coach youth football and assisted his alma mater as a football and wrestling coach at Greater Johnstown.
"For a man who was so talented and so tough, he was so tolerant with people who weren't as talented or weren't as tough," Penna said. "He was such a good teacher. He was even patient with a coach who was finding his way.
"He came running to help when people were running away as we were struggling at Johnstown. That's the part people didn't get to see that I got to see on a daily basis."
Greater Johnstown graduate Mariah Harris saw it.
'He gave Johnstown hope'
When Harris won a Women's Collegiate Wrestling Association national championship in February, one of the first people she reached out to was Haselrig.
"When I won nationals, I had to call Coach Hazz. And you know what he said to me? 'Why are you so excited? I knew you were going to do that,'" Harris said.
"That just made me feel so good. He was there since Day 1, and believed in me from Day 1. ... He was the person who was always there for me. Many times, I called him from college all stressed out. And he relaxed me. He could get you through a situation and help you calm down."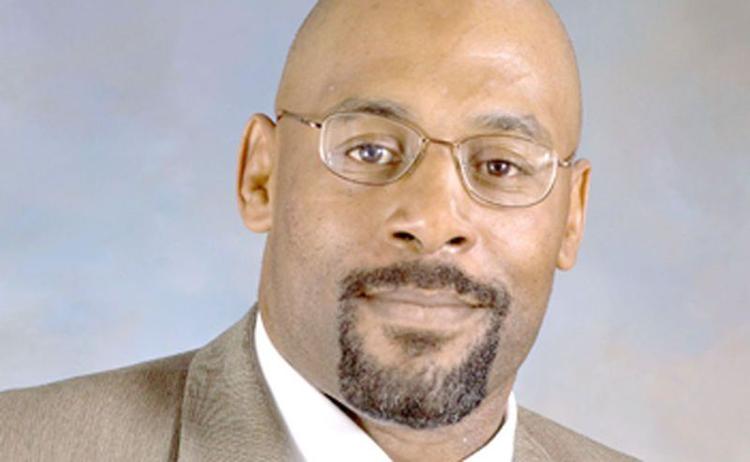 Harris was a four-time all-American at Campbellsville University, where she is now taking graduate courses and training for the Olympic trials.
"I remember walking into the room on my first day of wrestling and he was there," she said of Haselrig. "I had beads in my hair and everything. He said to me, 'What are you doing? Take those beads out of your hair.' He never treated me different than the other wrestlers, even though I was the only girl. He never let me question my ability or what I was doing.
"He was so important to Johnstown. He gave Johnstown hope."
Carlton Haselrig's down-to-earth approach impacted those who knew him – whether inside or outside of the athletic arena.
"I'm going to miss him. He was always here," said former Greater Johnstown baseball coach and AAABA Hall of Fame manager Dee Dee Osborne. "Not only was he a special person to me and my family, he was just a great person to be around."
Haselrig and Osborne were neighbors in Hornerstown. Carlton Haselrig often could be found sitting with Osborne on the baseball coach's porch and talking about sports or fishing.
"He was always here. We always met at the yard and reminisced," Osborne said. " He lit up the room everywhere he went.
"He never talked about his success or accolades. He was humble. I'll never forget Carlton, not for what he did in sports but for what he did as a person and a friend."
'So many lives he touched' 
Haselrig is part of an extremely talented and athletic family that has represented the Johnstown region at the highest levels in sports.
His uncle Bruce Haselrig helped raise and coach Carlton. Bruce is among the most respected wrestling officials in the country and is a member of multiple halls of fame, including the Cambria County Sports Hall of Fame.
Relatives Artrell Hawkins Jr., Andrew Hawkins, Geroy Simon and Jeff Richardson all have played in the NFL or CFL and are Cambria County Sports Hall of Famers.
"It's terrible. It's heartbreaking," said Andrew Hawkins, who played for the Browns and Bengals in the NFL and won two Grey Cups in the CFL. "The family is extremely broken up about it – not just because of what he's done on the field but he's just such a representation of hope and strength for a lot of us. The things he's done in his career, I don't say this tongue-in-cheek, he's the best athlete to ever walk the face of the planet, and I mean that."
Andrew Hawkins was an undersized receiver-defensive back who was overlooked by college recruiters until he finally landed at the University of Toledo. He then journeyed to the CFL before finally catching on in the NFL.
Carlton Haselrig provided inspiration for Andrew Hawkins to keep pushing.
"As a brother, a son, a father, an uncle, a coach – there are so many lives he touched," Andrew Hawkins said. "I remember us being kids and for us, Carlton always has been Superman, and that didn't change to this day. He showed us it was possible. We wouldn't have been able to get to where we got to without him being that ray of hope for us."
Richardson was on the New York Jets Super Bowl III winning team. Artrell Hawkins played for the Bengals, Panthers and Patriots in the NFL before younger brother Andrew made it as a pro. Geroy Simon is the CFL's all-time receiving leader and a three-time Grey Cup champion.
"I think of all the accomplishments Carlton had. He just did it," Bruce Haselrig said. "It was no big deal to him. People knew him, but he wasn't concerned about fame and fortune. He never approached it that way. He just saw there was another goal to accomplish. He had a good attitude about it.
"I have a lot of his trophies around the house, NCAA trophies that I kept because they were not that significant to him," Bruce Haselrig said. "I'd say, 'You want me to keep them?' He'd say, 'Yeah, you keep them.' "
Carlton Haselrig's legacy meant a lot to this region and the wrestling world at large.
"I'm getting texts and emails from all over the United States," Bruce Haselrig said. "We cried and cried this morning. It just hasn't set in yet."