Ray Lint's Heritage Motor Cars has stayed open six days a week, despite orders that non-essential businesses – including car dealers – close because of the COVID-19 pandemic.
Owner Ray Lint  said he didn't broadcast that he was open – and in the 28 years he's been in business, he has mostly relied on drive-by traffic on Broad Street.
Business was slow during the shutdown – except for one customer who showed up with an emergency.
"A lady came in. Her car broke down and she had to go to work," he said. "She wanted to know if we'd sell her a car. We sold her the car. People have a transportation need. I thought, if we get smacked, we get smacked."
Under Gov. Tom Wolf's rules for the statewide COVID-19 response, automobile service departments were considered essential and could remain open, but sales departments were ordered to close.
Lint said he hasn't been warned or cited. "Nothing ever happened," he said.
Ray Lint's Heritage Motor Cars is a small operation.
Mechanic Jim Livingston is the service manager while Lint takes care of the sales side.
"I'm pretty much a one-man operation," Lint said. "I could have sat at home and done nothing or I could have come down here and done nothing. So I come down here and left the doors open.
"But again the public was told that everything was closed. The governor said 'stay home.' Well, maybe that was good advice, but it doesn't help small businesses like mine."
Lint said he didn't agree with Wolf's decision to shut down the statewide economy when COVID-19 cases have been more prevalent in the eastern part of the state.
"I don't think I was the only one that stayed open," he said.
But in-person business was officially allowed to resume May 15 for a wide range of businesses – including car dealerships in Cambria and surrounding counties. Wolf moved the region from the "red" phase to the less restrictive "yellow" phase based on declining COVID-19 cases.
'Replenish their supply'
Thursday marked the first used-car auction at Ebensburg Auto Auction Sales since the shutdown.
At the auction, featuring high-mileage used cars, wholesale prices were on the rise compared to previous auctions, owner Ron Davidson estimated.
"They want them. It's a matter of supply and demand," he said. "Dealers are eager to replenish their supply and sell cars again."
Higher wholesale prices mean higher retail prices, Davidson's business partner, Benny Davis, said.
Davis said customers have been calling dealers throughout the shutdown with $1,200 COVID-19 stimulus checks to spend on cars.
"I think the stimulus checks are making a difference," he said.
Cars sold quickly at Ebensburg Auto Auction Sales during the first auction in two months.
The auction house has been owned by Davidson and Davis since 1973. They conduct auctions weekly.
Davidson estimated the number of people attending Thursday's auction was about 200, the usual number, representing car dealerships from Johnstown and surrounding regions – Pittsburgh, Indiana and Erie among them.
As cars were brought through the large open doors of the auction house, bidders sat on bleachers, some wearing masks, but others not.
"We request they wear masks, but most of these people are independent people and they are going to do what they want to do," Davidson said.
People were spread out between the outdoor lot and the auction house, but social distancing was loosely observed.
"They are all here and don't know who has what," Davis said, concerning the COVID-19 coronavirus.
But dealers needed cars, he said.
"Things are looking pretty good," Davis said. "Every dealer I talked to needs cars. Anyone who's making a living in the used-car business is really struggling, then the shutdown happened and they couldn't sell anything." 
'We will persevere'
Joe Babish, owner of Babo's Motors Inc. on Strayer Street in Johnstown, was at the auction to refinance his inventory by selling some cars as well as buying some.
Reflecting on the shutdown, he said: "Losing your income for half the year is not a good thing, but I believe we will persevere through this as far as recovering money that's lost."
The shutdown has been a trial for his business and he commiserated with many others that remain closed.
"People are sick," Babish said. "I believe that the virus is real, but there are also a lot of hard-working people out there with their hands tied."
With car factories having been shut down for months, Jeff Irwin of Tyrone Ford expects a shortage of new cars to occur in the coming months.
"There's been no vehicles to speak of for a month and a half," he said. "It looks like there will be a shortage before the end of the summer."
 But it was a good day at the auction Thursday to sell his trade-ins to used car dealers.
"Prices are up," he said.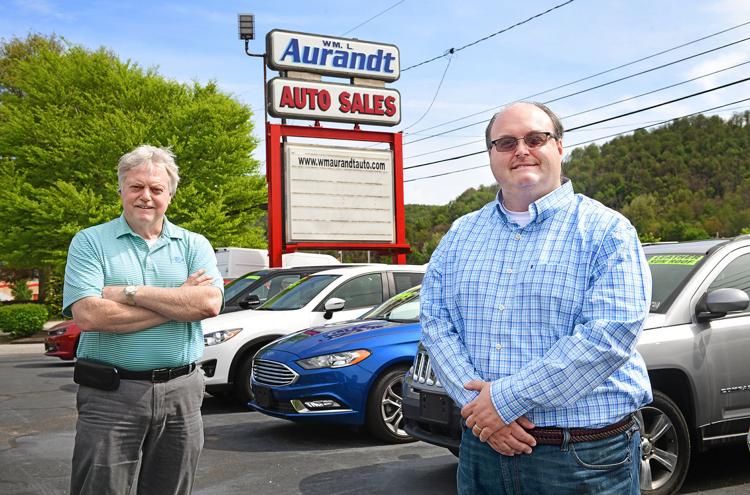 'People want to buy'
At William L. Aurandt Auto Sales, owner William Aurandt noted that banks are helping with low interest rates for car loans.
"Interest rates are really good right now," he said. "That will help us as well. Demand is up. People want to buy."
Aurandt's Auto sales has been in business for 45 years on Roosevelt Boulevard in Johnstown.
"Consistency is the best kind of business," Aurandt said. "We tried to stay consistent through this whole thing. All I know is hard work makes successful businesses."
Although in-person sales have been closed until May 15, online sales have been allowed since April 20.
However, online sales were a challenge because customers couldn't test-drive the cars, Aurandt said.
"You couldn't even wait on them in the lot," he said. "It was appointment only."
But in the past week since in-person operations resumed, business has picked up.
"It wasn't a normal spring, but we are very fortunate," Aurandt said.