Here's a look at organizations moving through the region's growing entrepreneurial galaxy:
Cook Family Idea Lab
On the Web: www.pittstartup.org
What: Space at Pitt-Johnstown for discussion; offers technology to help entrepreneurs craft concepts, build prototypes and pitch ideas; serves as the research and test lab for a 15-week "boot camp" course at UPJ.
Projects or updates:
• Received $1 million investment in 2015 from Somerset Trust Co.
• Helped teams win funding in 2015:
• Students at the BrakeSafe team won $7,500 presenting their brake-light system for motorcycle helmets at an Inc. U final competition.
• Student who developed Healthponics won $3,000 at PITTchFest during Showcase for Commerce with hydroponic and aquaponic system idea.
• Skip and Adele Picking have provided a grant to fund awards up to $1,000 for ideas and teams as well as the initial $10,000 for competition awards.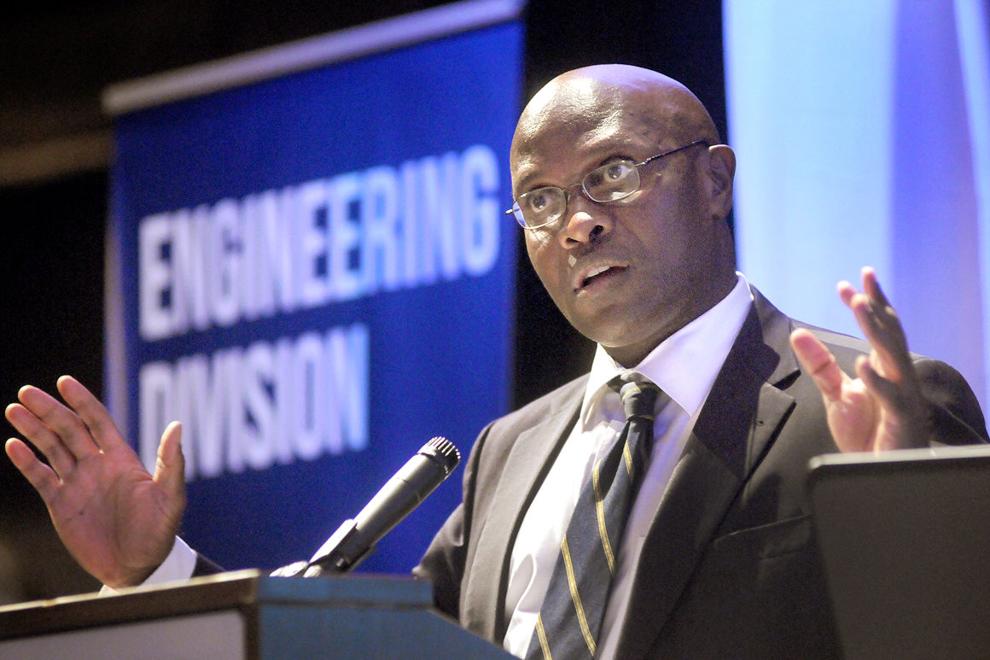 Role:
When Pitt-Johnstown President Jem Spectar talks about the evolving Business and Enterprise Division "redefining and opening a new world of possibility," a lot of the work he references takes shape in a physical place at one point or another: the Cook Family Idea Lab.
Assistant marketing professor Skip Glenn said the lab is serving as an incubator for growing student ideas into fundable enterprises for this community and others.
"In the Entrepreneurs Idea Lab course, students arrive with an idea or passion for creating a solution for a market," he said.
The students use Bill Aulet's "Disciplined Entrepreneurship Model," developed at MIT, and are able to focus, test and refine their ideas to pitch to potential investors and win up to $1,000 within the course, he said.
Somerset Trust Co., Community Foundation for the Alleghenies and the Skip and Adelle Picking Fund for Entrepreneurship Education all have contributed to the lab's development, Glenn said, which means ideas are being shaped and students can win more support at PITTchFest at Showcase for Commerce or The Investment at Penn State.
A fifth semester of students are going through the 15-week course – which awards a total of $2,000 to student ideas at its final competition – at the lab now, and it's been the headquarters for PITTchCamp, a boot-camp style training evolved through Inc. U. It's also been the room with the wall-sized sketch-pad for meet-ups for Entrepreneurial Alchemy and Creator Square projects.
Related to: University of Pittsburgh at Johnstown, Inc. U, Entrepreneurial Alchemy, Creator Square, Community Foundation, PITTchFest.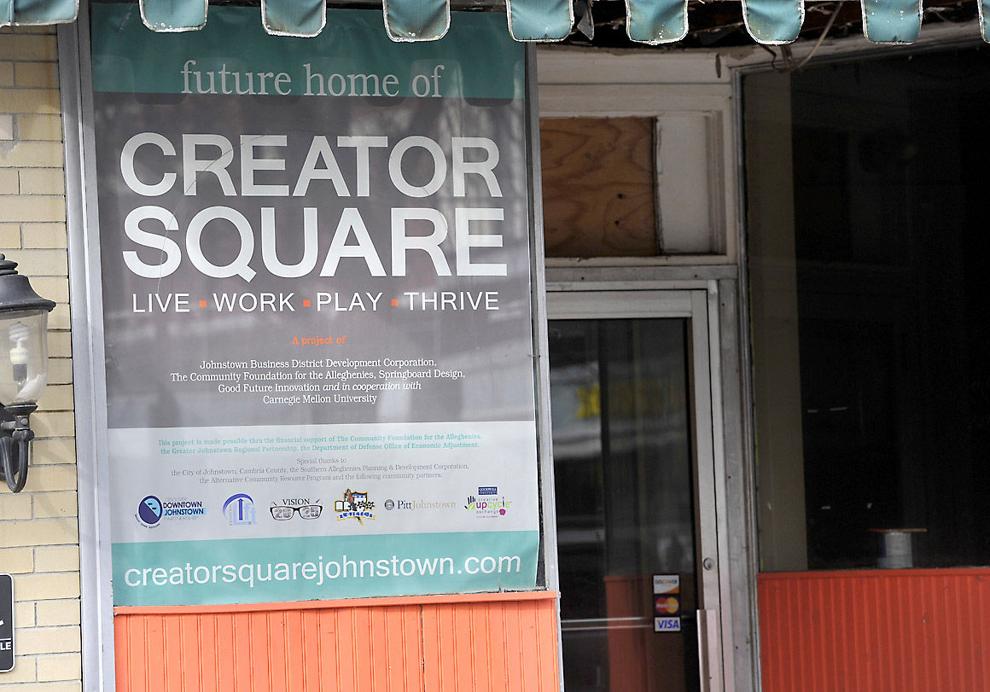 Creator Square
On the Web: www.creatorsquarejohnstown.com
What: a living studio artisan residency program for makers, meant to spur economic growth and new businesses in downtown Johnstown.
Projects or updates:
• Secured Parkview Building along Johnstown's Central Park for the artisan residency program for entrepreneurial artisans.
• Pursued relationships with organizations such as Bottle Works, local manufacturers, local entrepreneurs and supporters.
• Secured an auxiliary workshop space at the Greater Johnstown Career and Technology Center.
• Worked with Inc. U and Pitt-Johns-town to support the area's first makers event, Makers Premier, to launch a local maker network.
• Created a materials source through a relationship with Goodwill Industries of the Conemaugh Valley.
Role:
The concepts of Creator Square take the maker movement and apply it to Johnstown's historic spaces and manufacturing legacy. Since its launch in early 2015, the program has focused on community meetings, networking and landing the right building.
So far, its leaders have secured the Parkview Building at Johnstown's Central Park from the Johnstown Business District Development Corp.
The next step is finding money to renovate the structure, which needs extensive updates to bring it up to code but also expensive additions – such as tool-and-die equipment – to make it a four-unit apartment building upstairs with a workshop downstairs, Community Foundation President Mike Kane said. 
After that, competition guidelines can be prepared to bring maker-entrepreneurs to the heart of the city.
General contractors were looking at the project in January, and architect Paul Rosenblatt of Springboard Design in Pittsburgh will be working to secure additional funding, Kane said.
"We are working on slimming down construction costs," he said. "We still need several hundred thousand dollars. 
"We have $100,000 in hand, but we need more. It needs a lot of work."
Related to: Goodwill Industries of the Conemaugh Valley, Greater Johnstown Career & Technology Center, Entrepreneurial Alchemy, Community Foundation for the Alleghenies.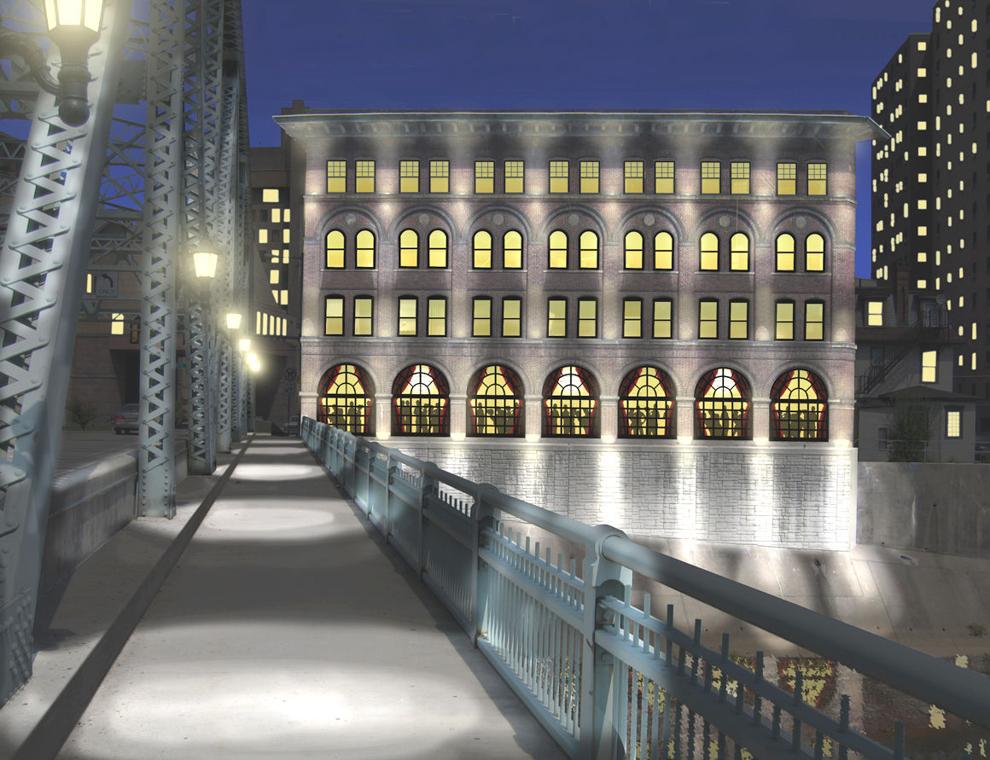 Cambria-Rowe Business College
On the Web: www.crbc.edu
What: Higher education, concentrated career training.
Projects or updates:
• New programs in app and web development, launched December 2014, with the first class to graduate in August 2016
• Poised to set up an app and web development incubator on the third and fourth floors of the Conrad Building at Franklin and Vine streets in downtown Johnstown. The project is currently awaiting $175,000 inDepartment of Community and Economic Development funds that are not to be released until a state budget passes.
Role:
Startups often focus on the tech sector, which requires a flow of ready talent.
Cambria-Rowe Business College, which CEO Mike Artim says has evolved into more of a career college than a business college, has worked to cater to those ideals by launching app- and web-development programming to provide talent for entrepreneurs – or to become entrepreneurs themselves.
"Those new programs fit right in," he said. "Graduates will either be working with some of these local entrepreneurs or some will want to go out and start their own businesses. Those two (programs), in particular, support the 21st-century technology entrepreneurs."
The first round of students are set to graduate late this summer, with plans in place to have them work with area nonprofits or businesses as their end-of-curriculum projects. Artim says the college will continue to consider programming that suits the needs of students and the region, which in the near-term likely will include adding health care-related offerings to meet anticipated demands of local employers as well as more courses to serve the ecosystem.
"Our goal this year is to roll out more programs that fit into the entrepreneurial bend and in the tech areas," he said. "We're not done with the two programs. They're a starting point."
Artim said administrators also are working closely with folks involved in Entrepreneurial Alchemy and Vision 2025's "vibrant economy" goals as a way to gauge what's coming.
"We want to be a feeder for those endeavors," he said.
He's also still hopeful about concepts to create incubator space for app and web developers in the Conrad Building. The college would be a lessee in the project, awaiting the release of state funds it was awarded through the DCED .
"We'll support it whenever it's ready," he said. "We've set ourselves up to be ready when it's ready."
Related to: Vision 2025, Entrepreneurial Alchemy. 
Community Foundation for the Alleghenies
On the web: cfalleghenies.org
What: Nonprofit public foundation that builds professionally managed assets to support causes in Cambria, Bedford and Somerset counties
Projects or updates:
• Umbrella organization for entrepreneur-focused developments, such as Entrepreneurial Alchemy and Creator Square.
• Providing grant funding for area endeavors, including funding support for programs like PITTchFest or the "Field to Fork" program for food entrepreneurs and products such as the Allegheny Underground app.
• A leader in Vision 2025, which has a core "vibrant economy" component.
• Collaboration point for new ideas and programs.
Role:
Through the years, Community Foundation for the Alleghenies has worked to support ideas with high potential for impact.
In the case of Entrepreneurial Alchemy and a growing ecosystem of entrepreneurs and resources, the organization leaders saw potential – and the area is realizing it, Kane said.
"We want to bring the community together around issues, and I think we really have in this instance," he said. 
"That's not just having the work of Entrepreneurial Alchemy and Don Bonk housed here, but in terms of trying to engage partners across the community to get plugged in. What it really boils down to is: 'Let's get people together and figure out how we can leverage each other's good intents and best interests to create that climate in our community that we hope will develop enough momentum that it feeds on itself.'
"The second way is obviously funding. We provide local match for work through some of our funding. There are big things or small things – such as providing some of the funding toward PITTchFest. I don't think our funding, to be frank, is driving this. That's good. 
"I think it's the ways we've been able to support various parts of this, like support for the startup room at UPJ. That helps to keep things moving."
Vision 2025, with a goal of community engagement, now provides a framework for the culture Entrepreneurial Alchemy started and continues, he said.
"I see more optimism," Kane said. 
"I think people are actually talking about, 'Let's do this thing or let's get involved here.' You see it in Entrepreneurial Alchemy. You also, of course, see it in Vision 2025. That's about this idea of community engagement. For the parts of the community you want to be engaged in – we're trying to develop this culture that it's good to be involved, the timing is right. It's the right thing to do.
"For those who are interested in entrepreneurship, Entrepreneurial Alchemy and the work being done at UPJ is the vehicle. One of the goals is to create a climate of opportunity and of positivism. I think it has done that. I want it to do more."
Kane said he hopes the foundation-related endeavors, as well as the ecosystem as a whole, spawn more startups in the coming year.
"You see it – like Sardonyx in Richland, some of the work coming out of our tech firms, companies coming out of PITTchFest looking for funding," he said. 
Related to: University of Pittsburgh at Johnstown, Creator Square, Entrepreneurial Alchemy, PiTTchFest, Cook Family Idea Lab.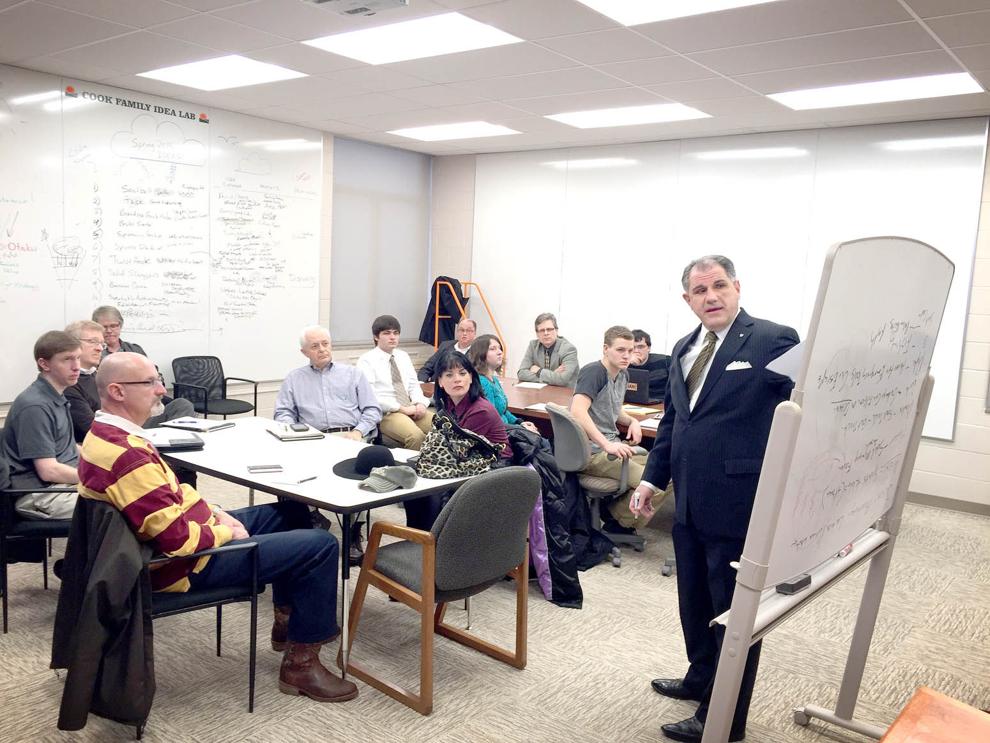 Entrepreneurial Alchemy
On the Web: www.eajohnstown.org
What: Community initiative through the Community Foundation for the Alleghenies that aims to bring together people, ideas and money to initiate and support organic economic growth.
Projects or updates:
• Monthly meet-ups for entrepreneurs.
• Led development of Pitchfest at Showcase for Commerce in 2014, which evolved into PITTchFest in 2015.
• Developed and implemented "Industry and Intern Tour" to take Pitt-Johnstown students to companies in the region to create internships and professional development.
• Grant writer for Allegheny Underground (www.alleghenyunderground.org), the local events mobile app and website. The business is headquartered at Pitt-Johnstown and led by student entrepreneurs.
• Hosted alumni-expat events in Arlington, Virginia; Harrisburg and Pittsburgh with the hope of spurring business people and professionals who grew up in the region to reconnect with the greater Johnstown area.
• Continued work to develop a private equity fund in the region to allow local investors to pool their funds and invest in companies with potential.
• Working directly with select high school students in the new Strandquist-Simmons Scholarship program at the Community Foundation, to offer them entrepreneur-related introductions, meet-ups, internships and long-term college and career planning services.
Role:
Disentangling Entrepreneurial Alchemy (EA) from the region's entrepreneurial ecosystem would be complicated – so much so that when assistant marketing professor Skip Glenn created a graphic of the ecosystem, many of the points on the "map" were stamped with the "EA" membership label and the background was marked "EA Halo."
That multi-level approach is part of the idea, EA Director Don Bonk said. 
Bonk's LLC, Good Future Innovation, operates the program through a DCED grant housed at Community Foundation for the Alleghenies.
"EA acts as a platform and convener and catalyst," he said.
The list of initiatives the program has launched and continues to work on keeps growing – but one of its most visible aspects is connection. Its two monthly meetings at Pitt-Johnstown's Cook Family Idea Lab bring together entrepreneurs, established business people, inventors, students, professors, mentors and representatives from economic development groups.
From there came the inaugural Pitchfest – which tied innovative efforts to the region's defense-centric Showcase for Commerce event – industry tours to connect the 3,000 or so students at Pitt-Johnstown to local enterprises and new relationships for the Creator Square project, such as an administrator from Greater Johnstown Career and Technology Center offering workshop space and equipment for maker entrepreneurs.
"The idea is we gather people together on a monthly basis – people interested in economic development at large and entrepreneurs specifically interested in a meet-up that follows up the meeting," Bonk said. "New events, programs and grants like PITTchFest or industry intern tours or the grant that helped fund the Allegheny Underground app – all of these things were conversations.
"It's been good at getting smart people in the room, finding unmet needs or opportunities and then turning them into specific actions and outcomes," he said, adding that local people and organizations powered the execution.
"EA doesn't do all this in a vacuum," he said. "It's a team."
Goals for this year include helping the community create better connections to regional markets – including Pittsburgh, Altoona and State College – and continued work on a partnership with CamTran to connect students to downtown for internship or work opportunities and entertainment.
"The idea behind that is to convene a diverse group of people to discuss things happening in our community, things we haven't thought of – and after doing so, execute it," Bonk said. 
"The key is creating new platforms."
A partnership with The Tribune-Democrat to highlight lesser-known entrepreneurs and business minds – with an EA-developed Q&A section – is another example, he said.
"That's another way to offer a voice to people who may not have had one in the past," he said. "The (Allegheny Underground) mobile app gives young people a voice. The alumni-expat events created a platform for people outside the region to reconnect. And we have a platform through efforts on a private equity fund to increase capital."
EA is working with State College-based private equity firm Allied Growth Strategies Management, which is putting together the final pieces of an Allegheny Innovation Capital Fund, he said. That should make its debut in 2016, Bonk said.
"EA has been a workshop of ideas, and now we want to help bring in additional sources of potential funding for people who have ideas," Bonk said.
Related to: Community Foundation, Johnstown Area Regional Industries, Problem Solutions, University of Pittsburgh at Johnstown, Creator Square, PITTchFest, Greater Johnstown Cambria County Chamber of Commerce.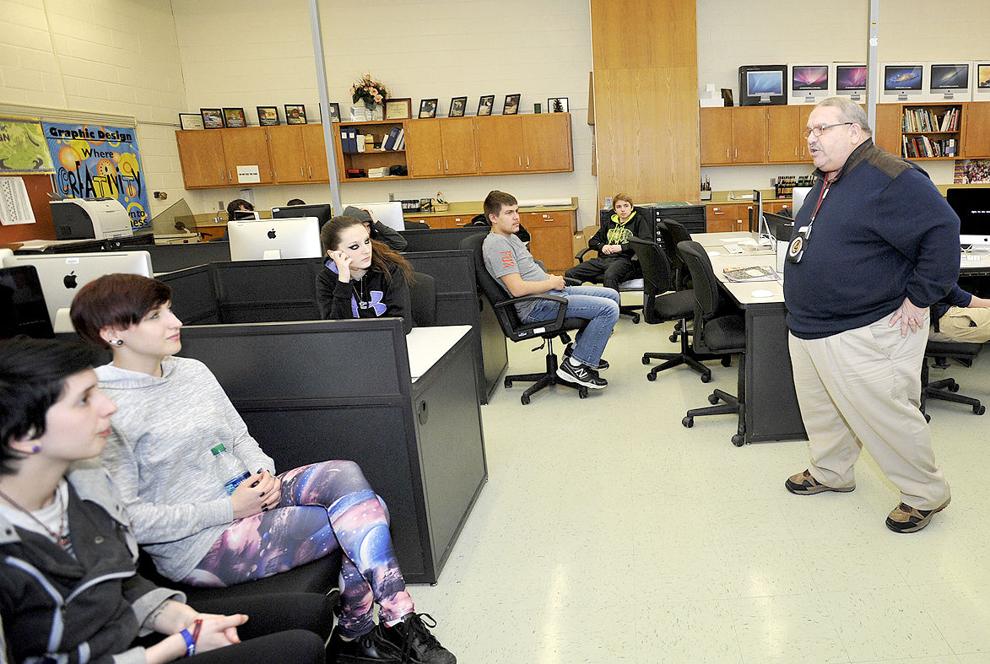 Greater Johnstown Career & Technology Center
On the Web: www.gjctc.org
What: Career training for adults and secondary education students, workforce training.
Projects or updates:
• Offered "maker" space for the Creator Square project so artisans will have a workshop to create products.
• Launched entrepreneurship class for high school students in January 2016.
• Opened industrial kitchen for "Field to Fork" agricultural incubator program, which received Community Foundation for the Alleghenies grant funding in fall 2015.
• Developed articulation agreement with Penn Highlands Community College to allow center students to earn credits toward an associate's degree, applicable to some of the community college programs.
Role:
With ample space – 330,000 square feet total – and equipment, the Greater Johnstown Career & Technology Center has a lot to offer entrepreneurs.
The industrial kitchen was outfitted this winter with additional equipment to work for food entrepreneurs and farmers who want to make value-added products to start or augment a food business. 
That should be ready after this growing season, Administrative Director John Augustine said.
Students can put in a required 200 hours of experience to work for local food businesses.
"We're in the build-out stages to make sure the kitchen is ready for them," Augustine said. "It's a third of our kitchen, dormant for 14 years. This is going to put it to use."
The center's equipment – such as learning labs for welding, machining or cabinetmaking – holds promise for entrepreneurial efforts, too, particularly the maker variety. The center has offered those assets as an auxiliary maker space for the Creator Square project to import successful artisan entrepreneurs to downtown Johnstown. Augustine said the center also could help grow a local crop of makers and could expand its education offerings to include more maker-movement concepts.
"All of our equipment and materials will be made available to the makers," he said.
In 2016, the center also added an entrepreneurship class for high school students, so they can learn a trade at the center – and how to operate their own businesses. Also new is an agreement with Pennsylvania Highlands Community College for credits that could translate to a quarter of an associate's degree.
"We're doing the skilled technical training, entrepreneurship and now with agreement with Penn Highlands, so they have an avenue to go into management side of that training," Augustine said. "Our ultimate goal is for students to graduate the center and graduate with an associate's degree at the same time."
Related to: Community Foundation, Creator Square.
Goodwill Industries of the Conemaugh Valley
On the Web: www.gicv.org
What: Nonprofit with employment programming and newly launched entrepreneurial- and artisan-focused projects.
Projects or updates:
• Creative Upcycle Exchange.
• Waste Art Event.
• Potential source of material for Creator Square.
• Hire of a reuse enterprise business developer.
Role:
At the organization's Centre for Social Enterprises in Paint Township – a 93,000-square-foot warehouse where staff members store and sort millions of pounds of donations – a complete post-retail recycling operation now is part of a project to loop entrepreneurs into the mix of resources there, Goodwill Industries of the Conemaugh Valley CEO Brad Burger said.
"It's a true social entrepreneurship model," he said. "It's still under development, but we now have two or three professionals thinking about that and what makes sense."
Last fall, the organization launched a "Creative Upcycle Exchange" program, meant to extend the lifecycle of unsold goods and industrial byproducts by directing those materials into the hands of artists, crafters, do-it-yourselfers, makers and educators. Led by metal artist Diana Shark, Goodwill's new reuse enterprise business developer, the program is to include providing low-cost materials at the site as well as new channels to showcase products.
The organization also kicked off a project to allow Goodwill-culled materials to be part of a Waste Art Exhibit in partnership with three area arts organizations – Bottle Works in Johnstown, Laurel Arts in Somerset and Locality in Bedford. The pieces also are to be featured at the second annual Makers Premier at Pitt-Johnstown, organized through Inc. U.
Shark's role, Burger said, helps connect the organization's efforts to entrepreneurs.
"Diana's position is the linkage to entrepreneurs and makers and artists, seeing which ways that Goodwill can help support those initiatives – whether that's competitions or low-cost material."
Related to: Inc. U, Creator Square, Entrepreneurial Alchemy. 
Greater Johnstown Convention and Visitors Bureau
On the Web: www.visitjohnstownpa.com
What: Tourism-focused membership organization that operates two welcome centers and creates literature to attract visitors.
Projects or updates:
• Tourism Tuesdays to provide educational opportunities for members and nonmembers on topics like tourism, marketing and social media.
• Linking visitors to local businesses.
• Creating low-cost marketing opportunities.
Role:
The region's ample recreational opportunities have been touted as a shared asset – with business opportunities of their own.
But for an endeavor just starting out in tourism, such as a bed and breakfast, getting the word out can be complicated without some guidance or connector to a broader group of travelers, Executive Director Lisa Rager said.
Tourism Tuesdays breakfast gatherings, held several times a year, are one avenue for members and nonmembers, she said.
"That helps us identify opportunities to help educate our members and businesses in our community," she said. 
"Especially from the marketing standpoint, there's a lot going in terms of changes in how you advertise and market."
The organization also publishes a visitor's guide and plugs member organizations on its website.
Those can help a mom-and-pop business reach farther.
"Our other associations with statewide groups, we also are the connection to the statewide tourism industry, too," Rager said. "A lot of those organizations provide programs and projects that businesses can tie into."
Offering something unique is a great prospect for tourism entrepreneurs, she said.
"Visitors are going to be looking for experiences outside the chain experiences," Rager said. 
"That's not to say anything bad – if they can find the same chain in their own community, that's not what they're going to seek out.
"They are seeking what has local flavor, local flair, what is the story of this specific community. From that standpoint, entrepreneurs and small businesses are crucial."
Related to: Greater Johnstown Cambria County Chamber of Commerce.
Johnstown Area Regional Industries
On the Web: www.jari.com
What: nonprofit economic development organization working with the business community in Cambria and Somerset counties
Projects or updates:
• A partner in Pitt-Johns-town's business and entrepreneurship efforts, with President Linda Thomson as member of the university's Business and Enterprise Division advisory board
• Collaboration with Entrepreneurial Alchemy and Pitt-Johnstown to host PITTchFEST on the final day of Showcase for Commerce.
• Awarded 25 Small Business Administration microloans (under $50,000) to area companies in the past three years, totaling more than $700,000 and just borrowed another $400,000 for the program.
• Technical assistance and programs to help local businesses launch or develop.
• Working with Vision 2025's "vibrant economy" circles to promote and support small businesses.
Role:
For years, JARI has been working with small businesses on several fronts – from technical assistance to financing and locations, Thomson said.
"I think that JARI has made a concerted effort to really focus on the gaps in financing for small business and some of the technical assistance arena, where we've concentrated our effort," she said. "It's obvious to me that there is a demand, and we are gaining ground."
As efforts have emerged to make the region startup friendly, the economic development organization has played a supportive role again, Thomson said.
"The other thing that's happened is there is a lot more interest in entrepreneurship in our region than there ever has been before," she said. "The fact that a lot of people are tuned into the ecosystem is really important. Where it goes from here, the sky's the limit."
JARI is taking a long-range approach to sustaining the resources and companies that develop from those efforts, she said.
"JARI is extremely committed to making sure we have services and programming for entrepreneurs," she said. "That's a long-term commitment."
She said the organization also is connecting to ideas to support economic growth, including startups, through Vision 2025.\
"We'll be working very closely with those efforts as they relate to the vision for the economy circle and moving forward there," Thomson said.
Related to: Entrepreneurial Alchemy, Vision 2025, University of Pittsburgh at Johnstown.
Inc. U
On the Web: incuniversity.wix.com/about
What: a program funded by a $500,000 Department of Community and Economic Development grant to foster undergraduate entrepreneurship through collaborations among the University of Pittsburgh at Johnstown, Penn State University and Bucknell University.
Projects or updates:
• Launched Makers Premier, held at Pitt-Johnstown during Showcase for Commerce. The event, based on the concept of Maker Faires held in metro areas around the country, also featured the 2015 PITTchFest competitors.
• Best-practice summits held at Pitt-Johnstown, Penn State and Bucknell in 2015.
• Six teams, representing the three universities, competed for $30,000 in November in a final round of Inc. U "Shark Tank"-style competitions sponsored by the Department of Community and Economic Development.
• Pitt-Johnstown teams Brake Safe and HealthPonics competed there, and Brake Safe won $7,500 to support a new business to sell technology to provide motorcyclists with a portable safety light technology that illuminates with a change in speed.
• Developed PITTchCamp.
Role:
Though Inc. U is a grant-funded program that wraps up this summer, Tammy Barbin, entrepreneurship program coordinator at Pitt-Johnstown, said the idea is to solidify long-term results.
The funds came at the right time – while Pitt-Johnstown was growing its entrepreneurial programing – and created another competition where student entrepreneurs could win funding, she said. It also brought UPJ into the mix with similar efforts at Bucknell and Penn State.
"Through Inc. U, we have developed strong partnerships on the PSU and Bucknell campuses, and especially with local supporters interested in investing in student companies," Barbin said.
Before the June 30 deadline to spend grant funds, Barbin said the goals will be to continue to help teams that received funding to maximize their chances of succeeding; to identify new student endeavors to support and fund through the Idea Lab class, Pitch Camp and PITTchFest; and convening multi-campus meetings to share best-practices and identify any post-grant collaboration opportunities.
Barbin said she hopes the impact is long-lasting.
"One challenge will be to shore up the network of resources needed to support student startups, from JARI, Problem Solutions, investors like (Private Investors and Advisors Group), (Ben Franklin Technology Partners), PennTAP (a small business technical assistance program), (Small Business Development Center), and our in-kind service providers like Wessell & Co. and Gvozdich (Law Offices), and continue to identify and train students with entrepreneurial skills and aspirations."
Assistant marketing professor Skip Glenn said the program has furthered the university's programs.
"Inc. U has brought to bear added resources for the development of new ideas into actual enterprises," he said. "It has provided financial and technical resources beyond our core course offering and even brought teams like Brake Safe from Inc. U's five-week PITTchCamp to the Entrepreneurs Idea Lab 15-week course itself."
With PITTchCamp, teams can build their ideas and pitch rapidly for contests both supported by Inc. U or community events. Camps have up to seven ideas in process, primarily from engineering and business divisions of Pitt-Johnstown.
"Students gain access to technical resources and wisdom from judges and mentors alike," Glenn said. "Inc. U has deepened the growing synergy around fostering new ideas and enterprise with our partners."
Related to: Cook Family Idea Lab, PITTchFest, University of Pittsburgh at Johnstown, Entrepreneurial Alchemy, Problem Solutions, JARI.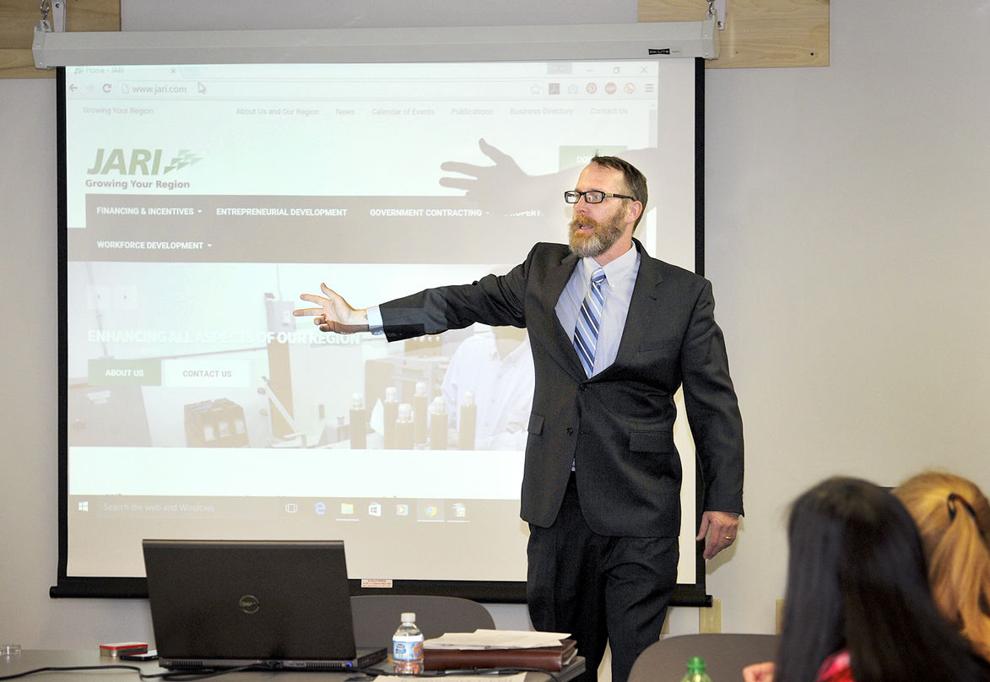 Problem Solutions
On the Web: www.problemsolutions.net
What: Private company doing business locally, regionally and nationally that also is creating spinoff startup companies with ventures partner, Boston-based Aptima Ventures (www.aptimaventures.com).
Projects or updates:
• Two spinoffs of Problem Solutions and Aptima Ventures: Metricity Inc., which takes technology developed for defense and applies it to human resources and talent applications, and SkillBlaze, a mentorship and professional development developed by Problem Solutions and Pitt-Johnstown students.
• With those ventures and others connected to Entrepreneurial Alchemy and startup programming at and from Pitt-Johnstown, the new endeavors have raised more than $12 million in funding.
• Selected for Google's "Patent Starter" program, obtaining licenses for six patents through the program to develop and commercialize.
• Grew by about 50 percent in the past year.
• Working with another 10 early stage potential startups, as well as with Aptima Ventures on additional potential startups that have technology developed already.
Role:
Software and technology firm Problem Solutions has plenty of work to produce on its own, with growth of 50 percent last year. But it also has become a leader in promoting – and in some cases forging – startup opportunities.
"We find people with ideas," company President and CEO Mike Hruska said. "We help connect them to advisers. We help them more fully form their idea. We help them get a product plan and go to market."
Through a partnership with Boston-based Aptima Ventures, Hruska said the setup has evolved into, essentially, a private incubator. Aptima Ventures, founded in 2014, aims to accelerate tech commercialization from a handful of sources, including technology developed for the U.S. Department of Defense.
The partnership launched two spinoffs in 2015, but the Problem Solutions in-house venture accelerator also has seven other companies launched or supported in the past 12 months, Hruska said.
"Some are Johnstown, some are Boston, some Chicago, but they still have people and a presence here," he said.
In the coming year, he said Problem Solutions has 10 companies that are "very early stage" enterprises – organic startups – where the founders are from Pennsylvania but also from other areas, Hruska said.
With Aptima Ventures, the partners are working with additional companies – those with technology that need a company built around them.
"I call those a 'test-tube startup,' " Hruska said. "We find the technology. We find the talent. We design what the company is going to do, and we launch it."
Related to: Entrepreneurial Alchemy, University of Pittsburgh at Johnstown, PITTchFest.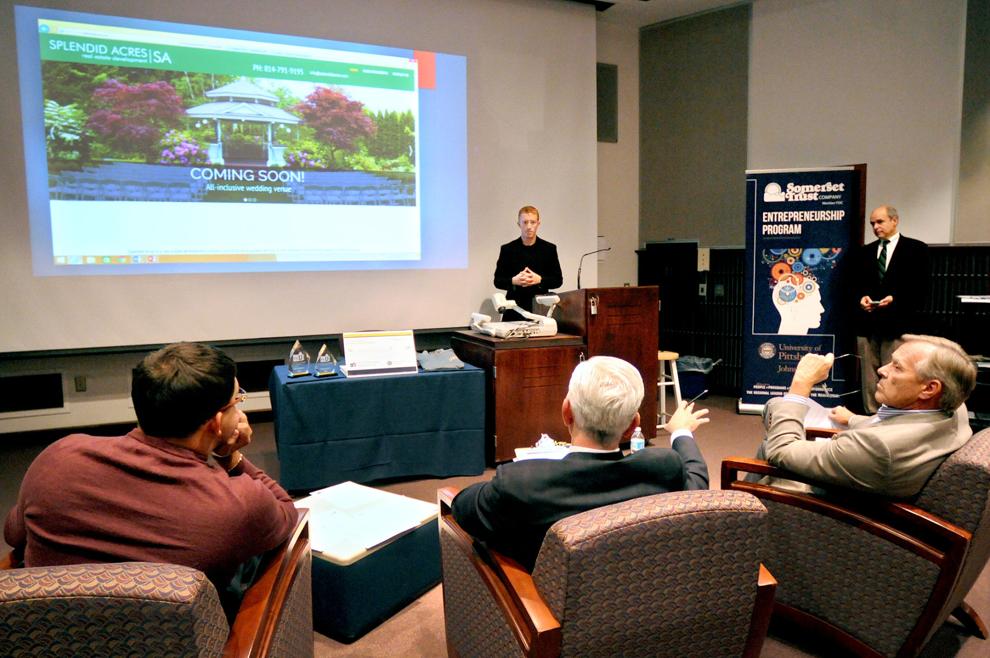 University of Pittsburgh at Johnstown
On the Web: www.upj.pitt.edu
What: four-year university and regional campus of University of Pittsburgh.
Projects or updates:
• Added Business and Enterprise Division in 2015, with plans to add entrepreneurship minor.
• Classes include idea-pitching boot camp and feed into PITTchFest for student entrepreneurs.
• Cook Family Idea Lab, with 3-D printer and wall-sized whiteboards serves as collaboration point for entrepreneurs through Entrepreneurial Alchemy.
• Outlet for Inc. U, which connects Pitt-Johnstown's resources with Penn State and Bucknell universities.
• Launched full engineering program and added chemical engineering.
• Opened Mountain Cat Mission Control, the first social media lab available in the region.
Role:
In a backstage interview before a Pitt-Johnstown talk on impacting the world through business endeavors, tech and digital entrepreneur Soraya Darabi laid out what entrepreneurs need from a community trying to help startups grow: a supportive place for "audacious" ideas, a space for prototyping and brainstorming and the right talent, especially engineering.
Pitt-Johnstown leaders have worked to offer that checklist. 
The Cook Family Idea Lab with a 3-D printer fits the space requirement and also serves as a hub for collaboration among the entrepreneurial community, and an expanded engineering program to build on the engineering talent that Pitt-Johnstown President Jem Spectar said has been a draw for years.
Through its Business and Enterprise Division, which is to expand to include a minor in entrepreneurship this fall, Spectar said, cross-pollination among other disciplines is poised to grow. A student pursuing something other than a business-related degree could then study entrepreneurship, too.
"People are working across disciplinary borders," he said. 
"It's the engineer collaborating with someone in biology, working together with someone in business on a business plan or innovation, developing a new product.
"We see that trend more and more. We see great interest in collaboration among our students and faculty. I think that when you see such collaboration, when you see such a convergence, that's where surprising things happen. It's no longer just the engineers working among themselves."
The talent, from engineering and other programs, is the university's most important role in the startup environment, he said.
"I think we have a lot of creative, talented faculty and students on our campus," he said. 
"When you have that pool of talent – people with ideas – that's already an asset.
"Second, we're building strong networks with business leaders in the community who work directly with our students and faculty in shaping that ecosystem. The next, I think, with programs like PITTchFest, students and faculty are innovating, making things.
"I think of the university as a catalyst. As a catalyst, we energize and promote collaboration. What you're finding is people with ideas in different areas are converging in the university."
Related to: Inc. U, PITTchFest, Entrepreneurial Alchemy.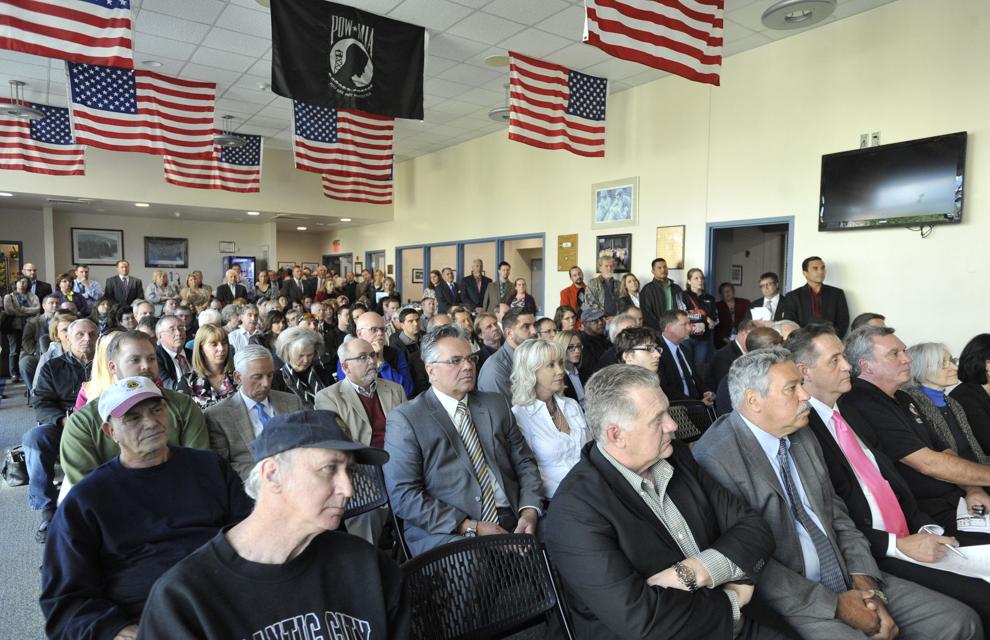 Vision 2025
On the Web: johnstown25.com
What: Research-based strategic vision focused on three areas of emphasis – a vibrant and open local economy, life-sustaining landscapes and a strong sense of community – and designed to work with community engagement and ownership.
Projects or updates:
• Study results announced in fall 2015.
• Vibrant and open local economy meeting kickoff in January 2016.
• Continuing to develop capture teams.
Role:
While the entrepreneurial ecosystem is complex and interconnected – from existing companies and startups to resource organizations – it's also, hopefully, woven into the Vision 2025 web, Community Foundation for the Alleghenies President Mike Kane said.
"In creating the Vision 2025 framework, which has an economic circle as a key part of the framework, we want to plug this culture into that and make it bigger, more a part of the fabric of the community," Kane said.
In implementation, that means creating strong, active capture teams that could work with existing groups such as Entrepreneurial Alchemy and new groups to turn ideas into results, he said.
"Why can't we, for example, get a capture team that recruits independent businesses to expand to second locations downtown?" he said. "We want all these things to realize fruit moving forward. We want projects to get started. We want activities to have plans built ahead of them. And the Vision 2025 framework is the model."
And the economy circle widens out to connections with the other two circles, Kane said.
"They're all interrelated," he said. "We need to work to develop a climate downtown, for example, where businesses want to be. 
"That's what the life-sustaining landscapes in part is built around. But you can't do it unless there are businesses driving that economic engine. You see the connecting points of all these."
That mindset also keeps entrepreneurship from being limited to just tech startups, he said.
"We're not thinking that way," Kane said. "We want to see more artist studios in town. Creator Square is entrepreneurship, too, part of the ecosystem. The whole idea is we get people to come to that building for two years. Then, hopefully they like town and decide they want to stay. We just spun off a business. That's the heart of Creator Square."
Related to: Creator Square, Entrepreneurial Alchemy, Community Foundation, JARI, Greater Johnstown Convention & Visitors Bureau, University of Pittsburgh at Johnstown.
Greater Johnstown Cambria County Chamber of Commerce
On the Web: www.johnstownchamber.com.
What: membership organization to support business growth through resources and events.
Projects or updates:
• Networking and exposure for membership companies.
• Resources for members.
Role:
For a fledgling company, networking opportunities can be especially valuable.
Greater Johnstown Cambria County Chamber of Commerce membership's most important offering to those new companies is a chance to connect with the right people, Executive Director Bob Layo said.
"That opens marketing opportunities for them, too, through our website and directories," he said.
The chamber also is surveying small businesses to see what programs would help them most, Layo said, and the organization opens its facility, such as a conference room, for meetings and places to conduct business.
One idea chamber leaders have discussed is a discount for first-time members, so more initial-stage companies could join. 
There hasn't been a final call on that, he said.
That would connect well with what he sees happening in the community.
"There's a real consciousness out there in the general public for what's going on in entrepreneurship – not only within organizations in the community but also with UPJ involved and other schools joining," he said. "I think the economy drives some of that. You just don't have the larger industries providing the jobs. Even students coming up through high school are thinking more as entrepreneurs."
The seasoned chamber leader said that's good news.
"The percentages are in favor of small businesses creating jobs, especially as larger jobs scale back," he said. "It's almost a matter of survival, people looking at successful industries but also look at new ideas, new businesses."
Related to: Greater Johnstown Convention & Visitors Bureau.
St. Francis University Small Business Development Center
On the web: francis.edu/small-business-development-center
What: A U.S. Small Business Administration center that provides services to help businesses start and grow in a six-county region.
Projects or updates:
• Working with 30 to 40 business ideas or existing businesses at a time.
• Established services, helping 389 startups and helping more than 3,000 clients from 1979 to 2014.
Role:
For years, the first or only point of contact for some folks with business ideas was the St. Francis University Small Business Development Center, senior consultant Jeff Boldizar said.
"We do work with mom-and-pop businesses, but we're also working with other businesses that might employ 20 or 25 or someone with startup idea," he said.
And the organization remains a key point of contact – offering realistic advice to people who may have only tried an idea on friends or family.
"I'd say one of the most important things we do is to offer a sounding board for business ideas," he said.
The center also is part of a statewide network through the Small Business Development Center, so the folks at St. Francis can reach out to other centers for thoughts, resources or additional expertise.
"One of the niches we can offer is to point people in the direction of where they can find money," he said. "I don't write a business or finance plan, but we can guide them through the process so when they sit down with a lender, they can show them they know what they are talking about."
Boldizar said traffic at the center has been fairly steady.
"I haven't seen a great deal more than usual," he said. "In the past, we were one of the few places people could get information when they want to start a business. The first thing today is go on Google."
The organization also works with students, with six to eight at a time gaining experience by helping businesses get a start or expand.
Boldizar said he's aware of the changes happening at Pitt-Johnstown and thinks there's room for more support for business growth.
Related to: University of Pittsburgh at Johnstown.