BEDFORD – The region's first county will celebrate 250 years of history this year.
Bedford County leaders are marking the sestercentennial with a list of events throughout the year.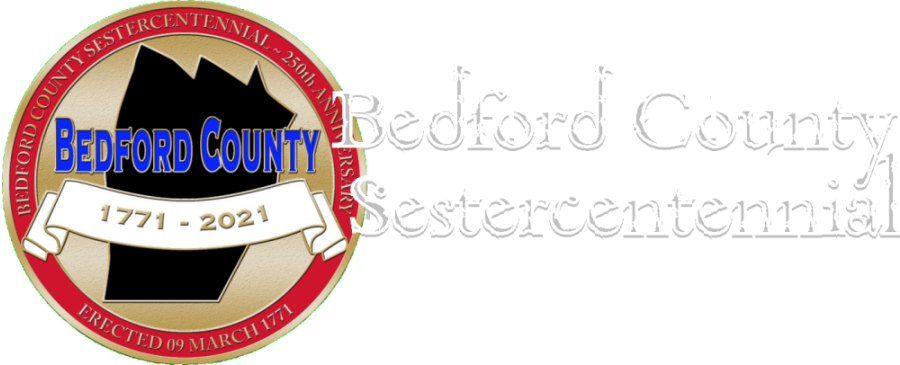 Much of the celebration will focus on the county's history and progress, including the area's original establishment as a military fort near Forbes Road and its settlement in the decades that followed, the agriculture and industry that fostered its growth during the Civil War era and the Pennsylvania Turnpike's role in making the community what it is today, according to Bedford County Historical Society President Larry D. Smith.
The county was founded on March 9, 1771.
The Bedford County Historical Society has spent the past 80 years preserving and sharing that history, and members are working with Bedford-area groups to make the anniversary one to remember.
A colorful, artificial Anniversary Flame, built by local industrial arts students, has already been lit outside the courthouse to commemorate the county's 250 years, Smith said.
One became many
Bedford County's roots pre-date the nation itself.
Formed during the reign of King George III, the monarch whose fame gained a second act in the hit musical "Hamilton," Bedford County originally included what is now all or portions of six other counties, including Cambria, Blair and Somerset.
Somerset County was created in 1795, while Cambria followed less than a decade later with its boundaries including parts of what were previously Somerset and Bedford.
"This is an event that has significance to the entire area, not just Bedford County," Smith said.
A "grand opening" ceremony will be held May 1 at the county courthouse courtyard in Bedford Borough, featuring public speeches, clog dancers and patriotic music by a woodwinds group.
"Two groups are writing an original song for the anniversary ... that will debut that day," he said.
'Snapshot in time'
On July 17, a remembrance will be held to mark the 1780 Phillips Rangers Massacre and a countywide picnic is also being discussed for sometime this summer, Smith said.
Bedford's Sept. 11 parade will carry the 250th anniversary theme as well, he said.
The year of celebration will close out on Nov. 13 with a formal banquet at Slick's Ivy Stone Restaurant in Osterburg.
State Sen. Wayne Langerholc, R-Richland Township, said an official citation is being prepared to recognize the county's milestone.
The county has a rich history that could fill volumes, and the fact the county has preserved so much of it is something worth celebrating, he said.
Langerholc described Bedford's town square as a "snapshot in time."
"These streets are rich with history – I mean, George Washington stayed here," Langerholc said, referencing the founding father's time at the Espy House during the Whiskey Rebellion.
He credited the historical society and its partners for recognizing the county's milestone.
"It's tremendous that they are so willing to give their time and talents to preserve and share their county's history," he said.
David Hurst is a reporter for The Tribune-Democrat. Follow him on Twitter and Instagram @TDDavidHurst.