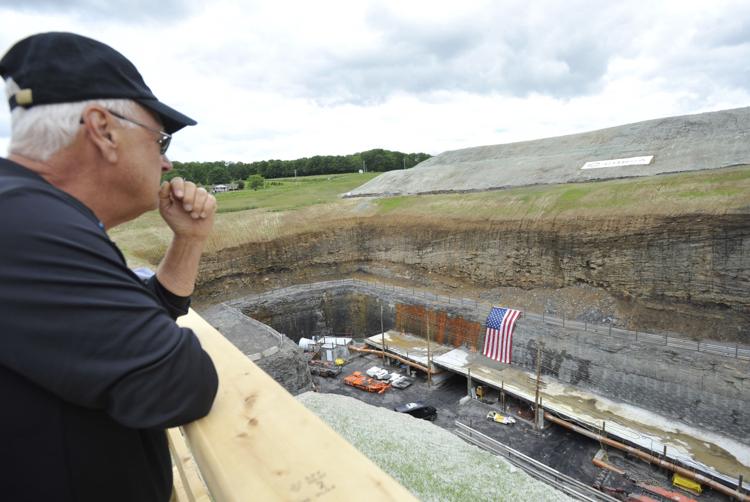 FRIEDENS – In a development that President Donald Trump hailed as "a new chapter in America's long, proud coal mining tradition," Canonsburg-based Corsa Coal Corp. cut the ribbon Thursday afternoon on its new Acosta Deep Mine in Somerset County.
Corsa CEO George Dethlefsen said that the mine, which contains an estimated 19 million tons of coal, will bring more than 70 new jobs to Somerset County – jobs that will pay, as Gov. Tom Wolf put it, "good, middle-class, family-sustaining wages."
The mine will "provide jobs and opportunity to an area that desperately needs both," Wolf said.
Wolf added that the mine, which was funded in large part by a $3 million grant from Pennsylvania's Redevelopment Assistance Capital Program, will give a much-needed boost to Pennsylvania's and the country's manufacturing industries.
"This project is a great example of the work that we're all doing to make sure that Pennsylvania continues to support the manufacturing industry right here in the Commonwealth and across the country," Wolf said.
"The coal that is mined here will encourage manufacturing here at home, as well as abroad, supporting the steel industry and continuing Pennsylvania's long and rich tradition of providing the materials and support that manufacturing needs."
'A sign of things to come'
The Acosta mine will produce metallurgical coal, Bobby Bodenschatz, Corsa Coal's safety director, said. That means that none of the coal taken from the mine will be burned in coal-fired power plants – it will all be used to make steel.
"Many people, over the past year, have said to me, 'Why would this project get funded, given the fact that coal-fired power plants are closing?' " Michele Beener, the president of Aspire Grant & Development LLC, said. "Again, (they're) not recognizing the connection between metallurgic coal and the production of steel."
Robert Gleason, a Johnstown resident who chaired the Republican Party of Pennsylvania from 2006 to 2016, said he expects more coal mines to open in southwestern Pennsylvania during Trump's presidency.
"This should lift up our whole region," Gleason said. "It's a sign of things to come."
Spanning the globe
The first piece of coal was taken from the mine on Wednesday, Bodenschatz said.
Dethlefsen said that 85 percent of the coal taken from the mine this year will be shipped to steel producers outside the United States – in Argentina, Korea, the Middle East and parts of Europe, among other places. The rest of it will remain in the country, he said.
The steel that the coal goes to produce "will wind up playing a crucial role in the production of Hyundai cars, Volkswagens, airplanes, bridges, construction projects in India and many other uses of steel across the world," Dethlefsen said.
As a series of politicians and coal executives spoke Thursday afternoon at the grand opening of Corsa Coal Corp.'s Acosta Mine, protesters chanted slogans and blasted Twisted Sister's song "We're Not Gonna Take It" from the front lawn of a house overlooking the mine.
The mine, a 120-foot-deep rectangular pit with walls so steep they're nearly vertical, is located just off Pennsylvania Route 601 in Jenner Township, less than a mile west of Acosta, the unincorporated village that gives the mine its name.
At the bottom of the pit, the Middle Kittanning coal seam is exposed. Crews of miners use heavy machinery to gouge away chunks of the coal seam, which in the area of the mine is more than three feet thick.
Once the coal is mined, conveyor belts take it from deep within the pit to the surface. It's then trucked from the mine to one of three nearby preparation plants, where it's washed and loaded onto trucks or into rail cars for delivery.
The overall capital budget for the Acosta Mine is approximately $15 million. 
'This great, great day'
President Trump gave a nod to the Acosta Mine in a June 1 speech in which he announced that the United States will withdraw from the Paris Agreement, a non-binding agreement among more than 100 of the world's nations to mitigate greenhouse gas emissions.
"The mines are starting to open up," Trump said in that speech. "We're having a big opening in two weeks ... a big opening of a brand-new mine. It's unheard of. For many, many years, that hasn't happened."
Trump also said in his June 1 speech that he had been invited to attend the Acosta Mine's grand opening. While Trump did not attend Thursday's ceremony, he did record a video message in which he congratulated Corsa's executives and miners.
"I am absolutely thrilled to be speaking with you on this great, great day," Trump said in the video.
"When I campaigned for President, I said that we would end the War on Coal and put our incredible miners – and that's what you are, you're incredible – back to work. Thanks to your support in November, that's exactly what we're doing. The grand opening of the Acosta coal mine signals a new chapter in America's long, proud coal mining tradition."
"To the miners in Somerset today," Trump added, "I want you to know that ... as long as I'm the president of your great country, each and every day I'm fighting for you, and I'm fighting for all of the forgotten men and women in our country."
Trump vowed to get rid of environmental and other regulations that he said are hampering the coal industry and preventing the creation of jobs.
"One by one," he said, "we are eliminating the regulations that threaten your jobs, and that's one of the big reasons you're opening today – less regulation. We all want a clean environment, we all want great safety, but we can do it with a lot less regulation."
State Sen. Pat Stefano and state Rep. Carl Walker Metzgar both saluted Trump's stance on coal, describing it as a welcome change from what they described as the anti-coal policies of former President Barack Obama.
"It's so refreshing to have an administration in Washington that's not actively hostile to this industry," Stefano said. "I'm so glad that President Trump will not allow Paris to dictate our energy policy." 
'A magical day'
The opening of the Acosta Mine signifies a dramatic change for Corsa, which survived a swath of coal bankruptcies early this decade and has rebounded to have the best-ever quarter in company history in the first quarter of 2017, Dethlefsen said.
"Eighteen months ago, we were mired in the longest and deepest downturn in the metallurgical coal industry in 50 years," he said. "The steel industry was also experiencing a decline. Eighty percent of global metallurgical coal was uneconomic to mine."
Fifty coal companies, including all seven of the United States' seven largest metallurgical coal producers, went bankrupt between 2012 and 2017, according to Dethlefsen. Corsa avoided that fate – but was forced to cut costs, lay off workers and contract its operations.
"We did what it took to survive," Dethlefsen said.
Now, however, coal prices have risen to levels not seen for several years, bring what Dethlefsen called "a renewed sense of economic optimism" to the coal industry. Dethlefsen attributes the boost to "a strong steel market, government regulatory reform and a global scarcity of metallurgical coal."
"The stock market is at an all-time high, and economic prospects are bullish. Looking back, we could not have chosen a better time to start this project," he said. "It's such a magical day for our company."
Corsa expects to double its production over the next 2 1/2 years, Dethlefsen said.
'Above and beyond'
Several of the officials who spoke Thursday took care to emphasize that the Acosta Mine project will be as environmentally responsible as possible.
"Throughout its history, Pennsylvania has been blessed with natural resources that have supported job creators throughout the state," Wolf said. "From timber to coal to natural gas, our God-given natural resources have always kept Pennsylvania at the top of the pack in providing needed materials to manufacturing."
Stefano said that, as a member of the state Department of Environmental Protection's Mine Reclamation Advisory Board, he sees the impact that coal mining has had on Pennsylvania's landscape in the past – and added that new techniques and technologies mean that mining is much less damaging to the environment than it was in the industry's early days.
The coal industry has taken "great steps," Stefano said, "to ensure that those hazards are not repeated."
Bodenschatz said Corsa Coal is working to minimize environmental disruption at the Acosta Mine site.
"The stipulations are so stringent. (They) really go above and beyond," Bodenschatz said.
"Every place where we're going to lay down coal, other than right here in this pit, we have to put synthetic liner down. All the water that leaches from the coal or through the coal – even the rainwater that touches coal – basically goes to collection ditches, then ... to treatment ponds. We treat it, and anything that we discharge has to (meet) a certain (specification)."
"Most of the time, the water we discharge into streams and stuff is cleaner than the water in the streams."