The Johnstown region is quickly becoming known for its amazing outdoor amenities and the many festivals and events taking place in and around the city. While most opportunities take place during the summer months, plenty of activities await the adventurous during the winter months as well.
Winter in the city
"A lot of people sometimes complain about the snow and cold in the winter," says Visit Johnstown Executive Director Lisa Rager, "but if you find things that you can enjoy that get you out from the warmth of your house, the area really offers a lot, and you don't have to go far to do it.
"As far as activities like cross-country skiing and snowshoeing, we have some really nice trails that are close by the area that people can easily get to. We have Highland Regional Park, the Laurel Highlands Hiking Trail, the After the Flood Trail, the Ghost Town Trail and the Jim Mayer Riverswalk Trail. And just outside of Johnstown is the Gallitzin State Forest, the Clear Shade Wild Area and the Babcock Trail System. So if you live in or around the area, you could literally be out enjoying a trail within 15 to 20 minutes or less."
There also are great spots for sled-riding and snowmobiling. "Sometimes we forget that the hilly terrain in our area is perfect for sledding," Rager says, "areas like the Tracy Ridge Recreation Area just outside of town, Stackhouse Park, Berkley Hills Golf Course and Roxbury Park. Even Prince Gallitzin State Park is a good place to sled. I think a lot of people forget what it's like to just kind of be a kid and enjoy some of those activities that we participated in. It's great for the family and great to be outside.
"We have lots of trails throughout the area for snowmobile riding – the state forest trails, the Southwest Regions Game Lands Area and the Glendale Lake Snowmobile Club Trail. So snowmobiling and the other winter motor sports are popular."
Even mountain biking is a winter activity that locals enjoy. "The funny thing is you don't really think of mountain biking as a winter activity," says Rager, "but now, if you talk to the members of the Laurel Highlands On and Off Road Bicycling Association, the local bicycling organization, a lot of their members are out on the trails with their fat-tire bikes in the wintertime. So they're out there snow biking with their mountain bikes on a lot of the trails that they ride in the spring, summer and fall."
For ice skating, there are great indoor and outdoor facilities. "Indoor," Rager says, "we have the 1st Summit Arena at Cambria County War Memorial and the North Central Recreation Center in Ebensburg. Outdoor, we have Lake Rowena in Ebensburg and Glendale Lake at Prince Gallitzin State Park. The reservoirs we have, including Glendale Lake and Lake Rowena, are popular for ice fishing.
"Anything that gets folks outside, even just to get out and take a walk in nature when the weather is nice, because we do have so many trails, is a good thing. Don't sit there inside your house and look at your window, thinking how cold it is. Make the time to find out what's happening.
"That makes winter go by a lot faster."
The Laurel Highlands
The Laurel Highlands is home to the largest natural snowfall in the Commonwealth of Pennsylvania. "Obviously, we have the base for outdoor recreation and activities in the wintertime so people don't hibernate," Laurel Highlands Visitors Bureau Executive Director Ann Nemanic says.
Traditional sled riding spots are all over the place in the Laurel Highlands. "Even the county parks in our region have sledding areas where kids can go out and feel safe if they're going to be sled-riding," Nemanic says. "Laurel Hill State Park has a designated area for just sledding. It's really cool. It's well-lit and open on the weekends until 9 p.m. Ohiopyle State Park has a hill that's maintained strictly for sledding. Keystone State Park allows sledding on the slopes in the park. I think sometimes people don't realize that they can pop their own little sled in the trunk of their car and head out and have some fun in those areas."
Snowmobiling is another popular winter activity in the Laurel Highlands. "We market to Cleveland, Columbus, Philadelphia and down into the D.C. and Baltimore market," Nemanic says. "And those folks are eager to get out on snowmobile trails. There are 115 miles of trails specifically in Forbes State Forest. So, as you're out there on a very fast vehicle, you can still slow down just a little bit.
"There are stunning overlooks between trees and nice, winding trails. If you're an experienced snowmobile rider, you're able to do that. But if you're a novice and have never been on a snowmobile before, Seven Springs Mountain Resort offers that experience. It's actually a guided snowmobile trail experience where your speed is limited because there's someone who is in the lead on the trail for you."
Snowshoeing and cross country skiing opportunities exist in the Laurel Highlands, too. "A lot of folks probably don't have snowshoes, and those kinds of things are able to be rented at several of the state park locations," says Nemanic. "You can also stop at a ski or snowboard rental shop in and around the region to get them as well. The state parks obviously are a natural place for snowshoeing and trails, but the Laurel Highlands Hiking Trail is also a favorite for snowshoeing as well. That could be a cool experience.
"Cross-country skiing really is gaining in popularity. There's a 20-mile trail in Laurel Ridge State Park. Kooser State Park is a great place for beginners. Forbes State Park has two designated areas for cross-country skiing.
"The whole multitude of parks within the Laurel Highlands have that. There are 34 miles of grooved cross-country trails in Ohiopyle State Park. You can even do some cross-country skiing on the Great Allegheny Passage Bike Trail because it's a rail trail, and obviously that flat surface is conducive to somebody who is going to be doing some cross-country skiing. If you need some lessons, they're available at Nemacolin Woodlands Resort."
Even dog sledding goes on in the Laurel Highlands. "Some of our beautiful areas for dog sledding that we have include folks that are out on the trails at Nemacolin," Nemanic says. "It's one of those unique amenities that you're able to experience. And you don't necessarily need to be a guest at Nemacolin. It's something that you're able to call and reserve the experience. It's about 45 minutes long, you have your very own dog sled team and you're out on the Nemacolin property. What a really unique experience someone can have in the Laurel Highlands.
"The Laurel Highlands makes for a great playground for snow activities for people."
Blue Knob
Blue Knob All Seasons Resort in Claysburg is home to Pennsylvania's highest skiable mountain. "We have a lot of expert terrains at Blue Knob. They're, if not the toughest, some of the toughest ski mountains in the Mid-Atlantic," Donna Himes, marketing director, says. "We have the only bowl south of New England in the Mid-Atlantic. We have one ski mountain, but we have 34 slopes and trails. It's known as a skiers' mountain.
"We do have beginner and intermediate skier terrain, but our runs tend to be longer because it's a big mountain. Our longest run is two miles long. The slopes and trails are also used for snowboarding."
There is a snowtubing park, two Nordic centers, one of which is groomed for cross-country skiing, and natural cross-country trails. "We have limited snowshoes for rent," says Himes. "They use either our cross-country trails or the trails at Blue Knob State Park, which is adjacent to us."
The resort puts on a Snowfest the second weekend in February. "On the Saturday of Snowfest we have an event called a Dummy Downhill in which people make dummies and mount them on either a ski or a snowboard, and we have a course that we send them down on," Himes says. "Also at Snowfest, we have a mountain bike challenge. It's the only time that we ever allow mountain bikes on our slopes. We close an area, and people can challenge their buddy riding on the snow down the hill. We have various kids' activities, too."
According to Himes, Blue Knob gets visitors from all over the country. "Most of our clientele comes from the tri-state area of Virginia, Maryland and Pennsylvania," Himes says, "but we get people from Ohio, West Virginia and even Florida."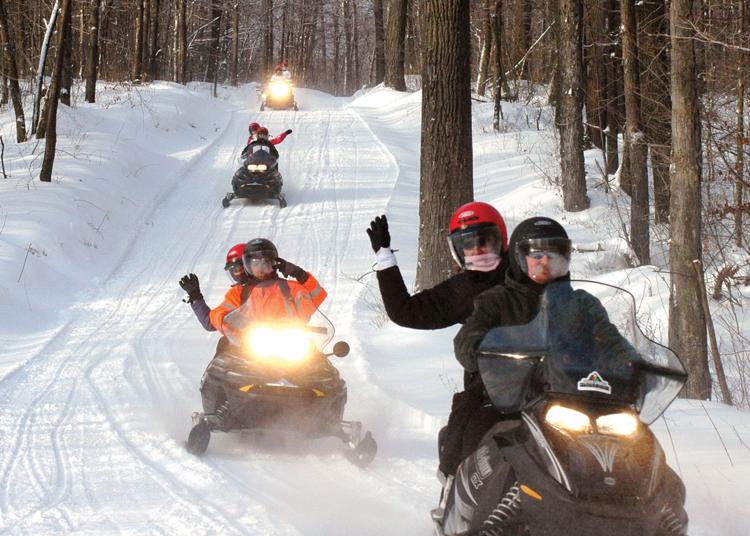 Seven Springs
Seven Springs Mountain Resort in Champion offers 285 acres of skiable terrain, 33 slopes and trails and 10 chair lifts.
There are trails for beginners up to expert skiers. Another popular winter activity is snowtubing. "We have a big hill with 11 lanes," says Katie Buchan, communications manager. "Snow-tubing is a lot of fun if you don't know how to ski and don't want to learn. It's really easy. We have a conveyor lift that will carry you to the top of the hill."
The resort also has horse-drawn sleigh rides, snowshoe tours, guided snowmobile tours that utilize the state trail system and a world-class sporting clays facility. "Sporting clays is similar to skeet shooting," Buchan says.
A snow sports school is available for any ability level. "Whether you've never skied before or you're a seasoned expert, we have a program for you," Buchan says. "Notable for beginners is our fun-based learning program. We can take a complete beginner, get them into skis or on a snowboard, and we take them out to the fun-based learning area at the bottom of the hill, which is comprised of shaped snow features that are set up for a beginner to be able to navigate snow terrain. The way that the shaped features are formed, it controls their skis naturally.
"We have a very shallow half pipe and really shallow banked turns. We'll have an instructor take the person out to navigate these different features. In the process, it's fun and easy, but you're learning so much without even realizing it. The goal is to get a skier or snowboarder to the point where they can independently navigate the bigger part of the mountain. That includes riding the chair lift and making it down the trail."
Laurel Mountain
Laurel Mountain Ski Resort in Boswell has a much shorter lift than Seven Springs because it is strictly a ski area within the state park. "Laurel Mountain is an upside down ski resort, so the lodge is actually at the top of the mountain with a really great view from the lounge," says Buchan, also the communications manager for Laurel Mountain. "There are 20 trails and 70 skiable acres. The Double Block Diamond Trail is one of the steepest trails east of the Mississippi River. There's also a small snow sports school that's a lot simpler than the one at Seven Springs."
Laurel Mountain is a vintage ski experience with some of the most challenging terrain east of the Mississippi. "There are no frills, which is a big selling point for some people," Buchan says. "There are not a lot of bells and whistles. It's strictly a ski area and a lodge."
Hidden Valley
Hidden Valley Resort in Ligonier is the best place to go for a beginner or small children. "It's gentle terrain in a very family-friendly atmosphere," says Buchan, also the communications manager for Hidden Valley. "There's snowboarding, a snow sports school that has fun-based learning like Seven Springs does and snowtubing. Hidden Valley is smaller and more peaceful than Seven Springs."
Mystic Mountain
Nemacolin Woodlands Resort in Farmington offers its Mystic Mountain for skiing, snowboarding and snowtubing.
Mystic Mountain is more of an intermediate course for skiing. "It's not a huge challenge," Jennifer Noah, marketing manager, says. "It's great for groups, who can 'own the mountain,' have the mountain all to themselves for a day. We also have snowshoeing, cross-country skiing and dog-sledding."
The resort will offer Winterfest from     9 a.m. to 11 p.m. Feb. 8 on Mystic Mountain. "We have a Polar Bear Plunge. For jumping into an icy pond, you get a free lift ticket for the day. There's sled-riding, too, and a Sled Meet-and-Greet. There are also kids' activities like snowman building and angel painting."
Prince Gallitzin State Park
Cross-country skiing and snowshoeing are activities that visitors at Prince Gallitzin State Park in Patton can enjoy.
"The best trail is Troxell Trail, which is two-and-a-half miles one way. The trail leads you to a nice overlook of Glendale Lake. We're working on purchasing loaner cross-country skis," says Park Manager Jessica Lavelua. "We have a few snowshoe activities depending on the weather. It's nice to have three to five inches of snow for that."
A new educator is on the premises, as well. "He has a few different bird walks scheduled throughout the winter, teaching people how to identify the different birds and more information about them," Lavelua says. "He had a few hikes, too, in December and January. The hike that we really push is the First-Day hike on Jan. 1."
The park's Winter Blast will be held from 10 a.m. to 2 p.m. Feb. 9 near the Prince Gallitzin Marina. "We have two sledding hills and loaner sleds. Our maintenance staff is trying to install an ice skating rink adjacent to the sledding hills as long as the conditions are good," Lavelua says. "There will be cross-country skiing, snowshoeing, ice-fishing demonstrations and winter bird-feeding programs. Loaner skis and snowshoes will be available. Last year we had the Rail City Curling Club come out. I'm hoping they'll come out again. If there are good ice conditions, they'll demonstrate curling. Otherwise, they'll just have information about their club. Just in case we don't have good snow or ice, we'll have geocaching activities, which is like a scavenger hunt with a GPS unit. We'll have GPS units available. We'll have disc golf, too. The Friends of Prince Gallitzin will provide hot dogs, hot chocolate, marshmallows and coffee, those sort of things, at no cost."
Kooser State Park
Kooser State Park in Somerset tends to hold a lot of snow better than the other state parks. "It has a high elevation, so definitely snowshoeing and cross-country skiing are big hits here," Kimberly Peck, environmental education specialist, says. "On the weekends we have our volunteer Nordic ski patrol team, so that's really great to get an update on snow conditions and if you want tips on traveling in the area. The ski patrol has great advice for folks. For first-timers or for folks who haven't been to Kooser before, our trail right in Kooser is a little more than three miles. It's a scenic trail, tucked in the hemlocks, too. Our rustic cabins are available for rent year-round, so you can ski or snowshoe right out your front door."
Laurel Hill State Park
Cross-country skiing, snowshoeing, sled-riding and ice-fishing on Laurel Hill Lake are the winter activities guests enjoy at Laurel Hill State Park in Somerset.
"I'd highly recommend our Copper Kettle Trail, which goes right along the edge of the lake, for cross-country skiing. It's one of our newer trails," says Peck, also the environmental education specialist for Laurel Hill. "The sled-riding location is in our campgrounds. We also have a fire ring available that's lit on Friday and Saturday nights until 9 p.m.
"Winter is a great time to get out and look for animal tracks from minks, otters and some of those critters that you don't necessarily get to see up close because they're pretty elusive. It's really cool to do that."
Laurel Ridge State Park
Laurel Ridge State Park in Rockwood has quite an extensive connection of trails.
"It's maintained by a concessionaire, so the trails are groomed for both classic cross-country skiing and skate-skiing," says Peck, also the environmental education specialist for Laurel Ridge. "They take really good care of the trails. Laurel Ridge is at a very high elevation. It holds snow very well. Rentals are available when conditions exist. Laurel Ridge also offers snowshoeing and snowmobiling."
Ohiopyle State Park
Ohiopyle State Park offers snowshoeing, cross-country skiing, snowmobiling and sled-riding. "Even just hiking with or without snowshoes is pretty popular. We have about 80 miles of trails," Education Specialist Barbara Wallace says. "We have a snowshoe loaner program with no fee."  
The park presents Winterfest from 11 a.m. to 4 p.m. Feb. 1 as long as there is snow on the Sugar Loaf sledding area, which is the center for the park's winter activities. "Included  are free snowshoe and free cross-country ski demos, so people can try snowshoeing skiing that day with a little bit of instruction provided," says Wallace. "We also have sleigh rides. We have a vendor that comes up that day with barbecue food. There's a Native American Snow Snake, which is a Native American game. We do hillbilly curling, which is on this little ice patch. It's a pretty big festival. We get a couple thousand people."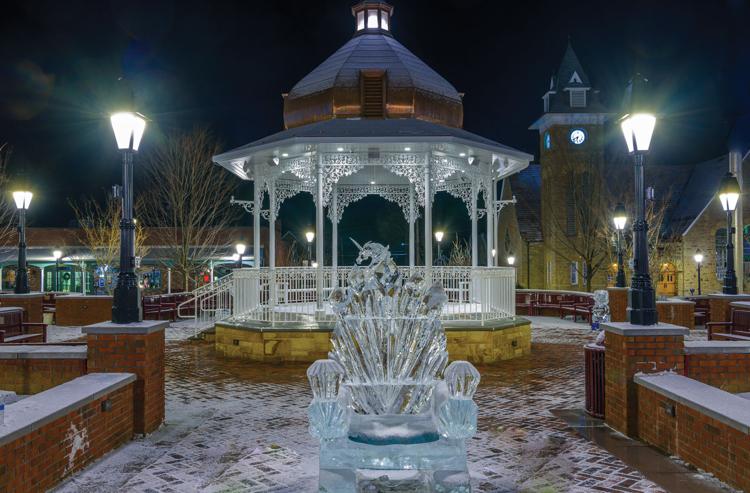 Ice festivals
* The Somerset Fire and Ice Festival was held Jan. 17-19. It offered more than 50 ice sculptures and a fireworks show in the center of town. "It was unlike any other firework
s show you've ever seen. Honoring the 25th festival, it was the largest fireworks show we've ever had," says Regina Coughenour, executive director of Somerset Inc. "We had bonfires all weekend long, local wine and spirits, live music, food trucks, a children's center and an outdoor ice rink with synthetic ice so it wouldn't melt. We had an ice slide in which kids could slide down it on sleds. There was a chili and soup cook-off and live ice carving, too. We had a 5k run in which there were more than 200 runners. A 5k in January is a pretty big deal. There was a Winter Wears Market with about 35 vendors that were hand-picked. We had a train-club display, like small-scale replicas of historic Somerset train systems, and carriage rides, too. There was also an all-you-can-eat pancake breakfast.
* The Ligonier Ice Fest was held Jan. 25-26. "It's a pretty big deal for us," says Ruthie Stewart, the events and marketing coordinator for the Ligonier Valley Chamber of Commerce. "We had more than 50 different ice sculptures. Hanson's Original Kettle Corn was here, and they make some of the best kettle corn you've ever had. We had horse-drawn sleigh rides throughout town. We had our famous spaghetti dinner from our Ligonier firemen. There was Big, Fat Jazz, a local jazz band and Candle in the Wind, another jazz group, also performing. Both concerts were free and in the town hall. We had two locals from DiMartino Ice Company in Jeannette doing speed-carving competitions in which they speed-carved ice sculptures. It's a really fun weekend. It's a great time to get out and explore town. It's a wonderful time of year."