Terence Kauffman is a father, an artist and a local business owner. His business, Kink'D Ink Studio & Piercing Shop, is located in Windber. His numerous wall art creations can be seen around Johnstown.
Where can your art be viewed?
Recently, my creations have begun to grab public attention, which is humbling to me. To know that my work is appreciated by others is awesome and makes me feel fulfilled as an artist.
While my passion for art is for me, I have been lucky to be sponsored by Painful Pleasures art supply and tattoo studio and I have been a guest artist in Pittsburgh and Annapolis, Maryland. I have painted in  Boston, New Jersey, New York, Connecticut, Rhode Island and California.
I have been invited and commissioned to complete huge wall art at Philipsburg Osceola High School and on or in community buildings in Pennsylvania, Washington D.C. and Maryland and am the current Guinness World Record holder for painting the world's largest tarot card in Windber.
Locally, I have painted the Windber Eureka building, Absolutely Dog Grooming in Windber and Freight Station.
How did you get your start in art?
My family says I began detailed drawing at 4 years of age and have been doing so ever since. As a senior, I was honored to have my high school sponsor a one-man art show.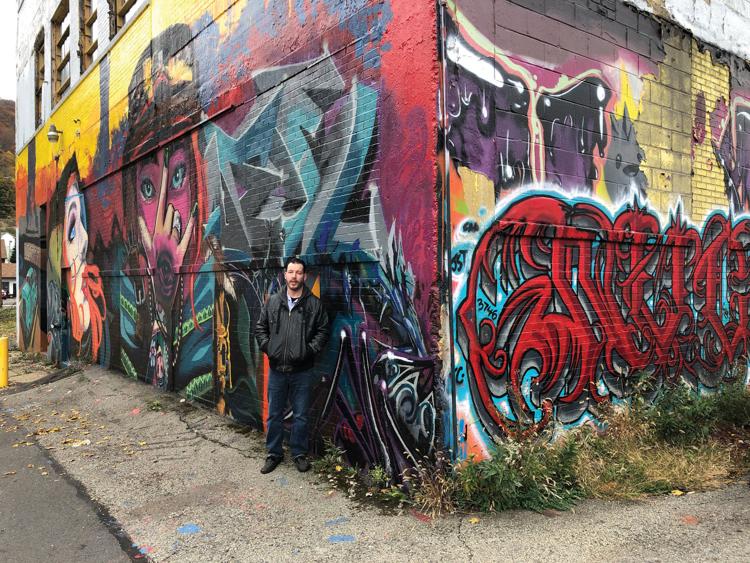 How did you get involved in wall art?
I was around 13 years old at about the time the street art and graffiti (craze) struck. Much to the dismay of many, I am sure, my fellow blooming artists and I tackled train lines and abandoned buildings in business and industrial districts. For the next 20 years, I would continue my art research, traveling and learning as much as I could from artists and art I admire. Roughly, in the past 10 years, I continuously grow as an artist. I love the work I do and believe I have established a name I am proud of in Kink'D.
What is your art all about?
Much of my artistic expression stems from my teen years with a background in graffiti. Yes, my work would have been considered vandalism. However, my groups of artists generally created street art to express views – versus graffiti for marring or defacing.
Graffiti evolved fast for me. Essentially, graffiti is to deface a surface. So the word is used daily in many different relationships. The act of vandalism refined to art became street art or graffiti art.
How do you create your graffiti art?
I personally use typical house paint and spray paint, priming the wall with a first or second coat to ensure the overall project lasts. Between soft caps, fat caps, NY Thins, micro caps, splatter and calligraphy  caps, there are plenty of tools for a spray paint can and brushes and tips to use.
However spray can art is viewed, it doesn't change the fact that spray paint is just a tool for a wide variety of uses.
So, are you a wall artist or a tattoo artist?
I am passionate about the two sides; I get to work in tattooing and spraying paint on buildings/walls. Tattooing is straight to the point, with the purpose of bringing to life someone's message or vision.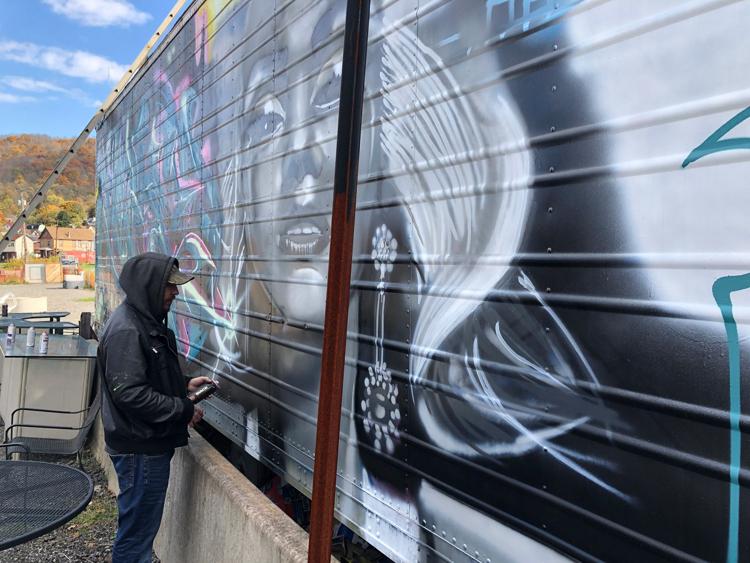 My wall art lets me freely express my emotions, joys, thoughts and love of visioning.
I am happy that, in some small ways, I can impact others' appreciation of an artist's work. I work on crafting together general free-flowing art and the points of fine art.
Where did you grow up and how did you end up in Johnstown?
I was born in Pennsylvania, but my parents moved to the Eastern (Maryland) shore when I was a kid. After a couple years, we moved to Prince George's County, Maryland. I moved back to Pennsylvania in 2007.
What led you to open a tattoo studio?
I became a father and tried working in traditional hands-on type of jobs, but I knew I needed to find a way to make a living using my art. I took a big chance and opened my tattoo business in 2010. For nearly 10 years, I have been an established tattoo artist and am proud of my clients and the work they display on their bodies.
Who has influenced you the most?
When I look at how I got to where I am with my art, I always think of the way my mother and father have been my biggest supporters.
My mom really pushed me to follow up with my gifts. Since we lived so close to D.C., we made many trips to galleries and met other artists or programs involved with art. I remember our weekend train trip to New York so I could see, in person, some of the street art done by European graffiti artists/writers. My mom took me on a work trip to Ireland so I could roam Dublin's fine and modern art museums She just kept my path focused and forward.
I wish I could have had this article written about her, her teachings, accomplishments and the humanitarian life she has lived.