In 2019, Ed Dreikorn III and his wife, Leah Spangler, opened an Airbnb in the upstairs apartment of a former bike shop on Walnut Street. The building, owned by Dreikorn's family, most recently served as location for Ed's brother's stone business.
Before COVID-19 restrictions, the Airbnb quickly attracted guests who were visiting family, attending events or in town for business. "We have met people from all over the country," Dreikorn says.
Clients were attracted to the apartment's industrial décor, city views and good lighting.
"We started noticing the local and regional photographers were renting it for photo shoots," Dreikorn says. "That's how we got this idea to use the first floor commercial space for a photo business."
The result is Studio32, a photography co-op that provides equipment and a physical location for those who otherwise may not have access to those amenities.
The couple say the concept is perfect for the location which is on a developing art corridor in Johnstown.
The Artist-Blacksmith's Association of North America, a nonprofit organization that promotes the past, present and future of blacksmithing, will be using the 100-year-old train station as its permanent headquarters. Located just across the street from Studio 32, the station will be part of an art corridor linking downtown with the Cambria City area.
"We are pretty much in the middle of all these artisan activities that are coming to life in the downtown Johnstown area," Dreikorn says. "It's the perfect place for another art venue."
The choice to create Studio32 was perfect for the couple for another reason as well. Dreikorn has been an amateur photographer for nearly 50 years has a good bit of equipment – including an extensive vintage camera collection.
"Why not bring what I love to do and put it together in a business model where I can share this with other photographers," he says. "I provide my experience and equipment with others who may not have the equipment or the space to promote their business."
Dreikorn says he noticed a lot of amateur photographers promoting their work on social media. "They are usually younger people and may not have the budget (for a studio and a lot of extra equipment).
"They want to have a photo business, but don't have the means for a brick-and-mortar business. That also may not suit all of what they do. They want to do a lot of work outdoors, but they still need some infrastructure along the way.
"They just need a little piece of something in a studio and I can provide that. My goal is not to be the person behind the camera, but I want to provide the wherewithal to help with their business so that they are successful."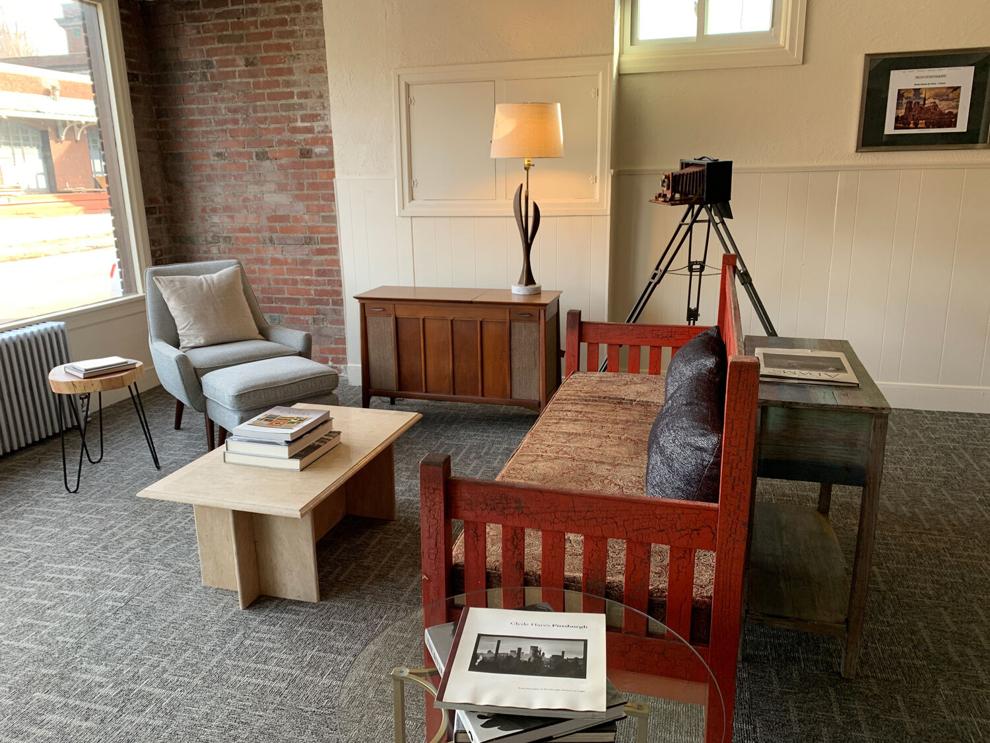 Studio32 offers multiple environments for photographers to use to create what their customers are asking for – a sun room that looks out over the city of Johnstown, several individual settings in the main front room, a portrait studio with solid white and black backgrounds and a large space for a commercial photography. Large objects such as cars and trucks can be moved into the space which will eventually have an infinity wall that, Dreikorn says, will allow Johnstown to compete with some of the larger retail centers that have commercial photography studios.  
"Photographers could build scenes or stages for larger photo applications. It also could be used for videography and has the potential to be used for small movie-making scenes as well.
"There is nothing like this here in West-Central Pennsylvania. You would have to go to Pittsburgh, Lancaster, Philadelphia, or obviously New York City, to find something like this," Dreikorn says.
The studio also offers a changing room and restroom, a conference area where photographers can work with the customer on packages, a gallery wall space where photographers can showcase their work and a business address for those without one.
"I also offer all the professional lighting equipment to manage light so that they can create the images they need.
"I can help them create what they are looking for," Dreikorn says.
Studio32 is available at various levels of packages starting at $150 a month. It is also available for hourly rentals.
For additional information, go to Studio32.org.