Mother's Day was a joyous holiday for women who have been blessed with one or more children. But for women who have experienced pregnancy loss (miscarriage and/or stillbirth), as well as women who have undergone or are currently undergoing fertility treatments, last month's holiday can usher in feelings of pain, hopelessness and heartbreak.
Olivia Bragdon can attest to this. She says that even though she was happy to celebrate her mother and all of the other mother figures in her life, Mother's Day was difficult to navigate emotionally. "Each year, after unsuccessful attempts at motherhood, the holiday was a dark reminder of 'what if,'" she says.
Olivia and her husband, Patrick, struggled to conceive for a few years before they decided that it was time to seek assistance. "That began our 10-year journey with multiple fertility clinics," Olivia says.
She went through three rounds of in-vitro fertilization (IVF) and had seven embryo transfers before she and Patrick welcomed their son, also named Patrick, into the world on Jan. 23, 2019.
Patrick is a sweet, blond-haired little boy who brings Olivia and Patrick unsurmountable joy; Olivia describes her son as "a fearless ball of energy" who is always curious, intrigued by music, and "super snuggly."
Last year, Olivia felt grateful that she finally got to celebrate her first Mother's Day.
"Last year—my first as a mom—was amazing," she says. "My family made sure it was extra special. But I thought all day about those struggling to become parents and how the day felt to me for so many years."
Even though the couple's treatment plan proved successful, the costs associated with bringing little Patrick into the world were high.
"It was a huge financial burden," Olivia says. "We made too much money to qualify for financial assistance, but my husband had to work three jobs at one point to pay for it. We spent a significant amount. I wasn't giving up, and we did consider adopting, but we were already so far down the road of in-vitro fertilization."
A single round of IVF can cost thousands of dollars. This does not include the cost of medications that women are prescribed in combination with their treatments.
"I took follicle stimulating meds, steroids, anti-coagulate, HCG trigger shot, progesterone, estradiol, Lupron, ganirelix, antibiotics," Olivia says. "There are many different protocols for different issues."
Adoption fees are similar in that they also cost thousands of dollars. Olivia says IVF and adoption fees are not required to be covered by insurance companies in the state of Pennsylvania.  
"Since it's not something that is required to be covered in Pennsylvania, most don't cover it," she says.
Going through the entire experience opened Olivia's eyes to a painful truth: other couples in the area were struggling to not only get pregnant, but also struggling to afford IVF treatments and adoption fees.
Olivia wanted to help. She began by creating a monthly support group for women and couples experiencing infertility issues. The support group takes place the second Wednesday of each month at 8 p.m. It happens over the phone or in a video chat.
"I was the one who needed support," Olivia says, "so I decided to start it up and hoped to help others in the process. A few months ago, I changed from having an in-person meeting to a video chat in hopes that it would be more convenient. Sometimes we have special discussion topics, but mostly it's just lending an ear and offering support."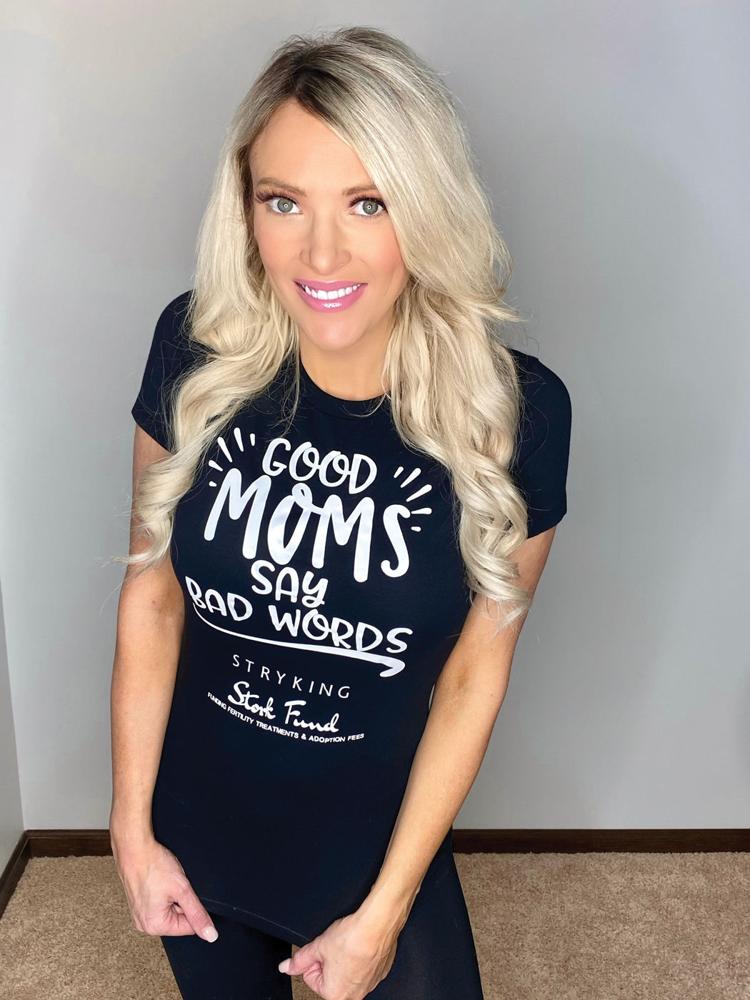 Next, Olivia partnered with Lacey Ott of Stryking Boutique to sell Mother's Day t-shirts. (They continue to sell shirts every spring.)
After realizing how well the initial t-shirt fundraiser went, Olivia decided that she could do even more. So, the fighter in Olivia took up a new fight: raising awareness about fertility issues and the high costs of treatments and adoption fees by establishing The Stork Fund at Community Foundation for the Alleghenies in order to financially—and emotionally—support local couples.
Several additional fundraisers took place in the community last year in order to support The Stork Fund. Camilla Taylor, who owns Camille's House of Style, hosted "Dresses, Drinks, and Divas," a fashion show featuring models wearing clothes from Stryking Boutique and Camille's House of Style. They raised more than $5,000 that evening.
In Dec. 2019, local female musicians—Terri O'Leary, Natalie Kurchak, Rachel Allen, Ruschelle Dillon, Jill Gontkovic and Leah Freidhoff—got together for a show titled "Divas of December" at Venue of Merging Arts (VOMA). Together, they raised more than $700.
Olivia says that additional support has come from near and far, and from local businesses such as Press Bistro, Anthony's Restaurant, Atlantic Broadband, Peles Salon, Blaine Boring Chocolates and Chan Soon-Shiong Medical Center.
"We have had several generous private donations," she says. "My close friends have been very supportive and several were instrumental in the 'Dresses, Drinks, and Divas' fundraiser."
All of these successful fundraisers have paved the way for the fund's first disbursement.
"The fund is currently accepting applications," she says. "Anyone who has an out-of-pocket expense from adoption fees or fertility treatments is eligible. They must live in the Greater Johnstown area, including Cambria and Somerset counties. The must submit the bill with proof of non-coverage and a letter outlining their background and goals."
Applicants must submit their materials to Community Foundation for the Alleghenies. All applications will be reviewed and responded to accordingly. Those who wish to apply can find information by visiting http://cfalleghenies.org/cfa-funds/stork-fund.
Anyone interested in learning more about Olivia's support group or the fund in general should email her at thestorkfund@gmail.com.
She also mentions that www.resolve.org is a great resource for families and friends of couples who are struggling to conceive.
"Most people suffer in silence," Olivia says. "Resolve.org offers tips on supporting loved ones and is a complete overview of infertility."
Individuals or groups who would like to make a donation to The Stork Fund can do so at any time by writing a check made payable to "Stork Fund" and mailing it to CFA, 216 Franklin Street, Suite 400, Johnstown, PA 15901. Donations can also be made safely and securely online at http://cfalleghenies.org/cfa-funds/stork-fund. All donations are tax-deductible.
Olivia describes motherhood as "the most rewarding experience."
"And that," she says, "makes me even more eager to support people who want to become parents. I do think about how hard I fought to be a mom and would do it all over again to have what I have now. I know the yearning to be a mom, so when someone tells me of their struggle, it brings me right back to those feelings. I felt like God sent me through the fire so I could help others."