Back in the days before Mapquest and Google Maps, drivers used folding maps. Superhighways didn't exist. Driving was new.
It was an adventure, but it wasn't easy to know where you were unless you wanted to pull off the road, unfold a map, and try to locate your position.
In the early 1920s, the Pennsylvania Department of Highways (the predecessor to PennDOT), started manufacturing road markers. They followed in the tradition of mile markers on turnpikes but with a lot more flare than the simple green signs on highways today that state the name of a town and how many miles it is to reach it.
Pennsylvania's road markers were "literally signs of Pennsylvania pride," according to Jack Graham, president of the Keystone Marker Trust.
The Keystone Markers take their name from their shape, which not surprisingly, is a keystone.
"Indeed, it was the Keystone Marker program that cemented the keystone shape's association with the Commonwealth," Graham writes in an article about the markers.
Each marker was made of cast iron by Carlisle Foundry in Carlisle and the Geiser Manufacturing Company in Waynesboro (both have been out of business for decades).
The signs were painted dark blue with the edge and lettering painted bright yellow. Besides the distance to the next town, the markers also gave a tidbit of information, such as the town's founding year or who it was named after. Streams were also marked, although no additional information other than the stream name is on the marker, and these markers are double sided.
"It would appear from our research and records that any town that was on the 'state road' (a numbered route – state or federal) got at least two of the markers," Graham says. "They were erected at each end of town at the town boundary."
If the town had more than one numbered route, it would have four or more signs; however, Graham says few towns have more than two surviving signs. Hanover, in York County, still has five. Only one remains in all of Philadelphia, which likely had many. None survive in Pittsburgh to our knowledge.
"For example, there are/were a lot along the Lincoln Highway, which over time has changed routes, so some markers are still located along old sections of the highway. If you could find old maps of the state from the 20s and 30s, the major highways were definitely different then," says Mike Wintermantel, a board member with the Keystone Marker Trust.
"Town and road expansion and development spelled the doom of many, but far too many have succumbed to simple neglect," Graham adds.
Locally, about half of the known markers remain. Bedford County had 17 known markers, 13 of which survive. Cambria County had 16 known markers, half of which still survive. Indiana County had 40 markers, 24 of which survive. Somerset County had 16 markers, 9 of which survive, and Westmoreland County had 28 markers, 16 of which survive.
The Keystone Marker Trust maintains a marker database where information on any of the markers, whether still existing or once existed, is maintained. However, it is not known how many of the original markers still exist since no record has been found of how many were originally manufactured and installed.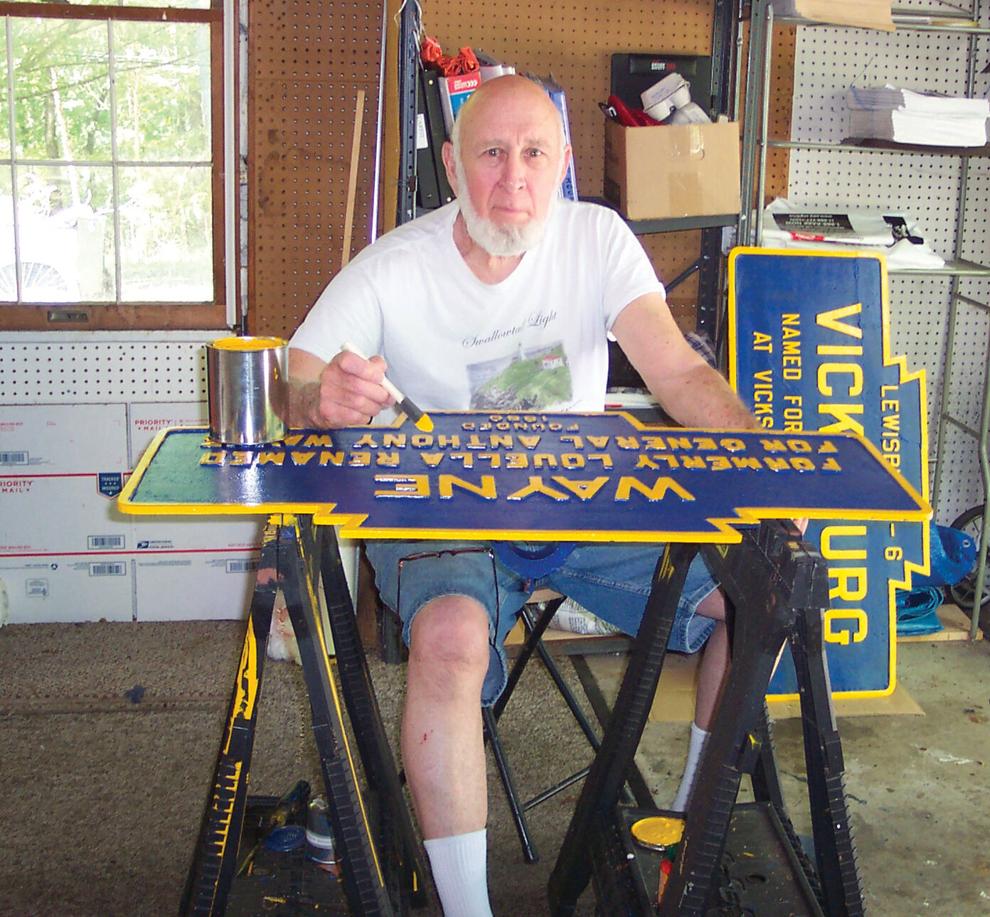 "We continue to be made aware of ones we didn't know about before," Graham says.  "Many are often also found tucked away in the dark corners of township/borough maintenance sheds. In these cases we work with the towns involved to try to get these restored and reinstalled."
What of the most recent finds was a stream marker for Allegheny Creek. It probably stood along Route 724 in the Gibraltar area of Berks County.
"It had come into private hands – how, who knows – and advertised for sale on Facebook," Graham says. "One of our Trust members purchased it with his own funds and we have restored it."
Once restored, the marker will be reinstalled in the Allegheny Aqueduct Park where the old stone aqueduct crosses Allegheny Creek.
Wintermantel also found one for the town of Bigler in Clearfield County.
"I was searching for historical markers and found this one along the road, a portion of the marker was broken off and it was very rusted," he says. "A neighbor found the missing piece and I am now in the process of restoring it and will eventually get it reinstalled when the post is ready."
Despite the research and work of the Trust, it is still unknown when the Department of Highways started installing the markers. The Department of Highways Biennial Report for 1926 to 1928 states: "The Department also makes a practice of marking the limits of boroughs with cast iron signs on which are a few facts as to the date the community was founded and the derivation of its name." The latest reference to installations is in department documents from 1943, where they are referred to as "historical" signs.
"It probably stopped at the onset of World War II, due to metal shortage," Wintermantel says.
Today, PennDot officially owns the markers that are still standing along state or federal numbered routes. Maintaining them is not a high priority, and the department encourages "local adoption."
This is where the Keystone Marker Trust comes in.
"Some local residents have painted them or have tried to keep them in shape, every little bit helps preserve the markers. Our mission at the Trust is to maintain, restore, refurbish, document, inventory, etc. the markers. Being a non-profit organization, donations and financial help from some local municipalities are always welcome. Some municipalities will help with taking the markers down for us to restore, moving or straightening out posts if needed," Wintermantel says.
For more information about the Keystone Marker Trust or to use the marker database, visit www.keystonemarkertrust.org.
---
Where to find local markers
Bedford County
Bobs Creek (Reynoldsdale and Bobs Creek roads)
Centreville (Centerville Road at south end of town)
Dunnings Creek (SR 4009 Bedford Township near Cessna)
Hyndman (PA Route 96 by Standard Bank)
Manns Choice (Main Street just off of PA 31)
New Paris (PA 96 at Cuppett Road at north end of town)
Pleasantville (PA Route 56)
Rainsburg (PA 326 at north end of town)
Rainsburg (Replica) (PA 326 at south end of town)
Saxton #1 (PA 913 at west end of town)
Saxton #2 (PA 913 at north end of town)
St. Clairsville (Main Street at south end of town)
Woodbury (PA 36 at north end of town)
Cambria County
Ashville (PA 53 at southwest end of town)
Cresson (PA 53 (Second Avenue) at Gallitzin Road in small parklet at north edge of town)
Glasgow (PA 253 (Skyline Drive))
Hastings (Library at 312 Beaver Street)
Loretto (St. Mary Street near Fourth Street)
Spangler (US 219 in Memorial Park)
Summerhill (At Summerhill Borough Municipal Building, 524 Main Street)
Indiana County
Clarksburg #1 (PA Route 286 West)
Clarksburg #2 (Iselin Road at north end of town)
Clarksburg (PA Route 286 East)
Cookport (Green Township Fairgrounds)
Crooked Creek (PA 156 and Main Street in Shelocta)
Dixonville (Leroy Road, just off PA Route 403)
Elders Ridge (Iselin Road at south end of town)
Glen Campbell (Glen Campbell Road, northwest of Rickardsdale Road)
Glen Campbell (PA Route 286)
Homer City (Borough Office on E. Wiley St.)
Pine Flats (PA 580 and SR 1014)
Plumville (Located at the post office)
Rossiter (Johnsonburg Road at east end of town)
Shelocta (Main Street at borough office)
Smicksburg (PA 954 at Clarion Street)
Smithport (Glen Campbell Road at north end of town)
Starford (Starford Road at south end of town)
Waterman (PA 56 at south end of town)
West Lebanon #1 (Old PA Route 56 and Pounds Road)
West Lebanon #2 (Along Old PA Route 56)
Somerset County
Davidsville (PA Route 403 North)
Holsopple #1 (PA Route 403)
Holsopple #2 (PA Route 403 north)
Hooversville #1 (PA Route 403 south of town)
Hooversville #2 (PA Route 403)
Lavansville #1 (Lavansville Road at west end of town)
Lavansville #2 (Lavansville Road at east end of town)
New Centreville (PA 281 at west end of town)
Shanksville (Stutzmantown Road at west end of town)
Westmoreland County
Delmont #1 (Old U.S. Route 22  (William Penn Highway) at the East View Cemetery)
Delmont #2 (77 Greensburg Street at police station)
Export #1 (Kennedy Avenue at east end of town)
Export #2 (Brick Hill Road near Grant Avenue)
Export #3 (Italy Road north of town)
Export #4 (Old William Penn Highway at west end of town)
Greensburg (W. Pittsburgh St. (Old Rt. 30) and James Street)
Laughlintown (US 30)
Ligonier (East Main Street at east end of town)
Mill Creek (Main Street at west end of Ligonier)
New Alexandria (US 22 east of Main Street)
New Florence #1 (PA 711 at VFW at east end of town)
New Florence #2 (PA 711 at Furnace Lane)
Trafford (Fifth Street at Brinton Avenue)
West Overton Historical House (Overholt Drive at Frick Home, Rt. 819 and Water Street)