Although many Halloween activities are cancelled this year, Bottle Works Ethnic Arts Center is hosting a frightening event in a not-so-frightening, covid-safe space.
The third annual Oh, So Artsy Halloween Party will be held from 3 to 10 p.m. Oct. 24 and, this year, everything will be outside.
"We want to make people feel comfortable, so we are opting to use all our outdoor spaces including the Chestnut Street Garden," says Melody Tisinger, director of advancement and operations for the center. "It may not look like it, but the lawn is a little under a half an acre, so there is plenty of space for people to mingle safely."
Tisinger says Bottle Works has tried to be a resource for families since the beginning of the pandemic. "When it first started we had a grab-and-go where you could get supplies to do (activities) while at home," she says. "We got a good response with that and that segued into doing family nights on the lawn. From that, we decided to do our Halloween event outside.
"We know it is really important to have a little bit of activities for kids and adults alike. It helps the mind and the soul and we are really excited to provide that for families."
From 3 to 5 p.m., children will be invited to participate in Halloween-themed activities including spooky arts and crafts, and pumpkin painting. Trick-or-treat bags will be given to each child.
Kids are encouraged to attend in costume and those between the ages of 6 to 12 can take part in the Oh So Artsy Costume Contest. A prize will be awarded to the most creative costume.
On the lawn, local artist Michael Allison will be caving a custom Jack-o-Lantern which will be auctioned off at the end of the night.
Chestnut Street Garden will be converted into the Haunted Heirloom Garden, a perfect spot for selfies.
While events during the afternoon are geared for children, activities during the evening hours are targeted to the older kids.
Adults can enjoy a VIP experience beginning at 5 p.m. at Jackie's Garden Works: Rooftop Garden where there will be a full cash bar. There will be limited admission to the rooftop.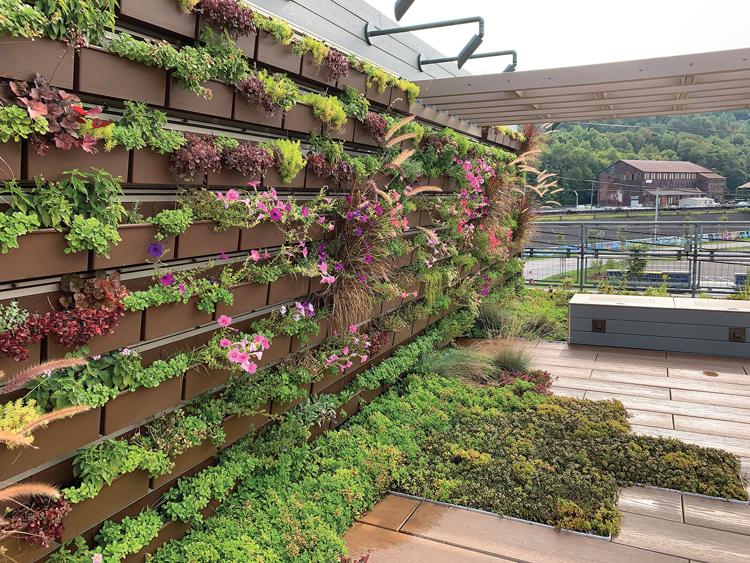 "We wanted to add that bit of night-life flavor," Tisinger says. "It can be a date night on the roof, beneath the stars."
From 5 to 7 p.m., guests will be able to purchase original artwork from local artists during the Back from the Dead Silent Art Auction.
Art lovers will be able to place bids in person or online. A gallery of auction items can be found at www.bottleworks.org. Winners will be announced at 7:30 p.m.
"Monsters of the Appalachia," a lecture by Michael Allison, will be presented at 5 p.m. on the Pop Plaza lawn. A press release put out by Bottle Works describes the lecture this way: "Many terrifying creatures prowl the imaginations of the Allegheny Mountain Region. While seemingly unique, they find their origins in the European folklore of the settlers, and the Native American tribes who preceded them. Meet the Monsters of the Appalachians."
Live music begins at 6:15 p.m. by Johnstown's Shades of June.
At 8 p.m., the evening's feature film, Night of the Living Dead, will be shown on the Pop Plaza lawn.
Adults are welcome to watch the movie from the rooftop or on the lawn. "We'll have some hay bails, or you're welcome to bring a blanket or your favorite fishing chair and just come out and hang out on the lawn."
According to Wikipedia, Night of the Living Dead is a 1968 American independent horror film that follows seven people who are trapped in a rural farmhouse in western Pennsylvania. The group is under assault by an enlarging group of cannibalistic, undead corpses.
Completed on a $114,000 budget and shot outside Pittsburgh, the film grossed $12 million in the United States and $18 million internationally and earned more than 250 times its budget.
Night of the Living Dead has been regarded as a cult classic, but was heavily criticized for its explicit gore. It eventually garnered critical acclaim and was selected in 1999 by the Library of Congress for preservation in the National Film Registry as a film deemed "culturally, historically, or aesthetically significant."
Tisinger is excited about the outside movie – a first for Bottle Works.
"Hopefully, this goes well and we'll be able to do a lot more," she says.
Admission to the adult VIP rooftop experience are $10 and can be purchased by calling (814) 535-2020.
All other events at Oh, So Artsy Halloween Party are free – thanks to event sponsors: First National Bank, Thomas Honda Buick and GMC, Utz Snack Foods, Lambcakes and Westwood Garden Haven.
Donations are happily accepted, however. "Like so many small businesses, we have taken a revenue loss," Tisinger notes. "All proceeds from Oh, So Artsy Halloween Party go to programing for Bottle Works."