Everywhere you look is another service or therapy dog story – you'll find videos that go viral on social media and you may have seen dogs at work in our community. There are many types of therapy animals: therapy dogs, emotional support animals, and service dogs. These are not all the same; however, there are many special canines who are contributing to our community in different ways. Some chase down bad guys, others help people through bad days. They all have one thing in common: they all provide valuable help and support to their human companions and others in the community. They do police work, they help kids in schools, they help the sick and elderly. 
Growing bodies of scientific evidence prove what anyone who has worked with dogs will tell you: animals help people in more ways than we may ever know. They assist children in schools with emotional and cognitive processing; they help lower blood pressure and stress in the sick and elderly, and they protect our first responders. Take a look at the work some super dogs and their owners or handlers are doing in our community. 
K9s at Work
Patrol Sergeant Mike Plunkard with the Johnstown Police Department and his K9, Sarge, are one of four K9 teams who serve the Johnstown area. They have been working together for five years. 
All K9s on the Johnstown force are trained to apprehend criminals, but each of them also perform other specialized tasks. For example, not only is Sarge trained in apprehension, he is also specially trained to detect the presence of guns, ammunition, and spent shell casings at the scene of crimes. Because Johnstown has a high rate of gun violence, it is important that the police force has a dog trained "to use his nose to find evidence," according to Plunkard.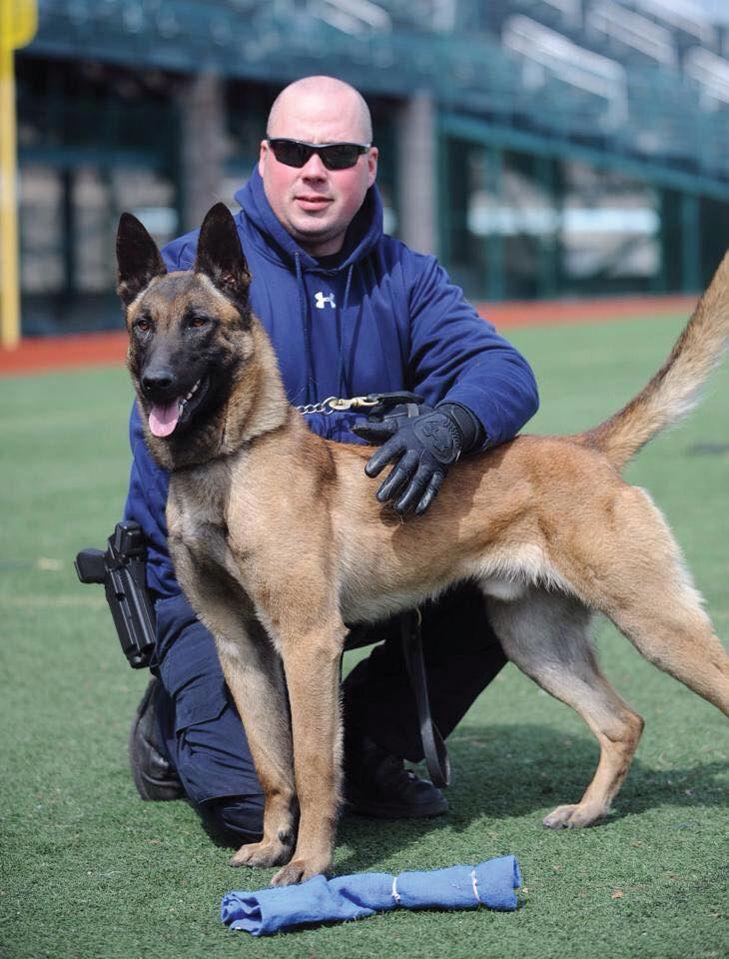 Plunkard acknowledges that most of the time, having a K9 at the scene of a crime is often enough to change the behavior of criminals because "the mere presence of a police K9 on the scene is enough deterrent for the suspect(s) to surrender." Plunkard explains that having a dog on the scene is a way to de-escalate many situations; for example, Plunkard and Sarge recently arrived at the scene of a break-in to find a suspect inside a business that had a back door broken out. When Plunkard held Sarge at the rear door and announced that he would send in the dog, the suspect immediately surrendered. The availability of a police K9 unit can be a game changer: this situation and others like it could be much more dangerous for the officer and suspect without a K9 presence. 
K9 training for law enforcement is intense: the dogs, all Belgium Malinois, are purchased from an experienced K9 breeder in Florida who trained military dogs in his native Belgium. The police force gets the dogs when they are between one and two years old. They come trained ready to perform law enforcement tasks, but in Johnstown, the officers complete the specialized training; later, officers spend 16 hours a month in routine training. Plunkard points out that Sarge did not come to Johnstown ready to detect guns, but odor training is pretty easy and can be done in-house.
When off the clock, Sarge lives with Plunkard and his family; however, Plunkard is quick to point out that Sarge is a workaholic – he never takes a break. He is a high-strung dog who is always at attention, ready to work, even at home. While some of the K9s learn to relax, not Sarge, who, according to Plunkard, "never shuts off." 
Facility Dog: Spotlight on Vanna
Vanna is Johnstown Elementary School's newest community member. She began working at the school Feb. 19, after a long process of training that prepared her for work in a school setting. She is a two-year-old golden retriever that has been trained by Susquehanna Service Dogs in Grantville, Dauphin County, to be a facility dog.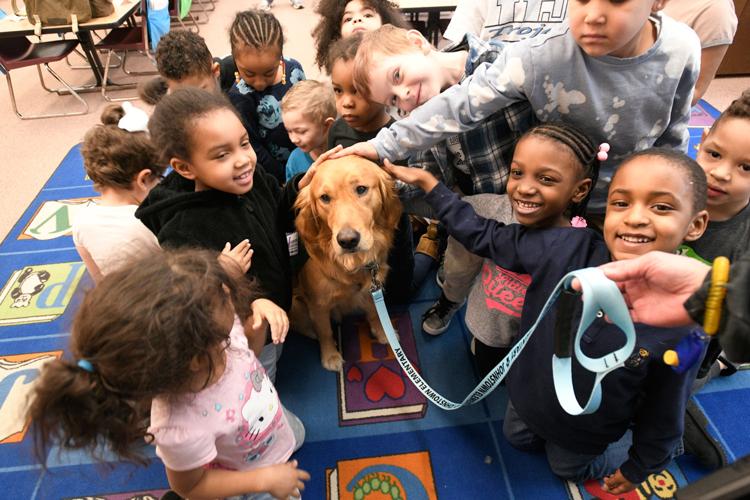 Before Vanna, students at Johnstown Elementary School already had some interaction with service dogs. Three years ago, ??? Moore initiated a program in which local volunteers from Tales with Tails and Golden Girls Pet Therapy began bringing service dogs to the school on a monthly basis for reading and socializing activities with the children. The success of this program was the catalyst that moved Moore to seek new ways in which a service dog could benefit the students on full-time basis.
Vanna represents one of the many ways city educators who are tackling the serious challenges in
their schools are finding innovative ways to teach kindness, empathy, and positive interaction with others. She is at school every day where she is handled by Moore and Janelle McCoy, the school's psychologist. Moore explains that Vanna is part of her district's robust school-wide positive behavior program where the staff work hard to create a culture that promotes and encourages positive behavior. 
Although Vanna has only been at Johnstown Elementary for a short time, Moore notes that Vanna "promotes a more positive culture." Vanna has advanced training to deal with students who are upset or may be emotional: "she is patient and the kids find her comforting so we see improvement in behaviors and attitude." For now, Vanna works in the classrooms and greets students on the bus loops. Eventually, she will have a schedule of activities that will have her interacting in other settings and activities.
Already, students in the school have connected with and look forward to seeing Vanna. Just the other day, Moore says she was walking through the school when a first-grader asked, "Mrs. Moore, where's Vanna?" When Moore told the child that Vanna was in the library the child said, "Oh, when you see her, will you please tell her that I love her?" This is just the beginning. 
The funding for the service dog was obtained through a grant obtained through the Community
Partnership of the Alleghenies. Moore is appreciative to have support of her the district's superintendent, Amy Arcurio, and for the progressive thinking of district's board of directors in supporting new and creative ways to work with students. Vanna is the only school facility dog in a several-county area. 
When not helping kids at school, Vanna lives with Moore and her family in Windber.
Pet Therapy in our Community
You may have heard of Golden Girls Pet Therapy, a group of committed volunteers and their dogs who have been performing pet therapy in Johnstown for nearly 20 years. When the founder of Golden Girls, Chris Fogle, first took dogs into a nursing home to visit her grandfather, she didn't know that would lead her to become committed to pet therapy. Now, Golden Girls volunteers use their dogs to provide therapeutic visits to schools, hospitals, nursing homes, community organizations, and hospice centers – anywhere they can put a smile on someone's face. 
Therapy dogs with Golden Girls collectively donate about 40 hours a week of volunteer hours every week visiting many types of medical and nursing home facilities, colleges, schools, and community groups. Yet, the volunteer takes a backseat and the therapy dog takes the lead according to Fogle who says, "the most important thing is the dogs. The dogs are the ones who go out there and change people's lives," and that makes it all worth it. 
Windber Hospice and Windber Palliative Care Unit is one of the many sites where a member of the Golden Girls team visits at least once a week. Dr. Kelly Warshel, medical director of Windber Hospice, asserts that sometimes the dogs "provide a quiet, nonjudgmental, peaceful, and loving presence," yet they seem "to have an awareness, a sixth sense, perhaps, about what the patients need the moment they walk into the rooms." The visit is something different for each patient – sometimes the dogs are more interactive with the patients, sometimes they provide just a comforting touch, but the dogs do not "require anything of the patient – no conversation or any amount energy expenditure. They just need to receive the unconditional love that the dogs are offering. It's very healing on so many levels. It's quite beautiful." 
Tales with Tales
Shaylee is a Great Bernese who spends lots of her free time with students in our local schools. Although she visits other places, Shaylee and her owner, Jaimie Miller, focus on the educational side of service work through the reading program, Tales with Tails. In fact, it was visits from Miller and Shaylee that inspired Kim Moore to find a permanent facility dog at Johnstown Elementary School.
Miller and Shaylee, as well as other Golden Girls, visit schools where they can provide comfort and relief to students who might face stress and anxiety around learning.  Shaylee visits with students in the classroom and does everything from maintaining a calming presence to offering a nonjudgmental ear: and she's a great listener: young students enjoy reading to Shaylee who is trained to look like she is reading along and paying attention to the developing reader and who "never worries about who misses a word or makes a mistake," according to Miller. 
Miller has witnessed the response that children have had in even short visits with a therapy dog. For example, Miller and a classroom teacher witnessed a nonverbal little girl who, after sitting with Shaylee, laughed out loud for the first time ever in class. But that's not all: Over the course of many visits in a school or classroom, Miller has witnessed many children grow in both their reading and social skills. 
When she thinks about the difference Shalyee makes in the lives of children she meets, Miller likes to relate her experience with the starfish story – the story about a little girl who sees a beach littered with starfish after a storm and picks up a starfish to throw it back. When the girl is told that her efforts wouldn't make a difference, the girl replies, "well, it made a difference to that one." That's Shaylee – she makes a difference "to that one" – the child who might lack confidence, who might be stressed, or who feels her reading isn't good enough. That's good enough for Miller.  
Therapy Dogs at Work: Making the Distinction
People who work with service, therapy, or emotional support dogs like people to know the difference between these categories and how dogs are chosen for their specific tasks.  
Some advocates argue that all dogs are emotional support dogs. Ask any pet owner, and they would probably agree. Therapy dogs, however, are chosen based on their temperaments and level of training. Calm, social animals who do not startle easily and who love other people and other species are good candidates for therapy work. Because therapy animals come in contact with sick or weak patients, they must be kept very clean and well-groomed and up-to-date with veterinary care. 
Therapy dogs are heavily trained and their owners must keep them working to maintain their skills. Debbie Noble, a volunteer with Golden Girls and her therapy dog, Ginger, visit places like TJ Maxx when they aren't visiting schools or hospitals. Noble explained that even visits like these keep Ginger working which helps to maintain her training and social skills, and that even in small ways, "therapy dogs are gratifying – they are out there every day touching people's lives." Nobel enjoys visiting Windber hospice where she sees Ginger making a big difference.  
Emotional support dogs provide support and therapeutic to their owners who may be suffering with a variety of challenges such as PTSD or anxiety. Emotional support animals are not service dogs and are not offered the same rights under the Americans with Disabilities Act (ADA), for example, whether or not they can accompany their owners into a store, restaurant, or hotel is up to the owner of that establishment, yet they perform valuable roles to their owners. There has been some negative press about emotional support animals, as a result of pet owners who take advantage of a system put in place to help those who truly need it. Chris Fogle is quick to point out that emotional support animals are important in the help they offer people. They help people with extreme psychiatric conditions like anxiety and PTSD.
Not all dogs can be service dogs: service dogs are trained for specific tasks and are approved by the ADA to go into any public facility. Puppies who are chosen for service work come from international breeding programs that are selected for their health, intelligence, and appropriate temperaments for work in a specific situation. They are carefully bred to assure particular responses and behaviors in even the most stressful situations. 
Service dogs receive at least two years of advanced and specialized training before they are placed with their new owners. Potential service dogs begin sensory training with they are just 24 hours old. 
The Early Work 
Dogs that have been part of an international breeding program are carefully selected for the type of work they will eventually perform. Gianna Pepoli, a sophomore occupational therapy student at Saint Francis University, is a puppy raiser for Susquehanna Service Dogs. Pepoli and her family have been raising puppies for service work for four years, ever since Pepoli saw a group in training at the grocery store where she worked as a teenager. 
For the past two years, Pepoli has been raising Cicada, a male Labrador retriever who will soon be leaving her for advanced training and then then placement in a facility or home. Cicada has mastered many commands, and during this time, Pepoli has been able to evaluate his personality and his strengths. Some dogs will be therapy animals, others will do intelligence work with the federal government or a police force, and some will be service animals. Some may not make the cut at all, and will live a relaxed life in a home with a family. Pepoli believes that Cicada will likely work best in either a facility with children or in a home with a child who has disabilities because he responds so well to young people. 
Perhaps that's because Cicada has been living with Pepoli in the dorms at Saint Francis where he is constantly socialized around groups of students. Being at Saint Francis has offered Cicada a chance to enhance his social skills, and in the dorms, the small spaces offer a glimpse into his ability to adjust and adapt to different situations. 
It was important to Pepoli that she continue her work with service dogs while in college, as she hopes to eventually use dogs in her work as an occupational therapist. Pepoli was mentored by Dr. Schlomit Flaiser-Grinberg, a professor of psychology and neuroscience who teachers the Canine Learning and Behavior course on campus. Although Cicada will be leaving her soon, Pepoli already has her next puppy waiting for training: Presley, a six-month-old lab is at her parents' home now, waiting for Cicada to move on to advanced training so she has her chance to move to SFU. 
About letting dogs go after raising them for two years, Pepoli states: "seeing how grateful the partners are and how much it will help their life, makes it all worth it" She says that she "gets goosebumps and chills" when she sees the connections made between the new owners and dogs that have been trained and ready for them.   
The commitment level of owners and handlers in our community is astonishing. From the very youngest of puppies to the continual training of military and police dogs, people in our community are dedicated to make important connections between humans and our canine companions. The number of volunteer hours logged is impressive by any standard, and it's all done to help others. The dedication to raising healthy, well-trained animals is inspiring. The willingness of animals to do work for us is remarkable: perhaps our canine friends do it out of a sixth-sense, or a willingness to please, or both. It is often said that we do not deserve dogs. Maybe that's true; however, by engaging them in our community and allowing them to make such a positive impact doing what comes naturally to them, we can start to begin to be more deserving of their unconditional love and good nature. 
Editor's note:
The Johnstown Police Department and Patrol Sergeant Mike Plunkard said a final goodbye to K9, Sarge, on May 8. Sarge, who served the city for five years, was diagnosed with cancer on April 1. He worked with his partner until May 5, but then "quickly went downhill," Plunkard says. "Having a K9 come to work with you in the morning was absolutely the best job in the department. Losing a partner that you put that much trust in is a huge change. It's a big loss."