In a 2016 study by the U.S. Department of Education reported through the National Household Education Surveys, an estimated 1.69 million students, ages 5-17, reported they were homeschooled. This number is roughly the same estimate as 2012, with 1.77 million reported. National homeschool statistics are an estimate, as all 50 state set their own reporting standards with no official system for keeping track of how many kids are learning at home.
According the National Education Survey (2012), over 91 percent of parents who homeschool their children have concerns about the environment in schools, 77 percent want to provide moral instruction, and 74 percent are dissatisfied with what is offered at their school.
More support and options are available to parents who choose to keep their children home, from cyber academies to co-ops, even state parks, all offering a variety of ways to help parents educate away from a traditional brick-and-mortar school.
Early to Bed, Early to Rise
It is 5:15 a.m. at the Shetler house in Wesley Chapel, East Conemaugh Township, where 10-year-old Emily is already starting on her math work. The sun hasn't risen yet, but both she and her mother, Michelle, are already siting at the table, reviewing her work.
"We found that the later school goes on, the worse our brain gets. I am an early bird for sure," Michelle says with a laugh. Her older daughter, Rebecca, initially started getting up at 6:15 a.m. Michelle thought if both wanted to get up early, then she would accommodate the girls.
"It is just a huge accomplishment to get it done before breakfast. It is the biggest subject of the day and the subject we spend the most time on."
Michelle started homeschooling her daughters so she and her husband, Craig, could pass on their beliefs and values. They wanted to be able to teach their girls that they are not accidents of evolution, but the creations of God.
"Homeschooling gives us time to discuss a lot of important things – life issues, character issues," Michelle says. "Things just come up in conversation that we just kind of go with it. It really does give you a lot of quality time with your children to be able to discuss important things in life."
Michelle tailors the girls' school courses to meet their needs as they grow. What fits 12-year-old Rebecca, might not have been a good fit for Emily, as she found out with certain text books she used over the years.
She attends homeschooling conferences and conventions, but finds what she needs to teach her children mostly by word of  mouth. They work out of Horizons, a Christian curriculum designed for homeschooled educators.
"I know exactly how much they understand," Michelle says. "If we need to spend more on a concept until they understand, then we can go at any rate we choose, and if they grasp it really quickly, we can blow right through it."
The flexibility leaves them time to pursue other things during their day, like playing outside, visiting with their guinea pigs, Monty and Truffles, service projects and attending enrichment programs that count as part of their school day.
"I did a local watershed program at Prince Gallitzin (State Park) recently that we got a map with local rivers that they did for local homeschool kids," Rebecca says. She is referring to programming the state parks have for kids who are taught at home. This particular program taught kids about how water moved through the earth and the importance of keeping it clean.
The flexibility of the school year is allowing for an upcoming five-week trip in the fall across America where the family will visit such sites as Mount Rushmore, Crazy Horse, the Grand Canyon and the balloon festival in New Mexico.
"I think (time together) is one of the most important things. I consider (children to be) gifts from God and I just love the time I can spend with them and I want to pass on things that I consider important."
God Leads Our Way
Lisa Marsh and her husband, Bill, waited a long time to have their daughter, Angelica. Now 8, Lisa is keeping her daughter home with her and is teaching her with the help of a co-op she created with Sue Paone named God Leads Our Way, or GLOW.
The Christian group, which has over 20 children of all ages and 40 parents, started one year ago. Through word of mouth, the group continues to grow, providing enrichment and activities to homeschooled children throughout the local area. The extra classes are age-based and change from semester to semester. They range from embroidery to volcanos to a Lego club, where a kid can choose what they want to participate in. Parents pay an annual membership fee to belong to the co-op, which meets bi-weekly at Oakland United Methodist Church on Bedford Street.  
"It is really important to us for them to give them a choice," Sue says. "I know of some co-ops around us where they don't give kids a choice. And I am really and going to stick with giving kids a choice."
Lisa says most of the kids take gym class. "Because that is one of the things we don't have as homeschoolers. And we try to offer classes for the younger kids and classes for the older kids."
Lisa and Sue say they became involved in GLOW because more people means more resources.  "We are building up a community, but there is an even bigger community with the Internet," Sue says. "You just have to shout out and ask for help."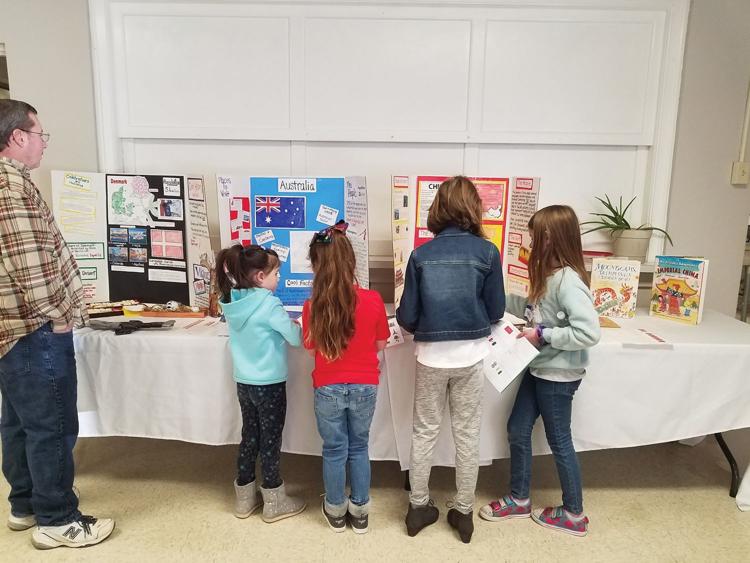 Two websites, the Christian Homeschool Association (CHAP) and Ask Pauline, are favorites both women often refer to their community members for resources, forms and conference information. They suggest anyone who is looking to homeschool refer to the sites before considering.
Sue's son Johnny was at a young age when she was looking at preschools. Her husband, John, works shifts and they were hoping to find a place that matched up to when he wasn't working to spend time together as a family.
"I just wanted two days a week, 9 a.m to noon and I couldn't find that," says Sue. "So my husband was the one who said 'Why don't you just start homeschooling him.' I knew someone else who was already doing it." Once she started the process, she loved it.
Sue says the time at home isn't wasted on menial tasks that can take up time at a traditional school, so it is more efficient with her.
"At school, he may have 40 minutes to do a math lesson, but at home it can take 15 minutes if he is really moving," Sue says. She also says she can devote more time to a particular subject.
"I enjoy the Bible time and he learns that from his parents – it is so integrated it is so prominent. It is not a one-day-a-week kind of thing.
"I don't have just one math book, I have three. I don't just do one reading activity, we do five," Sue says. "I try to get things done earlier in the day, which I think is a good thing. And I don't want to teach him to procrastinate."
Lisa had Angelica later in life. When she finally had her baby, she says she just wanted to do everything together. When Angelica was 18 months old, they started with Beginnings, a program where a parent educator comes to the home to help the parent with age appropriate activities.
"The confidence that I gained from the things that we did when she was little, especially Beginnings, was a key factor in my feeling able to homeschool," Lisa says. "That and once again knowing and believing that God was in this." She felt that it was a calling from God to educate and guide Angelica for her future. Lisa uses Sonlight a Christian curriculum that provides homeschool parents simple lesson plans to teach their child language, math, history and science.
Like most homeschool families, they like the flexibility that teaching at home provides, especially since they run a family business, Marsh Construction. Lisa can set her own schedule around the needs of the business and her family rather than a strict schedule of a traditional school.
"That's part of the beauty of homeschooling. We can do a subject or two, go for swim lessons, then come home and finish our day.
"The world is a crazy place and if I can bring up a child who puts God first in her life and give her a good, well-rounded education, not someone's opinion or agenda, while instilling good values and preparing her for the future, that's my goal."
Not Just Screen Time
Isabella and Angelica Taranto, both ninth graders at Commonwealth Charter Academy (CCA), a cyber school, have been enrolled since fourth grade. Their mother, Dr. Saki Taranto, felt they could go at their own pace and get more attention in specific areas at the school rather than at their previous one.
"Being in cyber school adds more freedom so they can work independently, but they also can attend guided instruction online, where they work with their teachers with their lessons," Saki says. The girls were each given a computer through the school to work on and all of their books and resources are online. This semester, their course load looks like a typical teenager's – game design, digital photography, biology, U.S. history, career planning and algebra.
Saki says she's always dispelling myths about cyber schools – a big one being her kids are just sitting in front of the computer all day.
"You have to do one-on-one with them," she says. "You have to dedicate time with them especially in elementary school. The older they get, the more independent they are."
She also tells people there is an actual location on Main Street downtown Johnstown, where students and parents can use the facility for tutoring, extra enrichment and live instruction. Across the state, there are 11 in total. Saki says there are even school supplies for use for students.
"Students can drop in and get support because we understand they may need more," Maurice Flurie, president and CEO of CCA, says. "There's more to it than just computer learning."  
Maurice says what is different about their cyber school is they have a proprietary system different from the other cyber schools. "Our courses are designed by our teachers. It is just not a curriculum in a box. It has multi-facets," he says. "And it's not just students sitting in front of the teachers. There are large groups, lectures, student participations and one-on-one with teachers."
Maurice says many of his students and teachers say they know each other better than in a traditional school because of this personal interaction. Saki would agree.
"For my kids, sometimes working with them is hard. The teachers are always there, even when they fall behind and they will reach out to see how things are going."
This is helpful, Saki says, because that reinforcement of the teacher helps to keep them on track.
There are other perks of CCA.
"They are a part of Adventure Club, which is part of the charter school's enrichment," Saki explains. "They are going to Pittsburgh to learn how to dive. Some of the field trips open up opportunities which we would have never been able to do."
There are over 600 field trips across the state offered over the course of the year. They also offer a $200 reimbursement per student for community classes, as long as the business has a tax-exception.
"This can be anything from golf lessons to dance lessons that they do within their community that is a supplement to their classes," Maurice says. "We want to let kids dip their toes into something that we may not be able to offer." Saki has enrolled her kids in gymnastics, singing lessons, karate and a Penn Highlands Community College class on animal behavior.  
Saki and her husband, Joe, are the parents of six children – four of whom are at the charter school, one at public school and one in pre-school. They own their own chiropractic business.
"We never have to worry about snow days and having to make them up," Saki says. "We don't have to worry about an extension to the school year. And when they are sick, I don't have to worry about contacting teachers because we already have their work."
They weigh their options every year and have their kids' inputs in where they would like to attend school the next year. So far, it has been working for them.