Jarrod and Amelia Bunk planned to leave Johnstown.
They bought an old 1980s RV and put their house on the market. Some traveling – with plenty of time for Jarrod to practice his photography art – was in their future. And Jarrod had some job possibilities elsewhere in the country.
But then he "started seeing like little sparks of things happen" in his hometown area.
And the Bunks wanted to be part of the change and growth they saw because "it didn't feel right to leave," as Jarrod explained.
So they remained, keeping both the house and RV, too.
Then, a few weeks ago, Jarrod opened his own business, Hope Cyclery, in downtown. His shop sells and repairs bicycles and equipment. But, more so than just being about profits, Jarrod Bunk plans for Hope to be part of the community, refurbishing bikes for children and adults who need transportation, organizing food drives, and helping design and maintain trails.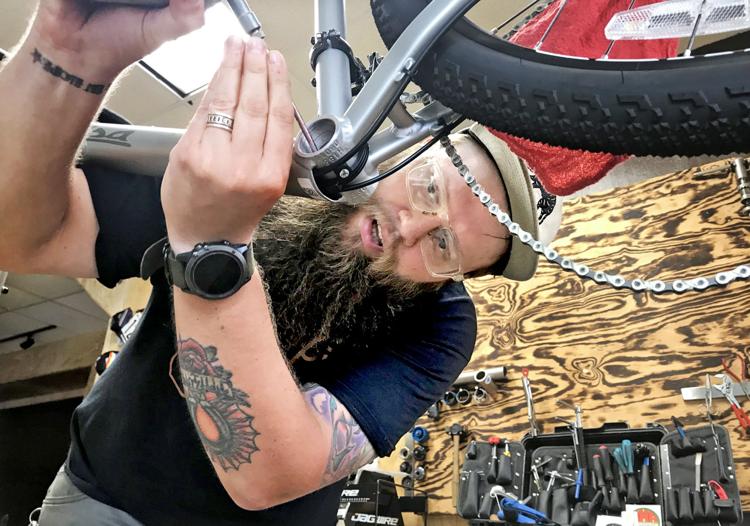 "There really was never a conversation that I wanted to be a part of that didn't involve creating this type of space – a community-based space, a community bike shop – in anywhere other than downtown Johnstown," Bunk says. "We're bringing the bicycle back to the city. There hasn't been a bike shop here since 1976. And there really needed to be. At least, if for no other reason, to help the residents in downtown Johnstown that use their bikes daily as transportation that can't afford another way."
Hope Cyclery is one of several new businesses to open throughout the central district in recent years, including Stone Bridge Brewing, Press Bistro, Escape Rooms Johnstown, Balance Restaurant, Gallery on Gazebo, Flood City Café, Slingshot City Rentals, Lambcakes, Flood City Flooring, CrossFit Excursion, Johnstown Paper Company, Main Street Hobby and Carrie's Kitchen. Meanwhile, the state recently selected two Main Street locations to be the home of medical marijuana dispensaries – Franklin BioScience and Harvest Inc.
"We'll flat-out say, in the past five years, it's amazing to see the growth that's happened in the city,"says David Wilhelm, an original owner of Flood City Café and current co-owner of Escape Rooms Johnstown, with his business partner Dan Shaffer. "The positive that's coming out of the city is awesome. It's great that we get to be part of it."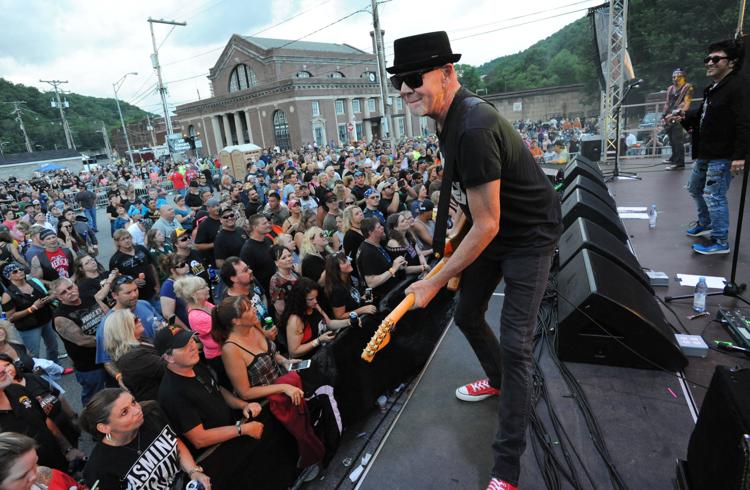 Those new businesses, which were started by many first-time owners, have become part of a community that already included well-known downtown establishments, such as the century-old Coney Island Lunch, George's Song Shop – billed as America's oldest record store, The Fish Boat, Harrigan's Café & Wine Deck and Scott's By Dam, along with historic attractions, including 1st Summit Arena @ Cambria County War Memorial that was named the inaugural Kraft Hockeyville USA venue in 2015, Sargent's Stadium at the Point, the train station designed by renowned architect Kenneth Murchison, Central Park, the Stone Bridge, and Inclined Plane.
"I think the right people finally saw the opportunity popping it's head up," says Jeremy Shearer, owner of Press Bistro and Stone Bridge Brewing. "The right people are entrepreneurs that are equal parts brave and stupid to jump in downtown here. It's working out."
José Otero, a Ben Franklin Technology Partners of Central and Northern PA industry relations coordinator, says those "Small businesses are helping create that narrative of change overall with the economic impact, but also the lifestyle choices that we're having here as well."
"Change the image'  
Johnstown has a Rust Belt reputation. A once thriving town of more than 60,000 residents – built on the steel, coal and railroad industries – has been replaced by poverty, blight, an opioid epidemic, population loss, boarded-up windows and aging infrastructure.
But many business, political and nonprofit leaders are working to transform the city and surrounding areas into an Appalachian community with a "mountain town" identity.
"One of the things that we're trying to do is really change the image of Johnstown," says Brad Clemenson, coordinator of Lift Johnstown, a nonprofit organization that works to improve the region's quality of life. "We have so much beautiful land and outdoor recreation opportunities all surrounding us. I'm among the people who are convinced that we can re-brand Johnstown as a mountain town and really promote the outdoor recreation opportunities that we have as a central part of our identity here."
Numerous trails – the Jim Mayer Riverswalk Trail, the Stackhouse Park paths, the September 11th National Memorial Trail and more – wind their way through Cambria, Somerset, Bedford and Westmoreland counties.
There are 128 sections of stocked streams, 102 Class A sections, 2,000 miles of natural reproduction streams and 16 stocked lakes for trout fishing within a 45-mile radius of Johnstown.
Every spring, the Benscreek Canoe and Kayak Club hosts the Stonycreek Rendezvous, an outing for kayakers and canoeists on a river that, a quarter-century ago, was rust orange and foul-smelling from acid mine drainage before the Stonycreek-Conemaugh River Improvement Project, Conemaugh Valley Conservancy, Somerset Conservation District and other organizations and individuals worked to remediate the waterway.
Those groups are working to change the perception of the three local rivers from being waterways that brought death and destruction during the historic 1889 Flood that killed 2,209 people, along with floods in 1936 and 1977, to integral elements of the "mountain town" identity.
Folks now float down the Stonycreek – the 2012 Pennsylvania Department of Conservation and Natural Resources' River of the Year – all summer long on bright orange tubes from Coal Tubin'
Meanwhile, the Conemaugh Valley Conservancy is working to develop a park – with a dock, trailhead, and zip line station – at the base of the Inclined Plane.
Clemenson, a conservancy board member, says developing the natural assets is part of an "evolutionary process here where Johnstown has been going through difficult times for quite some time. That's not going to change overnight, but we can put in place some of these assets that begin to nudge our community in the right direction. And as we nudge it here, and nudge it there, and nudge it some other places, it gets to a point where all of a sudden people wake up one day and they realize there has been some real change here and we are going in the right direction."
'Sense of collaboration'
Along with bringing enjoyment, outdoor recreation can also provide basic exercise for residents of the city and region where poor health is a problem.
Cambria County ranked 65th out of 67 Pennsylvania counties for health outcomes in a recent report by the Robert Wood Johnson Foundation and the University of Wisconsin Population Health Institute, which examined a wide range of subjects, including obesity, smoking, unemployment, access to healthy foods, high school graduation rates, quality of air and water, income inequality and teen births.
Conemaugh Health System, along with grant agencies the United Way of the Laurel Highlands, Lee Initiatives Health and Wellness Endowment, Community Foundation for the Alleghenies and the 1889 Foundation, are all working to help improve the overall physical, mental, emotional and cultural well-being of the community.
"I think there really is this sense of collaboration and partnership more so in our community than I can ever remember," Jeannine McMillan, Conemaugh Health System's manager of strategic planning, says. "I think that's really exciting to see that. I think from our standpoint here at the hospital, we know that we may be the largest health care provider, but we can't deliver services without collaborating with the other folks that are working – the not-for-profits and the community grassroots organizations that are delivering care to patients and the other aspects. We can't do it without them. They can't do it without us."
Conemaugh Health System, the area's largest employer, leads the effort on developing local health care strategies.
"We have a breadth of services and specialties that I think everybody is really proud to have in a community our size," Emily Korns, the system's director of marketing and communications, says. "Whenever we can partner with other organizations to try to improve community health I think that's a win-win for everybody."
'Culture and recreation'
Beyond just improving physical well being, an effort is underway to bolster the quality-of-life aspect of Johnstown and surrounding regions in order to help keep residents, especially young adults, and bring new individuals into the region.
Part of the vision is to build upon the region's mainstays, such as the All American Amateur Baseball Association National Tournament, Greater Johnstown / Cambria County Convention & Visitors Bureau's annual Thunder in the Valley motorcycle rally, PolkaFest, Showcase for Commerce, and Flood City Music Festival at Peoples Natural Gas Park, by adding newer events including Johnstown Slavic Festival at the Frank & Sylvia Pasquerilla Heritage Discovery Center, Brews & Blues in the Valley, and Sandyvale Wine Festival.
Then there is the effort to re-purpose properties, as a way to move into the future, while still maintaining the feel of a city that has a "sense of place," as Johnstown Area Heritage Association President Richard Burkert often describes the town.
"People like cities with character – authentic character – and they like cities where there are certain types of culture and recreation," Burkert says.
Some of the most prominent examples are the former Cambria Iron machine shop, located on Iron Street, being converted into a medical marijuana growing facility, called Hanging Gardens, and the Roman Catholic churches in the Cambria City neighborhood being converted after the buildings were closed and the parishes merged into Resurrection Catholic Church in 2009. Ss. Casimir and Emerich is being converted into a cultural center and restaurant. Immaculate Conception is now The Grand Halle. Plans are being developed to turn St. Columba into a theater. St. Stephen became the new home of the combined Resurrection parish, which uses St. Rochus as a auxiliary building.
"It's never going to look exactly the same," Cambria Regional Chamber President and CEO Amy Bradley says. "But if you can approach it from a different angle and say, 'Wow, this is so cool. It's not exactly the same.' Then all of a sudden we have a new look and feel to things. It can be equally successful. It just doesn't necessarily have to look like it did in the past."
Another example of combining the past and present is being done at the former Bethlehem Steel blacksmith shop, a structure built in the 1860s that the Johnstown Area Heritage Association worked years to preserve, while it remained vacant since the mills closed in the early 1990s.
But then, in early 2018, Patrick Quinn and Dan Neville opened the Center for Metal Arts in the pattern shop, with the ultimate goal of getting the blacksmith shop's industrial hammers – most notably a 10-ton hammer, owned by the Smithsonian Institution and leased to the Johnstown Redevelopment Authority – back running as part of their forging operation. Since the opening, hundreds of students – beginners to experts – have taken classes at the school.
Neville and Quinn have also become part of the local arts community, which includes Bottle Works, Southern Alleghenies Museum of Art, Community Arts Center of Cambria County and other entities, during the short time.
"Honestly, what made me choose Johnstown was that blacksmith shop and those power hammers," Quinn said. "What I didn't realize and what took me by surprise was how quickly and how much I was going to fall in love with the city and its history once I got here. All around, really good decision because for me it's kinda like the whole package in having those facilities but also just totally becoming entrenched in the historical value of the place."
Quinn feels their art can provide an important touch to a re-vitalized Johnstown.
"What makes a person want to go downtown after they punch out of their 9-to-5 job? That's culture, and art, and things to do," Quinn says. "And art is everything from music, to movies, to performances or stuff you build in Central Park on the holidays. So art's a really broad term."
'Ways to make it better'  
One of the main catalysts for creating a new Johnstown image started with the Discover Downtown Johnstown Partnership.
A few years ago, members started envisioning what Christmas – in modern times – could look like in the city.
They ultimately came up with the idea of installing an 36-foot-tall animated Christmas tree – with more than 70,000 lights – that plays carols. It has attracted thousands of people to Central Park and become a quintessential part of the Christmas experience in Johnstown.
"One of the things that we talked about at Discover Downtown, back in 2014 when we started imagining the Christmas tree, was that people often talked about what Johnstown used to look like, what Johnstown used to look like at Christmastime, what it used to be like," Melissa Radovanic, the partnership's president, says. "They kept looking backwards and having this 'used-to' attitude. When we decided to implement that project, we said we want people to talk about what Johnstown looks like now, what Christmas looks like now. That's not taking away from anything historical or any of the past because the past is wonderful and it's what we learn from. But we wanted them to talk about what's going on now. I think that mentality has kinda spread like wildfire when you talk about what's going on now."
Johnstown's Christmas tree is one of many projects done by the partnership, including Downtown Beautification Day and Movies in the Park.
In April, the partnership, working with First Commonwealth Bank, Cambria County, and Johnstown Redevelopment Authority, held a nine-movie pilot program, showing films in the State Theater, a venue located inside the former Lee Hospital on Main Street, a property currently owned by Conemaugh Health System.
The pilot provided an opportunity for residents and visitors to enjoy the ornate theater, built in 1926, that had not been used to show movies for almost a half-century, while also hopefully generating interest among organizations and individuals that might want to operate it on a full-time basis.
All of DDJP's projects, including the State Theater pilot program, are done by volunteers.
"Volunteer, grassroots efforts are really what's going to lead the charge to make a better Johnstown," Radovanic says.
She adds: "I think one of the things we've seen over the past couple of years is that the people are starting to realize more strongly that it is theirs and it is up to them as volunteers – up to us as volunteers – to continue to find ways to make it better."
'Just love our town'
Countless nonprofits, businesses and individuals are involved in local volunteer efforts.
"I think it's a sense of pride," says Donna Christopher, a Rotary Club of Johnstown member and owner of a State Farm insurance agency in downtown. "I think we just love our town."
That kind of cooperation – not only in volunteer efforts, but also business – did not always exist in the past, as parochial attitudes often split groups.
"If I had to pick one key area that has been so much more effective over the last five years, it's just collaboration efforts where we reach out to the proper people that are professionals in their realms to streamline the process," JRA Executive Director Melissa Komar says.
The efforts have led to some out-of-the-box ideas.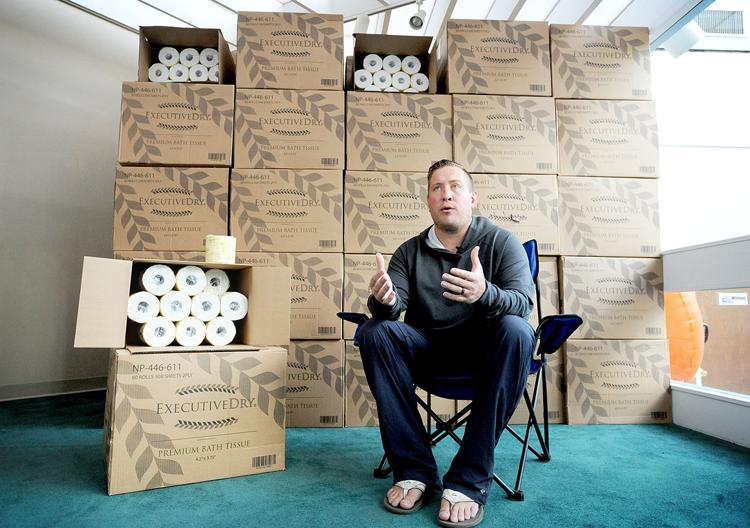 Johnstown Paper Company, founded in 2018, uses 100 percent of its profits from toilet paper sales to fund blight elimination.
"Johnstown has declined my entire life," Chad Gontkovic, the company's CEO, says. "I haven't seen it in any other state than going down, which is fine if there's a plan to come out of it. And most of those plans haven't panned out. If this is what I'm dedicating my life to and I'm putting my money and resources behind it, we need to have a holistic approach to how this is going to happen."
Much of the work has been done under the umbrella of Vision 2025, a grassroots effort, supported by Johnstown Area Regional Industries and other organizations, that was initiated in 2015 with the goal of creating a new Johnstown within 10 years.
Vision 2025 uses volunteer capture teams that work to develop the local economy, life-sustaining landscapes, and a sense of community.
"I think the strengths are with the people really," Vision 2025 coordinator Wally Burlack says. "It's just an inordinate commitment to want things to be better and to try and figure out how to work to help them move in that particular direction. I'm constantly amazed at just the personal commitment of so many folks to want to move the needle and make things work."