Georgianne Matava says she became interested in football when her former husband coached a high school team. "I just loved, not only being a coach's wife, but the whole atmosphere," she says. "The excitement is infectious. I used to say Friday night lights were better than Christmas day."
These days, Matava is owner of Flood City Thunder, a Johnstown team that will compete as part of Greater Eastern Football Association's 17-team league.
The season opener is set for Aug. 1 when Flood City Thunder will host Moshannon Valley Vikings. In addition to the Vikings, the Thunder will play home games against the Mifflin County Tomahawks (Sept. 5) and Montour Maniacs (Sept. 19). Road games are scheduled against the Jefferson County Jaguars (Aug. 15), Upper Dauphin Comanche (Aug. 22) and Williamsport Wildcats (Sept. 12).
The GEFA league plays eight-man football.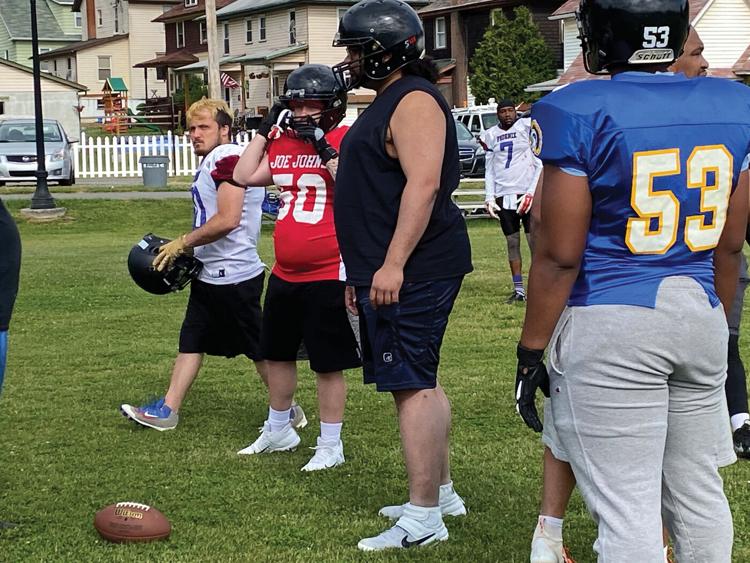 "We are thrilled to have an expansion team in Johnstown," Thor Marlow, expansion director for GEFA, says. "I have been working with the Thunder during the offseason and can see that they are both thrilled to be able to put a team in the league and be able to represent Johnstown.
"I feel Flood City has had a strong sports history and (believe) the support will be there to see them grow. Ironically it is my team that they face in their first game ever as a team Aug. 1. So, I am thrilled to get to be part of the first game to also be played in Johnstown."
If having an enthusiastic owner is what it takes to have a successful team, Flood City Thunder has a great future. "I am just so passionate about this team and our mission that I want to scream it to the world," Matava says.
"I would say that 60 percent of my guys are either in recovery or were heading down a wrong path. This team has saved my guys in more ways than one. And I have battled medical issues for the past 10 years and this team and building this team is my therapy."
Matava says one incident made her know she was doing the right thing.
"I'll never forget this moment. I happened be standing in the end zone and one of the guys caught a wonderful pass and landed on the turf. He got up and looked at me with tears in his eyes and said 'I never had a family before and now I do. So thank you.'
"I said 'thank you' and turned away and lost it. I think I cried happy tears for days. It was such a wonderful moment. I will never forget it.
Matava says the team gives the players something to look forward to. "(They get) to practice the game they love twice a week, be part of all the excitement and hoopla of a football game and, most importantly, be part of a brotherhood."
Matava says she hopes the team will give Johnstown kids something to be excited about. "Johnstown kids need things to do. I want us to mentor young, school-aged kids. I want my guys to get out into the community and work with these kids.
"I tell these guys 'Represent your town. Represent your team. But, most importantly, represent yourselves.'"
Trey Andrews, captain, says it is an  honor to be a part of the. "It feels good to play for your entire city," he says. "The last time I represented the city of Johns-town is back in 2014 when I played for the Johnstown Trojans.
"Anytime that I can represent my city for the greater good and showcase the great things we have going for this town, I'm all for it.
"The more we build this team up and win games and make our name more relevant to the surrounding areas, we are going to be overloaded with talent and will be able to stack up to some of the top teams in the surrounding areas."
Matava says she doesn't have any financial backers, but is hoping some sponsors come on board.
She says games will be held at 1 p.m. Saturdays at Point Stadium. Admission will be $3, with $1 off with a donation of a canned good for Women's Help Center.