Karen Sandusky Mosholder says it was a New Year's pledge that started her on the honey path.
"Every year, I make a resolution to try something new," she says.
One year, she decided to learn about beekeeping. She took a class and was quickly hooked.
These days, Karen is queen beekeeper and owner of BumbleBerry Farms in Somerset County.
It's a delightful place where thousands of bees collect the sweet nectar Karen turns into products so outstanding they are carried by major chain stores like Whole Foods, Williams-Sonoma, The Republic of Tea, TJMaxx and others.
Karen promoted her products on QVC and, recently, the farm was highlighted on Good Morning America. "We were featured as one of the small businesses that they were trying to draw attention to in this time of COVID-19," Karen says. "(From that exposure) we got 12,000 orders – new direct customers that we are now working with on an ongoing basis."
The new customers are most welcome, considering BumbleBerry Farms took a huge hit as a result of the pandemic. "We lost 95 percent of our business, which, at that time, was primarily wholesale" Karen says. "As a result, we only needed about half of the total space we were occupying, and I had to downsize our staff of nine to just my husband (Jeff Mosholder), who is retired, and me.
"The first quarter of 2020 was my best quarter ever and I was set to have a record year."
But the queen bee is not easily discouraged.
"Rather than focus on what we lost, let's look at what we're gaining," she says. "We're spending more time with our families, we're cooking at home, and everyone is looking for wholesome goods, direct from the maker to stock their pantries – all of which really works in our favor."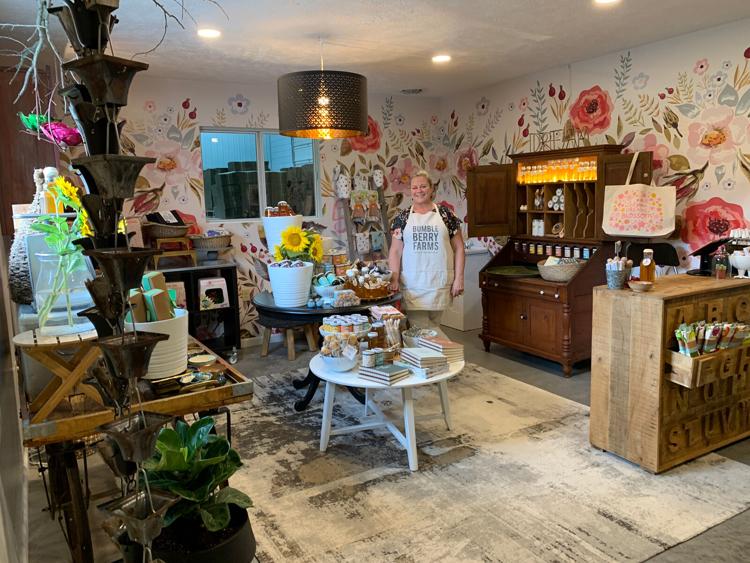 Karen is adapting to the changes. "Entrepreneurs are nimble on their feet and we can pivot very quickly," she says. She rented the unused half of the building to a tenant whose business sells handcrafted shoes and boots and she's happy to share the space with another local maker.
She also hired a public relation agency and social media straegist to spread the word about BumbleBerry Farms directly to the consumer. She hosts Zoom cooking events with social media influencers using honey in the recipes.
In August, Karen's gift shop opened in the front of the manufacturing facility. Shoppers are invited to browse her products as well as those handcrafted by other small makers from the area and around the country.
"Everything I have in my shop is from a maker that I know personally. I'm focusing on goods that are well-made, small-batch and perhaps highlight some of the simpler pleasures in life – things we may have taken for granted as our lives got busier."
Karen says small business owners need supported, but are a mighty force when combined.
"A honeybee collects enough nectar to make 1/12 of a teaspoon of honey in her lifetime. So it's the collective good that makes the difference.
"My story is really about more than me. When you are buying from BumbleBerry Farms, you're supporting, not just me, you are supporting the label maker, the jar maker, the farmer that milks the cow that becomes part of my honey spreads."
The spreads are Karen's signature item and come in five flavors- Cinnamon Stick Honey Cream, Sweet Maple Honey Cream, Dark Chocolate Honey Cream, Sea Salt Caramel Honey Cream and Pumpkin Spice Honey Cream.
"The first place to carry my products was Omni Bedford Springs Resort," she says. "They wanted me to come up with a spread that could be used in the dining room for breakfast.
"That's how the spreads came to be."
Karen certainly hopes BumbleBerry Farms will soon be flourishing again. In the meantime, she strives to find the good in the pandemic and enjoys working with her husband.
"Jeff and I were high school sweethearts and we've been married for three decades now," she says. "His support is steadfast."
To learn more about BumbleBerry Farms, go to the website at www.bumbleberryfarms.com.
The site is full of delicious recipes – all using honey products.