Cleo and Carol Carr's relationship began in the late 1970s, when they were co-workers at The Encore Restaurant, located in the former Richland Mall.
Cleo was a prep cook and Carol a waitress.
They became workplace friends and, once they got to know each other, Cleo started driving Carol to and from work.
When the couple became an item, they had a few cheerleaders in their corner.
"Our co-workers and our boss were great about our relationship," Carol says.
On Jan. 20, 1982, the couple tied the knot before a justice of the peace.
That was nearly 15 years after the U.S. Supreme Court ruled – on June 12, 1967 – that laws banning interracial marriages were unconstitutional. The decision was made after Mildred and Richard Loving were criminally charged in Virginia for violating the state's statute banning interracial marriages and were told to leave Virginia for 25 years or face jail time.
Their crime? "Cohabiting as man and wife, against the peace and dignity of the Commonwealth," their charges read.
The Supreme Count decision allowed the couple – and others like them – to be legally recognized as husband and wife.
In celebration of National Loving Day, held each June 12, four local interracial couples share their stories.
Cleo and Carol Carr
Carol Carr was raised in the Dale Borough section of Johnstown. "Race was not mentioned in my parents' house," she says. "My parents never said anything derogatory about any race."
She remembers attending classes with black children at Dale Elementary School. "But we didn't see each other outside of school," she says.
Cleo Carr, an Altoona native, grew-up in a mixed raced family.
"I was raised by my grandparents," he says. "My grandmother was black and my grandfather was Italian. Today, in my home office, I have a framed certificate of citizenship, when Santos (his grandfather) immigrated to the United States in 1945."
Somewhere between friendship and dating, Cleo learned Carol was a divorced mother with a daughter named Christy who had cerebral palsy.
Carol discovered Cleo had been engaged to a white woman for a year, but the relationship ended.
Carol recalls their first date. "Cleo brought me a dozen roses and we saw the movie American Hot Wax."
The Carrs say an event that occurred June 15, 1980, in Johnstown, rocked them.
And interracial couple – Arthur Dale Smothers, 22, and his girlfriend, Kathleen Mikula, 16 – were shot and killed as they crossed the Washington Street Bridge.
Eventually, Joseph Paul Franklin, confessed to murdering the couple on a cross-country killing spree targeting minorities. He was executed in Missouri in 2013.
"My friend called me about the shooting," Carol recalls. "I felt terrible."
Cleo was haunted by one particular detail.
"The traffic light, at the Roosevelt intersection, I encountered many times," he says. "Seeing that hillside (where Franklin hid) still gives me chills today."
Married life for the Carrs began in a small apartment in Hornerstown.
He was 32; she was 37.
Carol's daughter got along with her new stepfather and soon the family welcomed baby Beth.
There were some cultural difference – like the issue of macaroni and cheese.  
"Carol's mac and cheese was too soupy. She put too much milk in," Cleo says. He was used to the dish being more solid so she made adjustments and added less milk. 
Carol worked in home health care and Cleo worked at the Pepsi Bottling Company in Johnstown where, he says, he was the first black employee.
"I didn't think about being the only African-American," he says, quoting a line from the 1967 movie, Guess Who's Coming to Dinner, starring the late actor Sidney Poitier. "You see me as a black man, I see myself as just a man."
The couple say they often saw disapproving eyes and felt people's judgment. "Cleo and I decided early on, if people didn't accept us, that was their problem," Carol says.
Despite their positive attitude, they say they were not affectionate in public.
"My brother said to me, 'You're already on display; don't make it a show,'" Cleo recalls.
Cleo is now a minister in the United Methodist church. 
Married 39 years, the Carrs were asked what benefits interracial couples enjoy now that they would have like to have had.
"Cleo being able to put his arm around my shoulder," Carol says.
"The freedom to live where we wanted to," Cleo adds. "I would have liked to take up residence in a rural part of Pennsylvania."
Anthony and Laurel Davis
Anthony and Lauren Davis easily admit they were attracted to each other's faces.
Meeting through Lauren's best friend, Anthony says he loved Lauren's "natural beauty, free of make-up."
Lauren thought Anthony had star appeal. "His skin complexion and facial features reminded me of Jesse Williams," she says.
Williams plays Jackson Avery on the ABC drama Grey's Anatomy. Like Williams, Anthony has a white mother and a black father.
Married for three years, the Richland Township pair say they are not "a visually apparent interracial couple."
Lauren, a respiratory therapist, says some people are unsure of Anthony's race and assume he is white.
Sometimes they get questions.
"Biracial and African-American people recognize he is biracial," Lauren says. "Then there are those who ask if he is Hispanic."
Anthony, who is in law enforcement and serves in the military, says some people determine his ethnicity based on his clothing. "In business wear, I come across as Italian. In jeans and a T-shirt, I come across as Hispanic."
Regardless of the racial assumptions, this interracial couple also have a significant age difference. Anthony is 42. Lauren is 27.
"I am proud of who we are," Lauren says. "Despite being 15 years apart and coming from different backgrounds, we work."
When asked what they have in common, Anthony says: "Buttery popcorn and Em's sugar cookies."
Lauren has a more serious answer. "Our future plans – a bigger house and children."
The couple say that it may be more likely for them to be exposed to racial remarks and statements than for visually apparent interracial couples.
"People speak more freely when they are unaware of my background, which leads to tension in the workplace and awkward encounters," Anthony says.
Lauren recalls a co-worker who acted appalled when she mentioned Anthony was biracial. "Oh well, at least he doesn't look black," the co-worker remarked on seeing his photo.
"I have been in situations where whites say the "N" word," Lauren says. "I use those moments and bring up Anthony's race. The looks on their faces amuse me."
Anthony believes Johnstown is more tolerant now than when he grew up. "There's no need to hide," he says.
He recalls the challenges he faced as a mixed-race teenager who just wanted to go out on a date. "White girls had to keep it a secret from friends and family that I was bi-racial," Anthony says.
He believes parents today are more open to their children's dating choices.
"Today, parents are more concerned about their children being respected and loved," he says.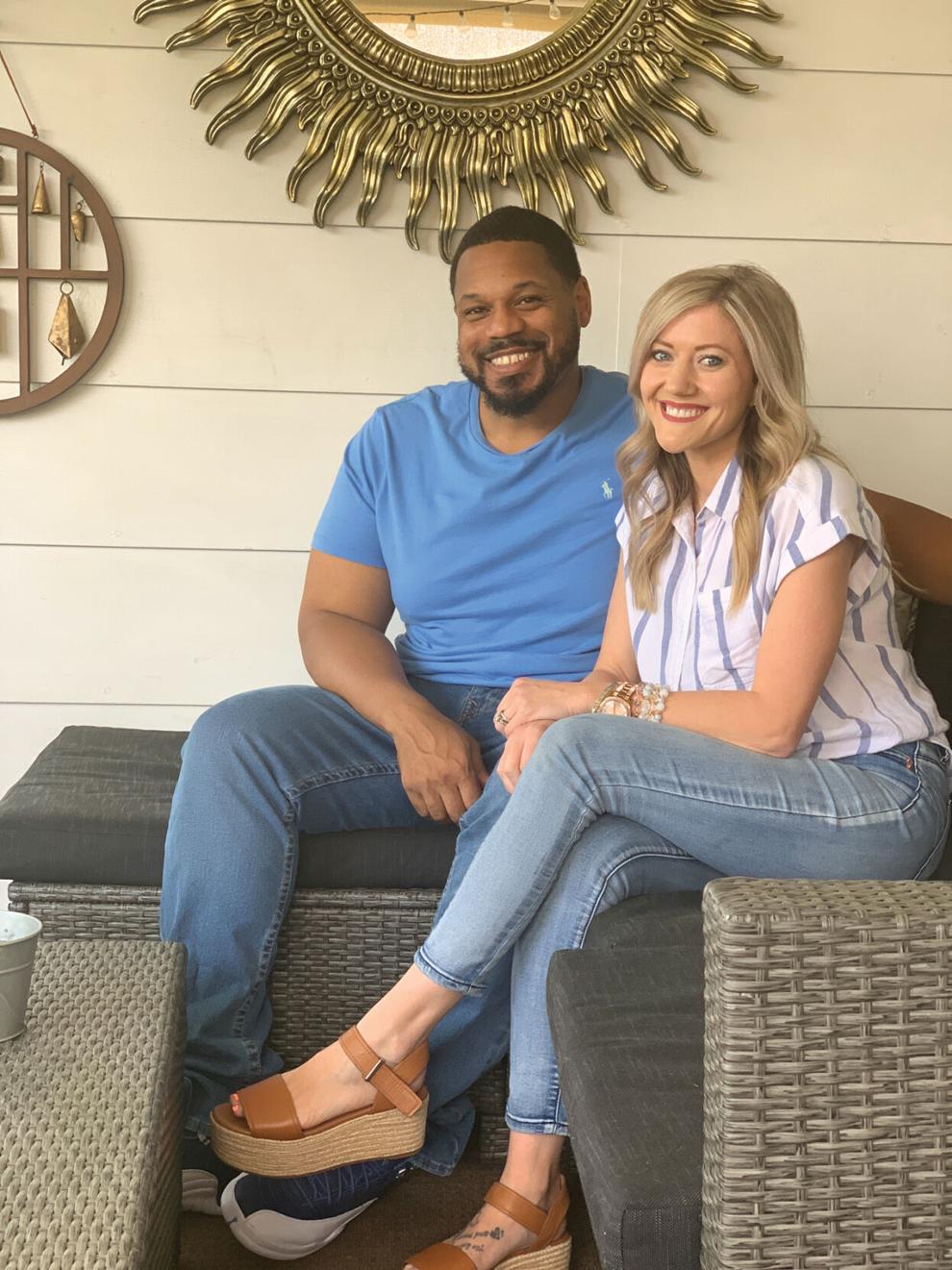 Joe and Melissa Hall
Romantics are probably smitten when they hear Joe Hall call his wife, Melissa, "my person."
But the first chapter in their love story didn't exactly begin instantly. Rather, it was "me pursing her for two years," Joe recalls.
"We met at the gym," Melissa says. "Joe was a manager at Snap Fitness."
Eventually, Melissa agree to attend the movie Django Unchained with Joe, but even that didn't happen as planned.
"As it drew closer to our date, I called and reminded her, only for Melissa to tell me, 'I saw the movie with my friends,' " Joe says.
Despite the rough start, Joe says he believed in their chemistry and didn't want to just be friends.
"I refused to be 'friend-zoned.' Once a woman puts you there—that's it," Joe says.
So, he made a calculated decision – one he hoped would draw Melissa closer to him. He told Melissa he would not pursue her, leaving her free to walk away from the budding relationship.
"His words brought clarity to the situation," Melissa admits.
The couple, both Johnstown natives, have been married seven years and have three children.
When it comes to embracing cultural differences, there is a fun side and informative side, to the Halls' method.
"On Halloween a few years ago, Melissa and I decided to dress up like a popular talk-show pair Kelly Ripa and Michael Strahan. And yes, I displayed the gap in Strahan's front teeth," Joe says with a chuckle.
Joe is a truck driver for Von's United Beverage.
He also is very involved with Speed Demons, a traveling co-ed flag football organization he created with some friends. Joe says it is a great way for different races to find common ground.
"A black kid from Johnstown discovers he has something in common with the white kid from Patton," he says.
Melissa is a fifth-grade reading, social studies and science teacher at Greater Johnstown Middle School. She does not hide the fact that she is part of a mixed-race family.
"In my class, there are photos of Joe and the kids," she says. "I have their pictures on my projector."
A avid lover of reading, she enjoys introducing her students to books on culture. "One book I have read to my students is The Promise of Change: One Girl's Story in the Fight for School Equality by Jo Ann Allen Boyce," she says. "The book does a good job of speaking about school desegregation."
The Hall kids – Houston, 6; Hendrix, 4; and Halle, 1 – are told by their parents how culturally beautiful they are. "They are mixed and perfectly matched," Melissa says.
Melissa created Luxe by Halle Grace, an online shop at www.luxebyhallegrace.com. She says she started the shop when "I couldn't find matching mother-daughter clothes."
Under the "mommy and me" tab are identical shirts that say, "Beauty Comes In Every Color" and the bible verse: Galatians 3:28.
"I wanted Halle to know everything about her is perfect – her hair and her skin," Melissa says.
Like her students, Melissa has favorite books for her children, such as I Am Whole: Multi-Racial Children's Book Celebrating Diversity, Language, Race, and Culture, by Shola Oz, a great rhyming book for children ages 3 to 7-years-old.
Hair Love by Matthew Cherry reminds her of Joe and Halle. "It talks about a father who does his daughter's hair," Melissa says. "This book emphasizes little girls loving their natural hair."
The couple say they have not experienced racial disharmony from people in Johnstown.
"People have been respectful," Joe says. "I am glad I live in a time where my marriage can thrive and is accepted."
Melissa credits "the diversity of the area. Also seeing more biracial couples and their children."
When encountering other biracial couples, Joe says he gives a "Jeep wave."
"People who buy a Jeep, always seem to wave at (other Jeep) people as they ride by. I notice biracial couples do the same," he says. "If they notice each other, especially in WalMart, the couples give a 'Jeep wave.' "
The Halls said their family is accepting of others, but they worry about their children being accepted. Melissa admitted to being surprised when their oldest son, Houston, was able to distinguish race.
"Houston was playing with his black WWE action figure and said, 'This is Daddy,'" she says.
Houston's realization was due to the death of George Floyd, a Black man who died in police custody last summer in Minneapolis. A police officer has been convicted of murder in Floyd's death.
Joe says, the reality of raising biracial children – especially a son – is "explaining to him about how to interact with the police and all authority figures."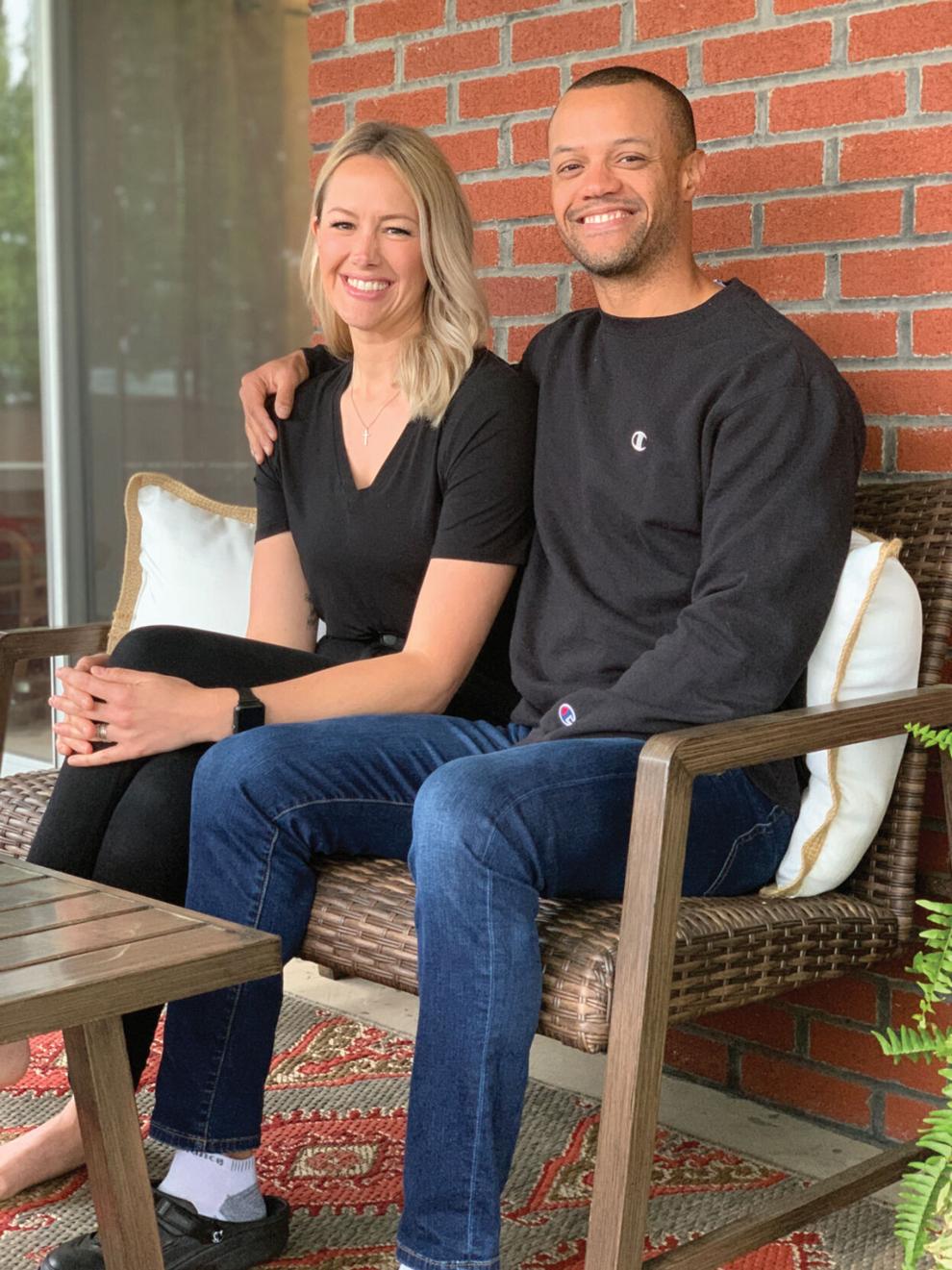 Mitch and Allison Wilson
Mitch and Allison Wilson met while worked together at a juvenile correctional facility.
Mitch commends his counselor-wife. "She made good judgment calls," he says. "That helped her excel among her peers."
Allison praises Mitch, her supervisor at the time, for "developing people as leaders, by pushing them out of their comfort zones."
Once the pair started dating, Allison left her counseling job.
The couple, married for seven years, say their commonality began with their small community upbringing.
Mitch is from Hanover, York County, an area 10 minutes from the Maryland border that he credits for having a good school system. Allison is a Johnstown native who says she appreciates being raised in a place where people share familiarity.
The couple agree that faith took their relationship to the next level.
"Mitch growing in God with me was a quality he had over my previous boyfriends," Allison says. "He wasn't just a boyfriend, but someone I wanted to grow old with."
Allison noticed Mitch was in good shape. "His athletic look and buff arms caught my eye."
Shy Mitch loved Allison for her spirituality – as well as her "nice legs."
Allison became a stay-at-home mother when daughter Lia arrived.
After becoming pregnant with their second child, Allison wanted to move back to Johns-town. "It was always in my heart to bring my family back there," she says.
In 2016, the Wilsons relocated to Johnstown. She was six-months pregnant with son Aaron, and Lia was 3.
Prior to the move, they had conversations about being an interracial family. "Having children is when diversity really mattered to me," Mitch says. "I didn't want my children to face the racial battles I did."
Mitch says when he was growing up in Hanover, York County, African-Americans made up just 1% of the population there.
Though Mitch still has close friends from elementary school, he recalls painful experiences when he was 10. "The kids used racial slurs," he says. "What those kids said made me realize there was something different about me."
Mitch and Allison talked about school districts and what neighborhood to settle in, eventually deciding to reside in Richland Township.
Allison says she had peace of mind knowing that "my family loves (Mitch) and cares for him."
As a regional director of restaurant supply and equipment, Mitch says,  Johnstown didn't feel like home until, "my kids came running to the door to greet me.
"Then I consider the friends we made, along with finding a good church home."
On May 25, 2020, the Wilsons and the rest of the world learned of Floyd's murder and watched as anger over his death lead to protests and violence.
For Allison, it was the first time she realized what it was like to be married to a man of color. 
She admits to worrying about her husband being treated differently, especially when he jogs through the township. "I imagined someone looking out their window, seeing Mitch running down the street (and thinking) 'What's he running from?'"
Mitch says the civil unrest caused some to be more open to hearing his perspective. 
He says he was able to share his knowledge of Jim Crow and the Civil Rights Movement and give examples of overt racism. He also gave his insights concerning police relations with the black community.
Mitch encourages people "to seek understanding. But avoid judgments that cause you to jump on one side or the other."