As the sun shines overhead and flowers bloom underfoot, it's refreshing to see so many people out and about in Johnstown, enjoying spring's warm temperatures.
If you're looking for an opportunity to get out of the house, meet new people and learn something new, this is the ideal time to consider joining an outdoor club.
Many clubs that have been established in and around Johnstown cater to a number of specific outdoor interests. The Mountain Laurel Chapter of Trout Unlimited, for example, consists of dedicated volunteers who are interested in cold water preservation and enhancement. Penn State Master Gardeners of Cambria County are always looking for new members to join them in learning research-based and sustainable horticultural practices they can share with the public. Even college students get in on the fun; outdoor clubs on the University of Pittsburgh at Johnstown campus include lacrosse, rugby, tennis, fly fishing and ultimate frisbee, just to name a few.
If you want to have fun on wheels, check out Laurel Highlands On and Off Road Bicycling Association (LHORBA); on foot, Johnstown Running Club (JRC); on water, Benscreek Canoe Club (BCC). Representatives from these three clubs give us some insight into why these clubs were established, what purposes they serve and how you can join them.
Laurel Highlands On and Off Road Bicycling Association (LHORBA)
The Laurel Highlands On and Off Road Bicycling Association (LHORBA) was established in 1999 to promote the sport of bicycling—mountain biking, road biking, rail trail biking and off-road biking.
Mountain biking involves biking on unpaved terrain that ranges from smooth-flowing paths to more challenging areas with rocks and logs. Revered local mountain biking trails that can be found in and around the area include Highland Park in Richland Township, Laurel Mountain State Park in Boswell and Quemahoning Reservoir in Somerset County. In recent years, a mountain bike trail for experts has opened at Johnstown's famous Inclined Plane.
Road biking involves taking your bicycle out on the streets alongside cars and other vehicles and you must obey the same rules and laws as other motorists. Off-road biking, or gravel biking, is described as a combination of rail trail riding and mountain biking. This type of biking allows cyclists to take their wheels on old logging roads and dirt roads.
Rail trail biking involves riders enjoying one or more of the 180-plus converted railroad beds throughout the state, known collectively as "Rails to Trails." These trails are relatively flat and smooth, which allows for leisurely rides that are perfect for beginners and families.  
LHORBA was established, first and foremost, as a mountain biking club, but club president Paul Godish says the club branched out in recent years to include road cycling and rail trail riding. The latter, especially, continues to grow in popularity.
"Our club has grown dramatically over the last five years," Godish says.
The club consists of more than 300 members.
"Joining LHORBA gives you a chance to meet people who are interested in the sport and to see all that the area has to offer," Godish says. "I'd venture to say that Western Pennsylvania has some of the best riding in the eastern United States. It's that good."
Group rides take place on a weekly basis; a few specific days of the week are reserved for specific types of riding.
On Mondays and Wednesdays starting at the end of April, club members can meet at Ghost Town Trail in Dilltown right off of Route 403. These weekly rail trail rides conclude by October. (Ghost Town Trail is an example of a popular rail trail; it's worth noting that this trail was named Pennsylvania's "2020 Trail of the Year" by the state's Department of Conservation and Natural Resources and it's estimated that over 80,000 people use this trail annually.)
Tuesday evenings are for mountain biking rides; these take place year-round, depending on conditions.
LHORBA's road bicycling rides also start at the end of April and conclude by October. These rides take place Wednesday evenings at the Quemahoning Reservoir. Group mountain bike rides also take place Wednesday evenings at the end of April through October.
New this year, the club will be introducing a weekly gravel ride on Thursdays.
LHORBA members can check the club's regularly updated calendar at www.lhorba.org and learn about where upcoming rides start and end, as well as other pertinent information.
"We accommodate every rider's level of experience," Godish says. "That's one of our biggest selling points."
Another big selling point: the comraderie among club members. After a group ride, it's common for riders to get together at a local restaurant like The Crow's Nest to eat and socialize.
"We have tons of fun," Godish says.
LHORBA hosts club picnics in June, July, August and September at scenic locations such as Raystown Lake and Blue Knob and Yellow Creek state parks.
Since the club is registered as a non-profit organization, members host annual fundraisers such as "Beat the Winter Blues Pint Night." This fundraiser in particular helps to support LHORBA's trail fund and adaptive bicycle fund.
The club's adaptive bicycle fund supports Variety Children's "My Bike" charity program. The program funds the creation of custom-built bicycles for special needs children. Over the years, LHORBA has donated money to cover the cost of building three bicycles. They'll be donating money again this year, bringing that total to four.
LHORBA members are also passionate about taking care of the land upon which they ride.
"We donate thousands of volunteer hours helping with trail building and maintenance throughout the region and neighboring counties," Godish says.
Members not only take care of existing trails, but also help to build and maintain new ones.
Club members Clark Fisher and Rich Maher, along with community volunteers and LHORBA members, helped build an approximate 17-mile beginner/intermediate trail that loops around the Quemahoning Reservoir; this trail opened to the public last spring. Phase two of the project is currently underway. The second phase, Godish says, involves adding "stack" trails that will offer more challenging bike routes for mountain biking enthusiasts.
Godish, who has served as LHORBA's president for the past five years, says he and other members share an interest in advocating for bicycle awareness and the creation of dedicated bicycle lanes, too. In cooperation with Senator Wayne Langerholc Jr.'s office and Pennsylvania Department of Transportation, LHORBA members are currently working on establishing some dedicated bike lanes on a Route 403 project that's scheduled to commence this summer.
Even though club members don't technically provide biking lessons, Godish says they "educate through example" and always put safety first. All riders are required to wear a helmet and to ride responsibly—this means sharing the road, obeying traffic signs and signals, following International Mountain Bicycling Association's Rules of the Trail, etc.
Godish encourages anyone with an interest in bicycling to consider joining LHORBA. The club's annual kick-off party is scheduled to take place beginning at 7 p.m. April 25 at The Boulevard Grill at 165 Southmont Boulevard in Johnstown. In addition to having the opportunity to learn about LHORBA, attendees can enjoy a meal and enter to win prizes. Both current and prospective members are welcome to attend.
Those who can't make it to the party can check out www.lhorba.org for membership information. The cost to join the club, Godish proudly mentions, hasn't changed since the club was established 21 years ago.
People of all ages are welcome to join. Godish says he and his wife have been members for years, and they enjoy every outing. Bicycling, after all, is a great way to get some exercise, spend time with your family and enjoy amazing views.   
"It's impossible to ride a bike without having a smile on your face," Godish says. "It just makes you feel like a kid again."
Johnstown Running Club (JRC)
Sometimes it's just not that easy to get up off the couch. Maybe you've just finished binge-watching the latest Netflix series that everyone has been raving about, or it's raining outside and the dreary weather makes you feel sleepy and low on energy.
That said, here's one thing Stephanie Daniels, the leader of Johnstown Running Club (JRC), appreciates most about this club: its accountability factor.
"If you know someone else is going to be there, you show up," says Daniels, who admits that she sometimes used to prefer running on a treadmill on cold and rainy days. That hasn't been the case since Daniels joined JRC; she and her fellow members take to the trails and to the streets throughout Johnstown and beyond.
"We run everywhere," Daniels says, "and we're always looking for new routes."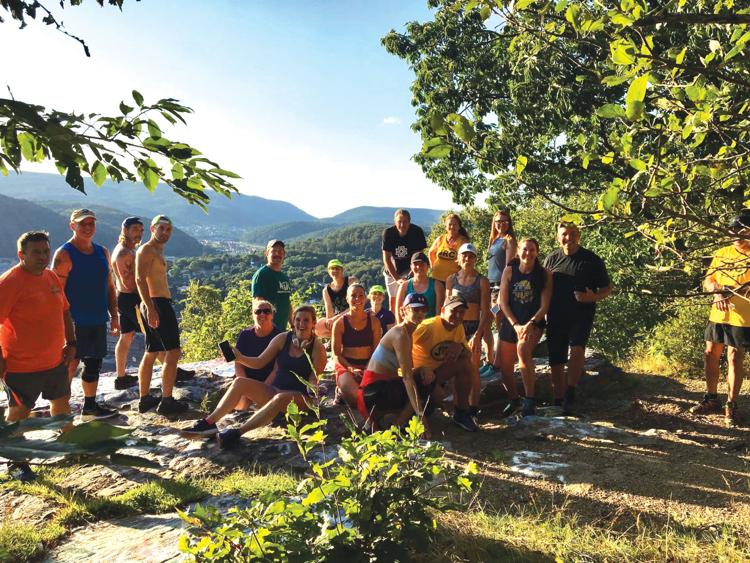 Daniels has been running—get this—every single day for three years in a row. (A person who runs every day, no matter what, is known as a "streak runner." One of our city's most famous streak runners is George Hancock; Daniels says Hancock inspired her to take on this challenge. Hancock's running streak lasted 20 years. He chronicles his love for running in his book, "My Running Odyssey," which is available for purchase on Amazon and www.madeinsomersetcounty.com.)
Running outside with a group—big or small—provides the motivation and encouragement that many runners appreciate. If you prefer to run alone, though, you can still feel that motivation and encouragement through JRC's Facebook page. So, if you are a member of JRC and you just, say, ran five miles in Stackhouse Park, you'd be more than welcome to post your thoughts about the run—accomplishments, struggles, obstacles—and within minutes, you'll receive friendly replies from fellow club members. ("Way to go!" "Awesome job!" "Be proud!")
JRC's Facebook page consists of more than 1,000 members. The club accepts new members at any time; and let it be known that you need not be a seasoned runner ... there's plenty of space and positive encouragement for those who are just getting into running or those who prefer to walk. All paces and distances are welcomed.
JRC was founded approximately five years ago by Howard Bernstein. Daniels mentions how interesting it is to have witnessed little running groups being formed within the club. One small group, for example, runs every Saturday in Richland Township beginning at 6 a.m.
"We support everybody, and I think that's so cool," she says. "Ten or 15 years ago, I wanted to take what I was doing fitness-wise as a personal trainer and make it a positive force in Johnstown ... I just can't believe that this has turned into what it has. Howard really opened the door for that to happen."
Part of making JRC a "positive force in Johnstown" also involves club members getting involved as often as they can. Some group members, for example, planted trees at the Flight 93 National Memorial in Shanksville. They do roadside clean-ups. They place wreaths on veterans' graves at Grandview Cemetery. And once again this month, the group will host its 4th Annual "Take Back the Night Run." This run coincides with Community Connection Team's "Take Back the Night" event that exists to help end sexual, relationship and domestic violence.
Daniels reiterates that she and her fellow members make an effort to reach out to everybody, and to make them feel included. Members acknowledge that each runner is unique in his/her pace and his/her mileage limit.
"We have a slogan," Daniels says, "and that is: 'No runner left behind.' We don't leave any runners behind because we don't like anybody running by themselves."
One reason why runners aren't left behind — and this is one of many reasons why Daniels is so enthusiastic and grateful for this club — is because it's, unfortunately, not uncommon for solo runners to have some negative experiences. Daniels can attest.
"I used to have problems when I was running alone in the mornings," she says. "I've had people yell at me. Taunt me. When I became a member of this group, I learned that other runners had similar experiences."
Daniels enjoys running with her early morning group. They begin their runs around 4:30 a.m.
"I think getting out there and breathing in all that fresh air is one of the best feelings," she says. "People think I'm crazy to go out at 4:30 in the morning but, for me, it's better than drinking coffee."
Daniels also emphasizes how JRC provides a great way to make new friends.
"I've met some of my best friends through JRC," Daniels says. "They are some of my strongest supporters, and they have been the biggest inspiration to me."
Last year, when Daniels ran the Boston Marathon for the first time, her friends used an app to live-track her progress while she ran those 26 miles. Daniels has qualified to run Boston Marathon once again this year. It will be held later this month - April 20, to be exact – and Daniels already knows that her JRC friends will once again be cheering her on in this electronic age in the best way they know: by watching as her route progresses closer and closer to that coveted finish line.  
Back home, Daniels enjoys participating in many local and regional races alongside her fellow runners.
"We're pretty visible in the community," she says. "We're very active in the local race scene. A lot of people enjoy seeing us in the local races. The Path of the Flood is a big one for all of us."
Many JRC runners also sign up for annual races such as Wings of Hope in Richland Township and Conemaugh Health System's Que Classic.
Here's some exciting news: JRC is hosting their own race for the first time this year. JRC's inaugural On the Dam Trail is scheduled to take place at the Quemahoning Reservoir April 25. Teams can consist of two or four people (the other option is to run all 34 miles solo). More information about this race – including registration information – is available on the Facebook event page that has been established for this race. This page can be found by searching for "@onthedamtrailrelay."
JRC club members are excited about this race, especially because running the full or a partial loop around Quemahoning Reservoir is a favorite trail for many local runners. Daniels mentions that runners also enjoy the many trails that the Rails to Trails system affords, including Ghost Town Trail.
Anyone interested in joining JRC is welcome to contact Daniels through the club's official Facebook page. From there, people can check out upcoming runs.  
If you join JRC, you may end up on a route you never knew existed.
"We have a man in our group who has lived in this area his entire life," Daniels says. "He grew up in Rockwood and joined about two years ago. He once said to me, 'I never knew half these places existed.' It's exciting to show people like him – people who have lived in this area their entire lives – new places to check out and new routes to appreciate."  
Daniels encourages those who are interested in being part of a supportive group to join JRC and accomplish their goals, no matter how big or small they may be.
"I like seeing people accomplish their goals," Daniels says. "When someone says they can't run a marathon and they do, that gives me chills. My daughter had open heart surgery and she's going to run an eight-mile race in May."
Daniels pauses.
"That in and of itself ..."
The emotion in her voice says all the rest.
Benscreek Canoe Club (BCC)
This year marks the 50th anniversary of Benscreek Canoe Club (BCC).   
BCC came into existence in 1970, when a group of men who loved being on the water decided that they wanted to hold canoeing races in the springtime. Those races took place on the first Saturday in March from approximately 1970 to 1988, says longtime club member Richard Bloom.
Bloom became a member of BCC in the late 1980s.
"I lived in Florida in the 1970s," Bloom says. "I brought my canoe with me when I moved back home, but I managed to destroy it while going down the Yough. I bought a new one, and one of the guys from the canoe club invited me to join him at the club's roll class at YMCA. That's when I got back into whitewater."
He's been paddling ever since and he and his fellow members have been delighted to cater to an enthusiastic group of canoeists and kayakers in the area.
"We paddle together, learn skills from each other and also share a common interest in promoting paddling as a sport," he says.
While club members are open to canoeing and kayaking in many different rivers, their "signature river" is the Stonycreek, which won Pennsylvania's "River of the Year" award in 2012.
Stonycreek River features what Bloom describes as whitewater padders' "pride and joy": Stonycreek Canyon, a section of the river that offers thrilling class III rapids that can "easily jump to class IV at higher water levels," he says. (The higher the class, the more thrill and adrenaline paddlers are afforded.)
Bloom explains that the highest class for rapids is class V. Some people like to add the word "plus" to rapid descriptions (class IV-plus, for example), but the important fact to know is that the classification doesn't go beyond the number five.
"A class VI is unrunnable," Bloom explains. "Niagra Falls, for example, would be a class VI."
Bloom says the Stonycreek Canyon is the "classic run" for whitewater paddlers, and it involves them entering the river at the Hollsopple ball field or the Foustwell Bridge near the intersection of Route 601 and 403. From there, they'll paddle downstream toward the Carpenters Park take-out. Those who want to continue downstream will make their way toward Greenhouse Park in Tire Hill.
Paint Creek is also popular among paddlers. They can expect to meet some fun class III to class IV and – some say – even class V rapids. ("Depending on who you talk to, some people might not want to call it class V," Bloom says, "but most do.")
"When I first started boating with the club, nobody had ever taken a kayak down Paint Creek," Bloom says. "Now they paddle that on a regular basis. We also paddle Quemahoning Creek and Shade Creek. These are all, for the most part, whitewater rivers."
Paddlers who prefer flat water adventures can find these sections in the Conemaugh River, Stonycreek and the middle Youghiogheny in Ohiopyle.
"The flat water – even though it's not totally flat – is easy enough that even amateurs can paddle it," Bloom says. "Every summer, our club hosts a monthly Full Moon Paddle on the Quemahoning Reservoir, and a monthly trip to the middle section of the Youghiogheny."
Bloom says the Full Moon Paddles are something special, as participants get to paddle out and watch the moon rise. And as far as the middle Yough goes, he describes paddling on that section of river as "fun and relaxing." The middle Yough is also a great place to take beginners.
Both canoeists and kayakers are welcome to join BCC. It's a club that Bloom describes as "fairly casual."
Even though he says they don't enforce strict rules, they have always been – and will always continue to be – safety conscious.
"Every person who paddles in whitewater always has a personal floatation device and a helmet on," he says. "Also, we encourage amateurs and beginners to paddle with more experienced people."
BCC currently consists of approximately 150 members. Active members meet monthly – every third Wednesday beginning at 7 p.m., to be precise – at The Crow's Nest in Tire Hill. Anyone interested in learning more about the club and/or joining it is always welcome to attend a meeting.
Typically, new members sign up to get involved in the month of February/early March when club members host their annual kayak roll classes at the YMCA in downtown Johnstown (the same class that Bloom attended decades ago and resulted in him becoming a member of BCC).
"I can't think of any year that we haven't offered these classes at YMCA," he says. "We've learned that it gets pretty crowded, so we've mandated that you must be a member of the club to take the class. Anyone can walk in, become a member and then take formal lessons from a vendor or from one of our club members. We're happy to take strangers, put them in our kayaks and teach them how to properly paddle. It takes a lot of skill."
Those who prefer to mail in an application are also welcome to do so; membership applications are available for download on the club's website at www.benscreekcanoeclub.com.
One of the biggest ways that BCC gets their name out there is by hosting their annual Stonycreek Rendezvous at Greenhouse Park in Tire Hill every May.
"Years ago, back in the 80s," Bloom says, "we were looking for ways to promote the Stonycreek River. Somewhere around 1990, we started having a get together in the spring that we called the Rendezvous. At first, we didn't have a good place to host the celebration – we bounced around different venues up until Conemaugh Township acquired Greenhouse Park. We've been there ever since."
This year's Stonycreek Rendezvous is scheduled to take place May 15 through 17. This family friendly whitewater festival is free and open to the public.  
"When we first started the event, we were lucky if we'd get 40 people there," Bloom says. "Over the last couple of years, we've had close to 1,000 people (in attendance). There's lots of space for camping there. There's always a downriver race on Friday night that starts at Carpenters Park. The rodeo involves paddlers getting in the waves and competing to see who can do the best. We also have vendors who show up and sell gear that you can buy. It's turned out to be a really successful, social event."
BCC members also get involved in the Stony Kiski-Conemaugh Canoe Sojourn, a four-day event hosted by Conemaugh Valley Conservancy that takes participants on scenic downriver adventures. Many club members offer to take out their own boats and offer helpful advice to people on the water.
Bloom says that one of the nice things about the club is how members are always finding things to do and ways to help.
"We do a lot of volunteer work," he says. "If the PA Fish and Boat Commission is bringing kayaks out to show people how to paddle, we'll help those people learn. First Waves from Pittsburgh comes out to Greenhouse Park in June, and they try to introduce underprivileged children to stand-up paddle boarding. It's so cool to watch these kids. A lot of these teenagers have never been in a canoe or kayak or anything like that, and by the end of the day, those kids can take the paddleboards right through a whitewater wave."
Since its inception, BCC has also remained dedicated to promoting the clean-up of local waterways. Take Stonycreek River, for example. Bloom notes that paddlers used to joke that you'd never want to swim in that water.  
"And now, we get to watch eagles fly up and down the Stonycreek," Bloom says. "It's pretty exciting."
Eagles mean fish. And fish mean clean water.
"We used to paddle in dirty water," he says. "We've seen the rivers get cleaner and cleaner over the years, and we really appreciate the groups that work hard to make that happen."
When Greenhouse Park was being developed as a destination for paddlers, club members volunteered to build one of the park's first pavilions. They also worked alongside Stonycreek Quemahoning Initiative to install a new valve at Quemahoning Reservoir and create a new whitewater park on the Stonycreek River in Greenhouse Park.
Installing that valve meant that the Quemahoning Reservoir could begin to make recreational whitewater releases not only possible, but also available on a regular basis.
Like Godish and Daniels, Bloom feels strongly that there is a lot of camaraderie within the club, and that's part of what makes it so special and important to its members.
"Our club is full of nice people who go out of their way to go down a river with you and show you what could be dangerous, give you advice on your equipment, things like that," he says. "I've found that there's something about running rivers that attracts nice people."
It's also nice to witness families taking their children out on the water with them.
"Any good reason for anyone to get outside is great," he says. "As for me, I've always loved the water, and it's fun to get together with other people who do the same thing you do. For us in the canoe club, we find that it's great fun to paddle a boat. With a lot of these rivers, the scenery almost makes you feel like you're in a wild area. When you're on the river, you don't see many houses or buildings. You just see the trees and water and the vegetation that surrounds you. It's really a great way to see the beauty in this area."
---
The benefits of joining one or more outdoor clubs seem endless: you can pursue an interest that could potentially turn into a passion; receive access to a network of enthusiastic, like-minded individuals; attend social events; go on memorable trips; witness the beautiful views throughout the Laurel Highlands ... the list goes on and on.  
If you take a chance and get involved, rest assured that you'll be made to feel welcomed. In turn, you'll hopefully feel inspired and encouraged by the people you've met, the knowledge you've gained and the unique opportunities that await.